Lucky Matching Game for 2
Are you excited to celebrate St. Patrick's Day with your sweetheart?! If you love making the holidays special for your sweetheart, then you'll love this date night. It may look like a simple matching game, but we've added some twists and turns to make for a fun night of entertainment that you'll never forget. Not to mention, this game is super simple to set up and customizable to you and your spouse's preferences. Now it's time to kick the St. Patrick's Party up a notch and start getting lucky with this Lucky Matching Game!

Disclaimer: This post contains affiliate links. To learn more about 'em, click here.
This Lucky Matching Game was designed by Messes to Memories and is one of my favorite designs yet! I love the bright colors and the fun activities. The matching game has all kinds of activities – some creative, some romantic, some funny dares and challenges and even some science.
No matter what you and your spouse like to do together, this date night covers it! I'm especially excited to use the Make a Trap match… my husband loves to do creative stuff like that! And I definitely hope that I can snag the Turn Green match so I can dare him to eat a dozen green pickles… he he! See what I mean about all the fun activities?? Now go grab some kisses and get ready to play.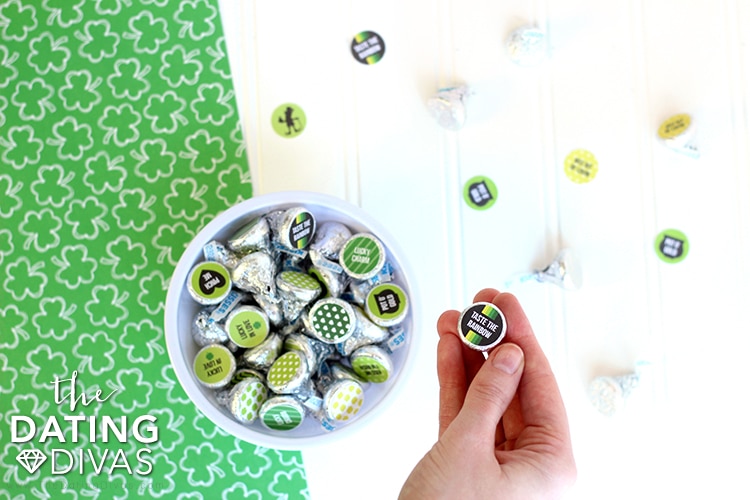 Ready for your St. Patrick's Day date night!? First, print out the Lucky Matching Game invitation and leave it for your spouse to find… anticipation is everything!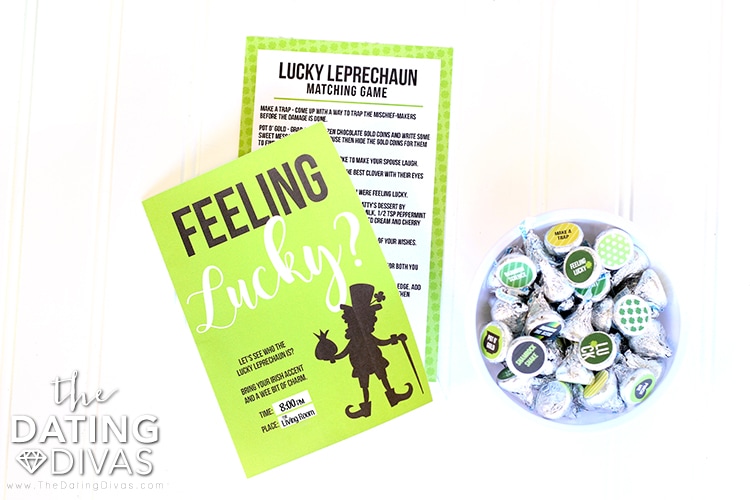 To get everything set up for game night, print off the lucky leprechaun matching game stickers onto a sheet of sticker paper – this sticker paper is the best!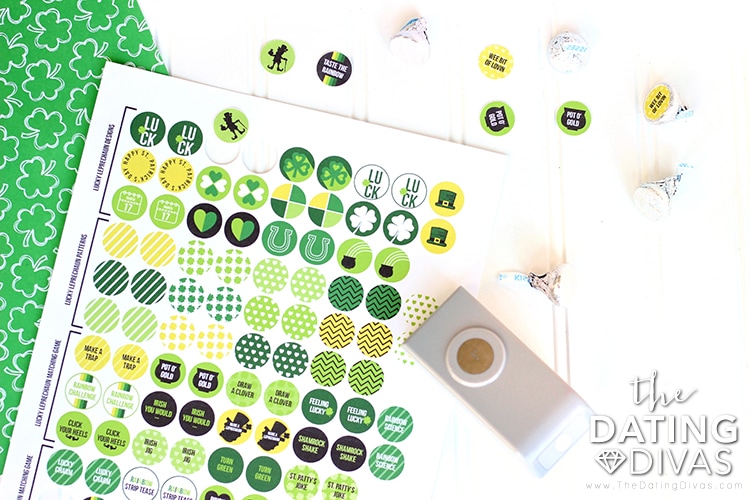 Next use a ¾ inch circle punch to cut out the stickers you need! Attach these stickers to the bottoms of Hershey's Kisses.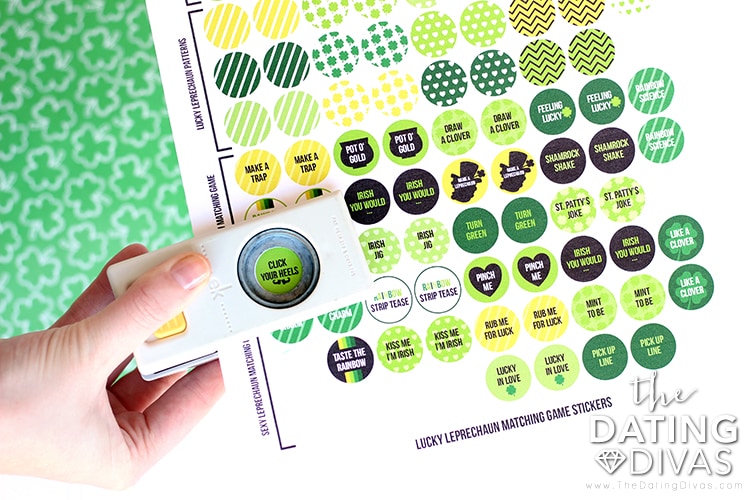 We've designed two different games –
A 

lucky leprechaun memory game

that will have you and your loved one talking, laughing and enjoying each other's company while doing some fun St. Patrick's Day tasks.
A sexy leprechaun memory game perfect for the bedroom. You'll be enjoying all kinds of intimate moments should you choose this game.
The two games each have a game key card with descriptions of each task matching the title on the stickers.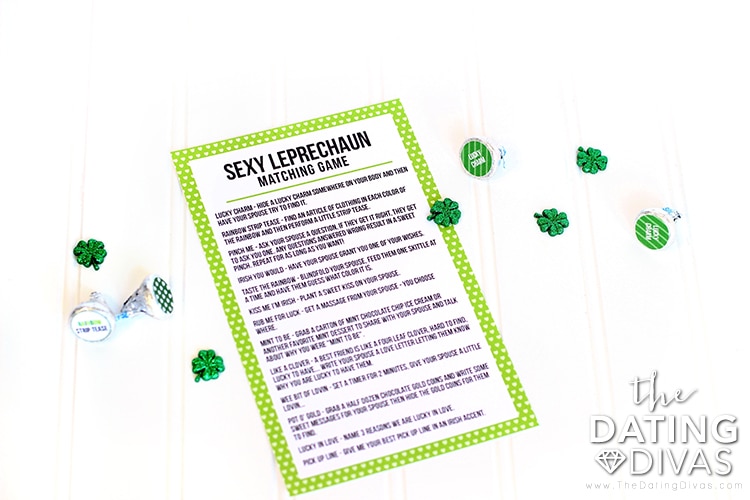 Here's the fun part, you can choose to just use the set of stickers designed for one game, or you can mix and match to create your own game. We've also included some fun St. Patrick's Day designs and patterns to add to the game to make it more challenging.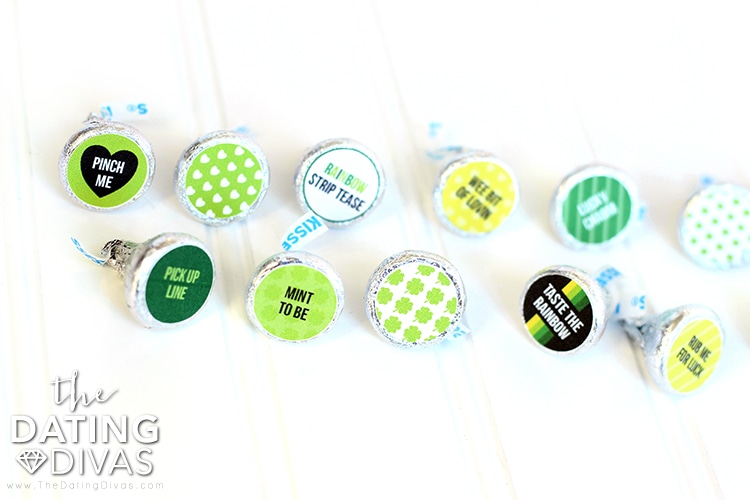 After choosing your game and prepping the kisses, you'll want to gather the supplies needed for that game (the supplies are listed on the instruction card in the printables).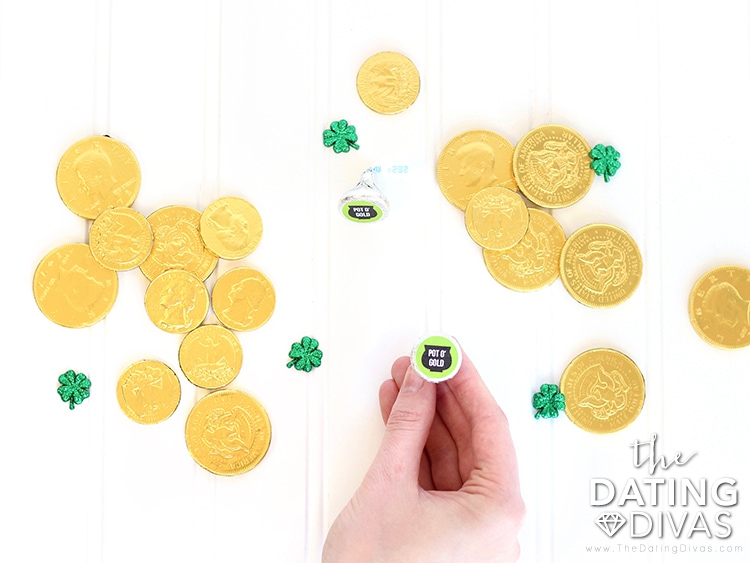 When date night rolls around, set up your Lucky Leprechaun Memory game. You can use as many kisses as you want to make the game as easy or difficult as you would like!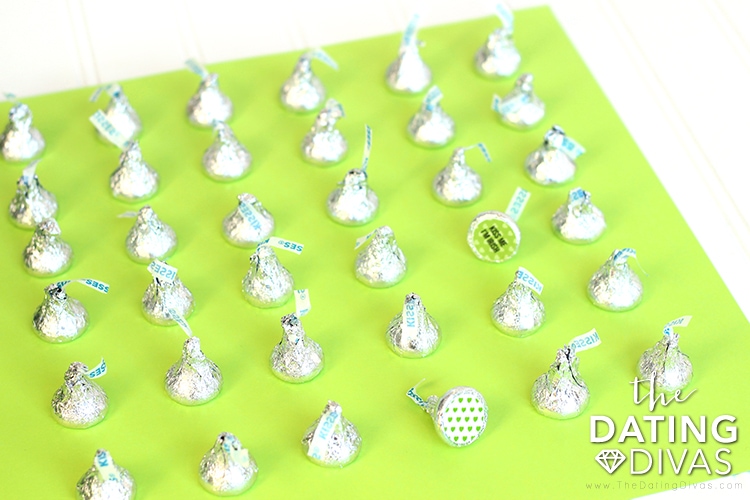 Some of the tasks would be great to do with your kids as well. My kids got a huge kick out of the rainbow science match! I love it when I can easily use a date night idea to entertain the kids as well! Then the prep work definitely goes to good use…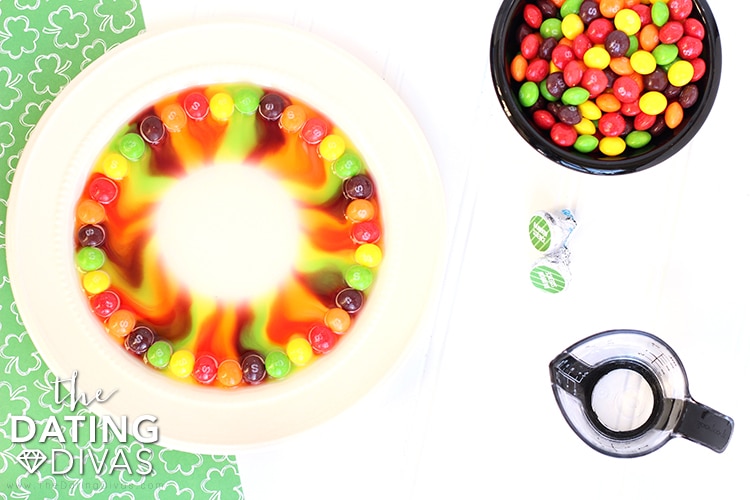 Of course, both games include a scrumptious St. Patrick's Day dessert! We thought it was fun to make our Shamrock Shake and share. It's way more romantic that way…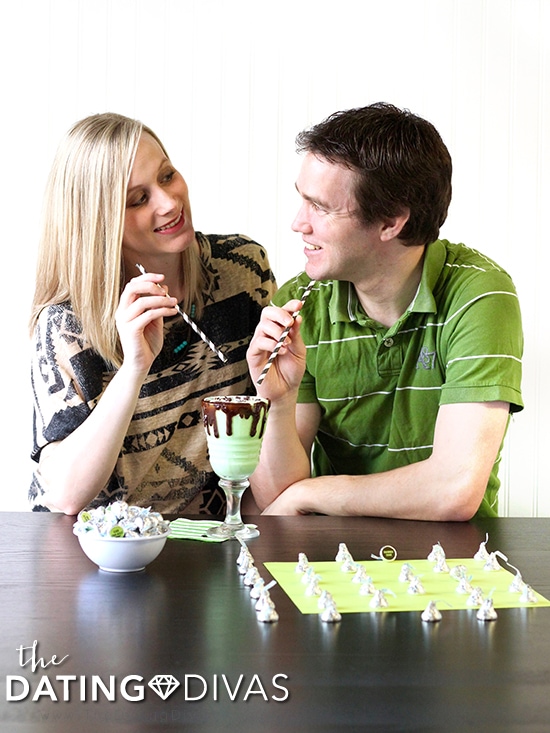 Here's to a date night you'll never forget!
Happy St. Patrick's Day!!!
And make sure to check out our Fave St. Patrick's Day Finds to help you have the best holiday!
Lucky Leprechaun Matching Game
Printables Designed by Carisa @ Messes to Memories Exclusively for The Dating Divas