Wrapping Tips and Ideas
Wrapping paper is nice but there are SO many other options to wrapping gifts! We have collected 12 FUN ways for you to wrap your gifts this holiday season!  You might even have some of these items handy at home!  Plus, your friends and family will be VERY impressed with the extra effort you made in wrapping their gift!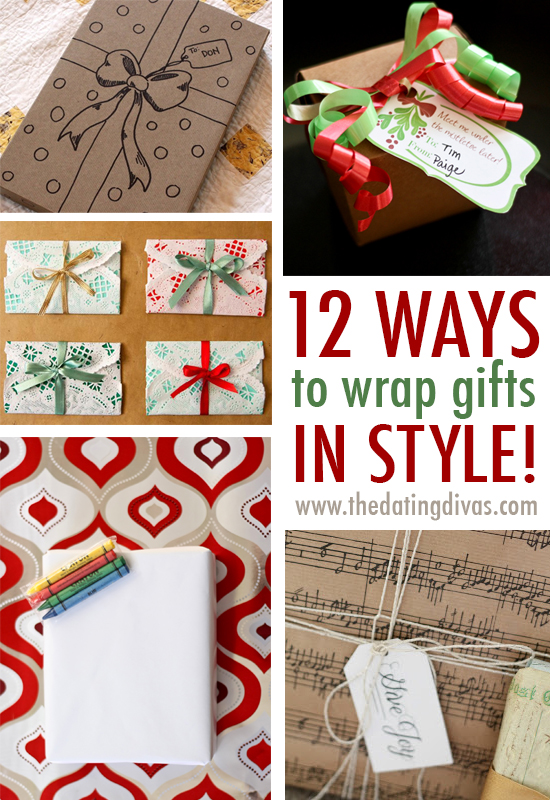 Disclaimer: This post contains affiliate links. To learn more about 'em, click here.
12 Ways to Wrap Your Gifts in Style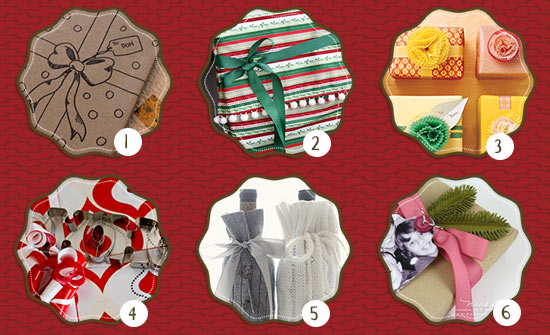 1. Brown Bag with a Sharpie: Grocery shop recently?!  Perfect, cut the seam of your brown paper bag, turn it inside out and wrap up your gift.  Take a sharpie (consider

red

and

green

sharpies for added color) and draw on the bag to add zip and style! OR if it's just a brown box, feel free to use your sharpie and draw on the outside as well!  No cost necessary!

2. Fabric Wrapping Part 1: Don't waste that leftover fabric from the curtains you made last year!  Use it to wrap up a gift!  

3. Cupcake Liners:  Sometimes wrapping paper is just plain boring!  Add a little decor on the outside (it will make the gift receiver want to open it first) by creating a cupcake liner flower!  In spirit of the holiday, use red liners to resemble a poinsettia OR make it fun with Christmas designed liners!

4. Top it with a Cookie Cutter: Regardless of what's inside, everyone loves a little something extra.  And who doesn't LOVE cookie cutters…especially us momma's!  When it comes time to bake cookies with the kiddos, cookie cutters are always a must.  It's an easy and cheap way to add a little something special to any gift!

5. Sweater Sleeves: This one might take a tailor's touch but nothing too hard!  Take an old sweater sleeve, cut it off and sew up the bottom.  Great for sparkling cider or any tall and long gift!  

6. Photo Tags: Didn't have time to send out Christmas Cards this year?!  No problem, attach it as your gift tag.  OR just use fun pictures as gift tags!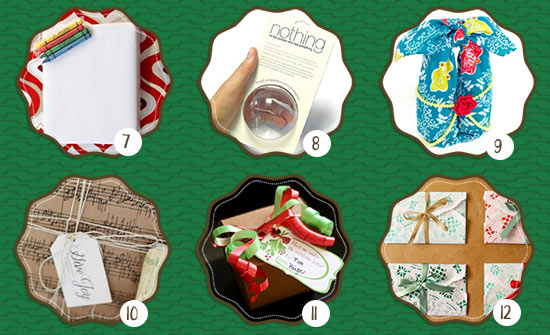 7.

White Paper and Crayons:  This idea is GREAT for the impatient kiddos!  Use white wrapping paper or, EVEN BETTER, take any wrapping paper you already have at home (i.e., birthday or baby shower) and turn it inside out.  Wrap the gift and attach a few crayons!  Then before it's time to open the kids can color on their package…while they shake it of course!

8. Nothing Ball:  This idea cracks me up!  It's for the person who has everything or said they don't need anything this year!  Of course you are going to get them something but give them this first and say you wrapped nothing, just as they asked!!  LOL! 😆  

9. Fabric Wrapping Part 2: If you have too much fabric, you don't know what to do with it OR if you just LOVE how it looks, this technique is one of the coolest I've seen by far!  In fact, there are MANY options on how to wrap gifts using this technique.  Check out the Furochic Video for details and style options! 

10. Sheet Music: 

Play any instruments?!  Use old sheet music to wrap up gifts.  Sheet music is always pretty and it fits the spirit of the holidays!

11.  Add Fun Gift Tags:  With the help of Kristin at CDotLove, we've created SUPER fun gift tags for you to use!  Just a little message on a gift tag can add playfulness to any gift.  The fact that it was hand-selected for that person will have them feeling special!

12. Origami and Doilies: Dress up gift cards with a little origami envelope and doilie decor! Super simple but stellar presentation!
You should be set on wrapping options, now it's just which one to choose!  Try a few and impress ALL your family and friends!  
And if you're looking for ways to impress your man, check out Kari's FABULOUS list of 65 Winter Date Ideas!
Happy Holidays!
Printable Christmas Gift Tags
Printables Designed by Kristin @ CDotLove Exclusively by The Dating Divas