We love fun and unique date night ideas! Date night should never be a hassle, but we love making it even easier for you to pull off amazing date nights all year long… over the years we have put together…
5 Ah-mazing Date Night Gift Ideas
Now they are all in one place…
Get ready! You are gonna love these ideas!

Give the gift of date night to strengthen your relationship! We have 5 fun date night gift ideas that you and your spouse will benefit from all year long!
Here's a sneak peek of the gift ideas described below:
First up, let's talk about our beautiful 
Year of Dates Binder! 

This is one of our very first and most popular posts from the Diva store! This is such a fun way to store your dates for the year as it comes with a fun binder cover and spine. You can grab just the gorgeous organization printables to fit in a 2-inch binder to FILL with dates for the whole year! You also get beautiful dividers for all 12 months of the year AND a cute poem to put in the front letting your sweetie know exactly what this is. This version is completely customizable, comb thru our extensive list of creative dates & print off the ones you want to do for each month.
Year of Dates Binder
Binder Only Set ($2.97)

Or we have a second option, all of the above PLUS we've taken all the hard work out by selecting 12 extremely fun date nights including descriptive write-ups on how to complete each one, a list of materials needed for each date, and GORGEOUS printables to use for each date night.
Year of Dates Binder
Complete Set ($9.97)

Next up!!
12 Sports-Themed Date Nights – Active dates with a twist!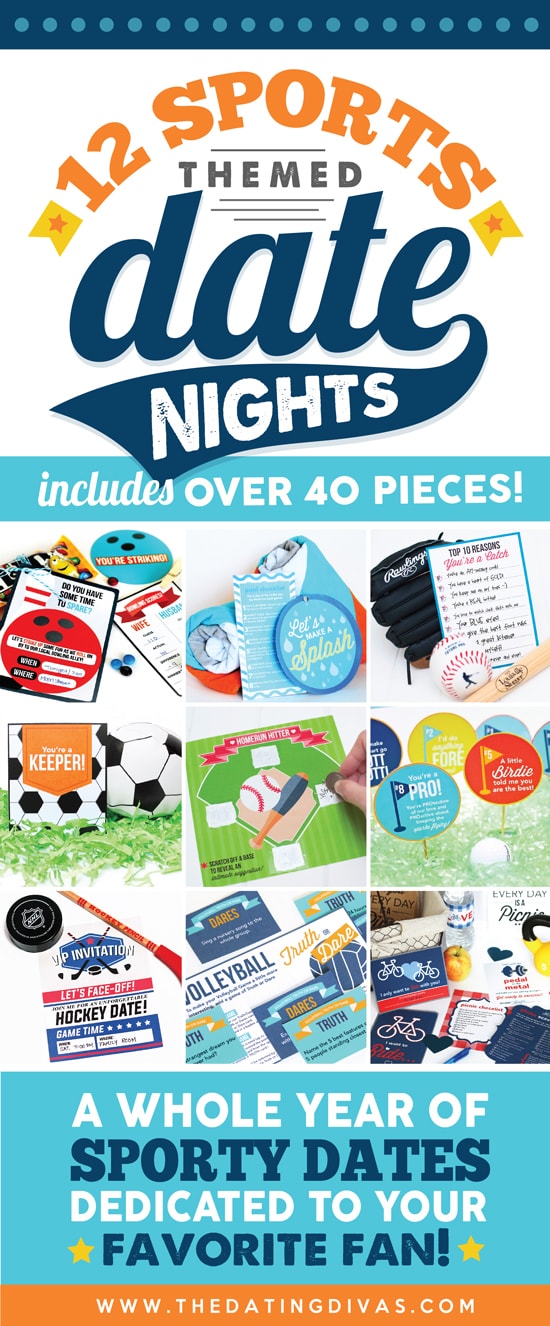 If you are looking for some more manly dates, this is the product for you! These dates are fun, active dates with a twist. They are designed to strengthen your body, mind and relationship. We've taken fun sports games like bowling, soccer, volleyball, basketball and tennis and added a little romance! These date nights are packed. You and your spouse will enjoy making deeper connections as you play together all year long.
Check out what some of our amazing men have to say about this fun kit! This kit would go perfectly with our Year of Dates binder and would help you keep all of these fun dates organized and in one place!
A Year of Sporty Dates
Complete Set ($19.97)

The Ultimate Intimacy Pack – Sexy bedroom games!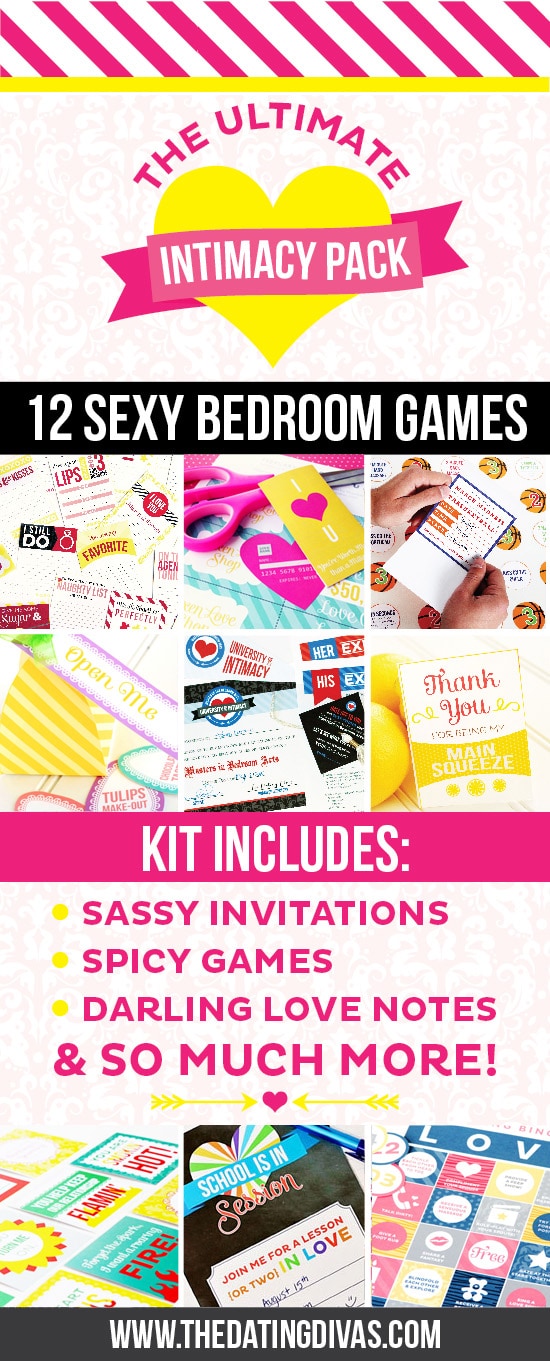 The Dating Divas' intimacy pack has everything you need to add a little sass and spice to your regular date night routine — ALL YEAR LONG! That's right – another pack with 12 fun dates that will spark desire and romance!!! We've made it so easy to excite your spouse with fun competitions and games! From gorgeous printable invitations, to fun new games we've made it easy to pull off a sweet, sexy date every month for the whole year. Make some memories in the bedroom with 12 MONTHS of sexy date night ideas for you and your sweetie!
The Ultimate Intimacy Pack
Complete Set ($19.97)

52 Dates for Two – Weekly date night planned for you!!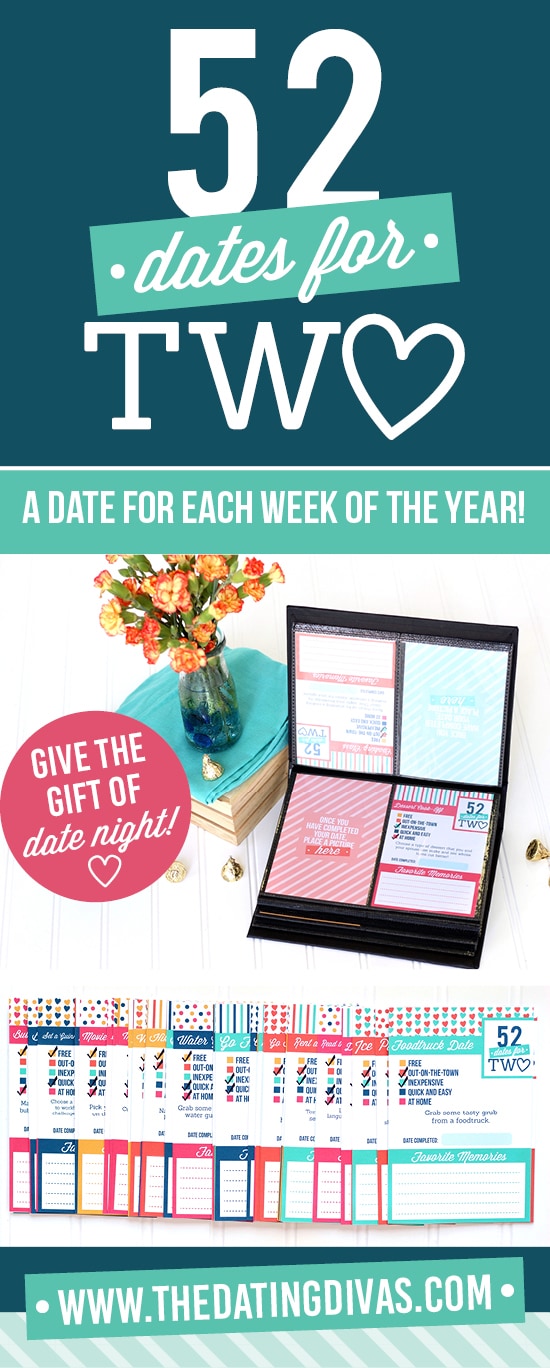 This adorable kit has 52 Dates for Two. That's enough fun for 1 fun date night every week of the year! Plus there are 16 bonus date cards that you can use to mix things up and add variety. These cards are designed to fit in a 4×6 album that will serve as a way to store not only the fun date night ideas, but memories of your experiences throughout the year. This is such a gorgeous keepsake that you and your spouse will treasure as you make memories together!
52 Dates for Two
Complete Set ($6.97)

Last, but not least…
Passport to Love – A Year of Around the World Dates 

This may or may not be my favorite of our date packs! And that's saying something, because I love all of the above ideas. My husband and I thoroughly enjoy our travel dates!! What is it about traveling that is just so romantic? Experiencing the sights, sounds, food (lots and lots of FOOD) and the culture of a new place together has a way of bringing you closer to your love. You create new memories and enjoy an escape from real life, whether its soaking up sun at an exotic beach or walking hand in hand through a gorgeous, big city. Talk about a way to keep the spark and excitement in your relationship!!!
Sadly, traveling to 12 different countries in one year isn't exactly budget-friendly. But we wanted to capture that romantic travel excitement in a way that's possible for everyone – right at home. You'll definitely want to snag this fun product, that would also fit SO well into our Year of Dates binder!!
A Year of Around-the-World Dates
Complete Set ($19.99)

And there you have it! 5 fun date night gift ideas to make date night easy and fun for a whole year!
UPDATE: If you love these year of date products, you'll also LOVE our brand new…