Free Mother's Day Ideas
Mothers are the most important thing in anyone's life, and that's why I LOVE Mother's Day.  What better way to let your mom/wife know how amazing she is, than a day set apart just for her?!  It's awesome!!!
So, to help you find the PERFECT gift for your mom/wife, I gathered up 50 FREE printables just for you to help you pick a fantastic gift for your mom/wife.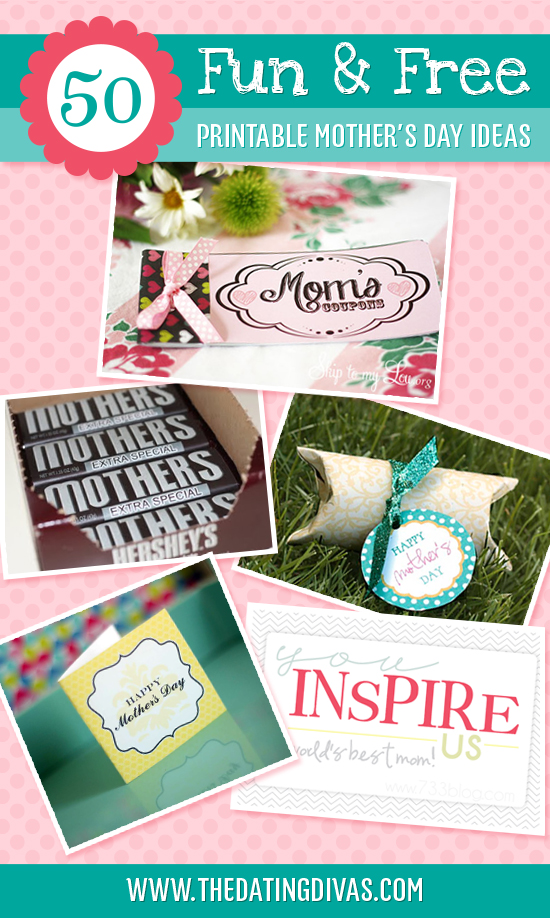 Below you will find ideas for:
GIFTS

PRINTABLE PACKS 

QUESTIONAIRES

CARDS

SAYINGS

TAGS/FLAGS

ALBUMS

SUBWAY ART

MISC

FOR GRANDMA
Gifts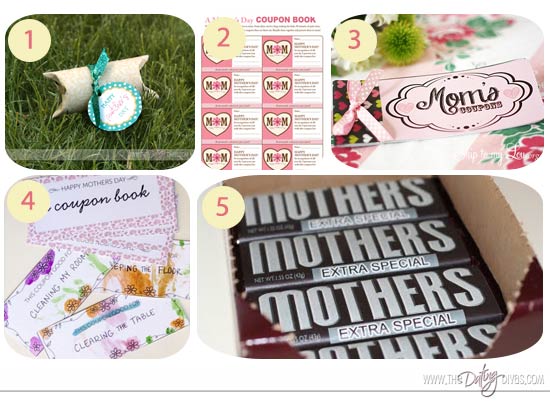 1- Gift for Mom by The Dating Divas: This is a great DIY gift idea using items you have laying around the house. It's great!
2- Mother's Day Coupon Book by SheKnows: This is a great fill in the blank coupon book for the special woman in your life.
3- Mom's Coupons by Skip to my Lou: Coupon books are the perfect gift for Mother's Day.
4- Mother's Day Coupon Book by One Charming Party: This coupon book is great for kids to put together.
5- Mother's Extra Special by Lovely Little Snippets: Get a Hershey's bar, print off the new wrapper, and have a tasty gift for your mom.
Printable Packs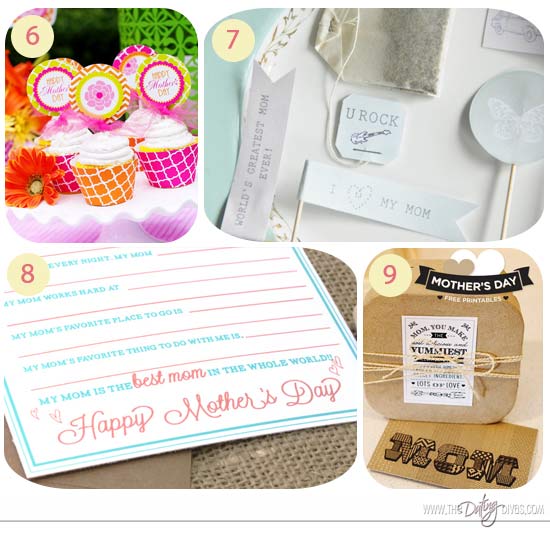 6- Mother's Day Printables by Amanda's Parties to Go: This pack has anything you will need to make a Mother's Day party fantastic!
7- Mother's Day Kit by Fun.Kiti.Me: This pack has anything from doiles to tags for your food for a great Mother's Day.
8- Printable Packs by Papers & Pigtails: This pack has a questionaire, stationary, cards, and much more!
9- You Make the Yummiest by Hostess With the Mostess: This pack has anything you will need to make your gifts extra special.
Questionaires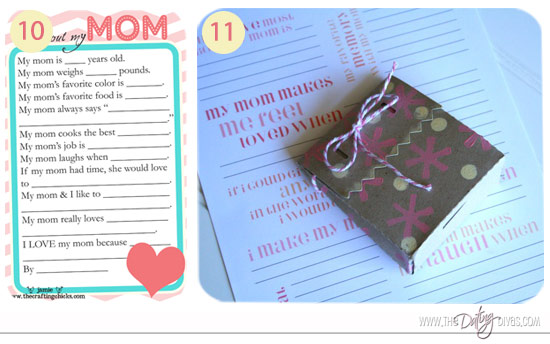 10- Mother's Day Questionaire by The Crafting Chicks: These questionaires are awesome because one is dedicated for your mom and your grandma!
11- Questionaire and Giftbox by Today's Creative Blog: This questionaire is perfect for your kids and comes with a way to make your own gift box for it to go into!
Cards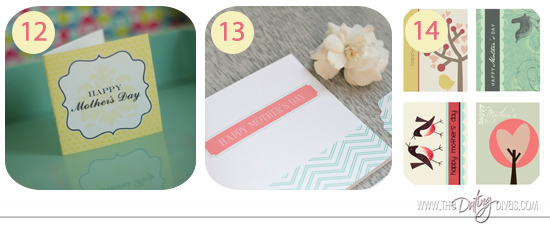 12- Mother's Day Card by Anders Ruff: These cards are small, cute and come in lots of different colors.
13- Mother's Day Cards and Tags by The Tomkat Studio: This is a great card and has lots of tags to go with it!
14- Mother's Day Cards by Pumpkins and Posies: These are cute vintage styled cards.
Sayings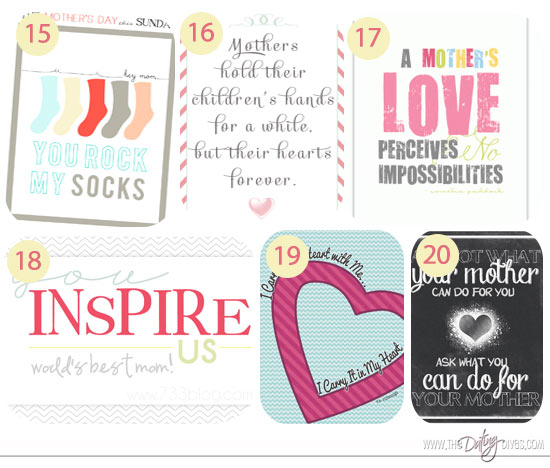 15- Rock my Socks by Sissyprint: Hey Mom, you rock my socks! – Such a cute saying and perfect for your mom!
16- Mother's Day Saying by Made From Pinterest: This is a perfect gift from a daughter/son to their mother.
17- A Mother's Love by Boutique Cafe: A mother's love has no end or boundaries.
18- You Inspire Us by Seven Thirty Three: You Inspire us! Every mom needs to know they are an inspiration to the people that are the most important in their life.
19- Carry Your Heart Card by Clumsy Crafter: A mom carries their kids heart in her's.
20- Ask What You Can Do by It Works For Bobbi: What can you do for your mom to make her happy?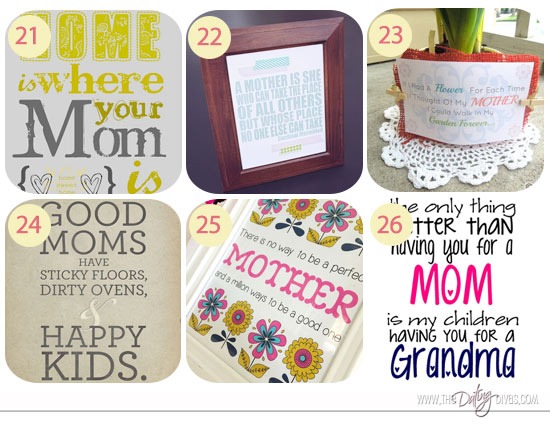 21- Home is Where Your Mom Is by Holiday Snob: Choose from these 2 printables to frame for your special woman.
22- Mother is Irreplaceable by eighteen25: No one can take the place of a mom. This printable says it best.
23- If I Had a Flower by Craftionary: Give this printable along with a gorgeous flower.
24- Good Moms by Paper Coterie: Here you have 3 printables to choose from to make Mother's Day wonderful!
25- Perfect Mother by 6th Street Design School: This is a fun spring designed Mother's Day printable.
26- The Only Thing Better by Rantin and Ravin: This has a few different options to choose from for a mom or a grandma.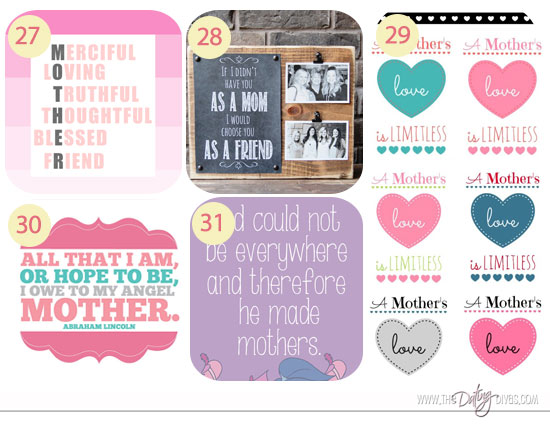 27- 
Mother by The Girl Creative
: Everyone needs a great acronym for a perfect Mother's Day.
28- If I Didn't Have You as a Mom… by Shanty 2 Chic: This is a great DIY gift for Mother's Day.
29- Mother's Love is Limitless by Mom 4 Real: This printable is awesome because there are lots of different color options to choose from.
30- All That I Am by Kiki and Company: You owe everything to your mother and this is just the printable to prove it.
31- God Could Not be Everywhere by Create Craft Love: A mother's love is just what God intends for His children.
Tags/Flags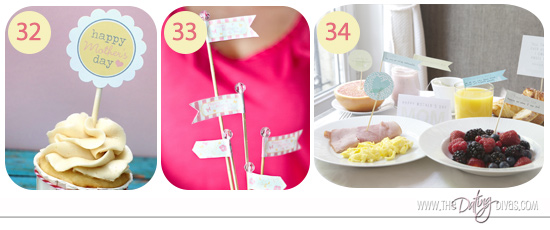 32- Mother's Day Creations by Anna and Blue Paperie: These tags are perfect for anything you might need…cupcakes, gifts, food, etc.  They are just perfect for your special day.
33- Cupcake Flags by Bakingdom: These cupcake flags are amazing.  There are lots of different options for your different cupcakes. Glue them to some sticks, put them in your cupcakes, and voila! Perfect day!
34- Breakfast in Bed Flag Set by Oh Happy Day: These are great because they have prompts that allow you to fill in the blank to personalize the tags for your day.
Album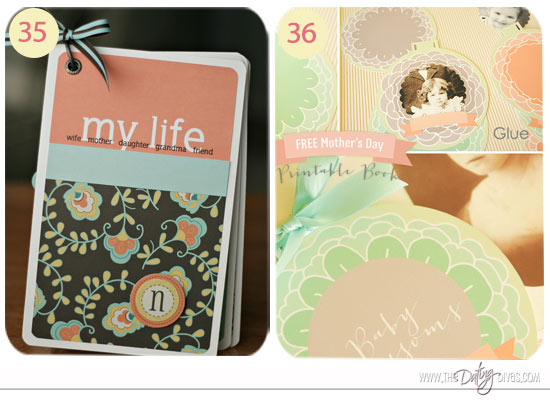 35- Mini Album by Simple as That: This album is so gorgeous.  It is a vintage-styled album and will be a great gift for the special woman you want to give it to.
36- Printable Book by i Heart Nap Time: This album is round in design and would go great with black and white photos.  It would be great to include pictures of your mom, grandma, you, and a daughter (if you have one :)).
Party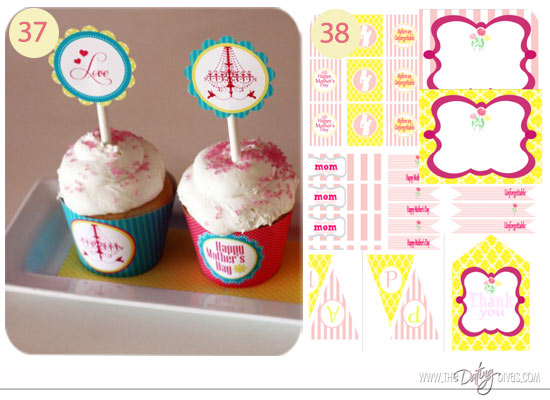 37- Mother's Day Party Printables by Catch My Party – 9 to 5 Mom: Every party needs the perfect finishing touches to make it awesome.  These printables are just what you need to do just that.
38- Mother's Day Party Printables by Catch My Party – Sarah Hope Designs: These party printables are perfect for Mother's Day. They are the perfect color for your Spring party!
Subway Art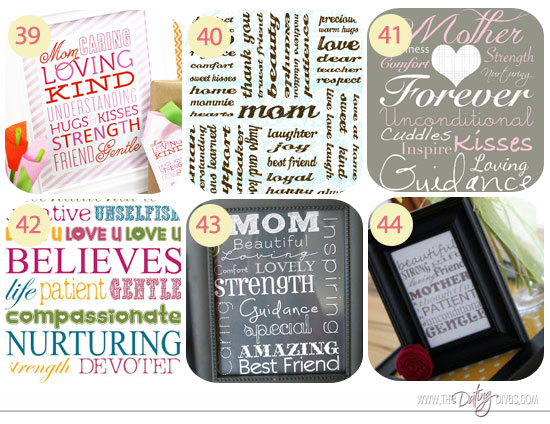 39- Subway Art Framed Picture by Red Barn Blog: This is a cute red and pink printable that would be perfect in a white frame.  What's even more cool is that this site gives instructions on how to make paper flowers to go along with the subway art.
40- Subway Art by Measured by the Heart: This subway art has a light blue background with the text in a light brown.  It is a very cute color combination.
41- Framed Printable by Lovely Living: This darling printable has a grey background with white and pink text.  It is seriously too cute!
42- Unconditional Love by Pink Ink Doodle: This cute printable has a white background with some fun bright colored text.  It really makes it 'pop'!
43- Strength, Guidance, Special by Tiffany Collins Designs: Oh my goodness!  I LOVE this printable because not only does it say the best things about a mom but it has 6 different color schemes to choose from.  Awesome!
44- Subway Art by Ladycrafter 14: This printable is awesome because it has different options to choose from.  It keeps the white back ground and changes up the text giving you 7 different options.  What?!
Misc

45- Door Hanger by Seven Thirty Three: Every mom needs a little TLC on Mother's Day.  Surprise her with this great door hanger that does just that!
46- M is for Mom by Small Types: This is just too cute to pass up if you have little kids.  The 3 different printables are designed just for them to make their moms smile from ear to ear.
47- Mother's Day Gift Wrap by B.E: Every gift needs some gift wrap.  Use these vintage-styled gift wrapping tips and printables to make your Mother's Day extra special. The original idea we had here no longer exists, so we found another option for you!
48- Mother's Day Cake Banner by i Heart Nap Time: Why not have a banner announcing the festivities? Put this banner on an awesome cake so the 'mother' of the day feels loved.
Grandma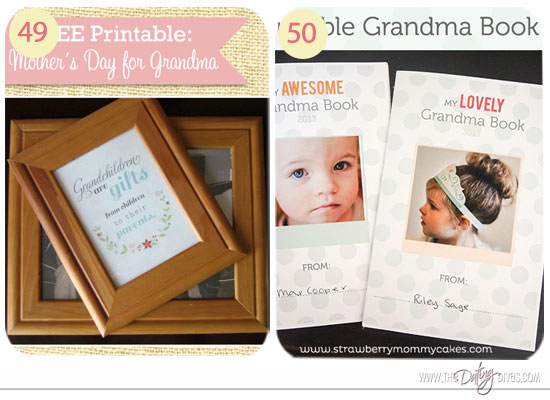 49- Grandchildren are Gifts by Somewhat Simple: Grandmas are not to be forgotten on this amazing day.  Frame this printable along with a family photo to make a great gift.
50- Grandma's Book by Printable Crush: Oh my goodness!  This is a precious printable book all about the little-ones in your life, just for Grandma.  It's darling! The original idea we had here no longer exists, so we found another option for you!
 I hope you had fun browsing through all these ideas and were able to settle on a favorite (or 2!) for your special woman on Mother's Day!   Make sure their day is awesome by pampering them and showering them with your love!