50 of the Best Netflix Shows
Ah, the Netflix binge. We do it, we love it, and we can't get enough of it! But when TV time begins to take away from 'together' time, that can be a real problem! That's why we've created a list of fifty of the BEST Netflix shows that couples can enjoy- TOGETHER! From Comedy and Sci-Fi, to Action and Crime (and some in between!), we've got a show for all tastes and viewing pleasures! So pop that corn, cue up the Netflix account, and get ready for a binge-worthy marathon built for two! Happy Viewing!

Disclaimer: This post contains affiliate links. To learn more about 'em, click here.

To make things a bit more interesting, and a lot more simple, we've divided our list into five easy categories!
Enough waiting… On to the binge!
Best TV Comedies on Netflix for Couples
Filled with laughs and the perfect way to put a smile on both of your faces, these comedy shows are a fantastic fix to a stress-filled day!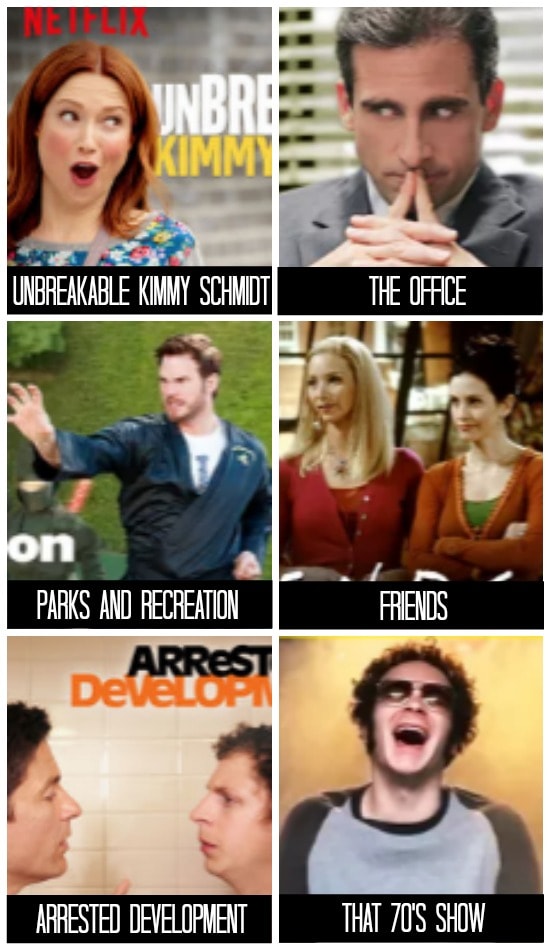 1. Unbreakable Kimmy Schmidt – Lovable Ellie Kemper stars in this quirky and creative show that follows formerly kidnapped Kimmy as she adjusts to life in the real world.
2. The Office – Considered a classic among many TV aficionados, this multi-award winning series follows the day to day lives of office employees living in Scranton, PA. 
3. Parks and Recreation – Starring the beloved Amy Poehler, this hilarious sitcom chronicles the lives of government workers in the fictional town of Pawnee, IN.
4. Friends – Clocking in at a whopping 10 seasons, this popular show introduces you to a group of 20-somethings trying to "adult" in the city of New York.
5. Arrested Development – With beloved and quirky characters like Gob and Tobias, this witty and offbeat comedy chronicles the mishaps and misfortunes of the Bluth family.
6. That 70's Show – With an impressive cast of characters like Ashton Kutcher and Mila Kunis, this comedy takes place in the peace-love-happiness era of the 70's and boasts an impressive eight seasons.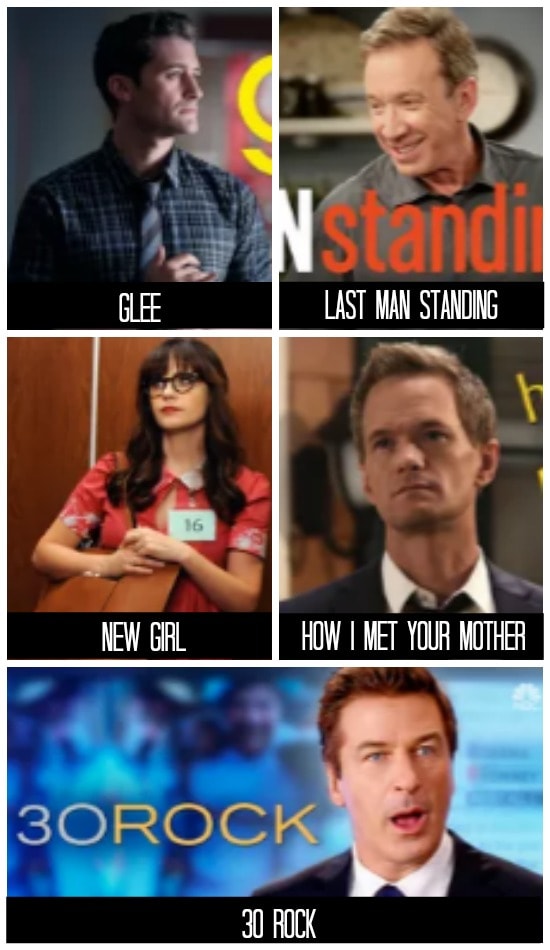 7. Glee – Music lovers take note! This musical comedy is as full of laughs as it is of tunes and is a fantastic option for couples.
8. Last Man Standing – Starring the beloved Tim Allen, this sitcom chronicles his life as a father of a predominately female household.
9. New Girl – Who's that girl? It's Jess! Zooey Deschanel stars as a quirky and newly single girl who's moved into an all-male apartment.
10. How I Met Your Mother – Following the highs and lows of main character Ted's dating life, this witty sitcom is a sure-fire win for both male and female audiences.  
11. 30 Rock – Starring the queen of comedy – Tina Fey – this NYC-based comedy shows the snags and snafus of a sketch comedy show.  
Best Sci Fi Shows on Netflix for Couples
The perfect blend of the wacky and wild, these far-out shows will take you to new and oh-so-unique places.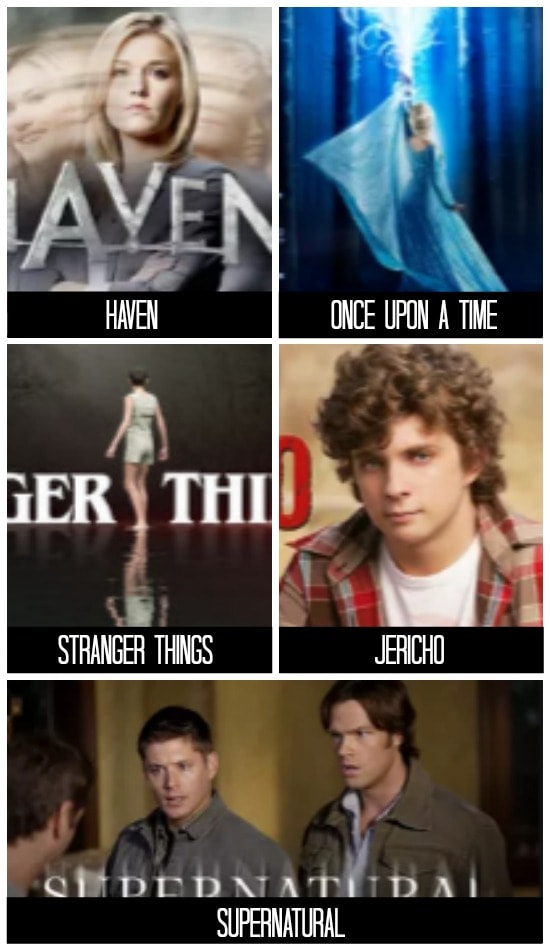 12. Haven – Following FBI Agent, Audrey Parker, this suspenseful show explores the supernatural occurrences in the town of Haven, Maine.
13. Once Upon a Time – Chock-full of everyone's favorite fairy tale characters, this show is nevertheless suspenseful and slightly dark.
14. Stranger Things –  Starring Winona Ryder, this Netflix-created series follows her through her search for her missing 12-year-old son – and all of the strange and bizarre occurrences that happen along the way.
15. Jericho – Only consisting of two seasons, this dystopian series is nevertheless captivating, intriguing, and a fantastic choice for husbands and wives.
16. Supernatural – Starring Gilmore Girl's Jared Padalecki, this intriguing, and sometimes horrifying, series follows brothers Sam and Dean Winchester as they explore supernatural events and phenomenon. Plus, it boasts a twelve season (and counting!) run.
Best Sci Fi Shows on Netflix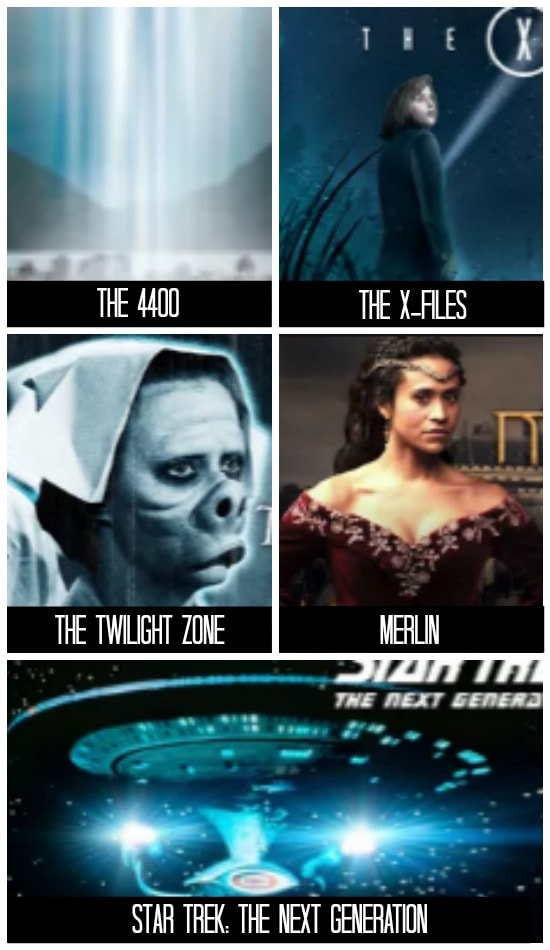 17. The 4400 – Strange events begin to happen when 4400 presumably dead or missing people suddenly reappear in this captivating sci-fi series.
18. The X-Files – Follow characters, Fox Mulder and Dana Scully, as they seek to uncover the truth behind strange and inexplicable events in this ten season sci-fi show.
19. The Twilight Zone – A cult classic from the 1960's, this blend of sci-fi/horror/comedy and more is a favorite among young and old audiences alike.
20. Merlin – Fans of the King Arthur stories will be all over this fantasy-drama which explores the story from the young wizard Merlin.
21.  Star Trek: The Next Generation –  Sir Patrick Stewart stars as the venerable Captain Jean-Luc Picard in this series which takes place roughly 78 years after the original show.
Action & Adventure Netflix Shows for Couples
Unleash your inner James Bond and get ready for an action-packed evening with these fun-filled shows!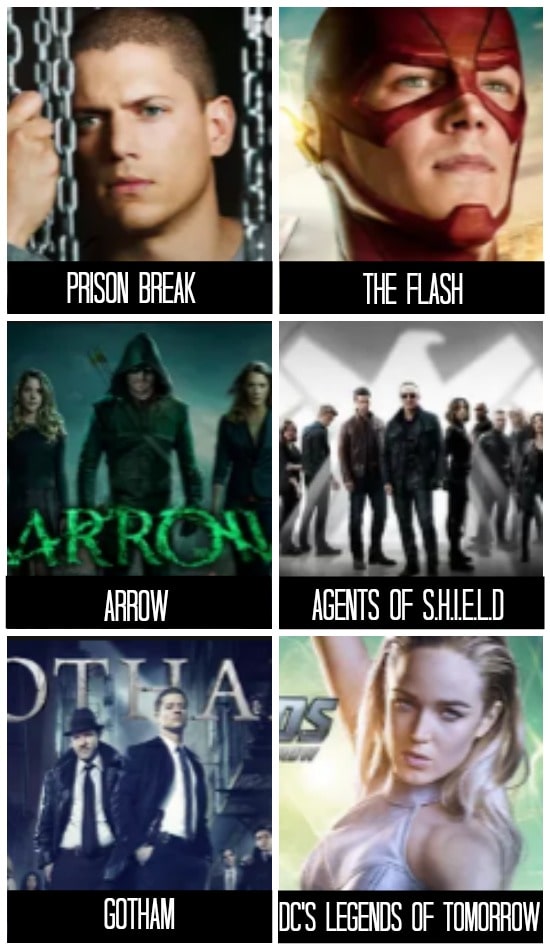 22. Prison Break – This intricate action-drama will have you on the edge of your seats as you watch the brilliant Michael Scofield attempt to break his presumably innocent brother out of prison.
23. The Flash – Speed meets suspense in this action-packed series chronicling the rise of DC's freakishly fast character – The Flash.
24. Arrow – A modern day Robin Hood of sorts, actor Stephen Amell portrays vigilante Oliver Queen as he seeks to right wrongs and cure the injustices of Starling City.
25. Agents of S.H.I.E.L.D. – Short for Strategic Homeland Intervention Enforcement and Logistics Division, S.H.I.E.L.D. agents work to protect the innocent from strange and unforeseen threats.
26. Gotham – Revolving around future police commissioner James Gordon, this dark and thrilling series shines a whole new light on some of the greatest DC villains.
27. DC's Legends of Tomorrow – Comprised of villains and heroes alike, this time-traveling group of misfits seek to right the wrongs of past years in hopes of securing the future.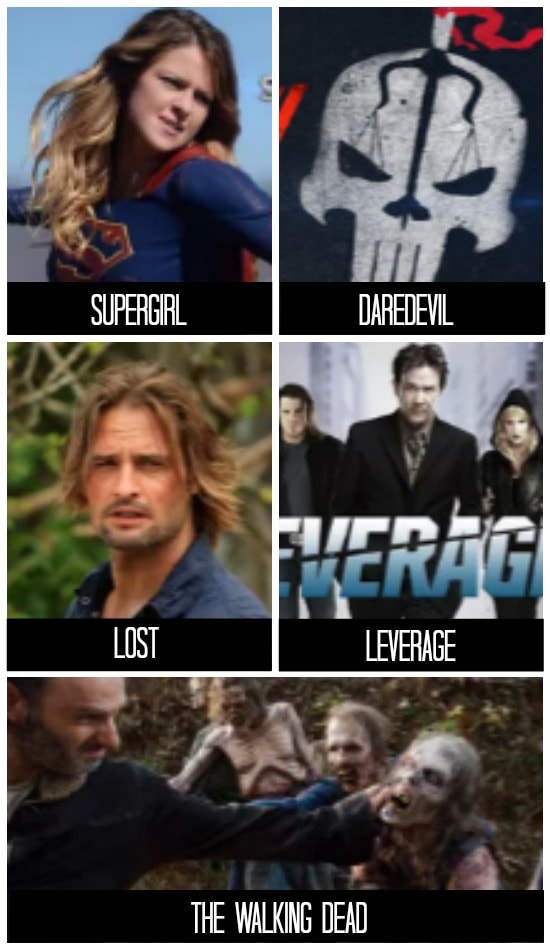 28. Supergirl – Cousin to the classic character Superman, Kara Zor-El discovers her own superhero identity and works to fight crime in this spin-off of the original Superman stories.
29. Daredevil – This Emmy-nominated action series revolves around attorney Matt Murdock. Though blinded as a young boy, Murdock acts as one of New York's most formidable vigilantes.
30. Lost – Follow the surviving members of crashed Oceanic Flight 815 as they seek to uncover the mysteries and dangers of the 'deserted' island upon which they landed.
31. Leverage – Timothy Hutton stars as con man Nathan Ford, who uses his resources to wreak havoc upon the greedier members of society in this five season series.
32. The Walking Dead – Zombie haters beware, as this horror packed show revolves around those less than alive members of society known as 'Walkers.'
Best Drama Series on Netflix for Couples
You'll laugh, you'll cry, and you'll love these dramatic goodies.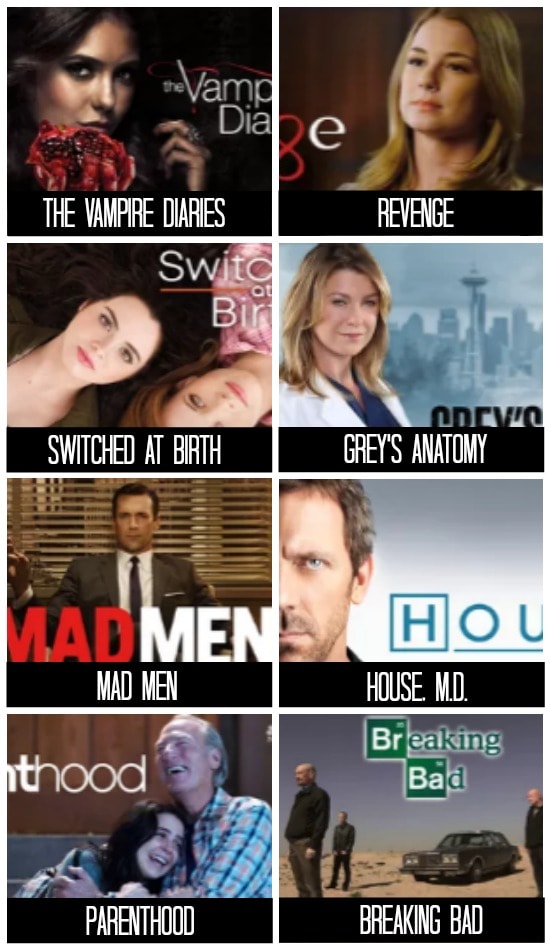 33. The Vampire Diaries – Based off of L.J. Smith's book series, this People's Choice Award recipient follows the comings, goings, and supernatural events of fictional Mystic Falls, VA.
34. Revenge – Emily Thorne, otherwise known as Amanda Clark – daughter of the 'late' terrorist David Clarke – uses her wits and wiles to bring revenge to the families of the Hamptons in this captivating drama.
35. Switched At Birth – Switched at birth, teenagers Bay and Daphne must now reconcile their lives in light of their true identities.
36. Grey's Anatomy – A true medical drama in every sense of the word, this thirteen season (and counting!) series will introduce you to the lesser known side of the medical world.
37. Mad Men – Set in 1960's New York City, this period drama takes you through the in's, the out's, and the scandals of the life of ad man Don Draper.
38. House, M.D. – Hugh Laurie portrays the rough and brilliant Dr. Gregory House and his dealings at the fictional Princeton-Plainsboro Teaching hospital in this medical drama.
39. Parenthood – Follow the Braverman family through this six season series as they experience the highs, lows, and everything in between of family life.
40. Breaking Bad – Heralded as one of the best series of all time, this darker drama follows chemistry teacher Walter White as he begins a life of crime producing and selling crystal meth.
Crime & Forensic Netflix Shows for Couples
Sometimes icky and a lotta bit tricky, these mystery filled shows will have you feeling like Sherlock himself!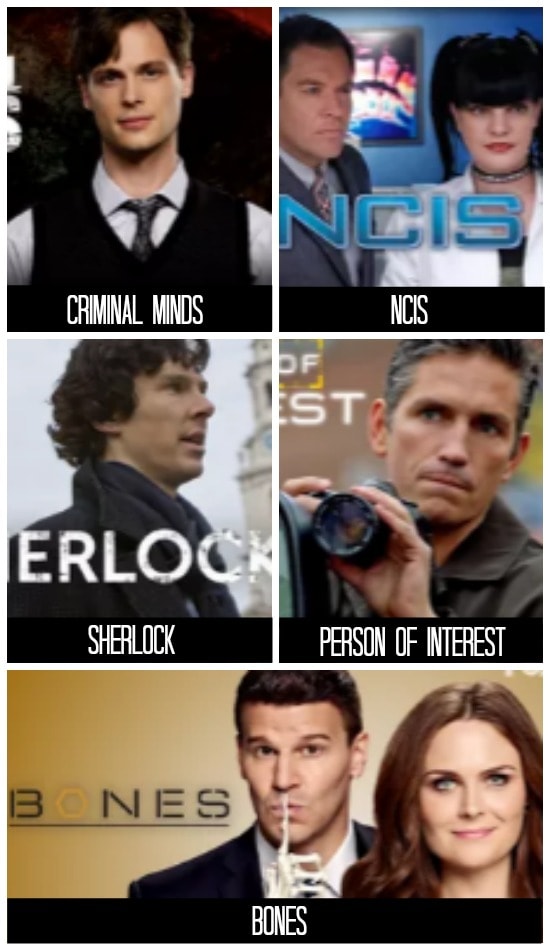 41. Criminal Minds –  Not for the faint of heart, this long-running series delves into some of the most gruesome crimes imaginable, and the lives of the FBI profilers who seek to solve them.
42. NCIS – Short for Naval Criminal Investigative Service, this remarkably long-running show explores and investigates criminal activity with the help of homicide detective, Anthony DiNozzo.
43. Sherlock – Based on Sir Arthur Conan Doyle's classic works, and starring the famed Benedict Cumberbatch, this London-set series explores some of the novels most classic crimes.
44. Person of Interest – Jim Caviezel stars as a former CIA agent who now works to stop crimes before they start.
45. Bones – Join forensic anthropologist Temperance Brennan (ie. Bones) as she works with local law enforcement to uncover and solve criminal activity in the D.C. area.
Best Series to Watch on Netflix for Couples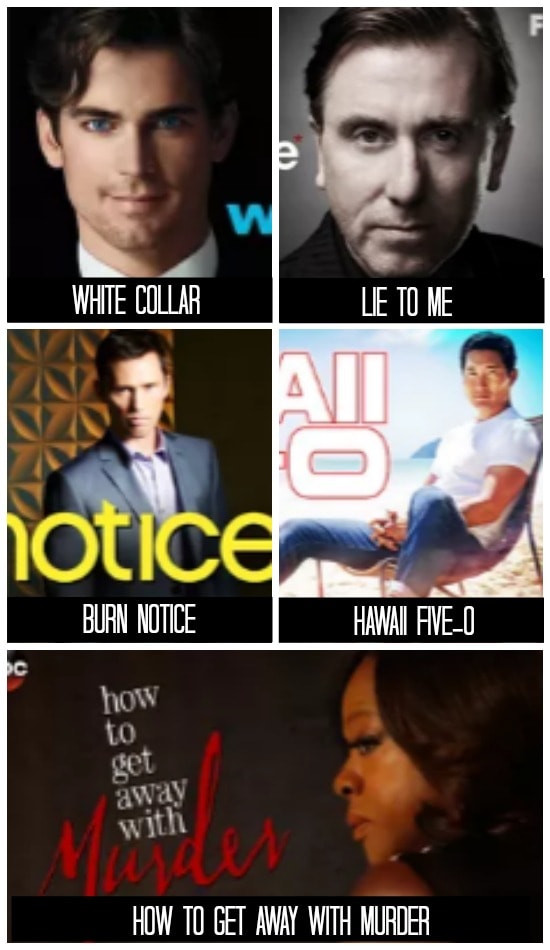 46. White Collar – Neal Caffrey is a formerly incarcerated criminal with a penchant for charm. In exchange for not being sent back to the prison facility from which he escaped, Caffrey seeks to help investigators find and capture other criminals.
47. Lie To Me – Join human lie detector, Dr. Cal Lightman as he seeks to uncover the liars from the truth-tellers in this compelling series that will have you analyzing everyone you know.
48. Burn Notice – Starring Jeffrey Donovan as recently 'fired' spy, Michael Westen, this Miami-based show follows Westen as he seeks to uncover why.
49. Hawaii Five-O – Set on the sandy beaches of the Hawaiian islands, this remake of the classic hit of the same name is not only action packed, but also contains a healthy dose of wit.
50. How To Get Away With Murder – Starring Viola Davis as law professor Annalise Keating, this series delves into a murder plot that she is somehow a part of.
There you have it! TV time is about to get a whole lot better! For even more screen-time fun, be sure check out our Netflix Binge Date Night and our Romantic Redbox Date Night!