Reasons Why I Love You Jar
The idea for this "Reasons Why I Love You Jar" came about years ago when we held a contest to gather some ideas from our brilliant readers. This gift became the winning gift idea in the "Quick and Easy" category. Our reader, Sarah Zimmerman, came up with this amazing idea that was inexpensive and easy to put together: a 50 Reasons Why I Love You Jar. This gift idea gives you a unique way to share with the ones you love reasons why you love them AND it includes delicious treats! Perfect, right? For that reason, we have now added our own Diva flair to Sarah's original idea and have gorgeous printables for you to make and personalize your own "Reasons Why I Love You Jar" for someone you love!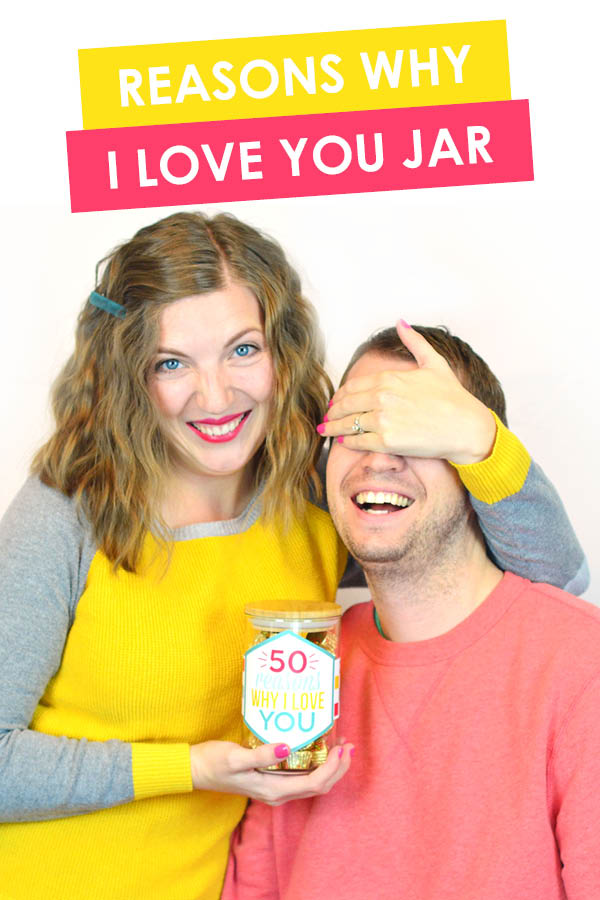 Disclaimer: This post contains affiliate links. To learn more about 'em, click here.
We are always looking for fun, unique and meaningful ways to show our spouses that we love them. What I love about this idea is how simple it is to put together. This could really be done in less than 15 minutes but will be something they remember for a long time. And, with your choice of 3 different printable jar covers designed by Carisa from the site Messes to Memories, you can really personalize this gift idea to your own special occasion! Save this cute gift idea on Pinterest!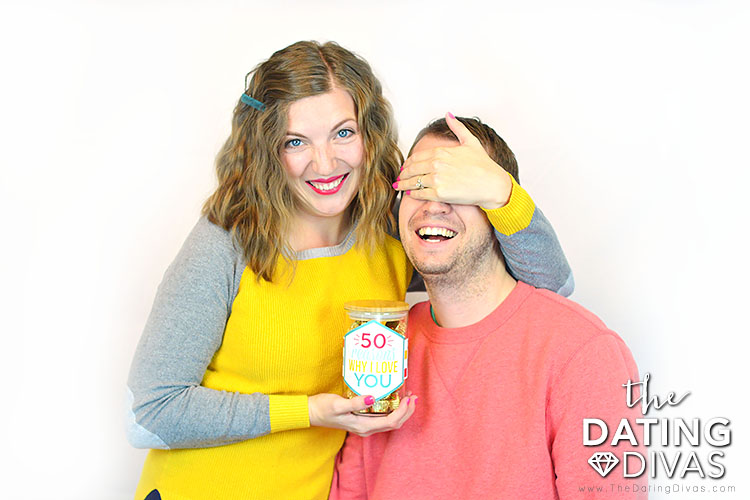 Reasons I Love You Gift Idea
Using a 3/4″ garage sale sticker, write a reason why you love your spouse on each sticker. Place these stickers on some Reese's Peanut Butter Cups, then fill a jar with all of the candies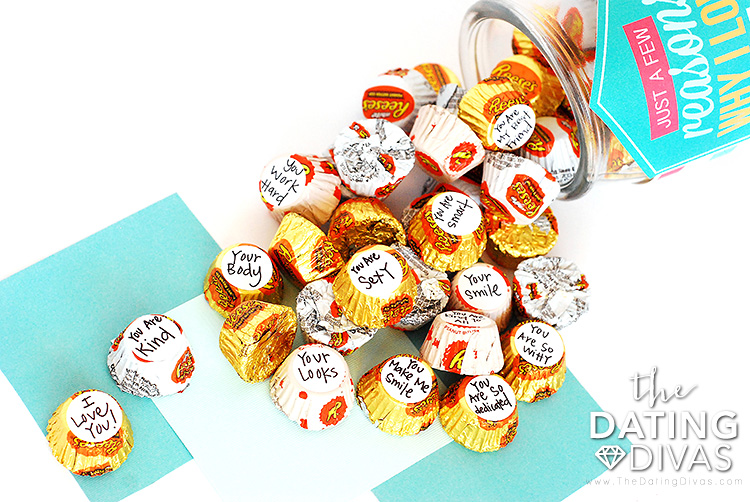 Reisens candies would be perfect too to match the "Reasons" why I love you! The stickers would also fit on the bottom of a Hershey's Kiss! So many different love jar ideas! Just choose your sweetie's favorite treat in mini-size and sticker them up! Start making that Reasons Why I Love You jar right now! But it must be remembered, the notes are 1000% more important than the candy type, trust us!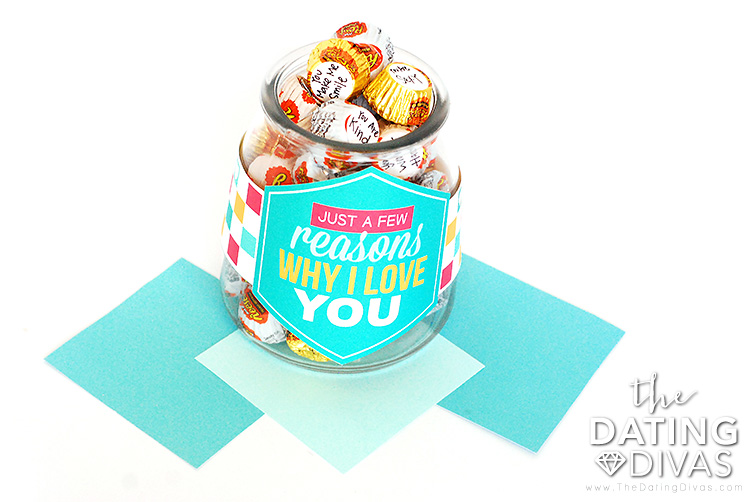 Isn't that so cute? Every time your loved one reaches for a candy, they will be reminded why you love them! Your sweetie will get a sweet treat and a heartfelt message from the reasons why I love you gift.
Customizable "I Love You" Gift
And it gets better! We have created three different printable download designs so that you can print and personalize your jar to your own situation! Save these printables on Pinterest to really up the game with these love jar ideas.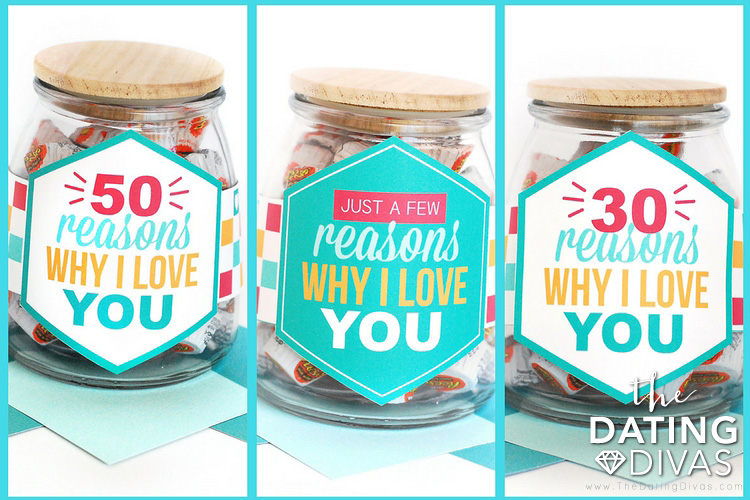 We have 3 options for you:
50 Reasons Why I Love You Jar- This was the original idea from our contest winner, in other words – our muse 😉
Just a Few Reasons Why I Love You Gift – Numbers don't matter, just fill the jar up. The notes in addition to, or without, the cadies will bring so much joy.
# Reasons Why I Love You Jar – This is the jar I am most excited about! Carisa has designed the printable to be editable! You can insert any number that you want! 10 – 365 Reasons Why I Love You jar ideas!  (365 might take a bigger jar 😉 )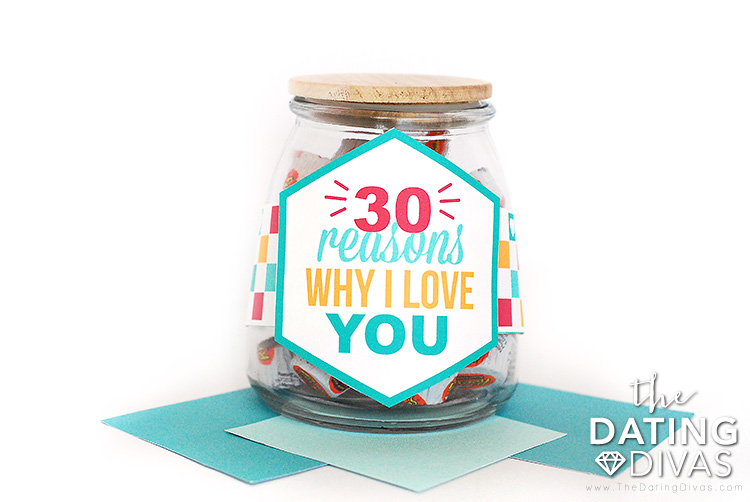 Reasons Why I Love You Gift Options
What I love most about this editable file is how versatile the uses could be. You can truly gift this to your loved one whenever you want! We have a few fun ideas that you can consider for your Reasons Why I Love You gift.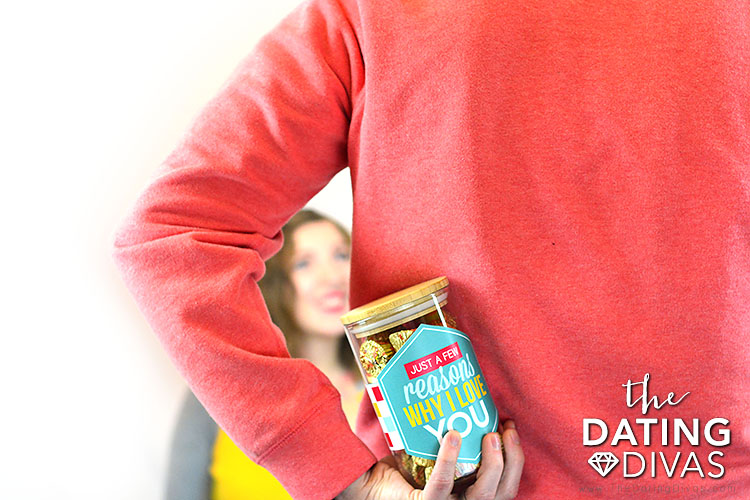 Editable printables are so convenient! With this in mind, here are a few things you could do with this editable jar label for a gift idea for your spouse:
Anniversary Gift – Using the editable file you could do # of candies for how long you have been married. 30 years = 30 Reasons Why I Love You.
Birthday Gift – Match the # of chocolates/notes to their age. 35 years old = 35 Reasons Why I Love You
New Year's Gift Idea – Wouldn't it be neat to make a 365 Reasons Why I Love You Jar and have them get a love note/eat one chocolate a day for a year!? Go ALL out! In fact, this might make it the best year ever!
Long Distance Idea – If your spouse is leaving for a time (like a deployment or work trip) you could do a chocolate for each day they are away. If they are away for a month, you could do 30 Reasons Why I Love You and have them take one a day while they are away.
100 Reasons Why I Love You Jar – Can you imagine how exciting it would be to receive 100 specific examples of love from your spouse?!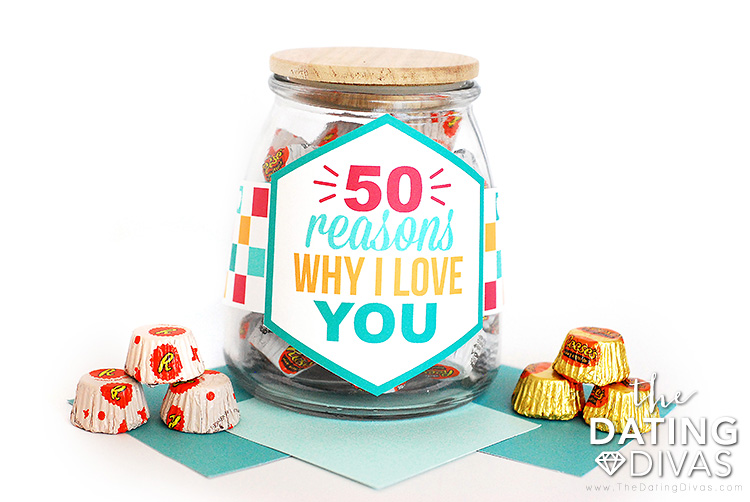 AND . . . while we are brainstorming ideas, why stop at your spouse? This gift idea would be a great idea for anyone in your life that you love and appreciate: a mother, father, friend, child, grandchild, family member, neighbor, someone who needs to be cheered up–anyone really! So many possibilities! Who wouldn't love something like this? Birthdays, anniversaries, Mother's Day, Father's Day, Just Because . . .
Not only is it a GREAT gift idea that is inexpensive, thoughtful, personal, easy to put together, but it's also yummy! What could be better? Let us know in the comments how you personalized this gift idea! We would love to hear!