Anniversary Gift Idea that's Quick and Easy!
Hasn't this been such an AMAZING contest?!!!  We had so many wonderful ideas, it was SO hard to choose.  What is most exciting is we have some great ideas to highlight all year.  Thanks to everyone who participated!  And the WINNER for the "Quick & Easy" category is…Sarah Zimmerman!  We ended up choosing Sarah's idea because it was cheap, super easy to put together, and she submitted AMAZING photos!  Her idea?  Sarah came up with the cutest way to tell her husband she loves him, AND included treats!  YUMMY!  We'll let her tell you all about it…
*       *      *      *      *      *      *      *
50 Reasons Why I Love You
By: Sarah Zimmerman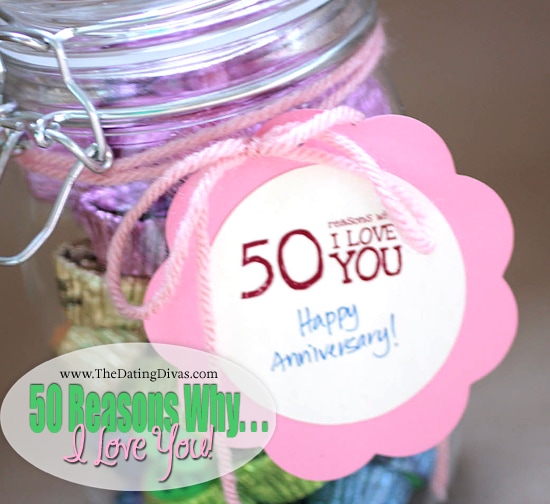 Here is an inexpensive but meaningful gift I made for my hubby for our anniversary last month. I filled a jar with 50 pieces of his favorite candy (Reese's Peanut Butter Cups). On the bottom of each candy, I used a round "garage sale" sticker and wrote on each one a reason why I love him. It sits on his desk and every time he reaches for a candy, he is reminded why I love him!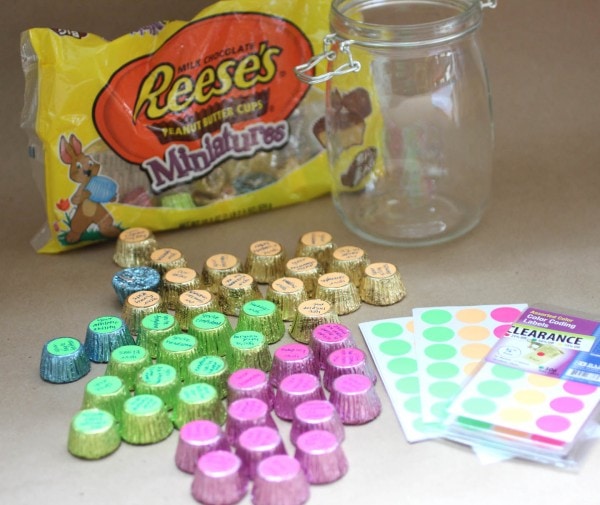 I came up with this idea when I saw all the leftover Easter candy for sale in the grocery stores. And I know how much my husband loves Reese's Peanut Butter Cups! I had also just been to the Dollar Store the day before and notice a section of garage sale materials, including the little circle stickers. Suddenly everything just merged together in my mind and the idea came to me!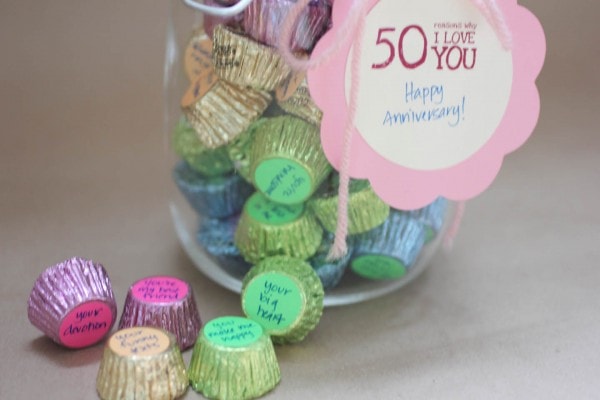 *      *      *      *      *      *      *
Isn't Sarah's idea so darling?  I love that I can get all this at the Dollar Store and put it together in less than 15 min!  Thanks so much Sarah and congrats for winning!!!