Cheer Up a Loved One 
Everyone goes through hard times and everyone has their down days. If you know someone who is feeling glum, you may want to help, but are at a loss for what to do. Diva Michelle and I have searched the web and compiled 58 of our favorite easy and creative ideas that you can do to make someone smile!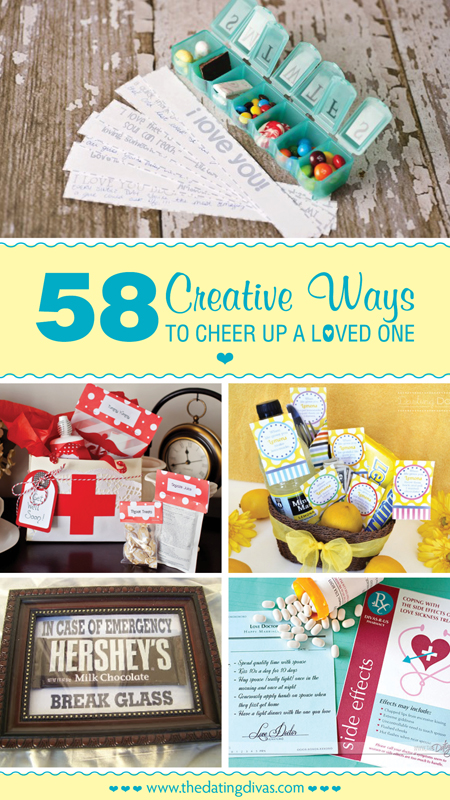 Disclaimer: This post contains affiliate links. To learn more about 'em, click here.
From  cards to care packages you are SURE to find a gift to cheer up a friend! Many links have free printables which makes showing you care even easier! The most difficult part might be choosing which idea to use! So here we go . . . 
For the Loved One Who Is Feeling Down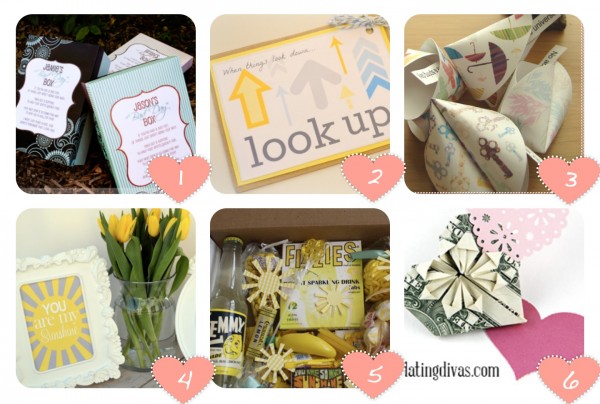 1. The Dating Divas- Bad Day Box. Have a box on hand with your spouse's favorite things for those bad days.
2.  Less Cake More Frosting- Do Unto Others. Help lift someone's spirit with this visual reminder to look up when life is down.
3. Kind Over Matter– Printable Fortune Cookies. On each word fortune cookie strip, write words of cheer. Save them for yourself or give to someone in need.
4. Tater Tots and Jello– You Are My Sunshine. These printables are bright and happy and are sure to cheer up any day "when skies are gray"
5. Happy Money Saver– Box of Sunshine. Send a box of sunshine to brighten someone's day.
6. The Dating Divas– Origami heart. Make your mopey someone something special – an origami heart!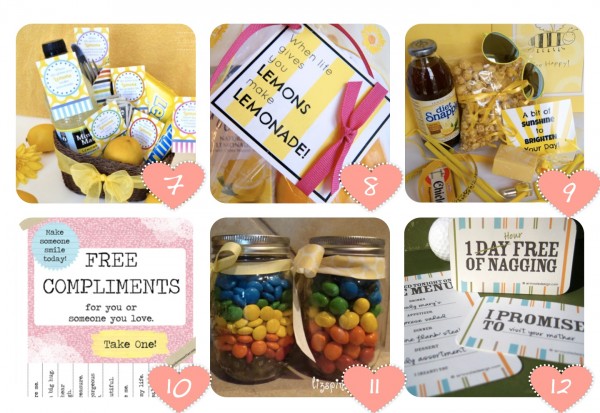 7. Darling Doodles– When Life Hands You Lemons. When life hands you lemons – there are a LOT of things you can do with them! This basket includes treats and adorable printables to accompany each item with ideas of just what to do with those sour lemons!
8.  Michelle Paige– Lemons to Lemonade. More ways to use those lemons! Lemon-themed gifts with a free printable to cheer that special someone up!
9. Michelle Paige– A Bit of Sunshine to Brighten Your Day. Brighten someone's day with this colorful basket and printables! (HINT: Scroll down to the 2nd half of page to see this idea!)
10. Kind Over Matter– Free Compliments Poster. Need a pick me up? Just tear off a quick compliment!
11. Pinspiration By Lizzy– Hope Your Day Is a Bit Brighter. Instructions on how to create a rainbow treat jar with your choice of M&Ms or skittles.
12. Vale Design- Happy Husband Kit. Brighten your man's day with a fun activity and a nag free card which is sure to turn his frown upside down!
13. The Dating Divas– Sweetheart Tarts. Bring your loved one some delicious heart-shaped treats to show you care!
14. Kim's Kandy Kreations– Chocolate Emergency Kit. In case of an emergency – break glass. Hershey Treat for the chocolate emergency!
15. The Dating Divas– Husband Survival Kit. A cute poem with a pick me up for every color in the M&M bag.
16. Lavender's Blue Designs-Midterm Survival Kit. Midterms can be stressful and a much needed time for a pick me up. Give your favorite student a survival kit that will boost their spirit and help them face the tests ahead.
17. Thirty Handmade Days– Welcome to the Neighborhood. Moving into a new neighborhood can be intimidating and lonely. Break the ice and be the first to welcome a new nieghbor with a cute neighbor gift. Includes a free printable to make them feel at home!
18. Paging Supermom– Send a Hug. When a long distance loved one is feeling down, send your warm hug right to their door.
For the Loved One Who is Ill or Injured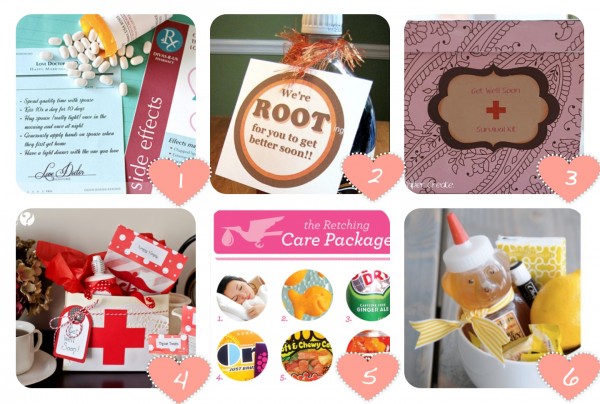 1. The Dating Divas– Love Sick. For the person that is down and sick! Cheer them up with some prescribed love!
2. Fakin It– Root beer Get Well Present. Add this cute printable "We are Root-ing for you to get better" to a Rootbeer drink.
3. Rock.Paper.Create- Get Well Soon Survival Kit. Fill this box with various items to help your loved one in their recovery. 
4. How Does She– DIY Doctor's Kit. Transform into a "happiness" doctor and pay someone who is under the weather a "house call" with this adorable handmade doctor kit.
5. Parade of the Day– Morning Sickness Care Package. Nothing says pregnancy like morning sickness. Bring a little relief and cheer to a pregnant woman with some tummy soothers. 
6. Creature Comforts– DIY Neighborly Get Well Kit. Create an adorable get well kit to show your love for someone who is sick.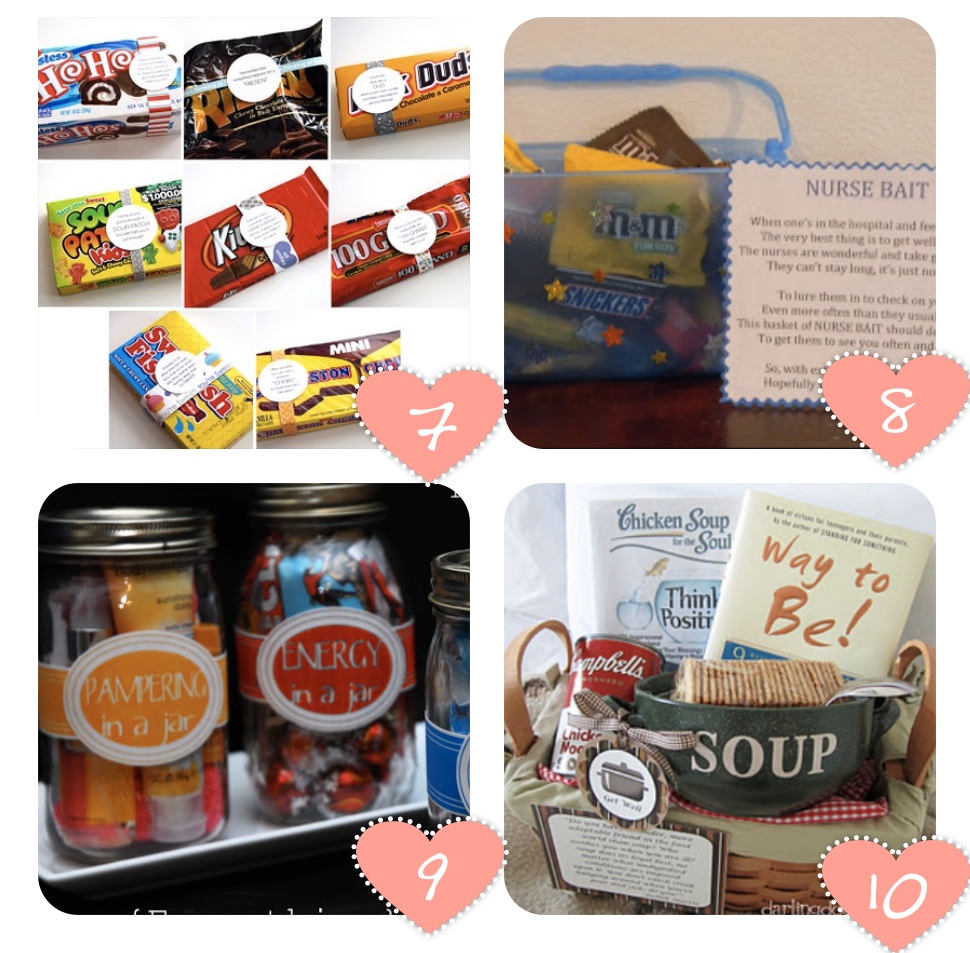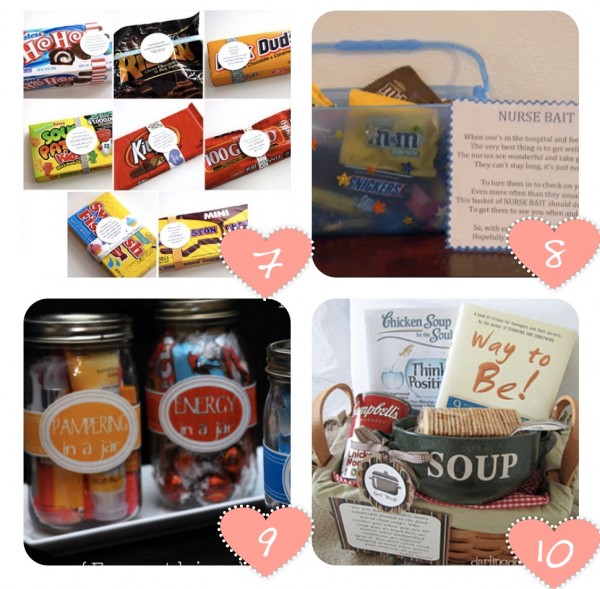 7. Mandy Douglass– Get Well Soon! Bring a smile to someone's face with these sweet treats and accompanying get well soon notes.
8. Darling Doodles– For When You Don't Feel Very Good. Ideas for a gift basket for when your loved one doesn't feel very good! Printables included!
9. The Gunny Sack– Gift in a Jar. Everything your loved one needs to feel completely pampered – all in a jar!
10. Brandy's Creations– Nurse Bait. A poem & a basket full of treats to lure the nurses in & ensure that your loved one gets extra special attention from their caretakers!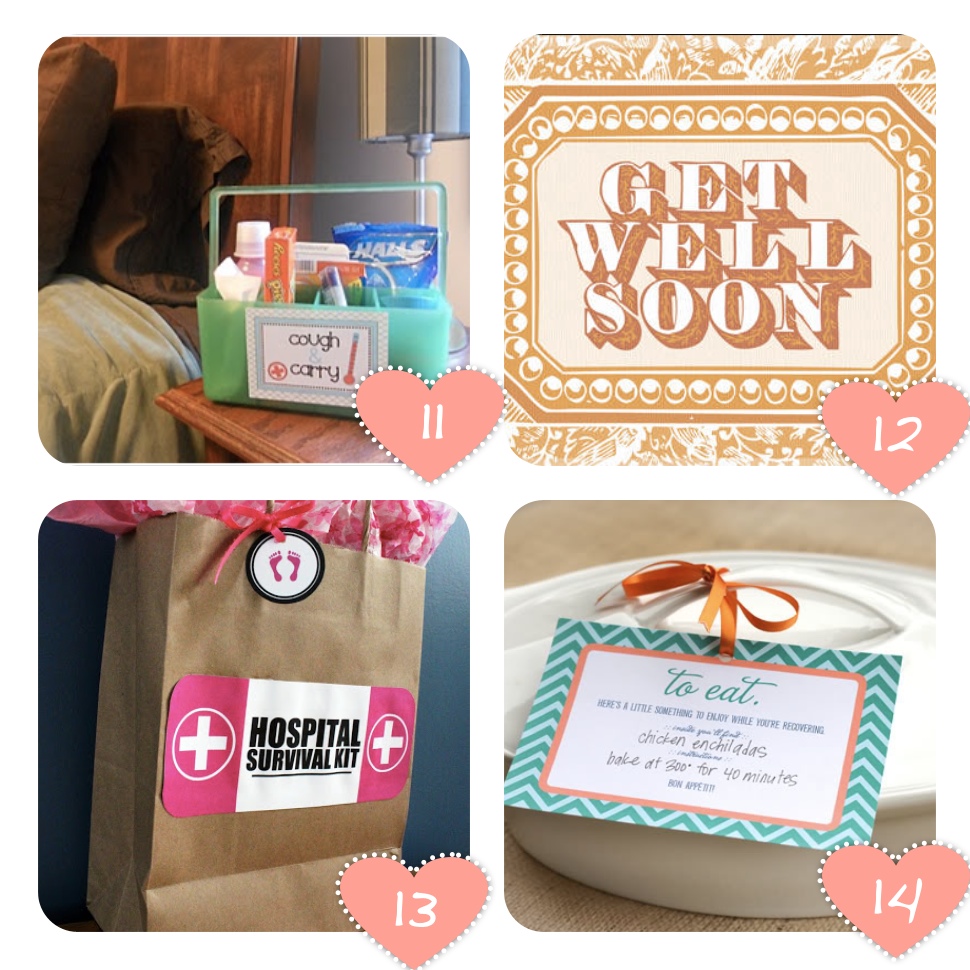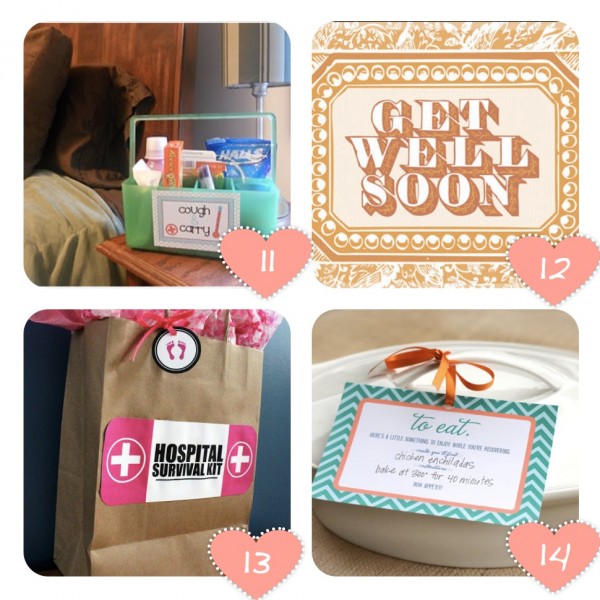 11. Darling Doodles– Cough and Carry Caddy. Tote full of all the essentials you need when you are sick – all in one place!
12. Just Something I Made-Get Well Soon PDF.  Add this darling "Get Well Soon" tag to your gift and you are all set to go.
13. Jens Own Road–  Hospital Survival Kit For New Mothers. Bring a little cheer to a new mom's stay at the hospital with goodies just for her.
14. Le Partie Sugar– Meal Care Package Label. A new baby in the house is a huge stress. Help lighten the load by bringing a meal with this darling label. 
For the Loved One Who Needs to Feel Appreciated

1. Queen Bee and Me– Easy Thank You Gift Ideas. Simple little craft with a yummy gift to make someone feel like they are the best. This page has LOTS of other cute and easy thank you ideas.
2. My Sister's Suitcase– Put a Little Spring In Your Step Printable. Perfect spring thank you to put a little spring in their step! 
3. The Dating Divas– You Are Appreciated Countdown. Have others contribute to cheering up your loved one by alterting this card countdown. Get family and friends to contribute a card with words of encouragement and support. 

4. Modern Parents Messy Kids– Teacher Survival Kit. We all know teachers have a very challenging job and sometimes they need a little cheer to make it through the day. Bring a smile to your teacher's heart by giving them a survival kit expressing your gratitude for all they do. 
5. Party Printables– Best Wishes Bunch. Make someone's day brighter with a personalized flower message bouquet.
6. It's A Fabulous Life– Cereal Tags. Tell them you love them, think they are great, and that they are your sunshine with a box of cereal and an adorable cereal tag. 

7. Thirty Handmade Days– Random Acts of Kindness. Pass a note of kindness to someone who needs a pick-me-up along with a treat to bring cheer to their day.
8. Tip Junkie– Your Garden Is Lovely. A cute little card to tuck away in someone's garden to let them know their work is admired and appreciated. 
9. The Dating Divas– Sit Back and Relax Coupons. Take care of your loved one for the day with these coupons for pampering. 
For The Loved One Who Just Needs to Feel EXTRA Loved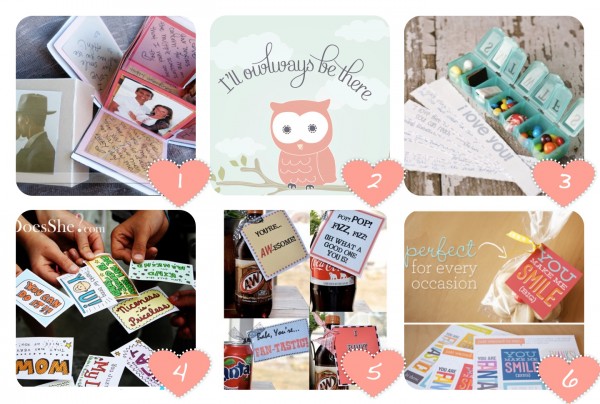 1. The Dating Divas– Exploding Love Box. With 24 sides – there are plenty of places to write special notes to share what you love about the person. It will certainly cheer them up! 
2. Falala Lovely– Owlways Be Happy. Adorable owl design with the message, "I'll owlways be there for you." 
3. The Dating Divas– Seven Days Of Love. Leave a note of love and encouragement for each day of the week using a 7 day pill box.  
4. How Does She– Kindness Printables. Quick notes of encouragement for any occasion.
5. The Dating Divas– Soda Pop Gift Tags. Quotes to attach to a soda pop bottle to tell your loved one how great you think they are! 
6. Paper Coterie– Printable Notes. Brighten someone's day with these adorable printable notes including: "You Make Me Smile" and "Thinking of You"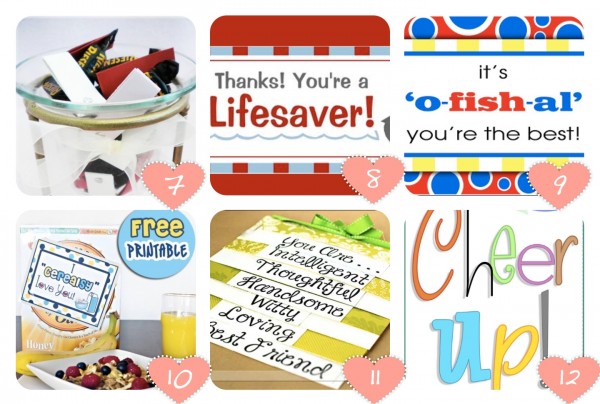 7.  The Dating Divas– Riesens Why I Love You. Write a special note and attach to a chocolate Riesen. 
8. Darling Doodles– Candy Printable Notes. Special notes paired with sweet treats to show your love and appreciation: part 1 of 2. 
9. Darling Doodles– Candy Grams. Sweet notes to go with favorite treats part 2 of 2. 
10. The Dating Divas– I "Cerealsy" Love You. A quick box of cereal and this free printable can send the message of love and support before the day even begins.  
11. The Dating Divas– Step Card. Use this creative card to list each thing you love about the person. Includes lots of places to write! 
12. Greetings Island– Personalized Greeting Card. Customize a card for that special someone to make them feel important!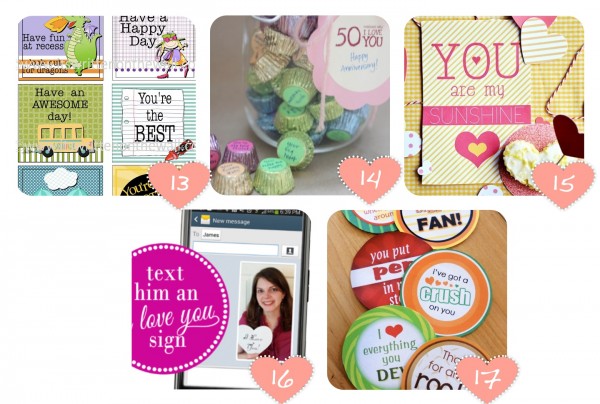 13. Fun Loving Families– Lunch Box Love Notes. Slip a quick cheery note into your loved one's lunch. The original idea we had here no longer exists, so we found another option for you! 
14. The Dating Divas– 50 Reasons Why I Love You. Use dot stickers to add messages of love to the bottom of wrapped mini Reeses Peanut Butter Cups. 
15. The 36th Ave– You Are My Sunshine Printable. Make your love feel special and cared for with this free printable and  a yummy lemon bar treat. 
16. The Dating Divas– I Love You Photo. Send a quick photo via your phone with the simple "I Love You Sign" to share let them know you are thinking of them. 
17. Darling Doodles– Put Some "Pop" Into Your Love Life. Sweet notes to give with a favorite soda. I particularly love the Mountain Dew with the note, "I love everything about Dew" and the Seven Up with the "Everything looks up when you are around" 
How can anyone be down when there is so much love around?
No matter who you know that is having a hard time – take the time to show you care! It won't take long and it may mean the world to someone.
So go for it! Go spread some sunshine! Mwah!