St. Patrick's Day Leprechaun Trap Ideas
We don't know about you, but we LOVE finding ways to add magic to holidays. That being said, St. Patrick's Day is no exception! This year, why not make St. Patrick's Day extra exciting and create a fun new tradition or two? We recommend making leprechaun traps with your kids! And lucky for you, we've gathered some adorable and hilarious leprechaun trap ideas to make St. Patrick's Day full of fun. However, just a small warning that leprechauns are VERY difficult to catch. Those sneaky little tricksters come out at night and always leave behind some tricks and mischief. That being said, we've included the best leprechaun trap ideas, leprechaun tricks, easy leprechaun traps, AND ideas for how to catch a leprechaun down below. Check them all out!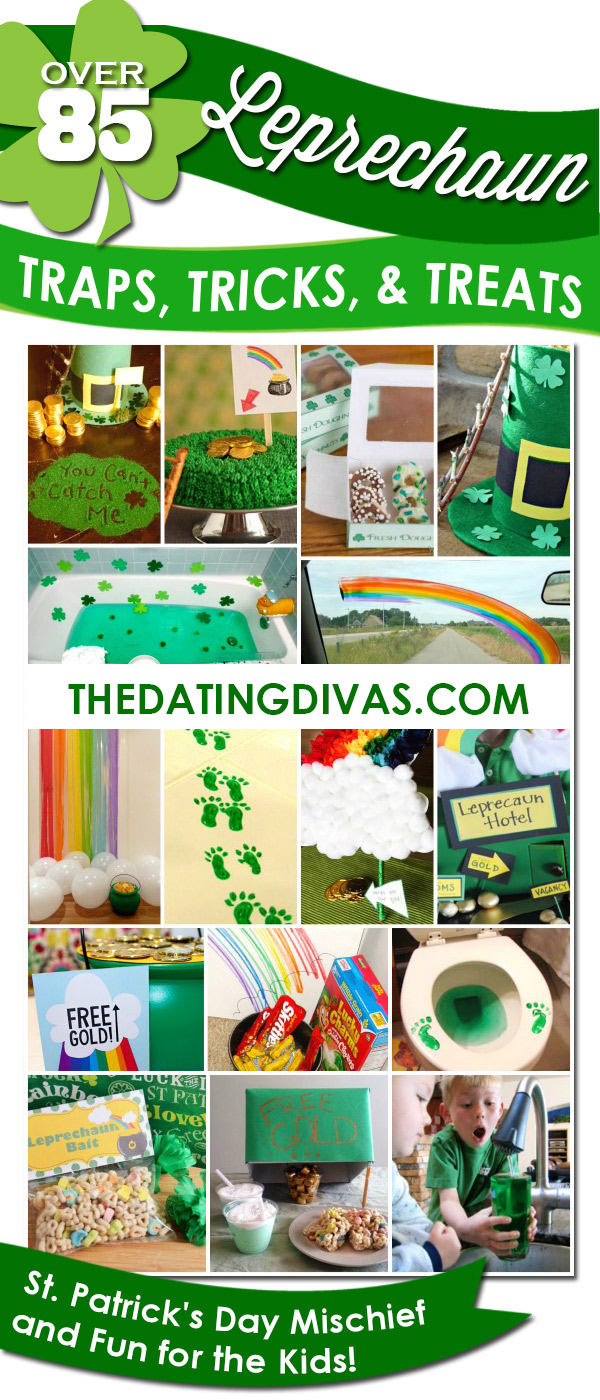 Disclaimer: This post contains affiliate links. To learn more about 'em, click here.
Not only have we found the best leprechaun traps ideas out there, but we've also put together ideas for leprechaun mischief, treats, AND stories to make St. Patrick's Day an unforgettable holiday for your family! Check out the ideas we've packed into each of these categories.
And don't you worry! Additionally, we've included the links to each idea so that you can check out the blogger's pictures and designs in full detail. Without a doubt, any of these ideas are so fun! We just can't wait to have a leprechaun visit OUR house! 😉
Now, are you ready to jump into this mega list of leprechaun trap ideas and more? Go grab your kids, some craft supplies, lot's of imagination, and let's get started!
Creative Leprechaun Trap Ideas
In case it wasn't obvious, creating a leprechaun trap requires some creativity. Below, we've compiled the best inspiration for creative, clever and out-of-the-box leprechaun trap ideas all for YOU. Not to mention, we've included EASY leprechaun traps so that you aren't having to spend hours making one (who has time for that?!) On that note, scroll down below to get a taste of the best leprechaun trap ideas (including leprechaun trap kits!) and then get ready to put that creativity to work!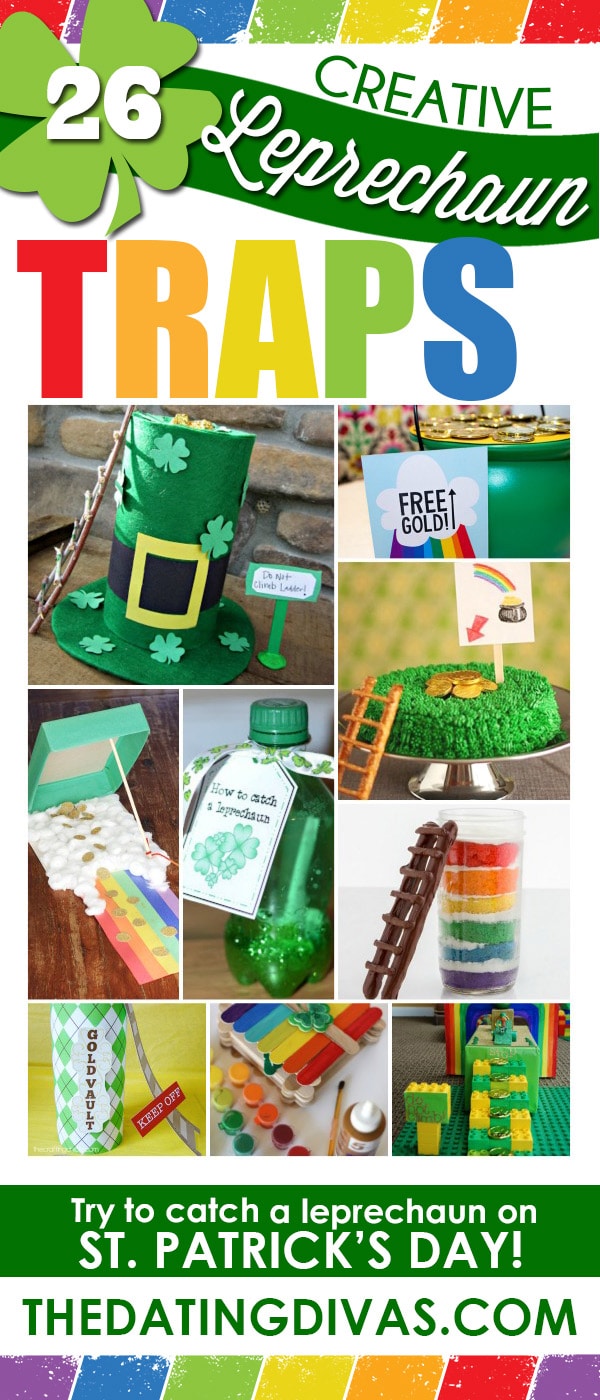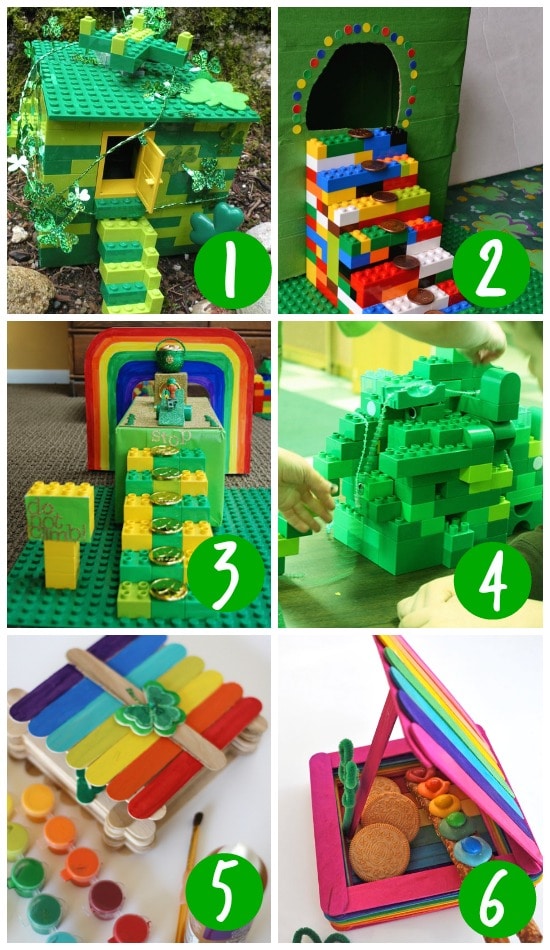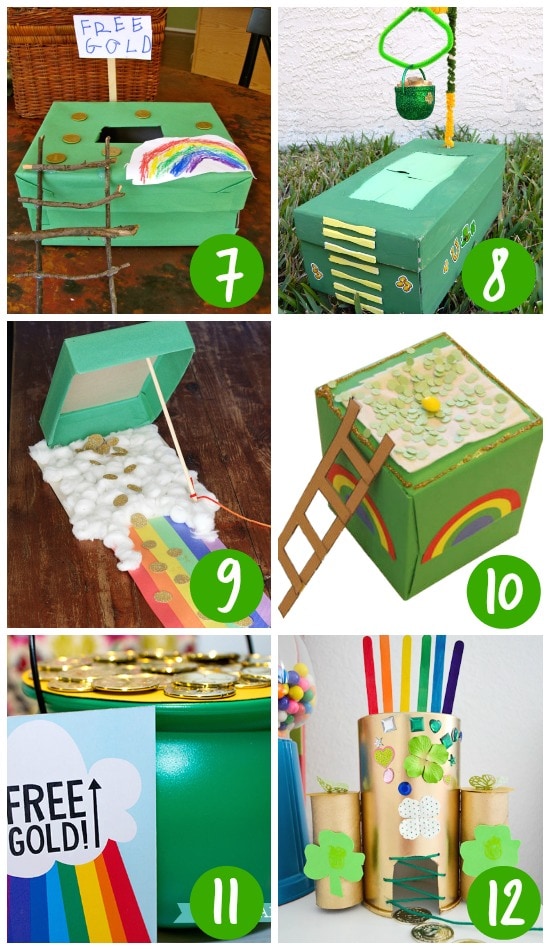 Shoebox Trap – Ahh. A classic leprechaun trap: a shoebox! Don't forget to add a ladder!
Secret Trap Door – Well, this extra touch is cuter than words! Dangle some bait with pipe cleaners over a hidden trap opening. Now that's how to trap a leprechaun!
Cereal Box Trap – We love this idea! Simply cut open a cereal box and prop it up with a stick. Then, tease the leprechaun with gold underneath.
Tissue Box Trap – This is one of those EASY leprechaun traps we mentioned that is also SNEAKY! Using the hole in a tissue box, cover it up lightly so that the leprechaun falls right in. A tissue box is just the right size for a little leprechaun to get trapped inside!
Plastic Pot Trap – Unfortunately, this link is no longer available 🙁 However, you can grab a green cauldron or another plastic container at the Dollar Store for this leprechaun trap idea and fill it with some gold coins.
Oatmeal Container Trap – Cover an old oatmeal container with shiny gold paper and green gems. Without question, a leprechaun will want to come around to check things out (then you got 'em!)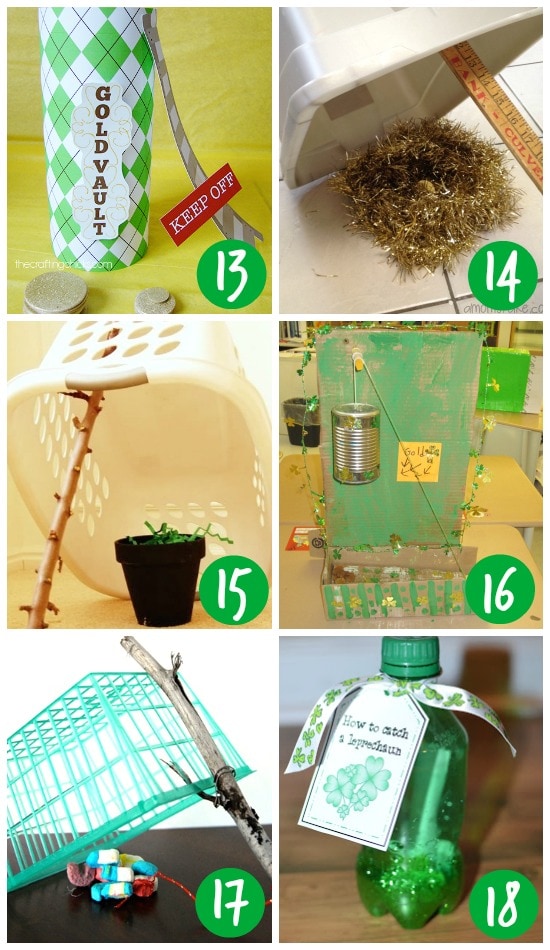 Gold Vault Trap – In our opinion, you can really use any type of tall canister for this Gold Vault leprechaun trap idea. However, the Crafting Chicks used an old Pirouette cookie can and it turned out perfectly!
Rubbermaid Tub Trap – For a simple idea, simply lure them in with gold tinsel and trap them under a big tub!
Laundry Basket Trap – Luckily, everyone has one of these lying around at home. Put it to good use for one of those easy leprechaun traps that everyone can appreciate!
Tin Can Trap –  Sadly, this link is no longer available 🙁 However, this is one of the most intricate leprechaun trap kits we've ever seen as it uses some physics and pulleys. Perfect for a little scientist!
Strawberry Basket Trap – This idea has two benefits: First, it's already green. Second, it's perfectly sized. If you have a strawberry basket handy, then you're set!
7-up Bottle Trap – This is one of the best leprechaun trap kits because everything you need comes in a bottle!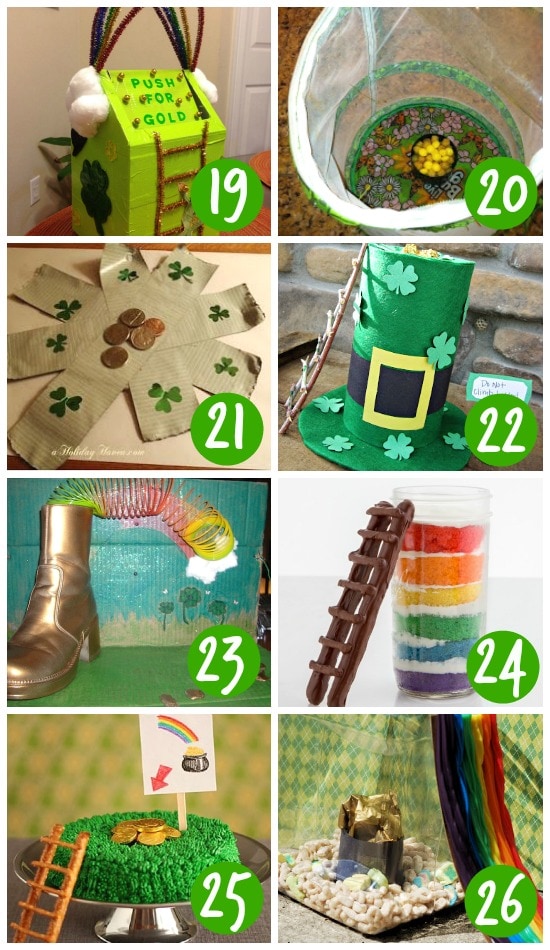 Duct Tape Trap Door – Is it possible to use duct tape when creating easy leprechaun traps? Absolutely! Simply create a door using duct tape and instruct the leprechaun to push for gold!
Bug Net Trap – Sadly, this link is no longer available 🙁 However, it works for catching bugs. So, why not leprechauns?
Sticky Duct Tape – One step on this sticky trap and the leprechauns will be stuck for good!
St. Patrick's Day Hat Trap – Using a festive, green hat, lure a leprechaun up to the top and then trap 'em!
Shoe and Slinky Trap – I love the creative use of an old shoe sprayed with metallic gold paint and a simple slinky toy. If you're wondering how to trap a leprechaun, this is one creative idea!
Rainbow Cake Layers – Nothing says "enticing" more than rainbow cake in a jar! Make some colorful layers of cake and put them in a cute jar to trap a leprechaun. Don't forget a homemade pretzel ladder!
Green Cake Trap – For this idea, make a bundt cake (or a circle cake with the middle cut-out) and top it with green frosting and gold coins in the middle. The leprechaun will, of course, fall right through the frosting trying to snatch the coins!
Rainbow Twizzler's Trap – Have any Twizzler's laying around? If so, use some fun, bright Twizzler strings to create a ramp into a leprechaun trap.
Leprechaun Bait Ideas
Now that you've picked out one of the leprechauns trap ideas above to model your own after, you'll need something irresistible to entice the leprechauns to fall into your snare! Now, remember that leprechauns are attracted to anything green, shiny or rainbow. Additionally, they can't resist gold! On that note, here are some fun ideas for using bait inside your leprechaun trap. And by the way, don't be surprised if a ton of leprechauns come running! 😉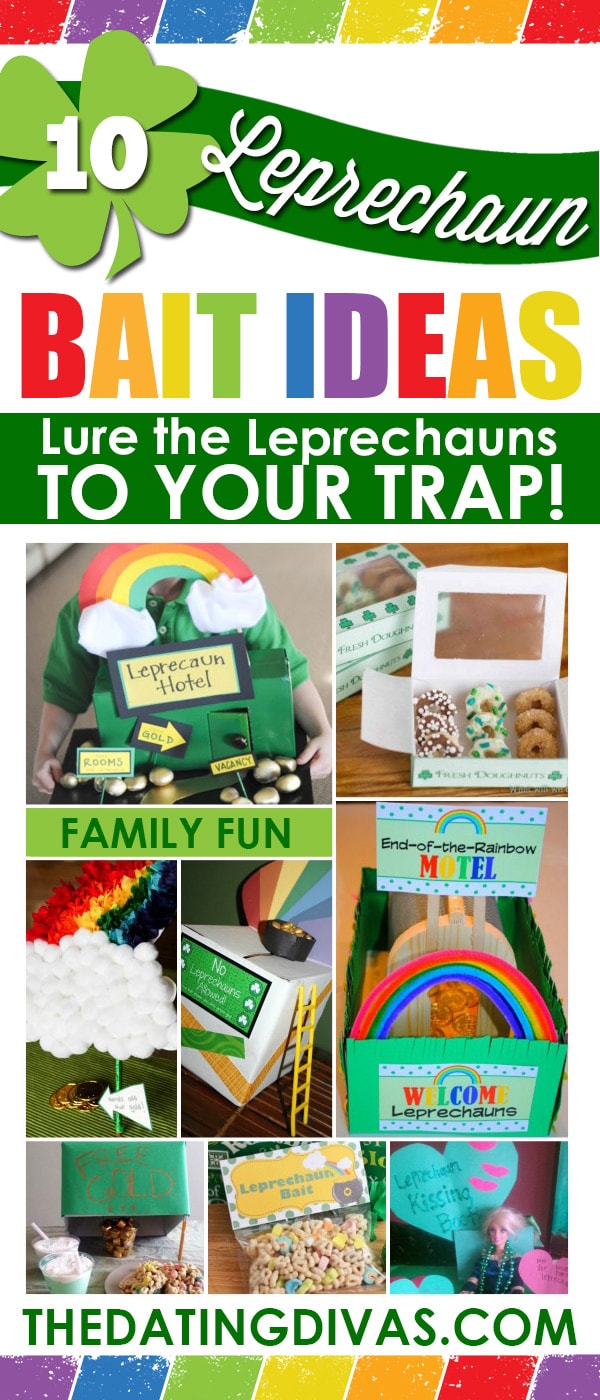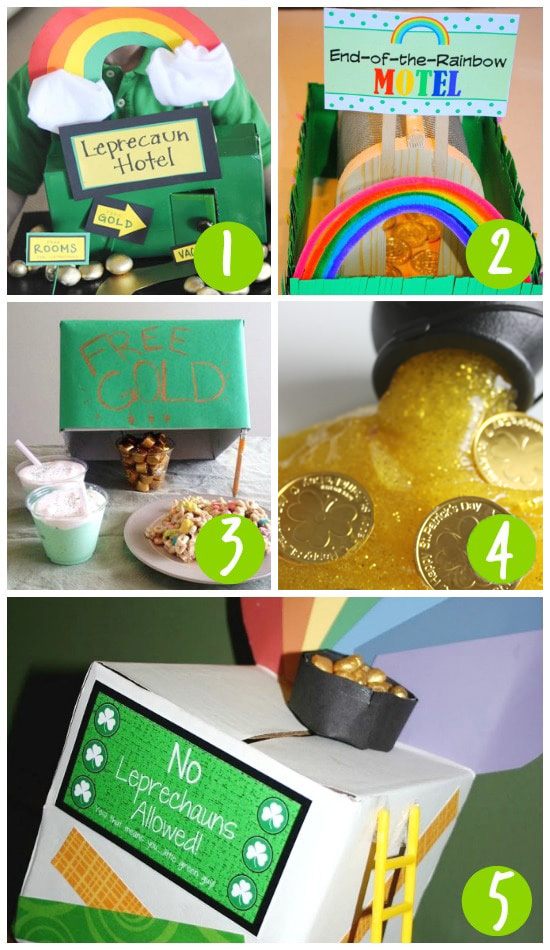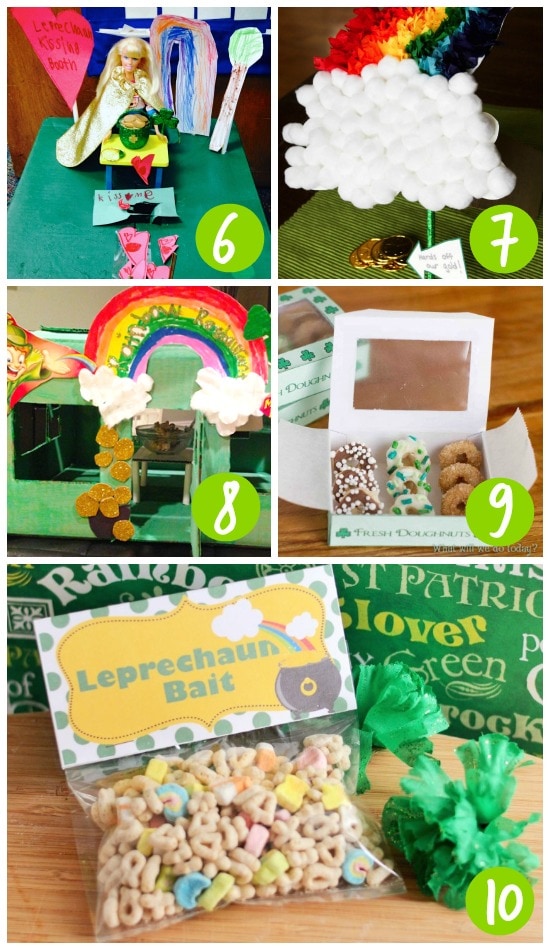 Leprechaun Gifts and Goodies
Without a doubt, leprechauns are clever and tricky. That being said, there is a high possibility they will escape your leprechaun trap! However, it's important to keep in mind that they are very kindhearted little folks. Most likely, they will leave a treat or note behind after their visit (lucky you!) So, we not invite you to scroll down to check out our awesome ideas for leprechaun gifts and goodies that make children of any age click their heels with excitement!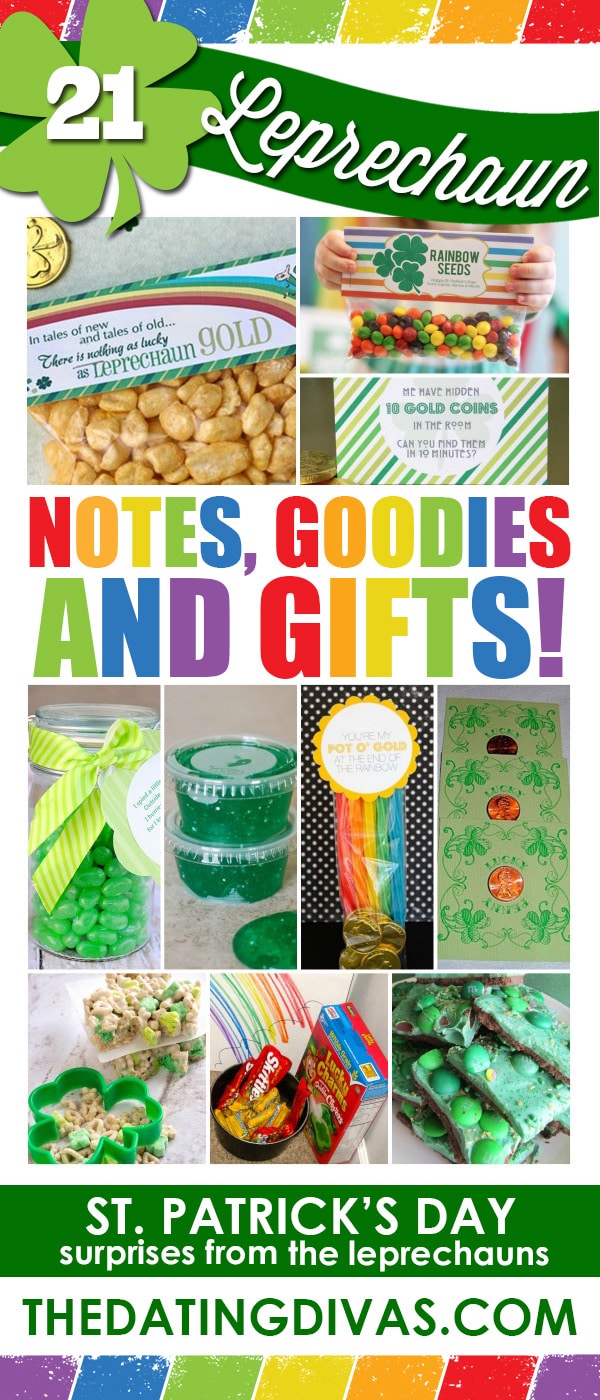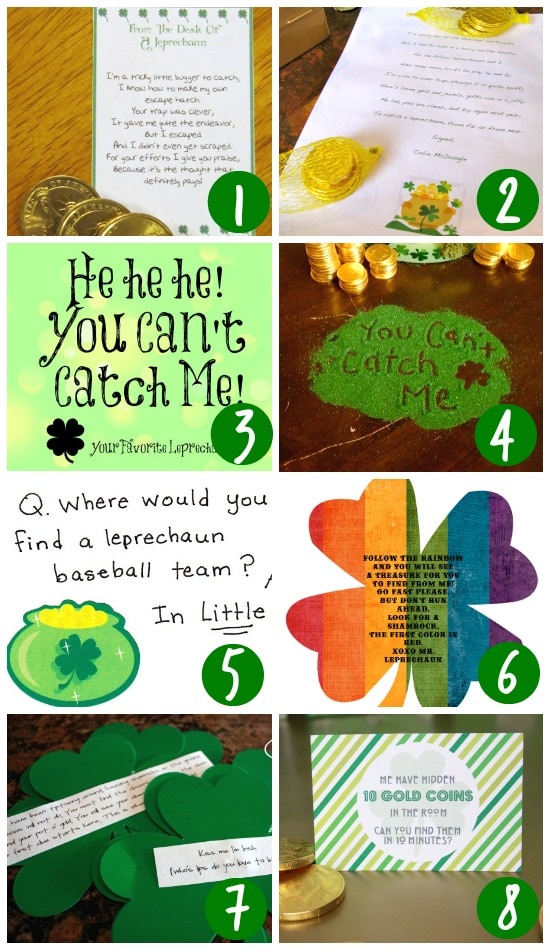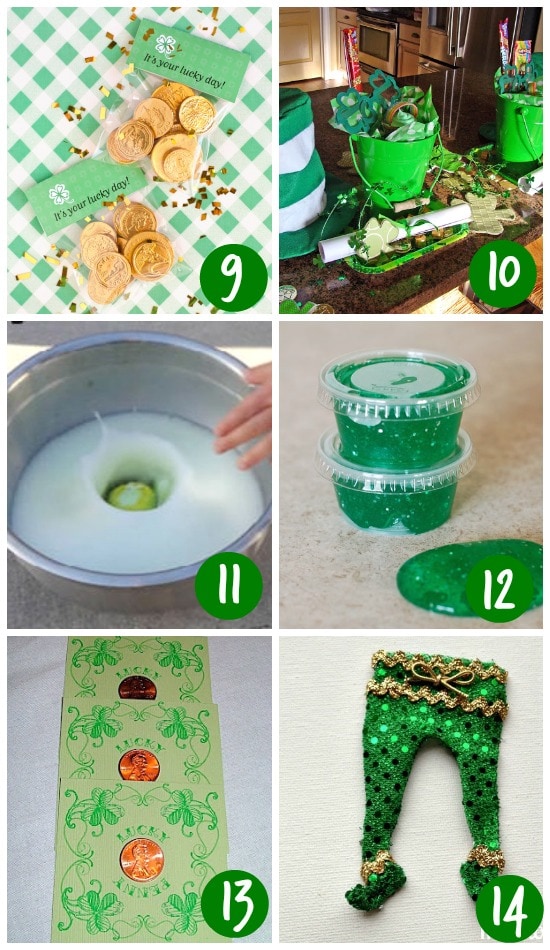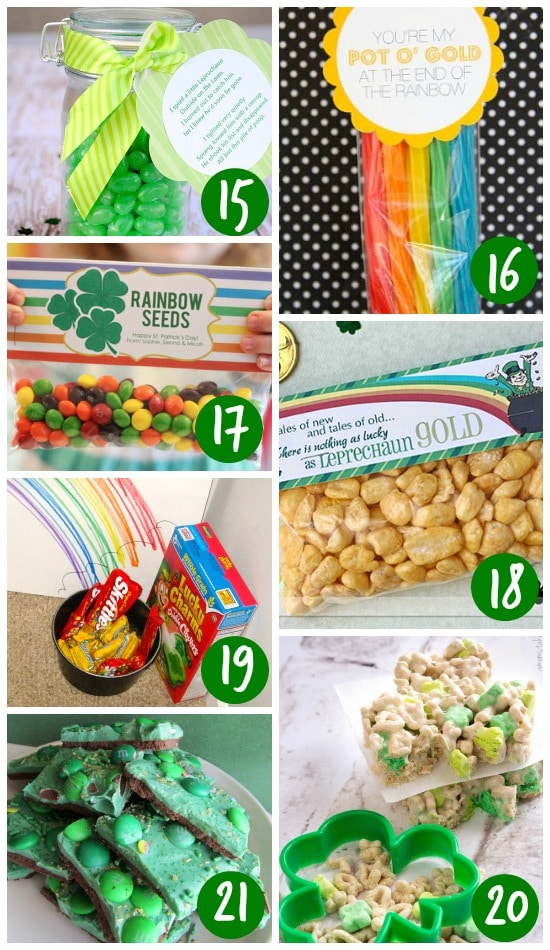 Leprechaun Droppings – If this doesn't make you giggle, then we don't know what will! Attach the cute printable poem to green jelly beans or other round candy to make a hilarious treat! Additionally, you could also include these leprechaun droppings in your leprechaun trap!
Rainbow Treat – Truthfully, we love any candy. But, rainbow licorice and gold candy, packaged with a colorful printable tag, is our favorite!
Rainbow Seeds – Darn! Looks like this link is no longer available 🙁 However, Skittles are perfect "Rainbow Seeds" and would make a darling leprechaun treat! So cute, right?
Edible Gold – Let the kids think they're eating real gold with this cute idea! Attach the printable to a bag of corn pops and make a yummy golden snack!
Lucky Charms for Breakfast – Without a doubt, this leprechaun goodie idea is easy AND convenient! It's simply a box of Lucky Charms which the leprechauns could leave as a surprise breakfast at the end of a paper rainbow!
St. Patty's Krispie Treats – Shamrock-shaped Lucky Charm Krispies = YUM! And, don't forget to make these the perfect shape with a shamrock cookie cutter.
Leprechaun Bark – Ready for a truly delicious leprechaun treat? Try this delicious green mint chocolate bark!
Leprechaun Tricks
When leprechauns visit, they love to pull pranks and tricks. Those pesky little buggers! From green bathwater to green hair, here are some hilarious ideas for leprechaun tricks that you should try out on your kids this year! Not only that, but you should also try a few out on your spouse, too! Each of these ideas would pair well right next to a leprechaun trap because it only makes sense that a leprechaun leaves their mark as they try to run away! Check these out!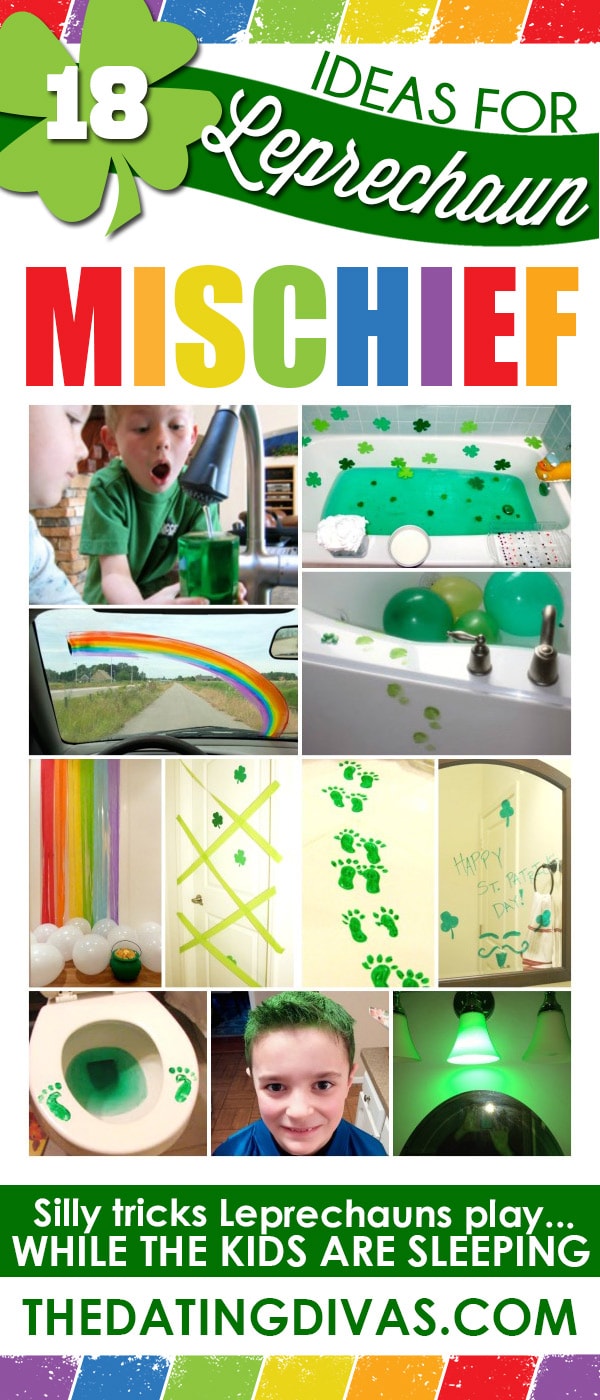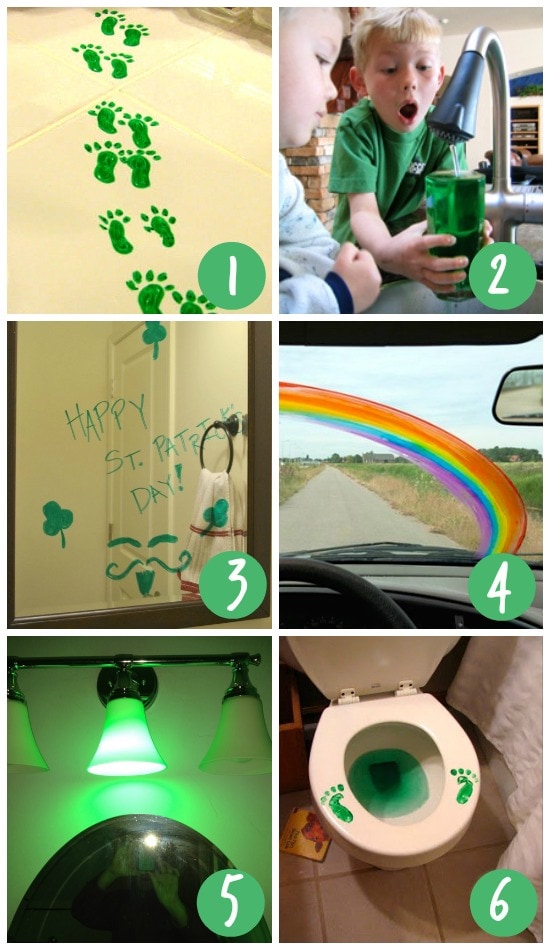 Green Footprints – Oh darn! Unfortunately, this link is no longer available 🙁 Although, in case you didn't know, leprechauns leave tiny green footprints wherever they go. So, try out this idea by using some washable green paint!
Green Faucet Trick – This idea is pure magic! Watch your kids go nuts when they turn on the sink and the cup fills with green water. Whoa!
Mirror Writing – Oh rats! Sadly, this link is no longer available 🙁 However, here are some easy instructions! Take a green erase marker and leave a message on the bathroom mirror!
Windshield Rainbow – Well, this idea is sure colorful! Start your wipers St. Patrick's Day morning and a rainbow magically appear!
Green Lighting – This is one of our favorite leprechaun tricks! To pull it off, all you do is switch out regular light bulbs for green ones!
Green Toilet – So, how about a fun surprise when the kids wake up to use the bathroom? This idea is a classic!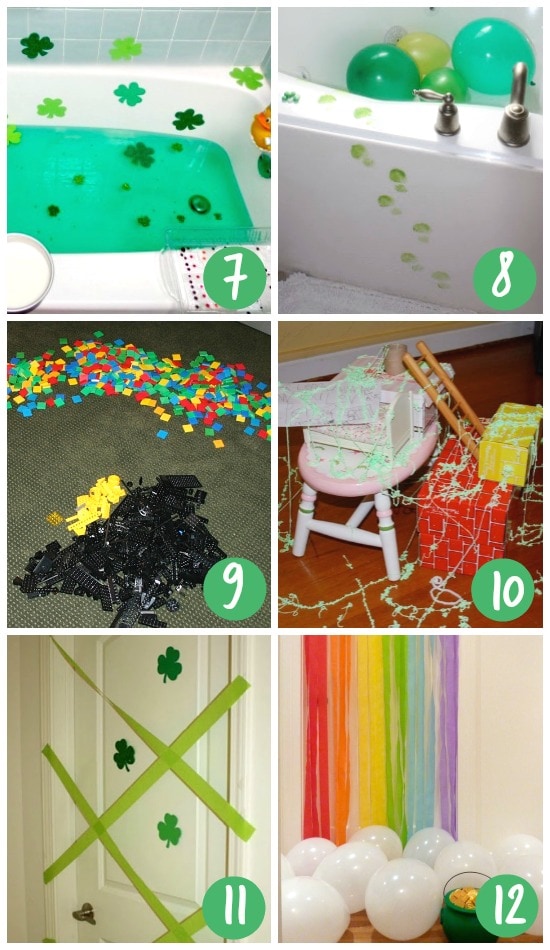 Green Bath Tub – Oh darn! This link is no longer available 🙁 But looks like the leprechauns enjoyed a nice bath before they left though! For this cute idea, make sure to get some removable shamrock stickers and bath color drops.
Green Balloon Bath – Or, you could also create footprints and throw green balloons in the tub for a cute leprechaun trick!
Lego Rainbow – It appears the leprechauns got into the Legos at this house and left a Lego rainbow with a pot of gold at the end!
Green Silly String – Unfortunately, this link is no longer available 🙁 But, after escaping a leprechaun trap, leprechauns like to spray them with silly string!
Green Door Barricade – Your kids will have to break through green streamers to get out of their rooms on St. Patrick's Day!
Giant Rainbow – Shoot! This link is no longer available. However, you could easily recreate the idea of leprechauns making a big rainbow of streamers and balloons in your house!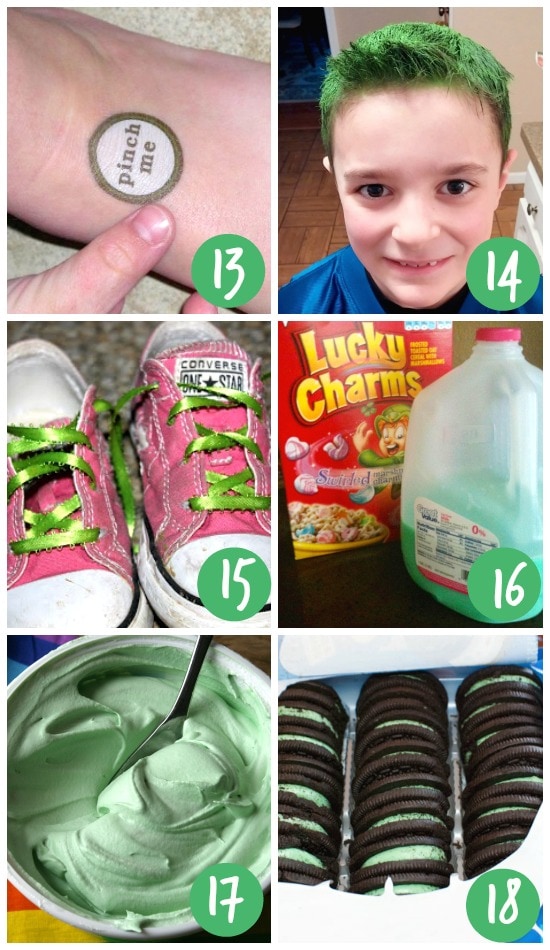 Books About Leprechaun Traps and More
First off, telling your kids about leprechauns and their tricks is great. However, wouldn't it be even better to READ to them about it? On that note, get them excited and introduce them to the magic of the St. Patrick's Day's tricksters with these stories. Below we've found some adorable books all about how to trap a leprechaun, leprechaun traps, and magical leprechauns who save the day! Without a doubt, both you and your kids will love these!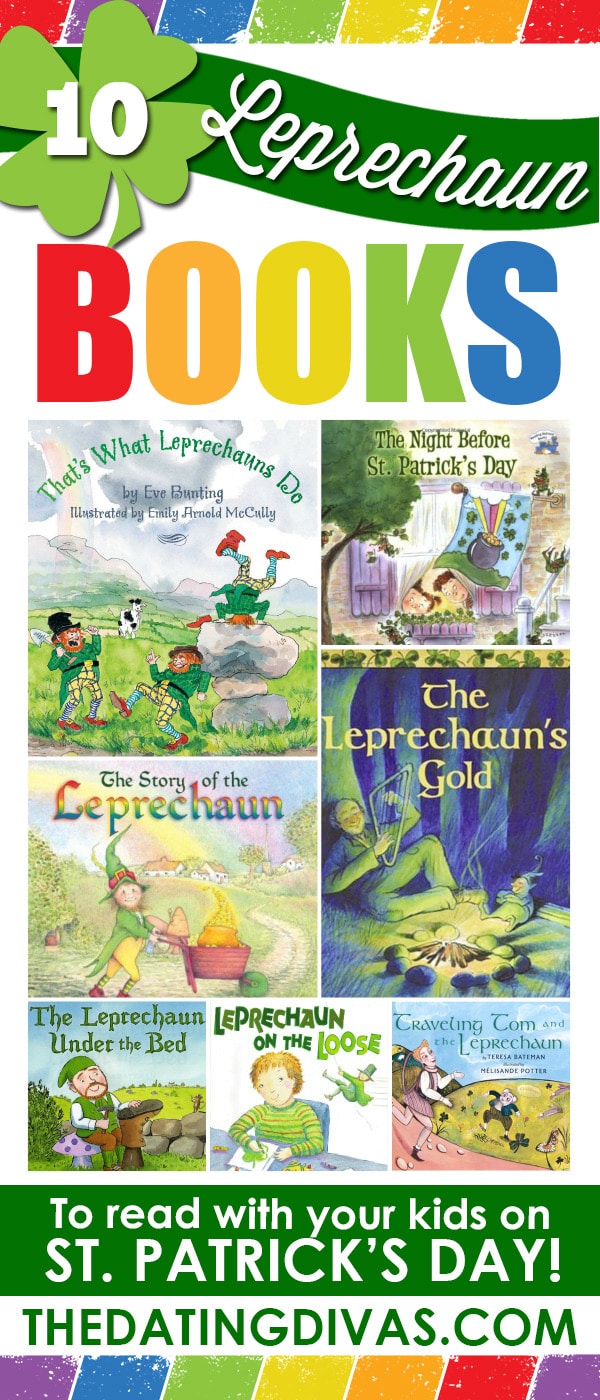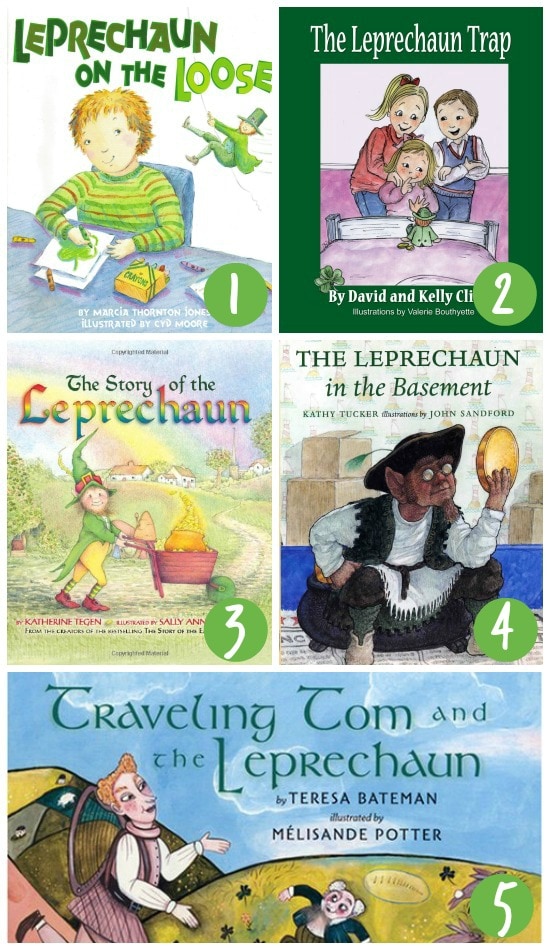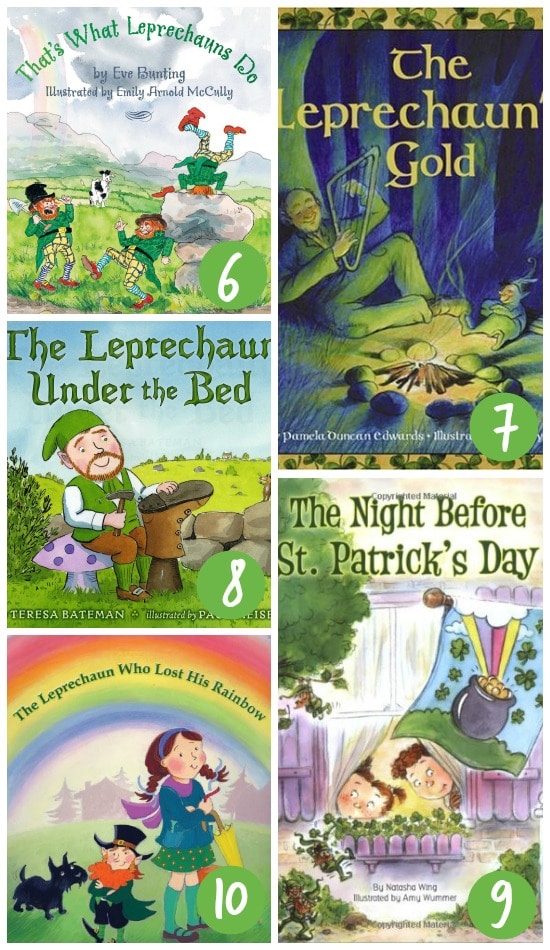 Ok, aren't you just SO excited about all of these adorable ideas? We sure are! Undoubtedly, the hard part is going to be picking which ones to use, right? Hopefully, you are inspired to make this St. Patrick's Day a hilarious and memorable day for your family with lots of leprechaun fun!
If you loved these ideas, then check out our round-up of our Favorite St. Patrick's Day Finds AND our FREE St. Patty's Day Photobooth Props as well!