85 beautiful printables to use THIS St. Patrick's Day!!
Decorating for the holidays has got to be one of my favorite things! I love transforming my home to match whatever season or holiday we are celebrating! With this list in hand, and all of the AMAZING ideas it contains, you will be all set to get yourself ready for St. Patrick's Day this year!!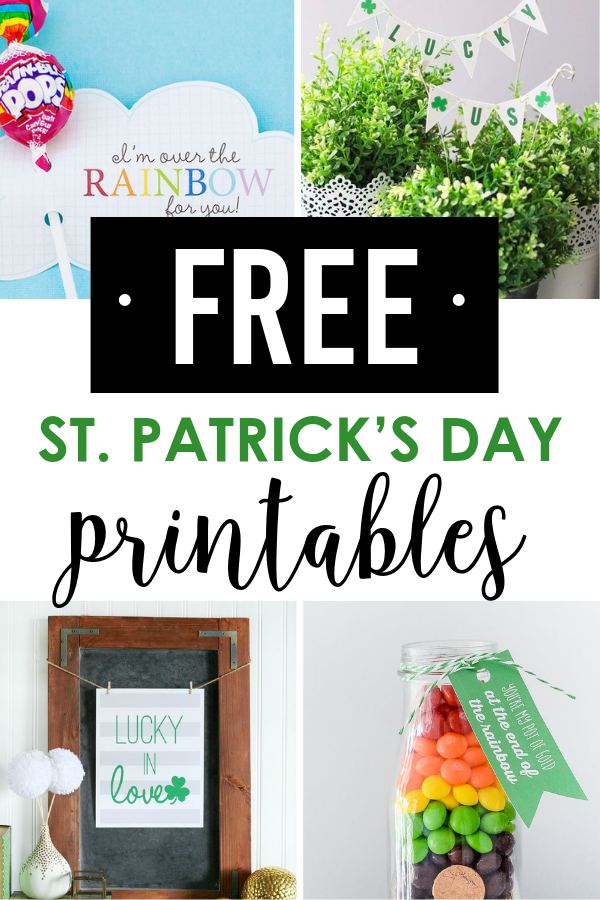 Disclaimer: This post contains affiliate links. To learn more about 'em, click here.
With 85 BEAUTIFUL St. Patrick's Day Printables you are sure to find the perfect printables for your style and home! In this post you will find:
AH! They are all SO beautiful! You will love them!
25 St. Patrick's Day Banners

Find the perfect St. Patrick's Day banner for your every need!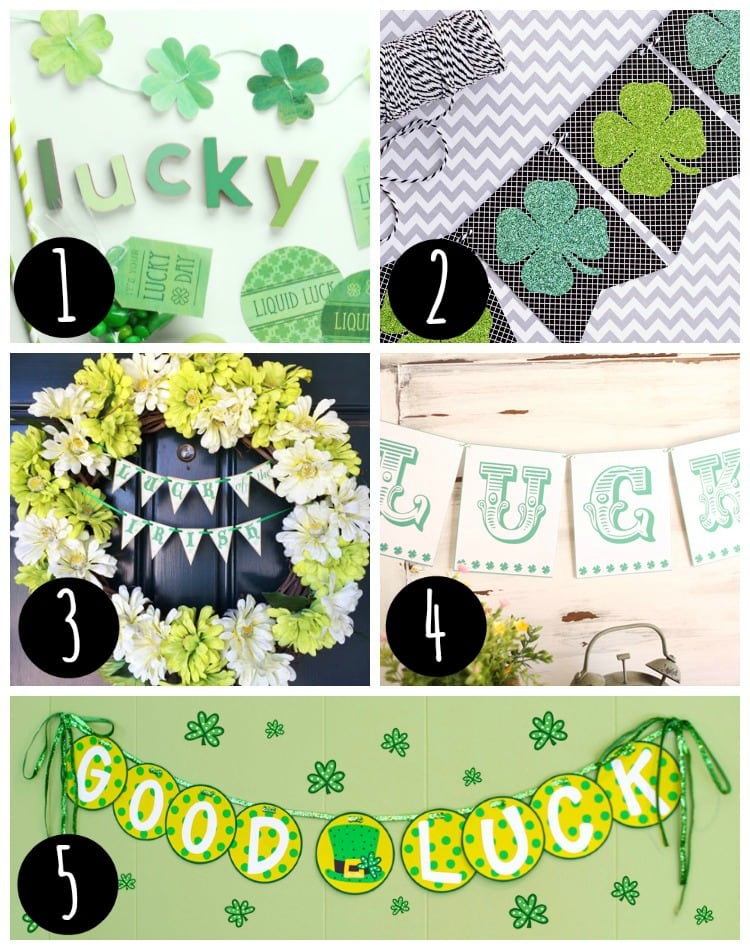 1. Shamrock – This mini shamrock banner will fit just about anywhere.
2. Glittery Shamrocks – We LOVE the glitter on this!
3. Mini Luck of the Irish – A tiny banner for your front door wreath. I am swooning over this wreath, wouldn't the banner look adorable between those hydrangeas!?
4. Green Luck– This banner will look great in your home.
5. Polka Dot Good Luck – this good luck banner would look adorable tied together with some argyle ribbon!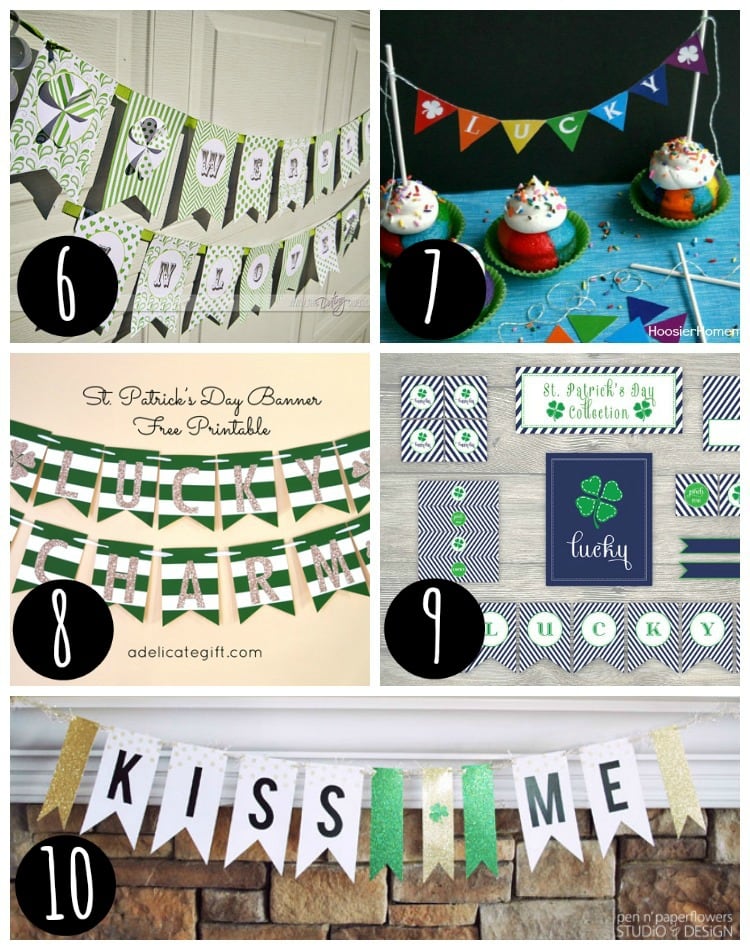 6. We're Lucky in Love – Are you lucky in love? if so let everyone know!
7. Rainbow Lucky – A mini rainbow banner for all of you mini banner needs.
8. Green and White Lucky Charm – This banner is just perfect for the holiday!
9. Navy and Green – The navy in this banner is such a cute color combo.
10. Kiss Me – Give that special someone a little extra reminder to kiss you!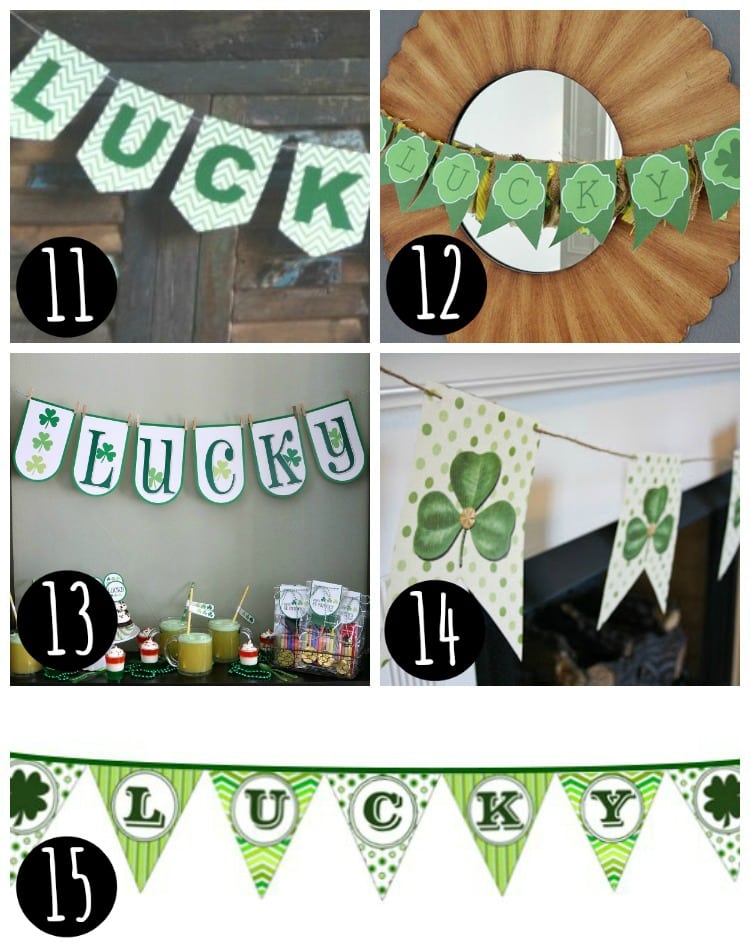 11. Lucky Chevron – Be sure you don't run out of luck this season.
12. Mini Lucky – This mini pennant banner is sure to find the perfect home!
13. Rounded Lucky – The shape of this banner is really different and fun.
14. Polka Dot Shamrocks – Simple shamrocks to celebrate St. Patrick's Day.
15. Mixed Print Lucky – You can never have enough green.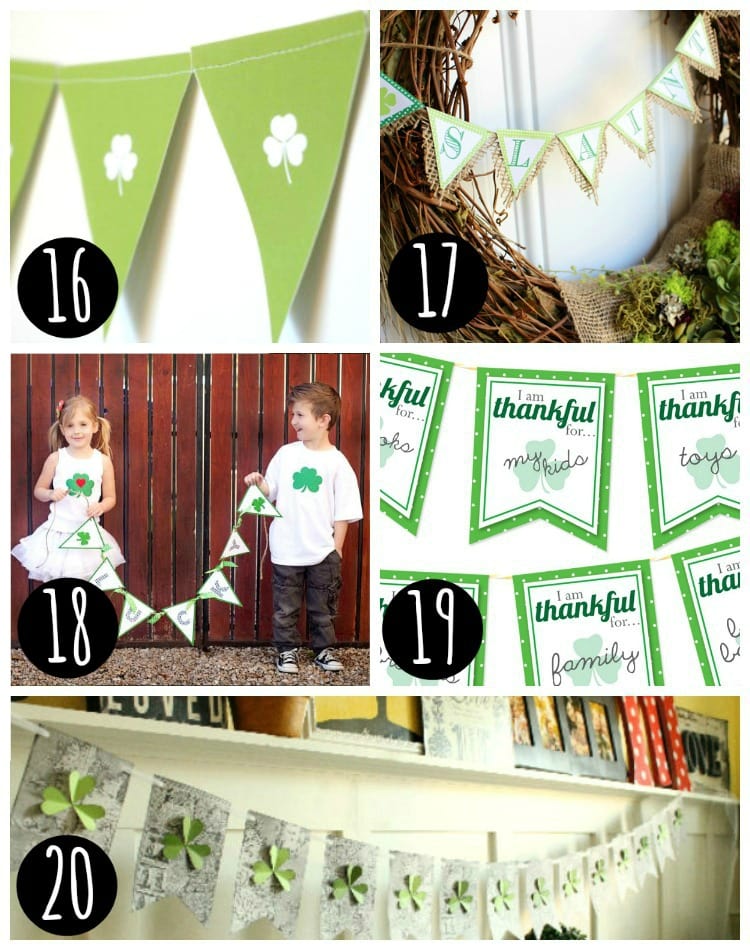 16. Mini Shamrocks – The simplicity of this is just perfect.
17. Slainte – Slainte: Cheers. In Good Health. It is a toast that is popular in Ireland.
18. Lucky Pendant – Will this lucky banner make it onto your mantle this year?
19. Thankful For… – Count your blessings all year round.
20. Map Banner – If you look closely, the background of this banner is a map of Ireland!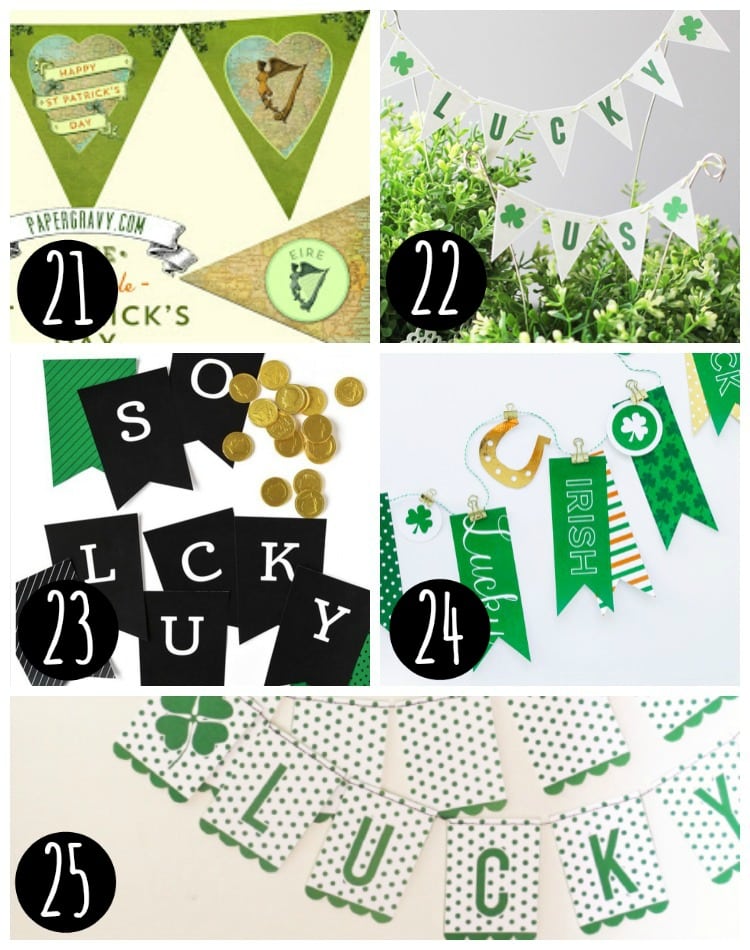 21. Vintage Irish – The vintage feel to these makes them beautiful!
22. Lucky Us – For some reason mini banners are just SO adorable!! Agreed?
23. So Lucky – We are all SO lucky!
24. Lucky Charms – What are your lucky charms?
25. Scalloped Lucky – Polka-dots are, and will always be, a favorite.
35 St. Patrick's Day Prints

With 35 amazing St. Patrick's Day Prints, you will be able to find one for every decoration you need!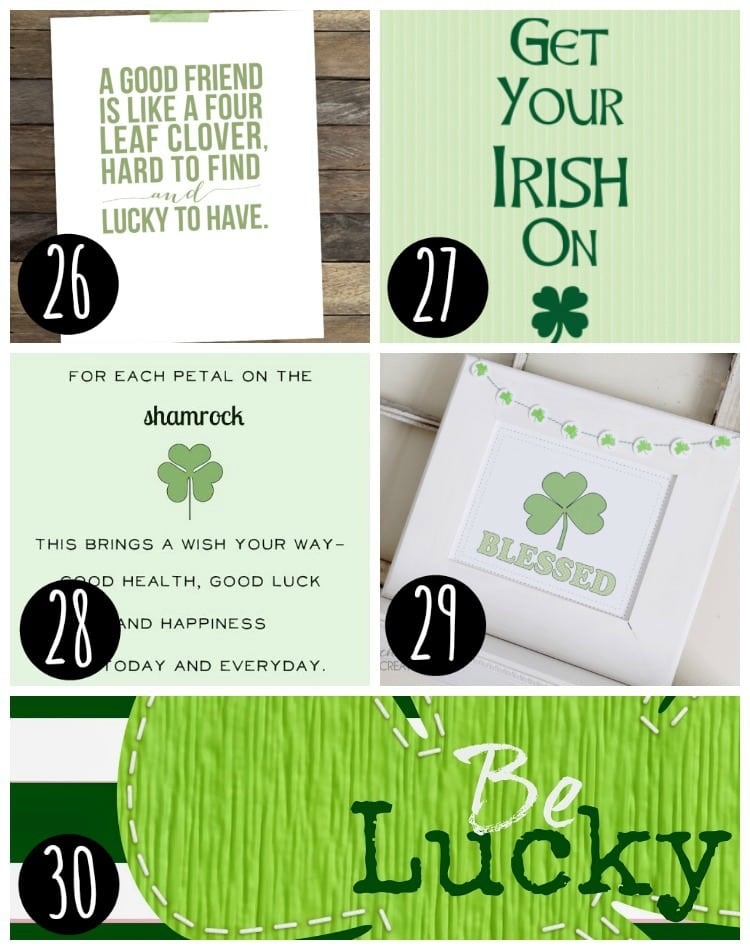 26. A Good Friend – Real friends are some of our greatest blessings.
27. Irish On – Get your Irish on this St. Patrick's Day!
28. Each Petal – Do you believe in the luck of the Irish?
29. Blessed – Blessed, we are ALL blessed!
30. Be Lucky – Stated simply, be lucky.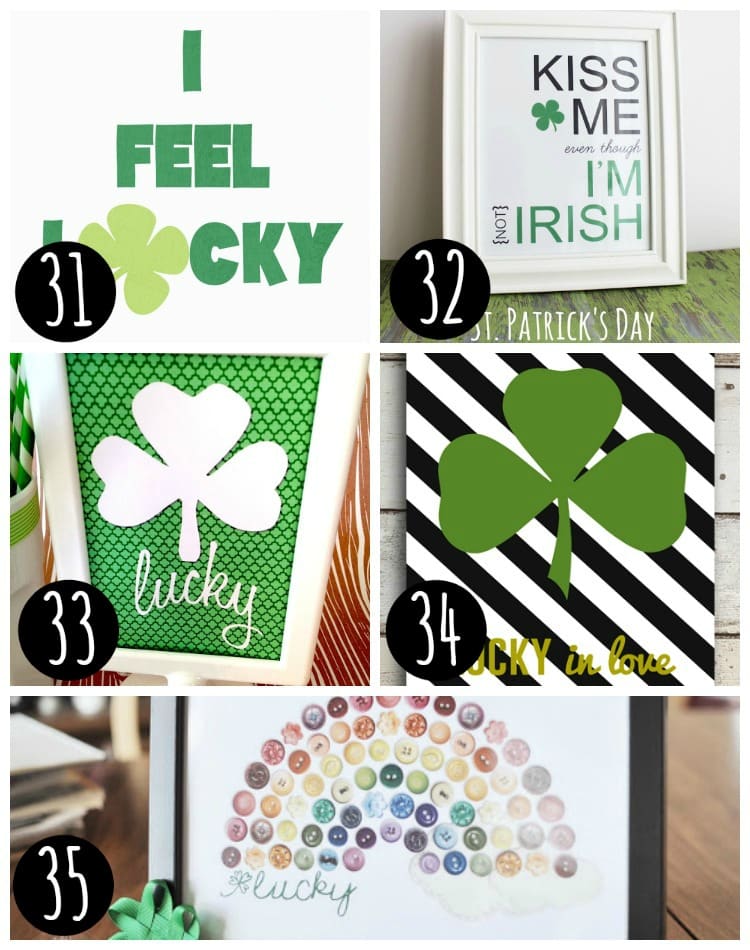 31. I Feel Lucky – Do you feel lucky?
32. Not Irish – Even if you're not Irish, you still deserve a kiss!
33. Lucky – Shamrocks are one of our favorite St. Patrick's Day decorations!
34. Black and White Stripes – This one is in our top favorites, for sure!
35. Buttons – The rainbow of buttons on this printable is so unique!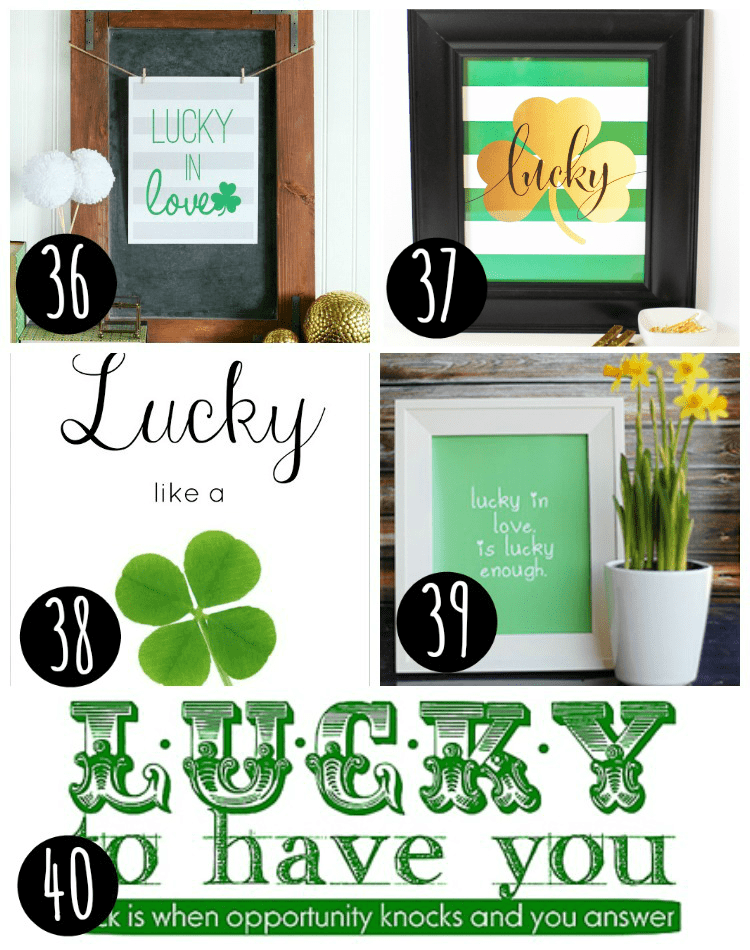 36. Lucky in Love – Who is your lucky love?
37. Gold Lucky – Gold is the perfect color to pair with your St. Patrick's Day decor.
38. Like a Four Leaf Clover – Lucky like a four leaf clover.
39. Lucky Enough – We really are lucky enough.
40. Subway – Subway art is still a favorite of ours.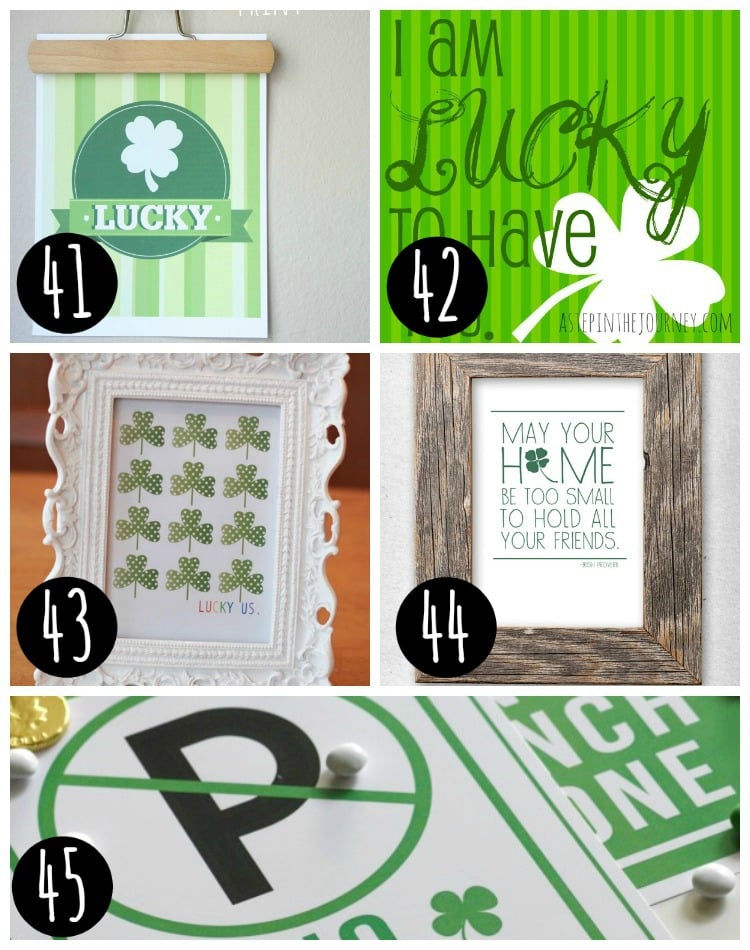 41. Lucky Stripes – Could this printable be any cuter?
42. Lucky To Have You – Who are you lucky to have?
43. Lucky Us – Polka-dots + Shamrocks = Love!
44. May Your Home Be Too Small – We love this quote, it has such a sweet message!
45. No Pinching – You are now entering a no pinch zone!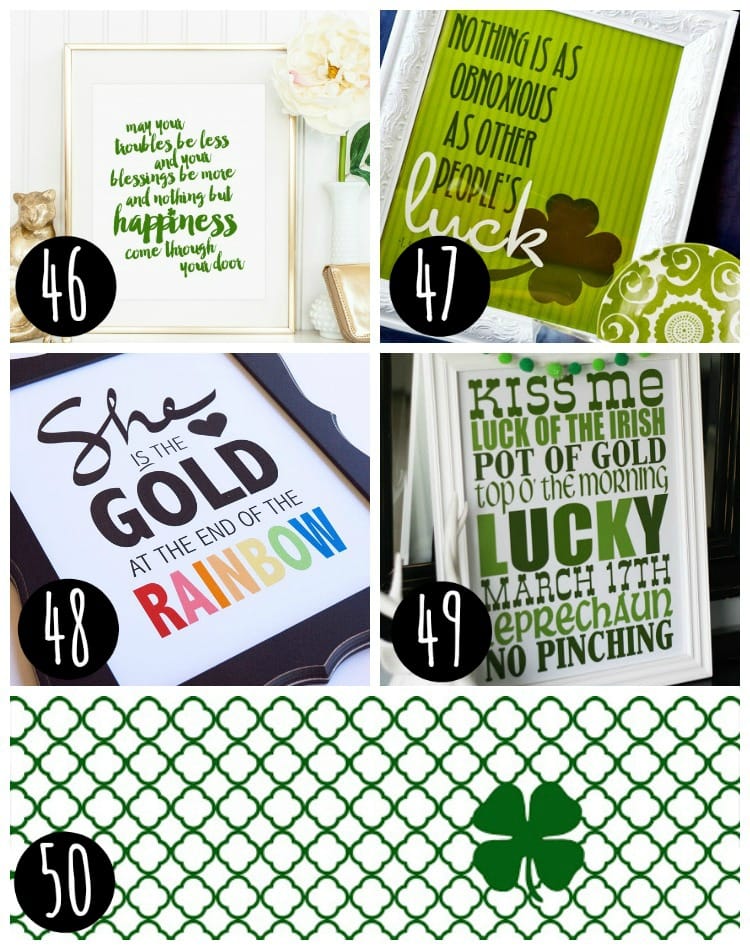 46. Happiness – May we all have less troubles and more blessings.
47. Obnoxious Luck – Well… it is kind of true, right?
48. Rainbow – We all have a little gold in our lives!
49. Green Subway – The mix of greens in this printable are too cute!
50. Simple Shamrock – Will you find a four leaf clover this St. Patrick's Day?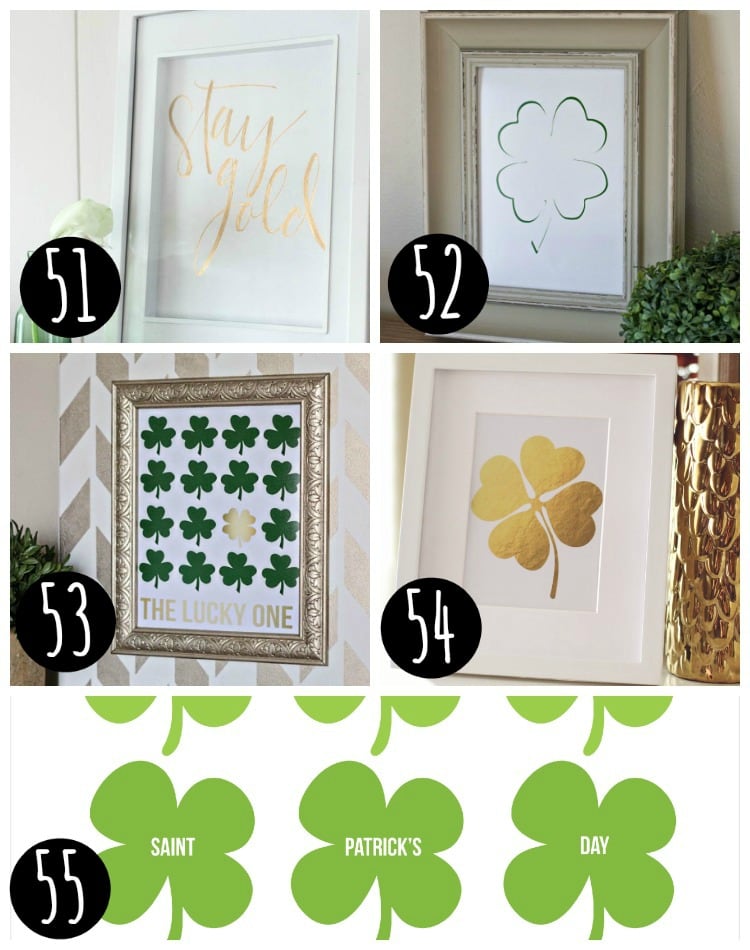 51. Stay Gold – Always remember to stay gold.
52. Shamrock – This print is simple but oh, so sweet!
53. The Lucky One – We love the contrast of the one gold shamrock!
54. Gold Shamrock – Gold… it is a slight obsession of ours right now!!
55. Ombre – This ombre shamrock print is positively perfect!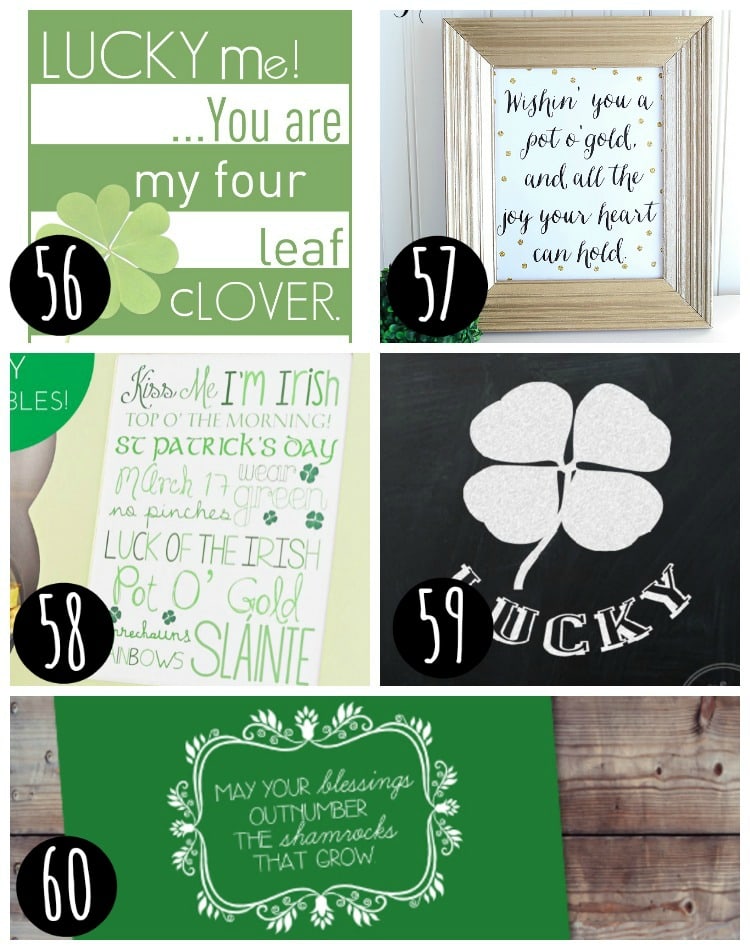 56. Lucky Me – Who is your four leaf clover?
57. Polka Dots – This quote is amazing!
58. Mix of Greens – We really loved this subway print and know you will too!
59. Chalkboard – Lucky, we all truly are!
60. Outnumbered Blessings – Count your many blessings.
25 St. Patrick's Day Treat Labels

You are sure to have the cutest St. Patrick's Day treats this year with these amazing printables!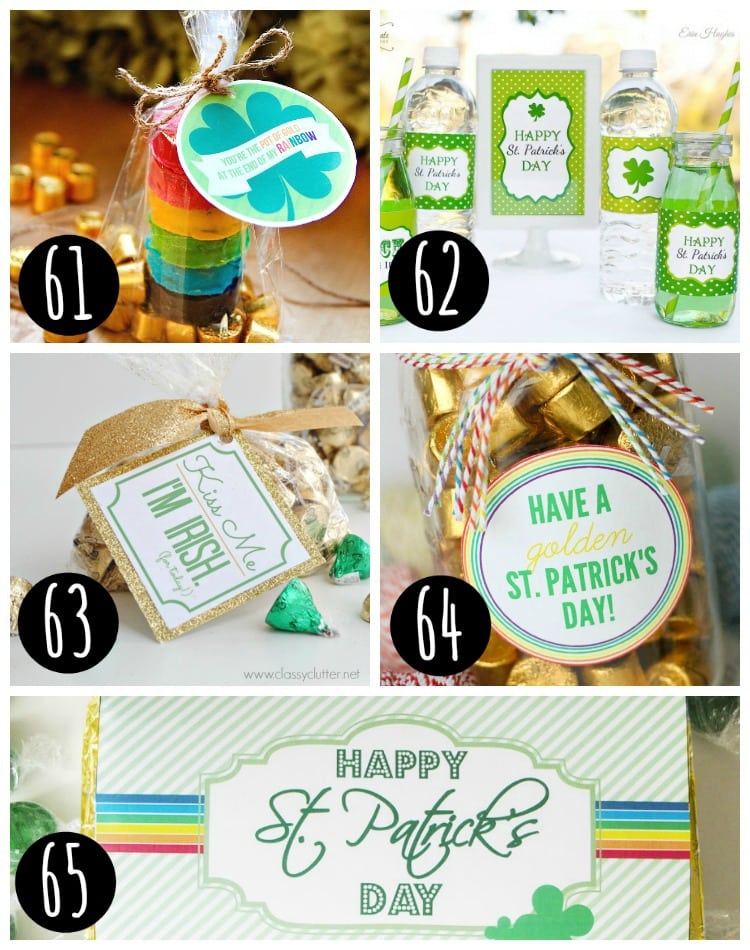 61. End of My Rainbow – You're the pot of gold at the end of my rainbow.
62. Drink Labels – St. Patrick's Day drink labels for your party this year!
63. Irish…For Today – Kiss me, I'm Irish… for today!
64. Golden Day – Give someone a golden gift this year!
65. Candy Bar Wrapper – Holiday treats are always a good thing!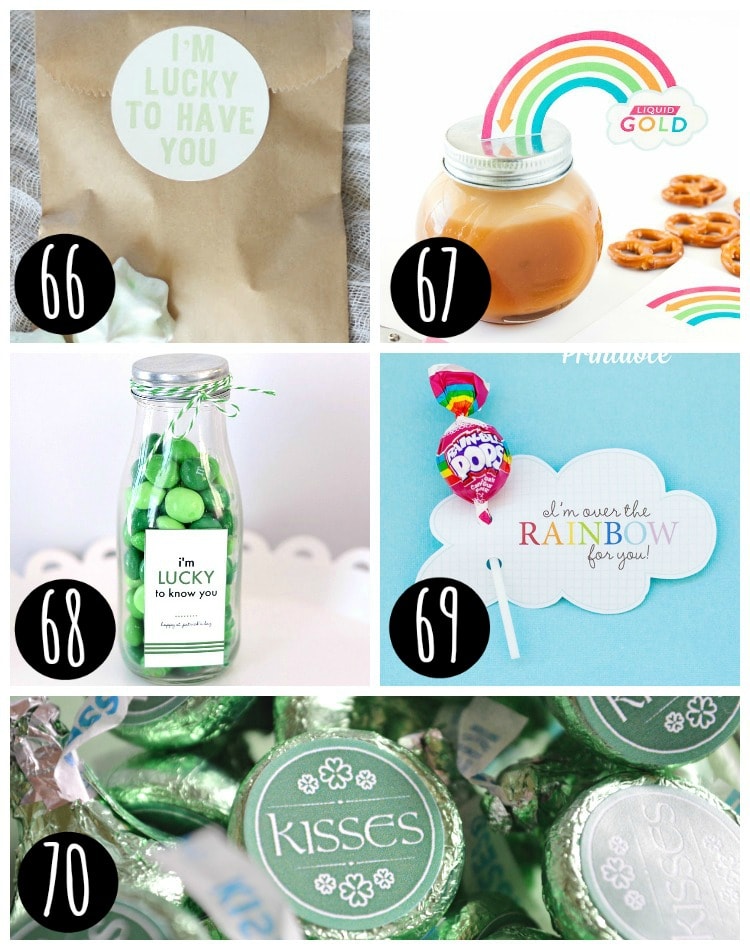 66. Round Label – I'm lucky to have you!!
67. Liquid Gold – This liquid gold looks delicious! You can find some tiny adorable jars of your own here!
68. Lucky To Know You – Who are you lucky to know this St. Patrick's Day?
69. Over The Rainbow – A sweet treat for someone special.
70. Kisses – Leprechaun kisses!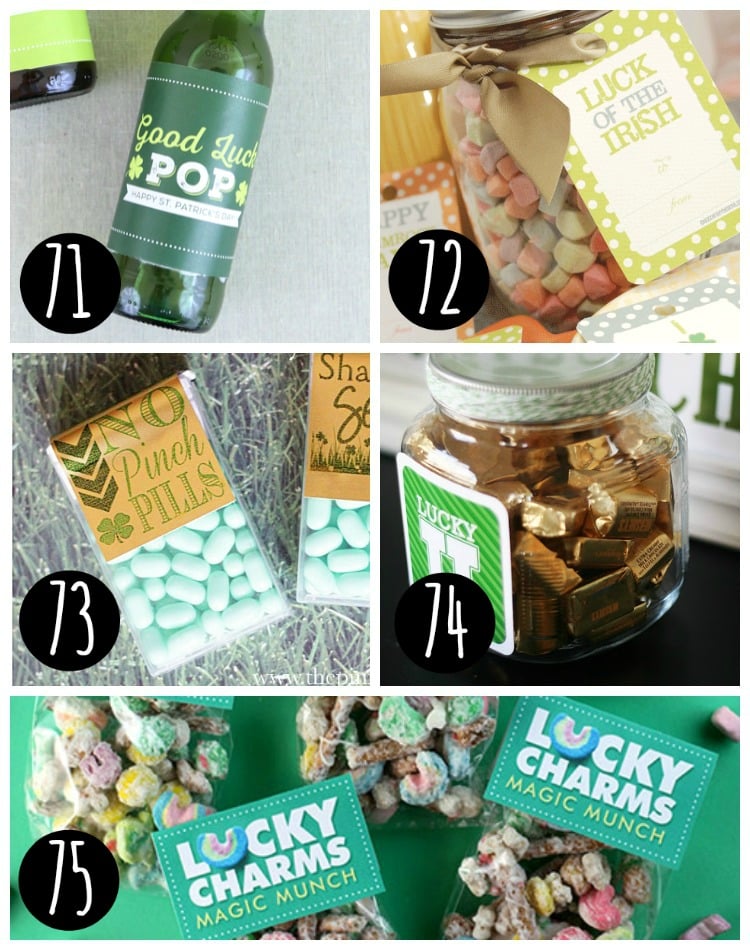 71. Good Luck Pop – Give a little good luck pop to someone you love this year!
72. Luck of the Irish – Send the luck of the Irish to all of your friends and family.
73. No Pinch Pills – Help your friends get prepared for St. Patrick's with these no pinch pills!
74. Lucky U – Enjoy giving this festive treat to someone who needs a little extra smile.
75. Lucky Charms – Magic munch, who knows what the power of the magic munch can do?!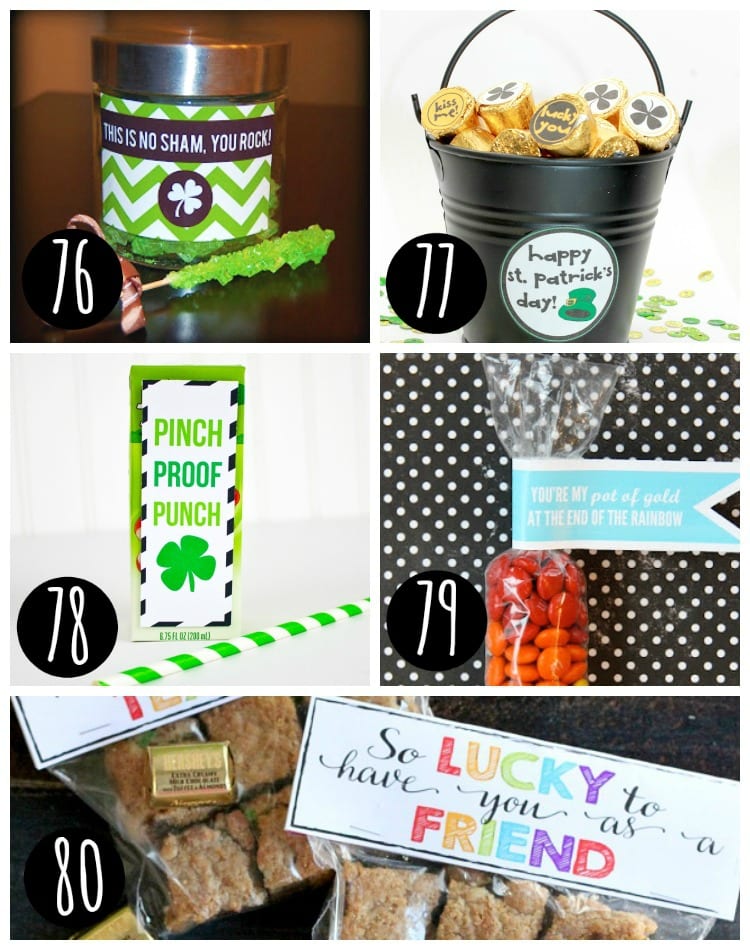 76. No Sham – This is NO sham, you ROCK!!
77. Pot O' Gold – Give the gift of gold! Chocolate gold, that is!
78. Pinch Proof Punch – Prep your kids for the day with a little pinch proof juice.
79. Blue Banner – YOU are my pot of gold!
80. Lucky Friend– We all have people we are SO lucky to have as influences in our lives each day.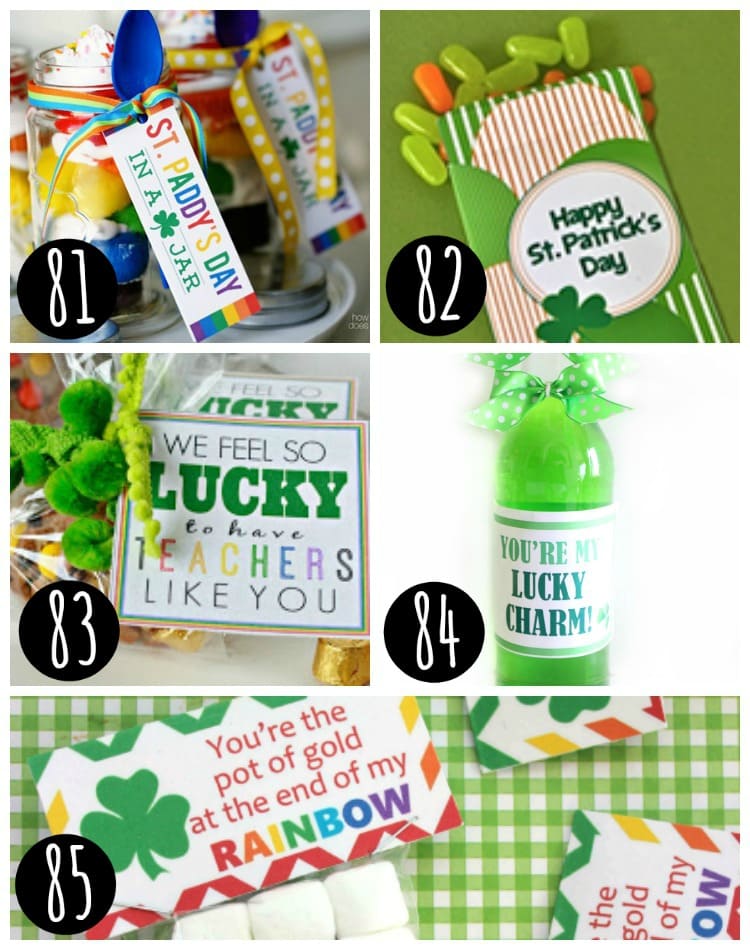 81. In a Jar – This St. Paddy's Day in a jar is simply perfect!
82. Treat Box – Stash a small treat for someone you care for with this printable treat box.
83. Teacher Gift – Thank those around you this year!
84. Lucky Drink Label – Everyone will be excited to get this fizzy surprise!
85. Treat Tag – Show your friends that you really care!
Oh my goodness! We love SO many of these! From banners, to prints, to treat labels, you are all set for your St. Patrick's Day Printables! If you want to spread even more St. Patty's Day cheer, try a Shamrock Attack or the Lawn Leprechaun for outdoor decorating!