The BEST Gift For Your Spouse
My husband comes home every day from a long workday, I'm sure he's hoping for a good ten minutes of peace and quiet to unwind. But is that what he gets? Nope. Most of the time he comes in from the garage and walks right into a loud, crazy house, with kids jumping off the walls. Every day it is a grand, chaotic welcome home! After all, the kids are bored with mom at this point and are extremely excited to get a chance to win over his attention. But don't you worry, I too, am fighting for a little of that attention. Which by the way, is usually accompanied by the longest "honey-do-list" you can imagine! After chasing kids around all day, you bet I can think of 100 things that still need to be done! The man is amazing, and the man needs a break!

Disclaimer: This post contains affiliate links. To learn more about 'em,
click here
.
So one day, last week, I had an epiphany! He
NEEDS
a break! I literally woke up with this idea, called my sister to have her confirm my thoughts, and put it into action! I couldn't wait to get started preparing a night of pure bliss for my love. Luckily, I had Carisa from
Messes to Memories
 to design the perfect combination of printables to make for an amazing evening that will never be forgotten!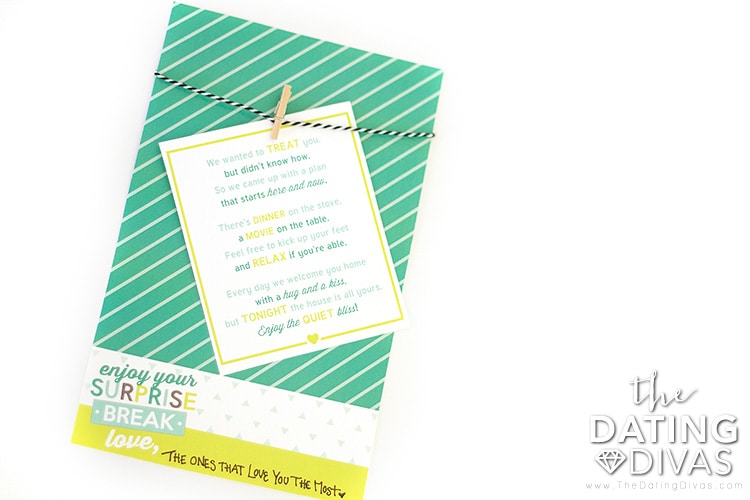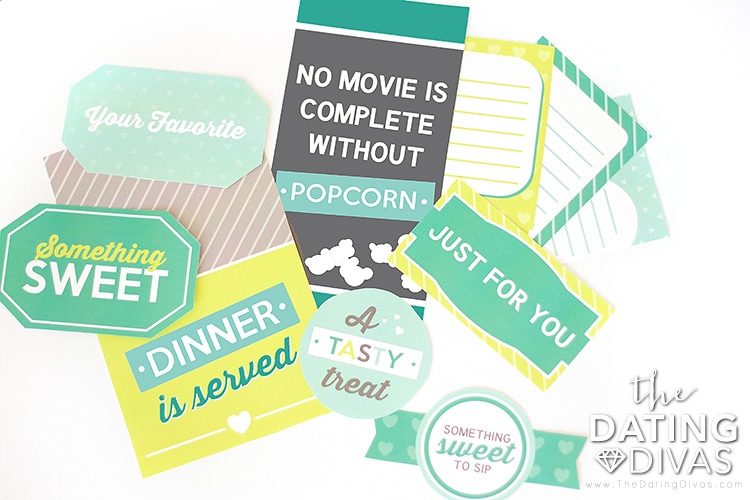 I chose a day that is normally one of our busiest. My husband works long days, and this one happened to begin at 5 am. I knew that although he always puts on a smile and pushes through until bedtime, a surprise break on this day would be completely unexpected—and welcomed.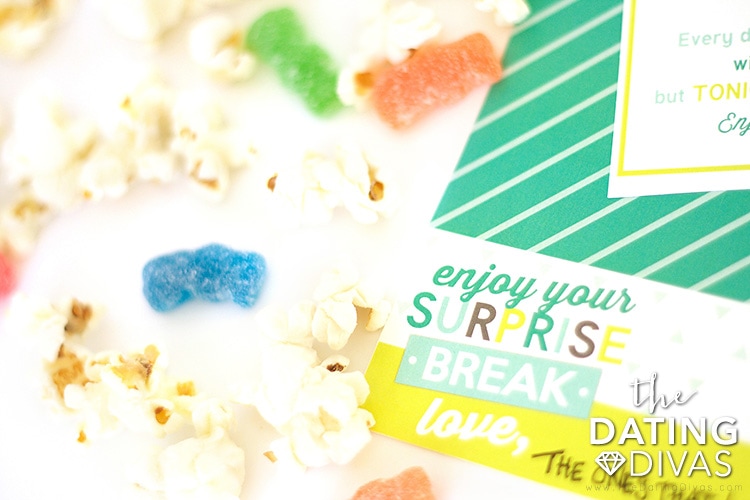 This was the perfect day to surprise him. First, I cut out the poem explaining all that the evening would entail and "hung" it on
bakers twine
with a
tiny clothes pin
to the background card that told him to "enjoy your Surprise Break! love, The ones that love you the most". Now he would be clued in on the news that the house would be his for the taking for at least the next 2 hours!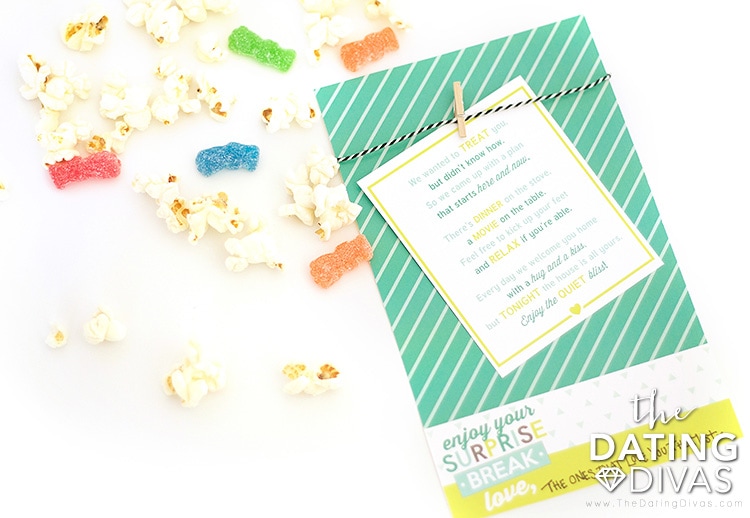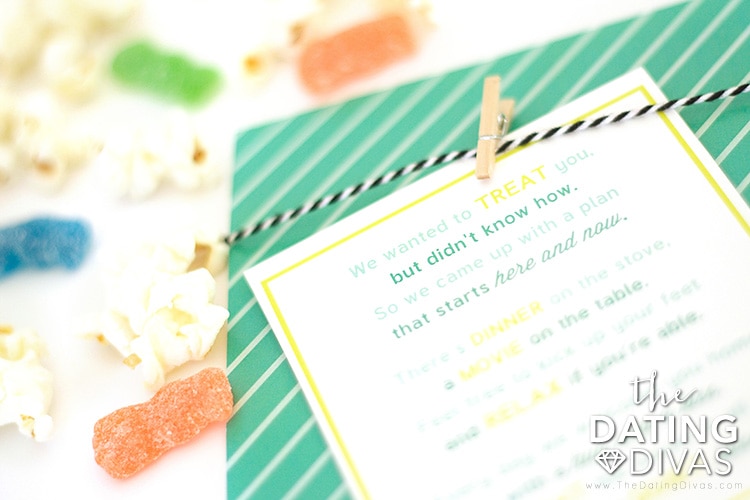 The plan was to have dinner ready for him from the moment he walked in the door. He wouldn't come home to a house full of his needy family because we would be gone. A movie and treats would also be set out along with notes of appreciation.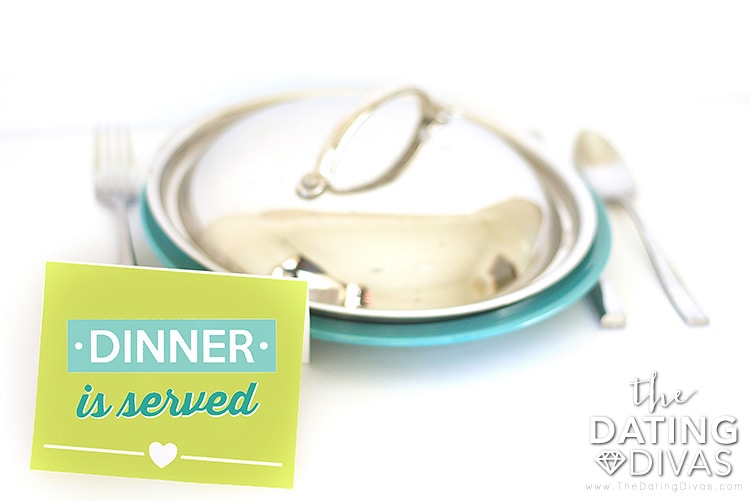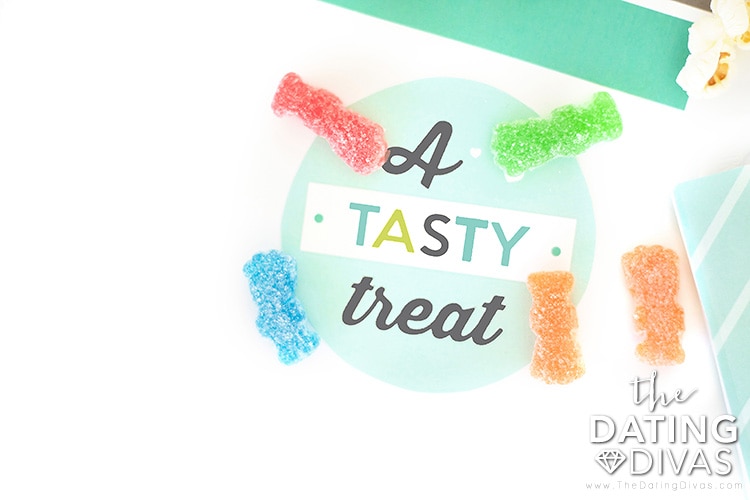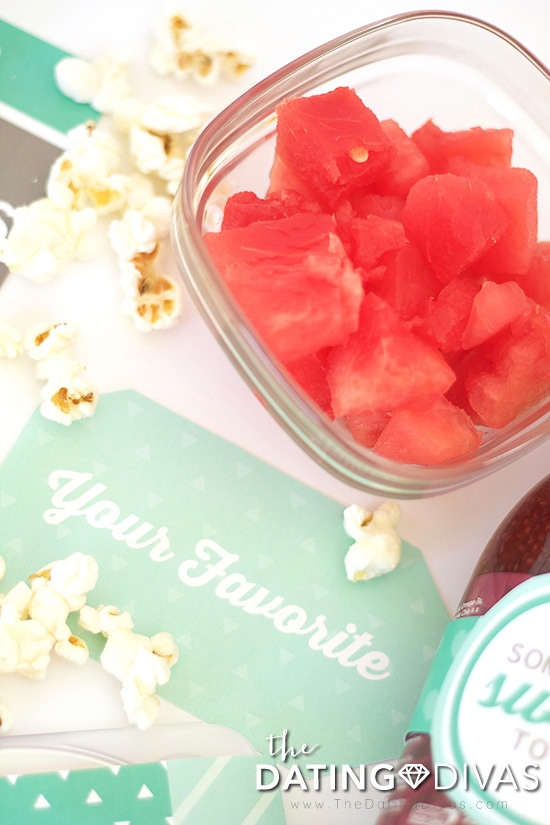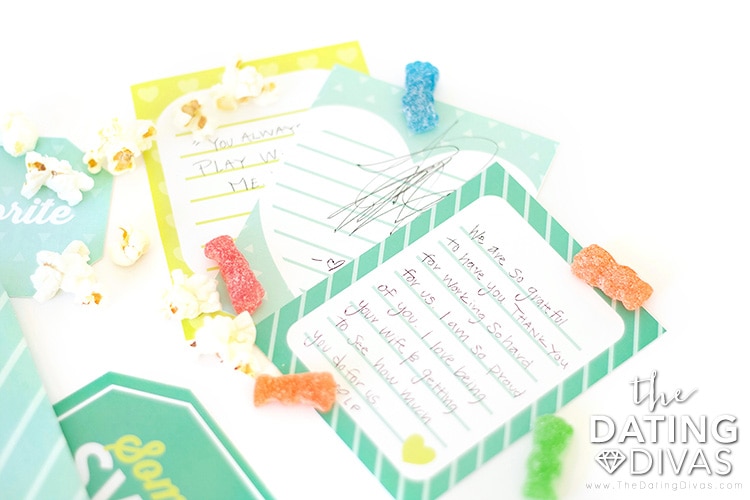 The preparation for this amazing night of quiet bliss is easy. Cut out the printables and write out your notes of appreciation. Run to the store and grab your spouse's favorite treats and make sure to grab a Redbox while you're there! Adhere the printables to different treats and drinks, cut out the movie sleeve and put the Redbox inside.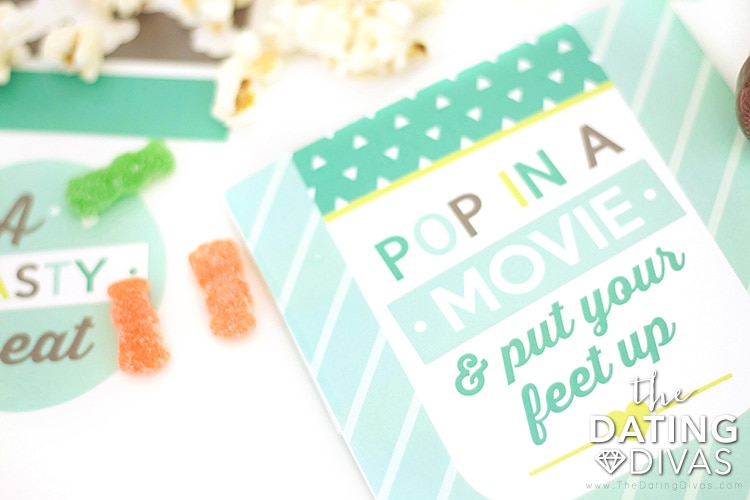 I got everything done just in time… we sped out the door just minutes before he was due to arrive home! Not 10 minutes later did my phone start ringing. I had my son answer saying, "Surprise!" Quite the surprise it was. Needless to say, it was everything but a typical weekday evening. This probably goes without saying, but my husband was completely floored by the effort and completely grateful for the surprise break!

A Surprise Break
Printables Designed by Carisa @ Messes to Memories Exclusively for The Dating Divas