India Themed Date Night Idea
My husband loves India cuisine, so in planning this date I really wanted to make it a night all about India. Since I love to do things on a grand scale, I included 3 other couples and conveniently they all love India cuisine as well. You can do this as a couple or a group date. The plus side to doing it as a group is you'll have a wider variety of food and it will help cut the cost all around.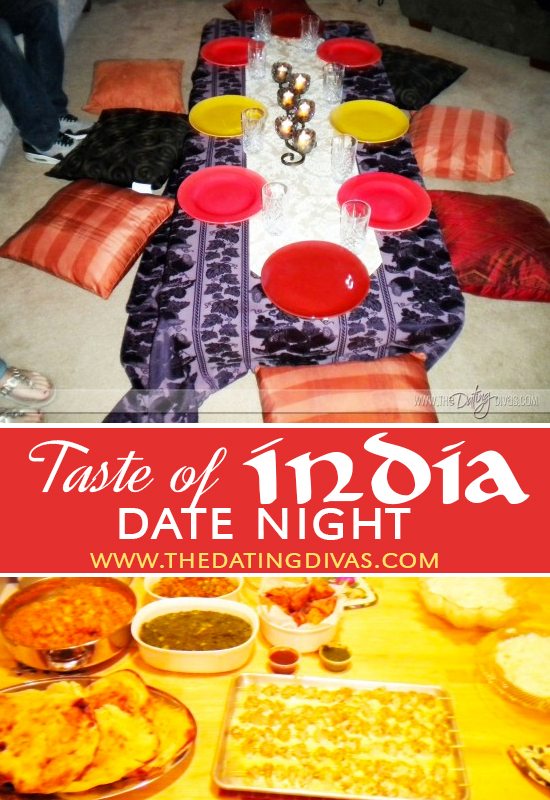 Disclaimer: This post contains affiliate links. To learn more about 'em, click here.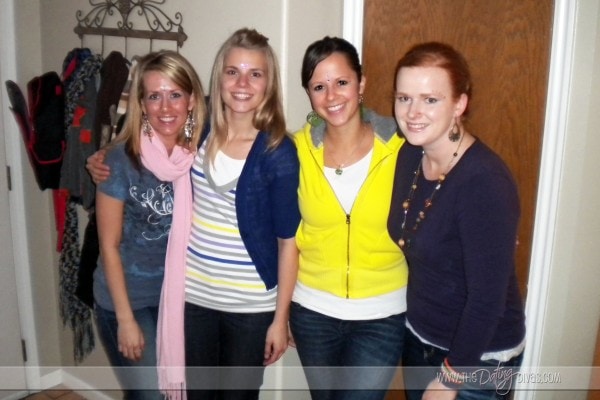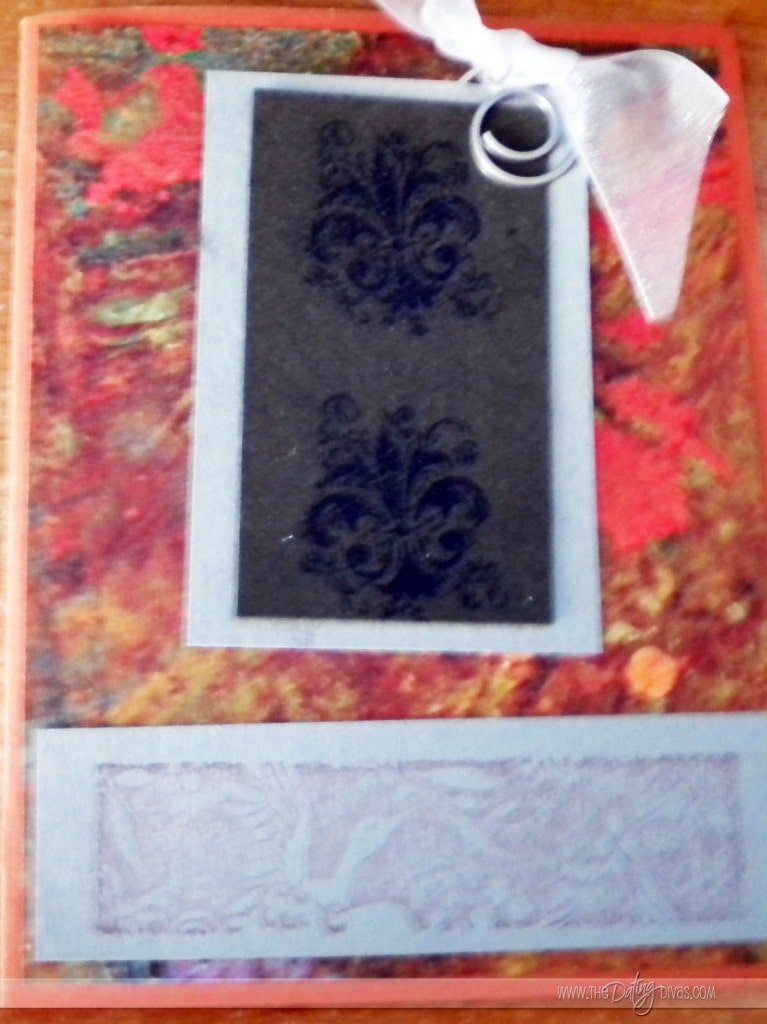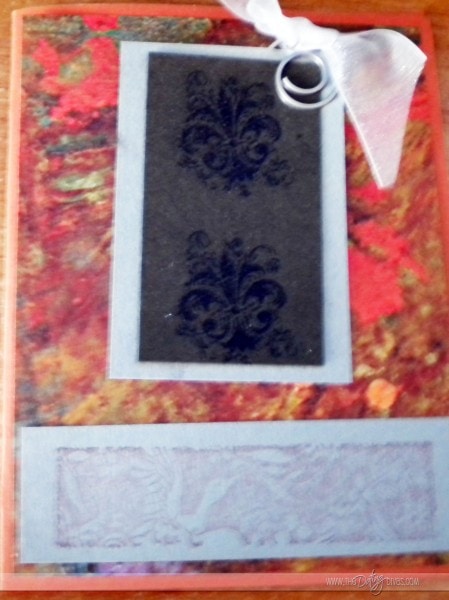 My friend, Vanessa, did up all of the invitations. She used scrapbook paper, embellishments and stamps. We purchased some scrapbooking jewels at a local scrapbooking store and attached a strip of jewels to the front of the invitations. The inside of the invites gave the time and location of the date and told them to come "bejeweled". We left that to their imaginations and my husband ended up putting a big "A" on his forehead to signify his name. In case he forgot it later on. The girls' and I also "bejeweled" our faces before the guys arrived. It was entertaining to say the least and really added to the ambiance. (*Note: I have found the jewels at craft stores, Walmart, and dollar stores for cheaper if you have the time to look around.)
Materials Needed: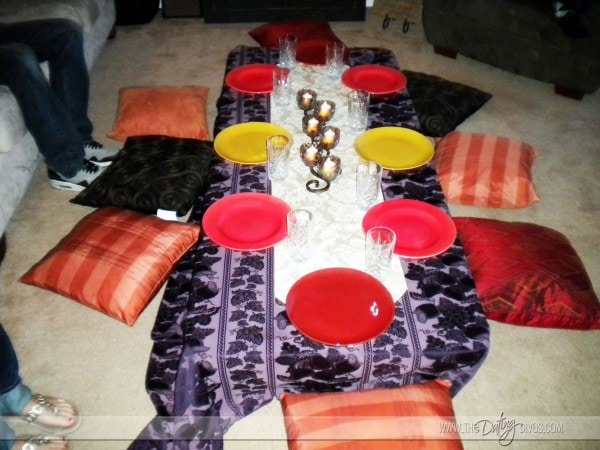 The India Decor
India decor is all about bright colors and different textures. Vanessa and I basically found things from around our homes to decorate with. I already had a long portable table (you could use a card table or just a blanket on the floor if you don't have one) and we propped it up on paint cans that I had in my garage. Then we covered it with a table cloth and a cream runner. Vanessa had a beautiful candle holder that we set in the middle so that we could have the lights down low (romantic!). She brought plates that were all different colors and we each had brightly colored pillows from our couches to sit on. *This is where having a group date comes in handy. We basically gathered up what we could use from our homes to create the India themed decor. That way it saves on money and creates a fun atmosphere.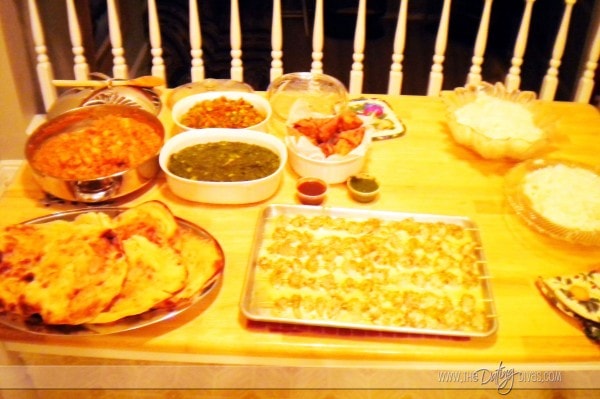 I wanted to have a lot of different plates of food to make it colorful and fun to eat. We picked several of our favorite recipes and then divided them up between the four of us. There were about 3 recipes each if you include the rice. Download the recipes we used below. If you have an India cuisine restaurant near your house, you can either pick up a meal to go or even purchase one or two dishes (like samosas or Naan) to add to your meal. Here's the catch: when we set the table we left off utensils and napkins. So we had to eat the food India style with our fingers and lick them instead of using napkins. It was a little messy, but the food was AMAZING!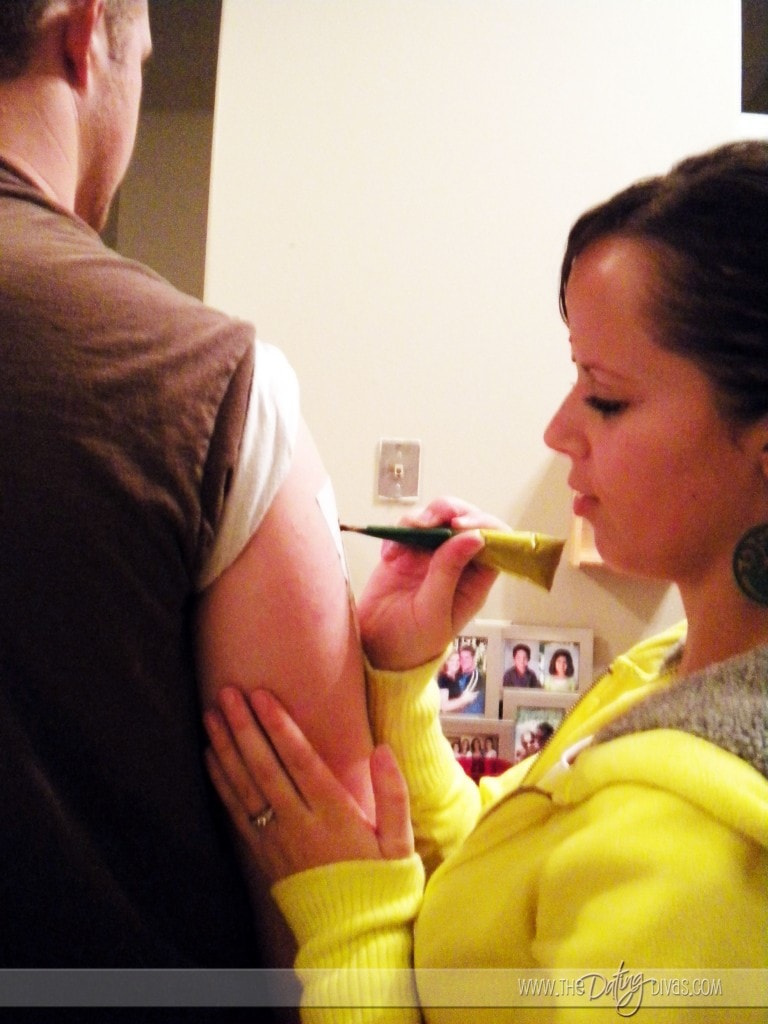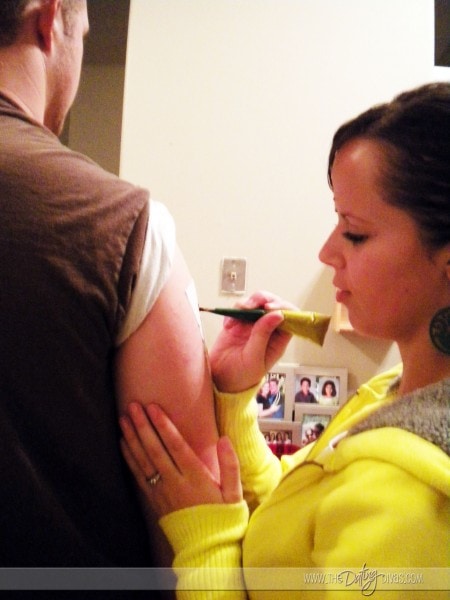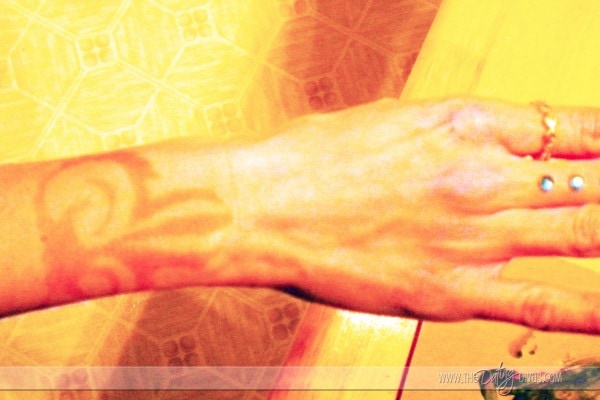 Henna Tattoos
One of the ancient India traditions is Henna Tattooing. It basically stains the skin and lasts for about 1-2 weeks. I ordered a kit off of
https://www.hennaking.com/
about a week before our date. For a large kit it was $26 including shipping which breaks down to around $6-$7 a couple. The smaller kits are around $14. Each person picked out their own tattoo and their spouse applied it. These take about an hour to dry, so you'll want to pick a place on your skin that won't get bumped.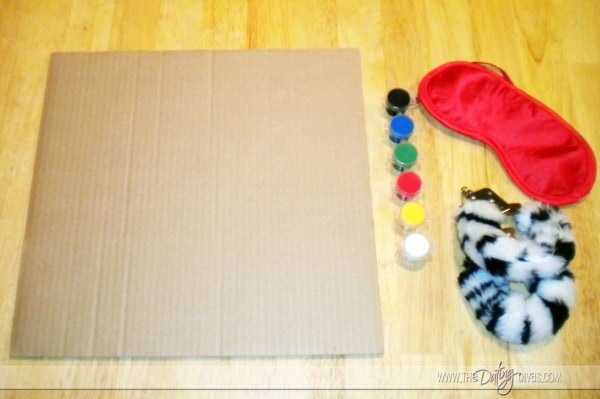 India Arts and Crafts…well, not really
So I had this idea, which is similar to another post, though I swear I didn't steal it. We did this date several weeks before that one posted – so great minds think alike. 🙂 The idea is your spouse will stand behind you and he will be blindfolded. You will have your hands handcuffed behind your back or just hold your hands behind your back so that you aren't tempted to help him. Your husband loops his arms through yours and will paint a picture of your choice. We used finger paints that we found at the dollar store and 12×12 cardboard pieces that I already hand. If you don't have a blindfold, you can use one of your husband's neck ties. Then the girls took a turn painting. We had to stay in the same position though because it's a little difficult for us ladies to get our arms around our husbands to reach the paints. This was by far the most hilarious part of the evening because we were all on different sides of the table watching how everyone else was doing.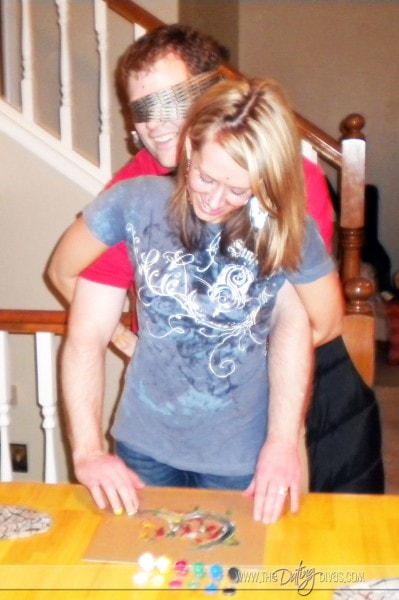 This was a really fun, relaxing night. Just remember to have fun with it! Enjoy.
A Taste of India Date Night Recipes
Printables Designed by Kari Elordi @ The Dating Divas Exclusively for The Dating Divas