Glowing Easter Egg Hunt for the Bedroom
Ready for your own, adult Easter egg hunt? We've got all kinds of ideas to spice up your night, but you won't find chocolate in these eggs – just saucy ideas for the bedroom 😉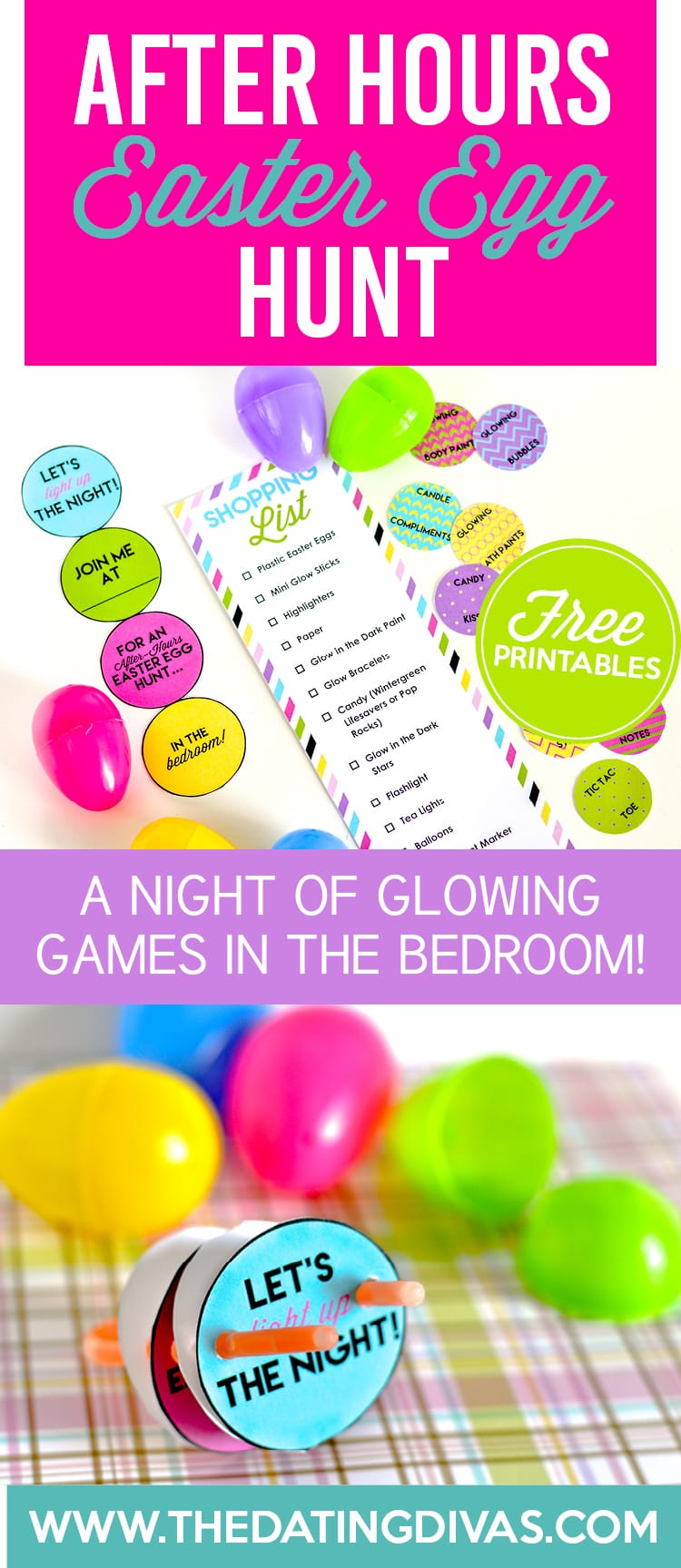 Disclaimer: This post contains affiliate links. To learn more about 'em, click here.

Crystal from A Well-Feathered Nest whipped up these bright printables to make prepping for your Easter date night a total breeze. She's seriously such a joy to work with, so if you've got a second you should check out all her other fabulous work by stopping by her shop.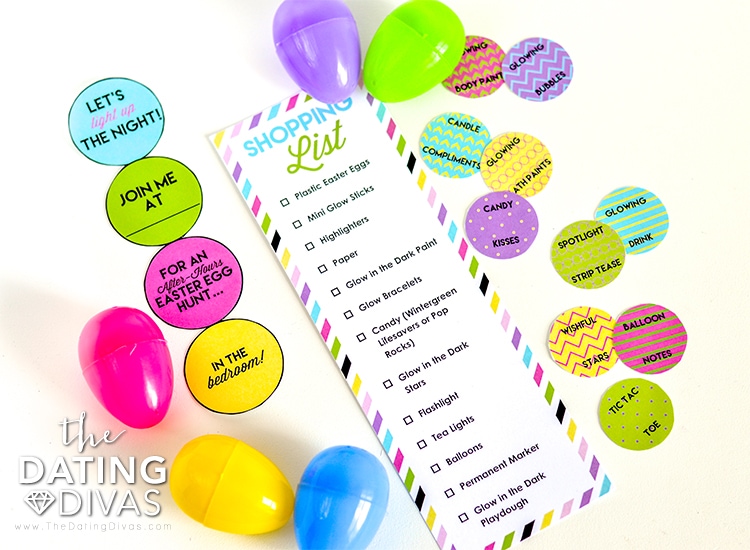 To make the most of these printables (and your night), head to the store and grab anything from the provided shopping list that you need. You probably have a bunch of stuff already, so you can just go ahead and cross those things off your list before you even leave the house – don't you just love the feeling of accomplishment you get from crossing things off?! If you're planning way ahead and don't want to make a trip to the store, you can grab most of this stuff online, too! That's usually my preferred shopping method!
Once you've got your materials in hand, you can start prepping for this sexy egg hunt! Hint: You can make this work with any size eggs, but the larger Easter eggs will make your job way easier.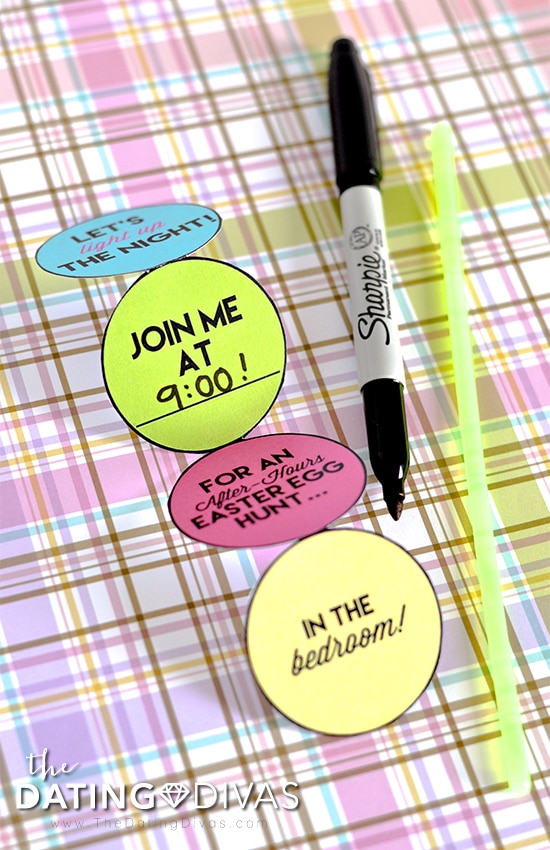 Start with the invite – just fill in the time and fold it accordion style. Punch a hole (or two) and insert your glow stick through the invite, then add it to an egg. How simple is that? Add your invitation egg to an empty Easter basket and leave it for your love to find!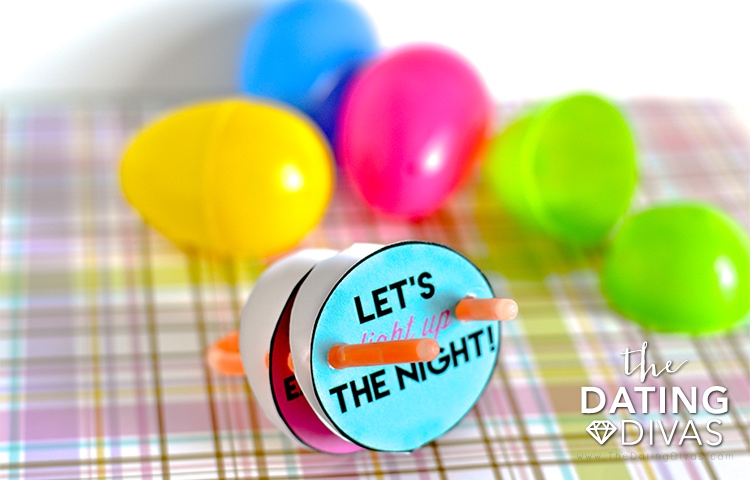 To prep the eggs for hunting, you've got two options:
1. If you've got small glow sticks, punch a hole through the middle of each circle and insert the stick through that hole.
2. If you've grabbed glowing bracelets, you'll want to punch two holes and put one bracelet through both holes by bending the glow stick and putting one end through each hole.
Then, just place each idea card and glow stick into the center of an egg and hide it somewhere in your bedroom!
Once it's time for your after hours egg hunt, you can take turns opening the eggs and having some fun!
Want to learn all about the intimate evening you've got in store for ya? Here's your guide to each exciting activity: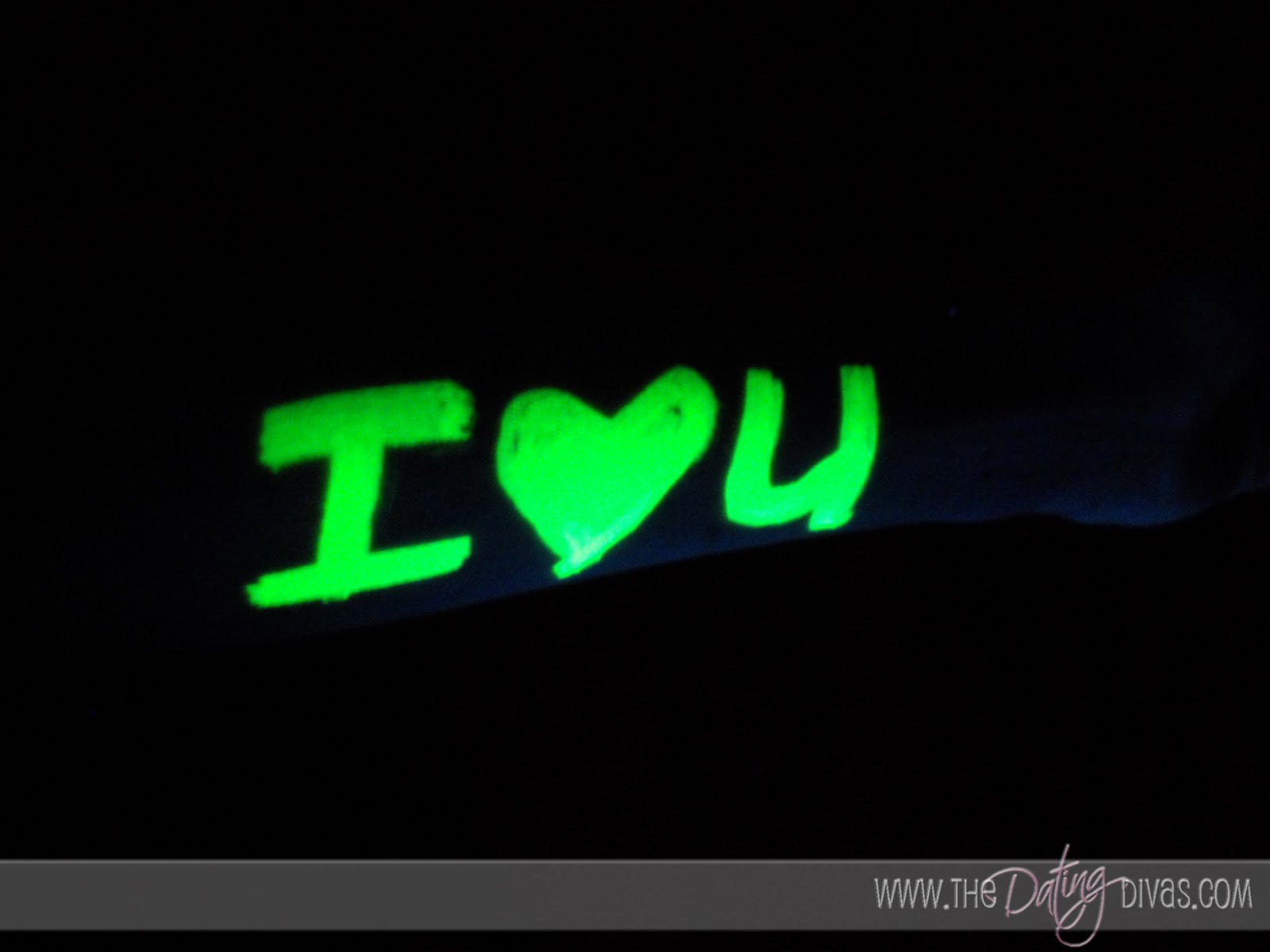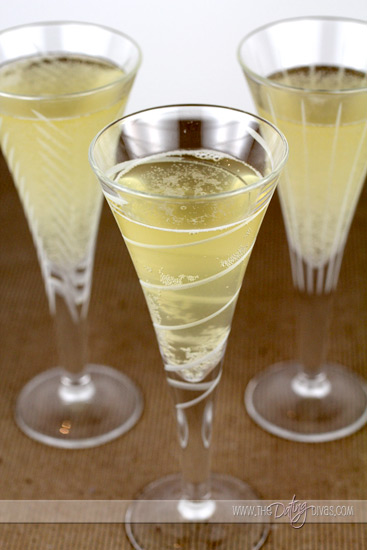 Glowing Drink – If you find this egg in the beginning, it's the perfect start to your night. If this egg shows up later, you can take a little break and cool off! Just have ANY drink ready (maybe try a mocktail or two) and add it to a clear cup with a glow stick in the bottom.
Candy Kisses

– Grab your pop rocks and see if you can make them spark while kissing in the dark.

Wishful Stars – Add glow-in-the-dark stars around your bedroom and make a few intimate wishes. Usually, wishes don't come true if you say them out loud, but it wouldn't surprise me if the opposite was true in this case!
Spotlight Strip Tease

– Hand over the flashlight and give your partner a little show, the catch is that they can only spotlight certain parts of you while everything else is still in the dark.

Candle Compliments

– Light a few candles to help set the mood. Each time you light one, you have to give your love a sweet, sexy compliment.

Balloon Notes

– Write a sweet or sultry message on a balloon and then pop a glow stick inside so your honey can read it.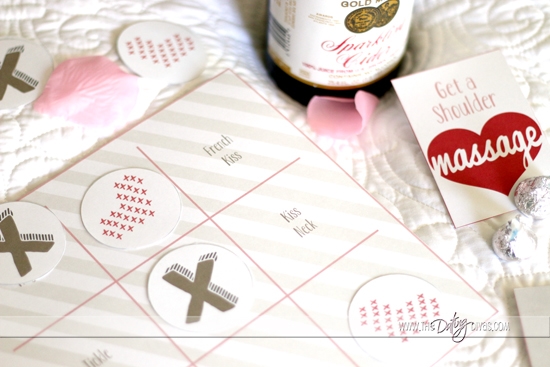 Tic Tac Toe – Play our version of Sexy Tic Tac Toe, but use glowing bracelets for the Xs and Os.
Glowing Sculpture Charades – Make this DIY Glowing Playdough (or just buy some) and then play a game of creating sculptures to give your sweetie hints about where you'd like some attention.
Feel free to tweak this intimate Easter egg hunt to create the perfect night for your relationship. If any of these ideas aren't quite as tame as you'd prefer, you can always leave them out and add your own ideas to the blank circles that Crystal included!
After Hours Easter Egg Hunt
Printables Designed by Crystal Nale at A Well-Feathered Nest