Adult Arcade Games for Two People
Game on! It's date night! Get ready for some serious indoor fun with this adult arcade-themed date for couples. We're about to pull out all the stops and help you turn a tame evening into a fiercely competitive night of fun and games for two people. With printable and digital invite options, arcade challenge cards, tickets, and more, ordinary date nights are about to become a thing of the past. Plus, everything ends with some super spicy bedroom time—a total win! Ready to hit the (skee ball) slopes and score big? Let's take a look!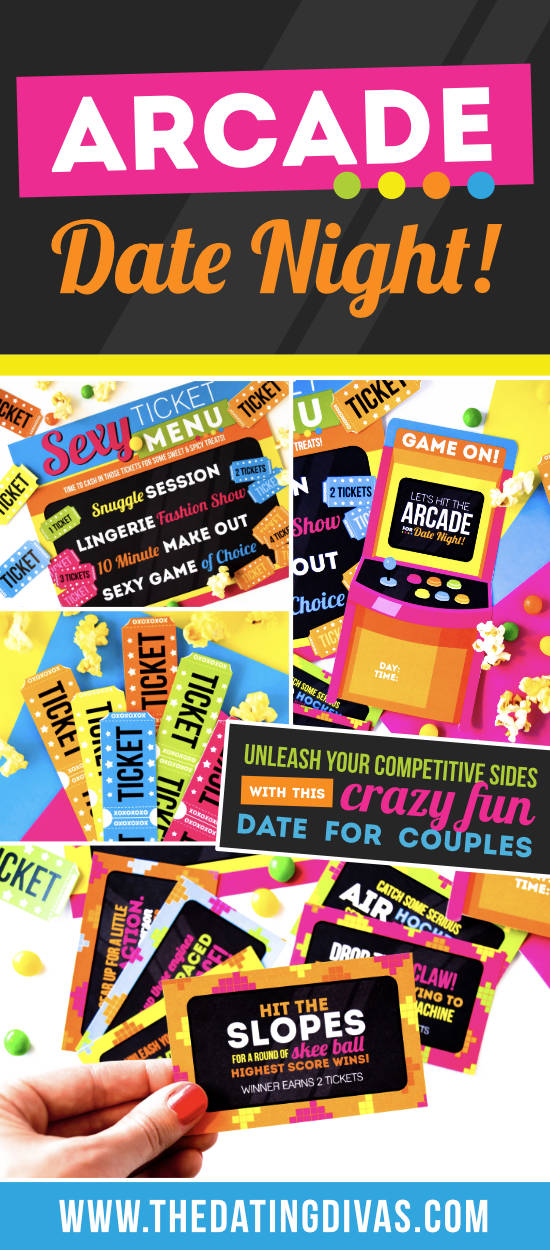 Disclaimer: This post contains affiliate links. To learn more about 'em, click here.
But before we glance at all of the awesomeness, we HAVE to give a huge thanks to Carisa from Messes to Memories. She made all of our arcade date dreams come true with her amazing designs. Thanks again, Carisa! You rock!
Adult Arcade Invite
Get a major jump on date night by sending your sweetie one of our two fabulous adult arcade-themed invites! We're absolutely obsessed with its arcade booth design as it totally sets the stage for the fun to come. We've also included both a printable AND a digital version so the choice is yours. For the printable version, you're going to want to fill in both the day and time. The digital version is all set to go and is totally textable (how fun is that?!).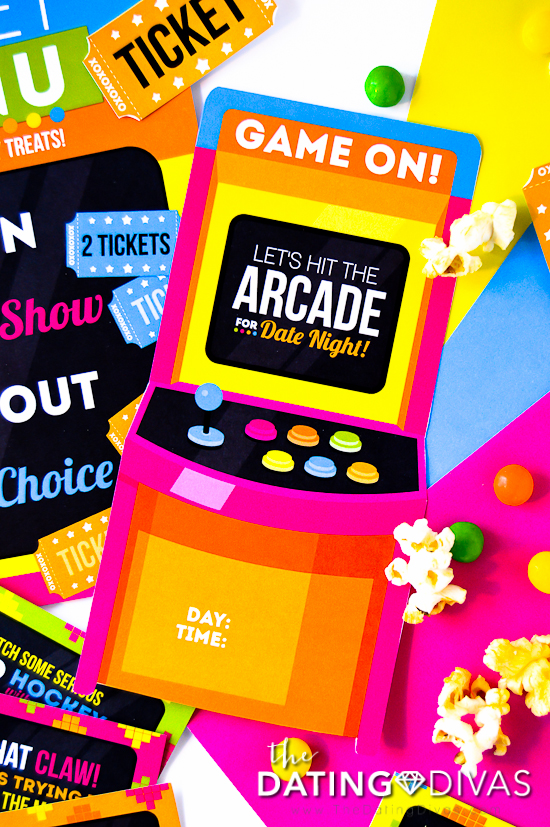 Adult Arcade Tickets
Next, you'll want to track down an adult arcade in your area (a kid-friendly one will do in a pinch!). It's here that you'll find SO many great games for two people and where most of your date will take place. Not all arcade games include tickets so we've got you covered with our set of cute and colorful printable tickets. We're a bit biased but we think they're even better than the real deal! Be sure and bring them with you on your date as they're a HUGE part of the indoor fun. Keep reading to learn exactly what they're for…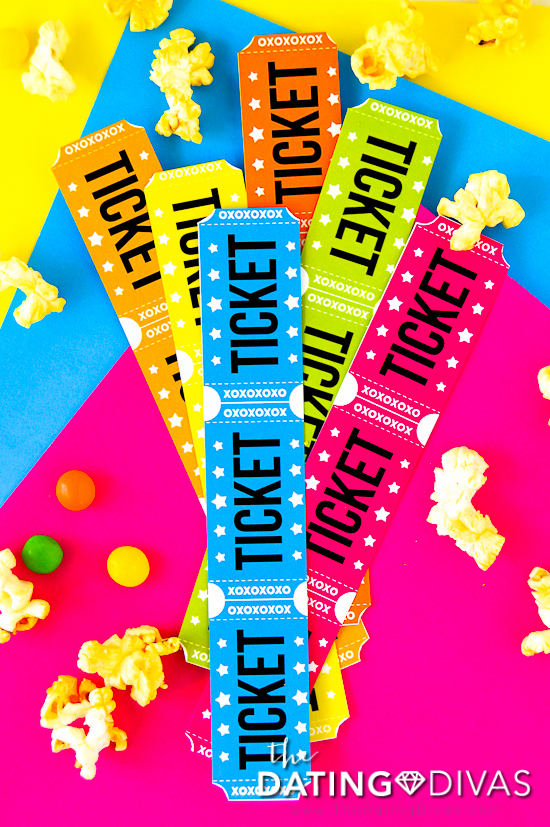 Challenge Games for Two People
All adult arcades are packed with games for two people to play but we're about to help you level up even further. Use the included arcade challenge cards to unleash your inner competitors and put those tickets to use! With challenges such as air-hockey faceoffs and racecar showdowns, you're in for a crazy good time. Take a look at all of the included challenges below!
Drop that claw! Take turns trying to outsmart the machine.
Take turns pinballing it up & see who gets the highest score!
Unleash your inner ballers at the net with a little one-on-one. Highest score wins!
Hit the slopes for a round of skee ball. Highest score wins!
Catch some serious air hockey with your spouse & see who's the better shot.
Rev up those engines for a fast-paced driving or motorcycle race!
Each challenge will have a distinct winner and each winner will earn a certain number of tickets.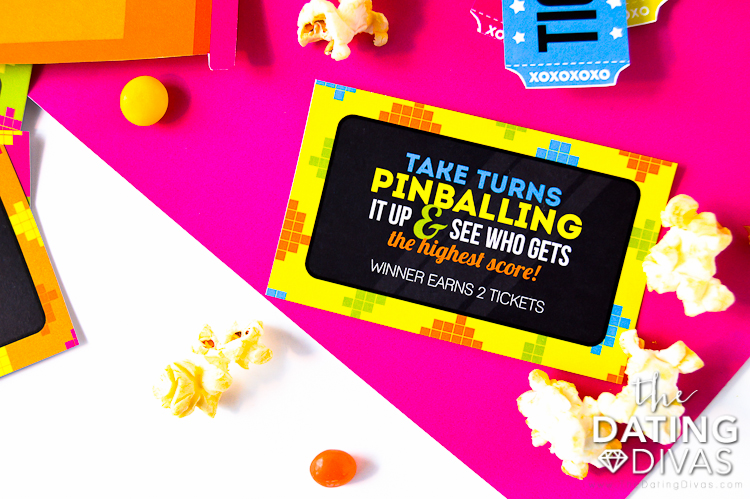 Bedroom Games for Two People
When the fun is done and the tickets have been doled out, it's time to go on home for a little more one-on-one time. Our printable sexy ticket menu will help you put those hard-earned tickets to use! Each person can cash their tickets in for certain sexy items. We've included everything from tamer treats like 'Snuggle Session' to spicier options like a 'Sexy Game of Choice.' Pick your preferences, turn in the tickets, and get ready to score BIG.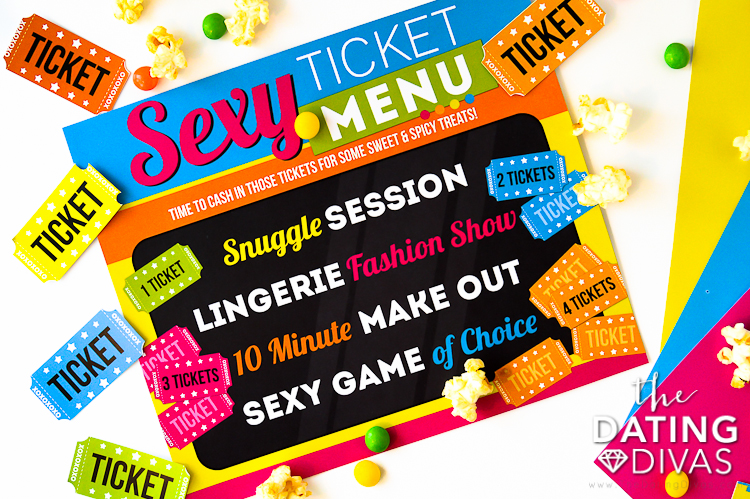 Is that an idea worth remembering or what?! Be sure and add it to your list of games for two people, rainy day dates, and indoor fun ideas ASAP. Enjoy!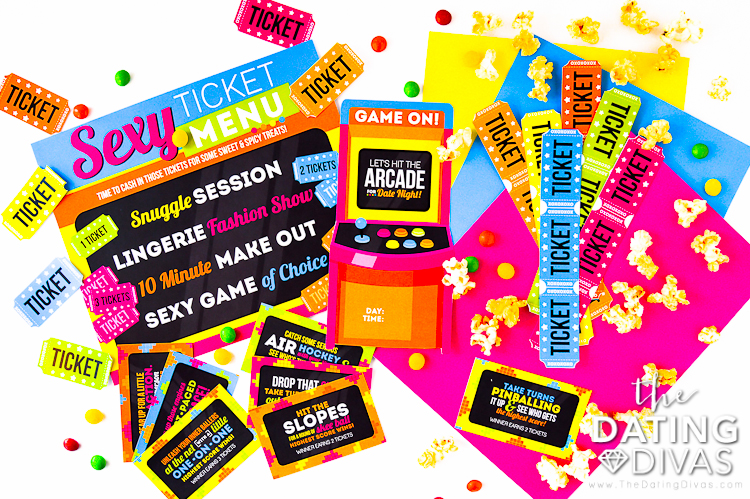 SaveSave
Arcade Date Night Digital Invite
Printables Designed by Carisa @ Messes to Memories Exclusively for The Dating Divas
Arcade Date Night
Printables Designed by Carisa @ Messes to Memories Exclusively for The Dating Divas