Best Camping Meals for Your Next Campout
Everyone knows that the best memories are made around the campfire, and do you know what makes those memories so special? That's right—the food! (Oh, and the people too!) We've gathered up 45 of the best camping meals and recipes so all you campers out there can get out and make s'more tasty memories together! Check it all out below!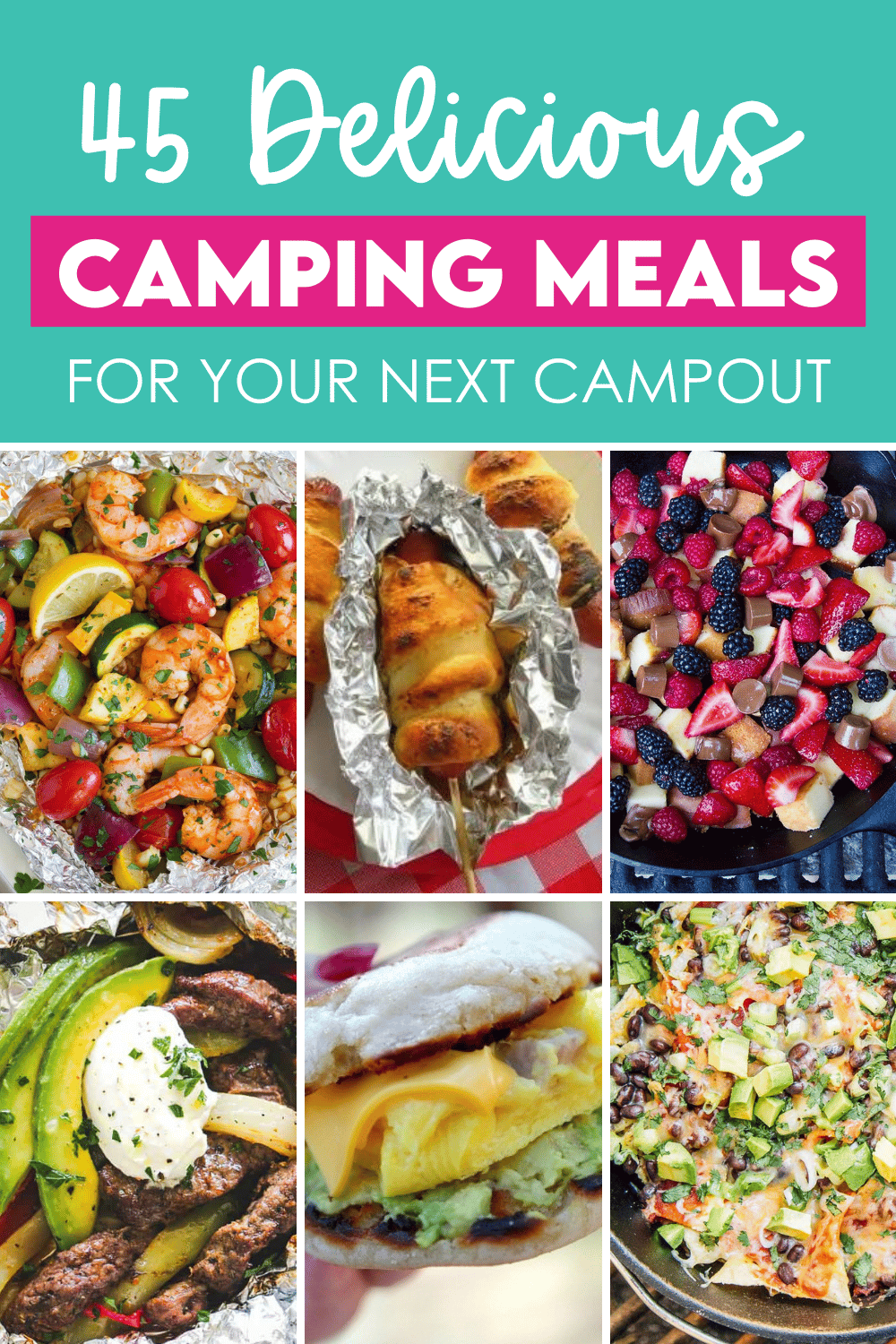 Disclaimer: This post contains affiliate links. To learn more about 'em, click here.
To make this list easier to navigate, we've broken it down into categories for you. We've got everything from one pot and make-ahead camping meals to camping recipes you don't need to keep cool and meals you don't even need to cook! And we couldn't forget kid-friendly options and desserts, too! Is your mouth watering yet, because ours totally are!
Table of Contents
One-Pot Easy Camping Meals
Who wants to do dishes while camping? Not us! These camping recipes are designed to be made in one pot (or dutch oven) for easy cleanup!
1. Campfire Nachos (Fresh Off the Grid): This tasty meal is nacho regular camping recipe, but it will definitely turn your campout into a fiesta!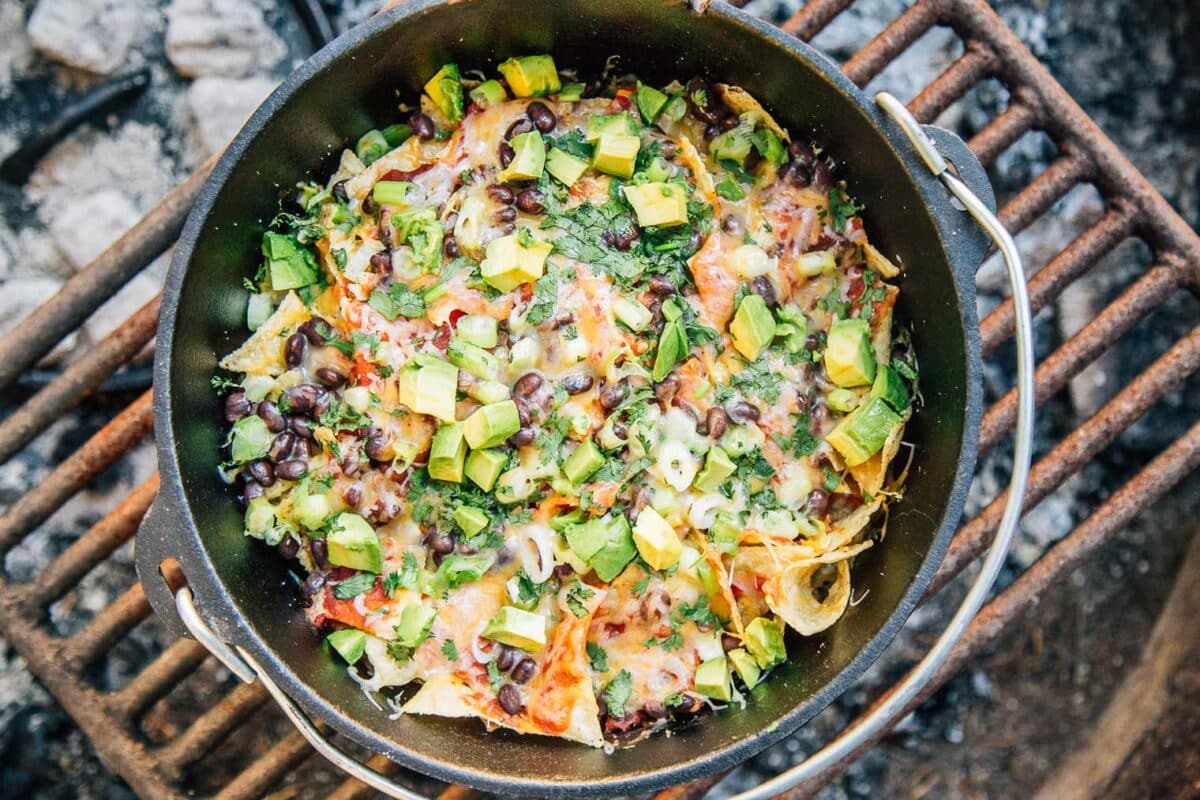 2. Camp Chili and Cornbread (Honestly Yum): This comfort food is so simple to make and perfect for feeding a lot of hungry campers.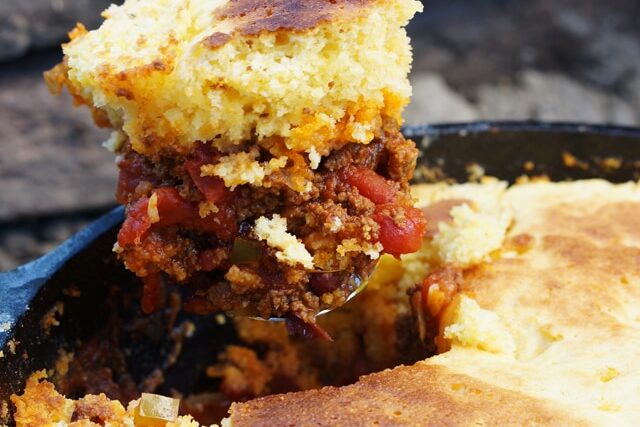 3. Pho Ramen (The Woks of Life): Not only is this made in one pot, but it's cheap, fast, and oh-so-yummy!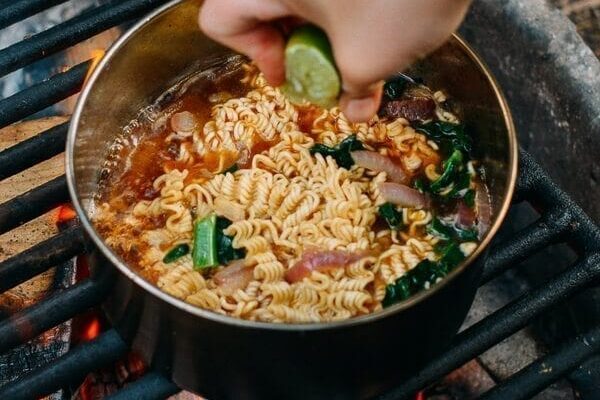 4. Dutch Oven Mac and Cheese (Fresh Off the Grid): This meal will delight both kids and grown-ups alike. Bring toppings like bacon crumbles, green onions, and french-fried onions to make your macaroni extra scrumptious!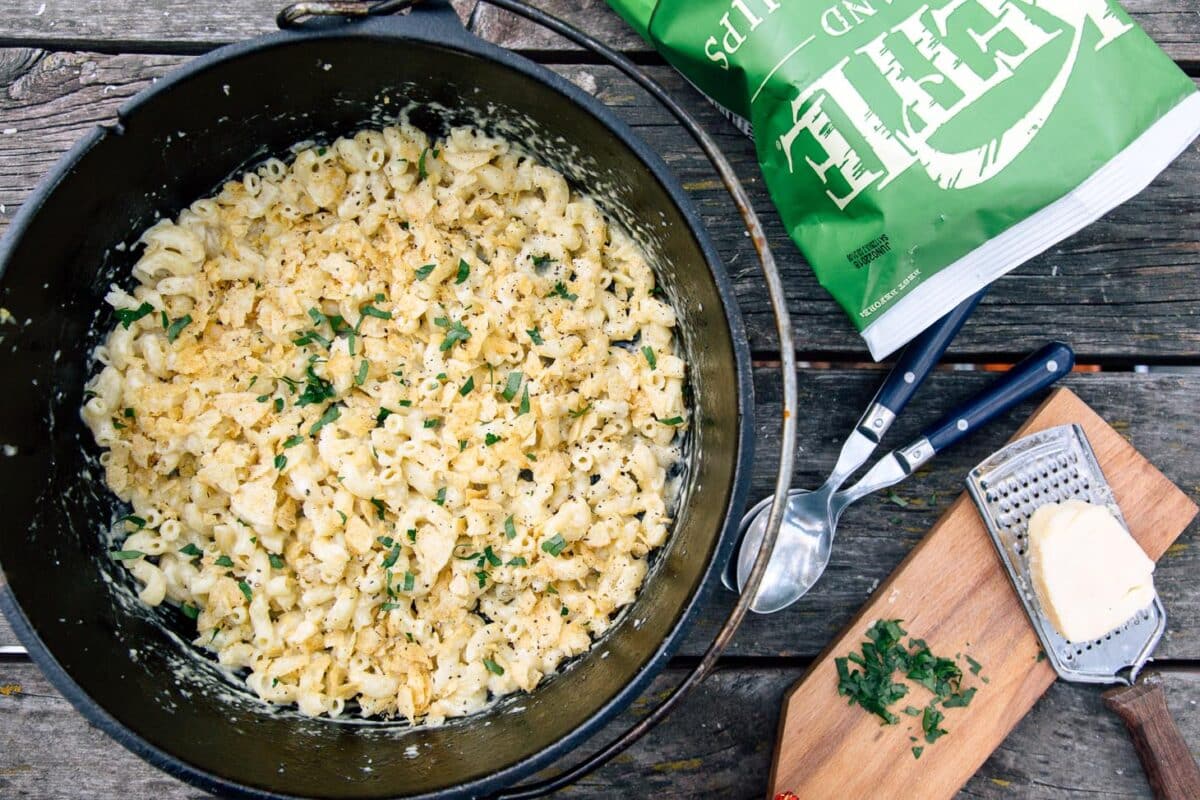 5. BBQ Chicken and Potatoes (Clarks Condensed): Crazy easy, crazy good, and only one pot to clean up afterward!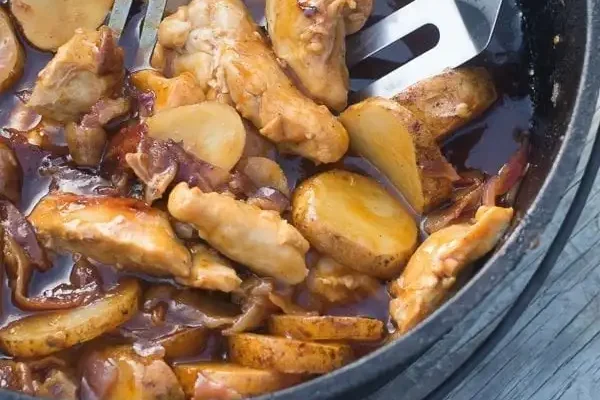 6. Beef Stroganoff (Fresh Off the Grid): This beef stroganoff recipe made with mushrooms, steak, egg noodles, and a delicious creamy sauce was created specifically to be made in the mountains. Bon Appetit!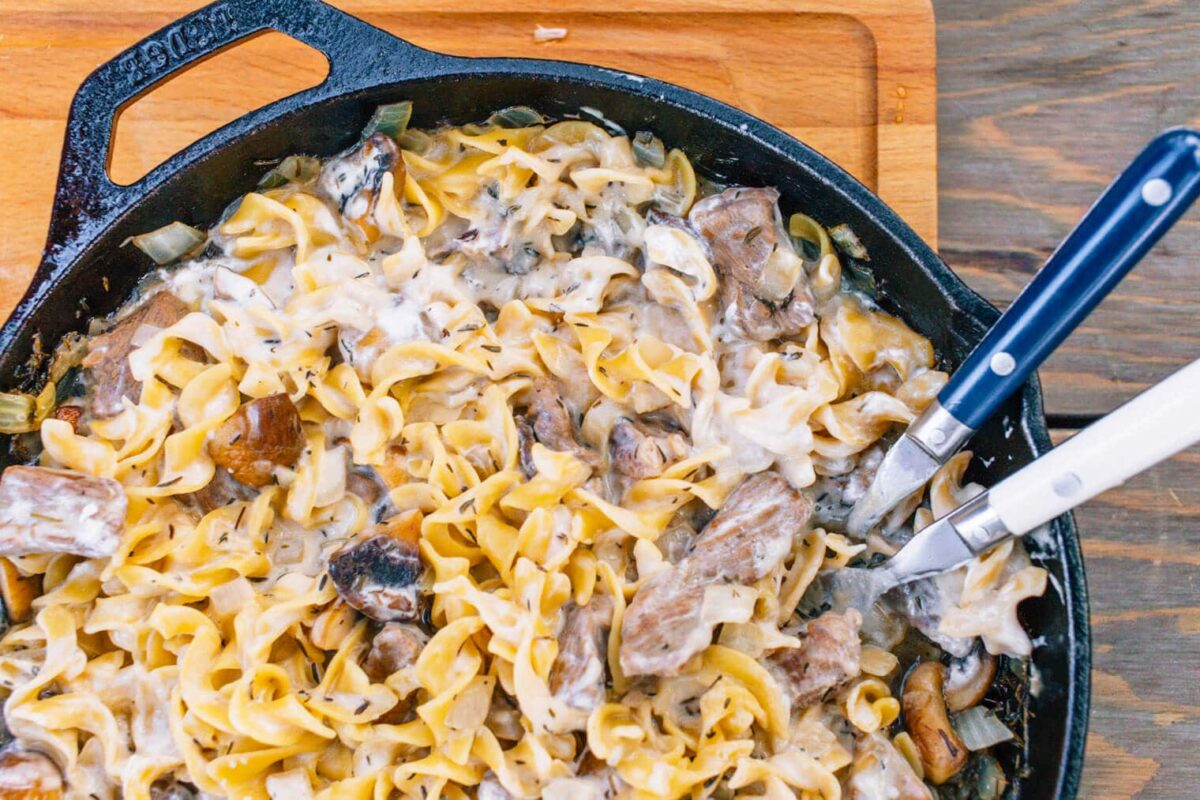 7. Old-Fashioned Goulash (My Incredible Recipes): Mmm…this hearty meal is the perfect way to fill up those hungry bellies!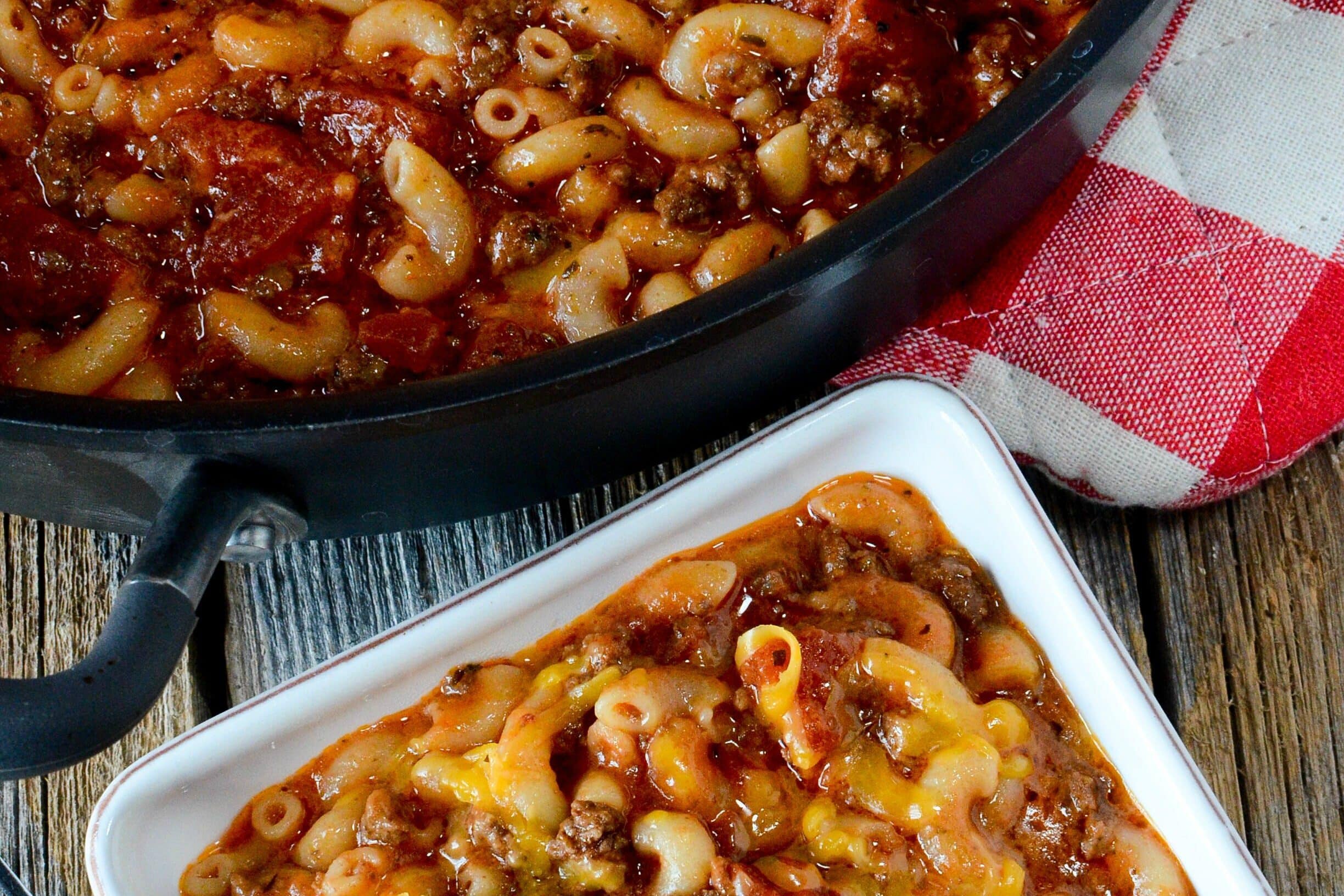 8. Dutch Oven Enchiladas (Fresh Off the Grid): This cheesy and spicy recipe just might become one of your new favorite easy camping meals!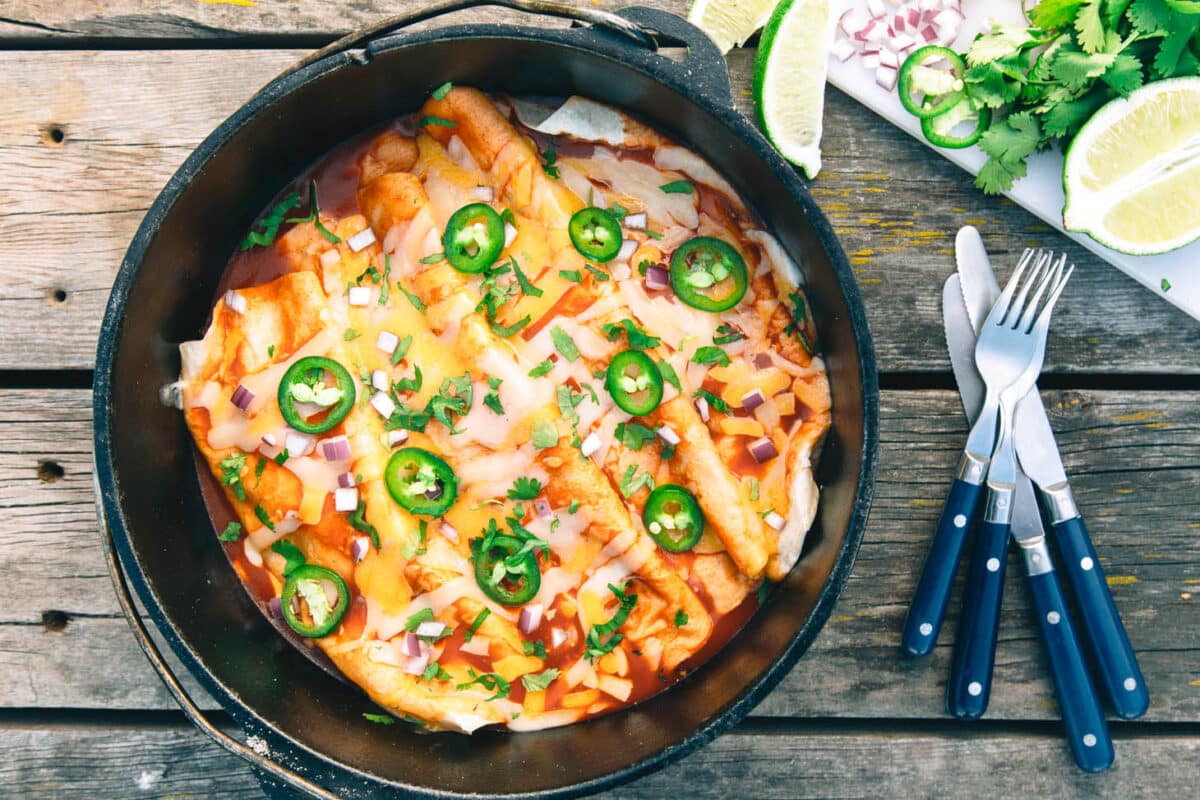 9. Dutch Oven Lasagna (Clarks Condensed): Lasagna is a family classic that everyone, young and old, enjoys, so why not try it out on your next camping trip?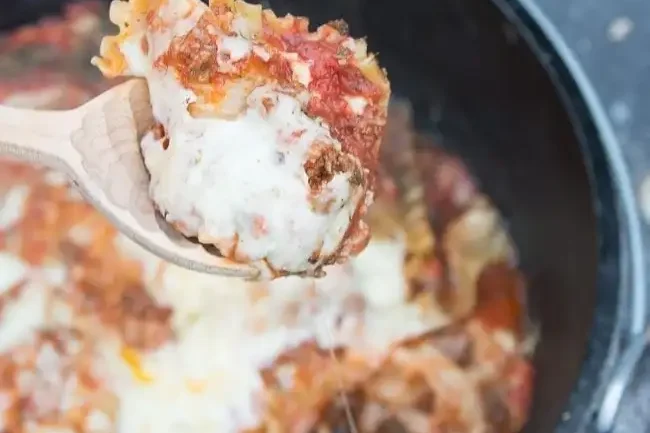 Make-Ahead Camping Meals
These make-ahead camping meals are so easy to prep at home. Simply slice and dice in your own kitchen, wrap in foil, and throw it in your cooler. All you need to do when you get to the campsite is place your foil packs over the fire. Easy peasy!
10. Chili Lime Steak Fajitas in Foil Packs (Diethood): Did you ever think you could eat something this fresh and good by the campfire? You definitely need to try this one!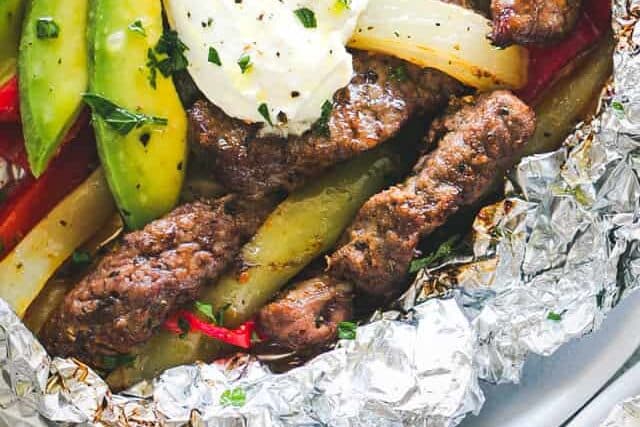 11. Hot Ham and Pineapple Campfire Sandwiches (Dessert Now Dinner Later): These little sandwiches are sure to be a hit with all the campers! Did we mention that cleanup is a breeze?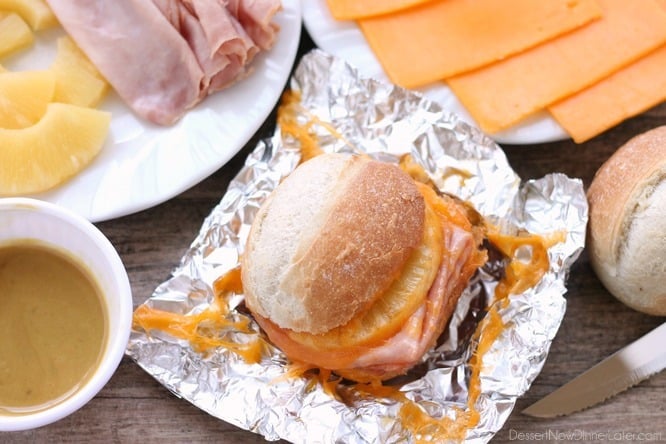 12. Whole Wheat Pasta in Foil (Cookin' Canuck): Everyone gets to open up their own little classy pasta packet with this fun, non-traditional camping meal!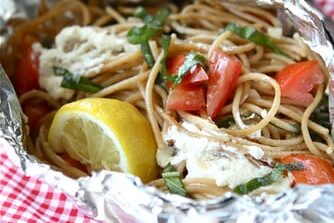 13. Shrimp and Summer Veggie Foil Packs (Cooking Classy): So fresh! So flavorful! So easy! So perfect!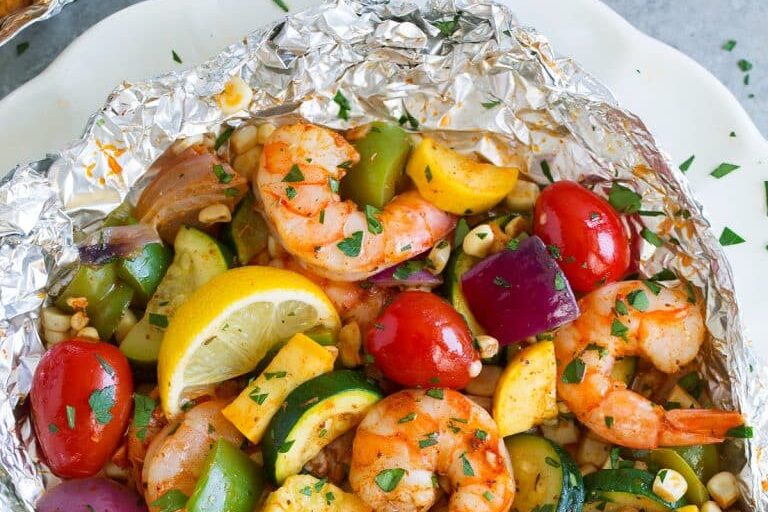 14. Pizza Pockets (Happy Money Saver): This is for sure going to be one of those make-ahead camping meals that your kids ask for again and again!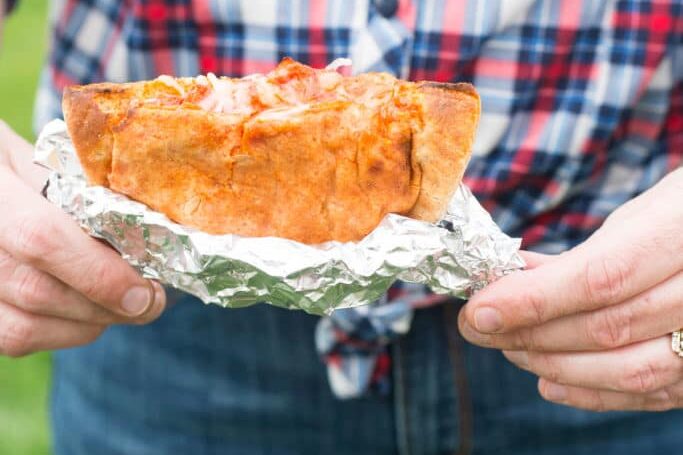 15. Foil Pack Mango Mojito Chicken (Meal Plan Addict): Mix it, fold it up in foil, and grill it over the campfire. We think this looks like summer in a foil packet!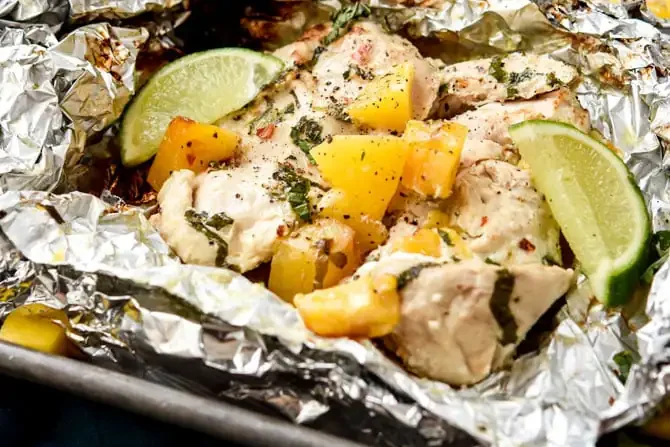 16. Breakfast Foil Packs (Epicurious): Don't forget breakfast! Sometimes you just need a hot meal to get you ready for a day full of adventure!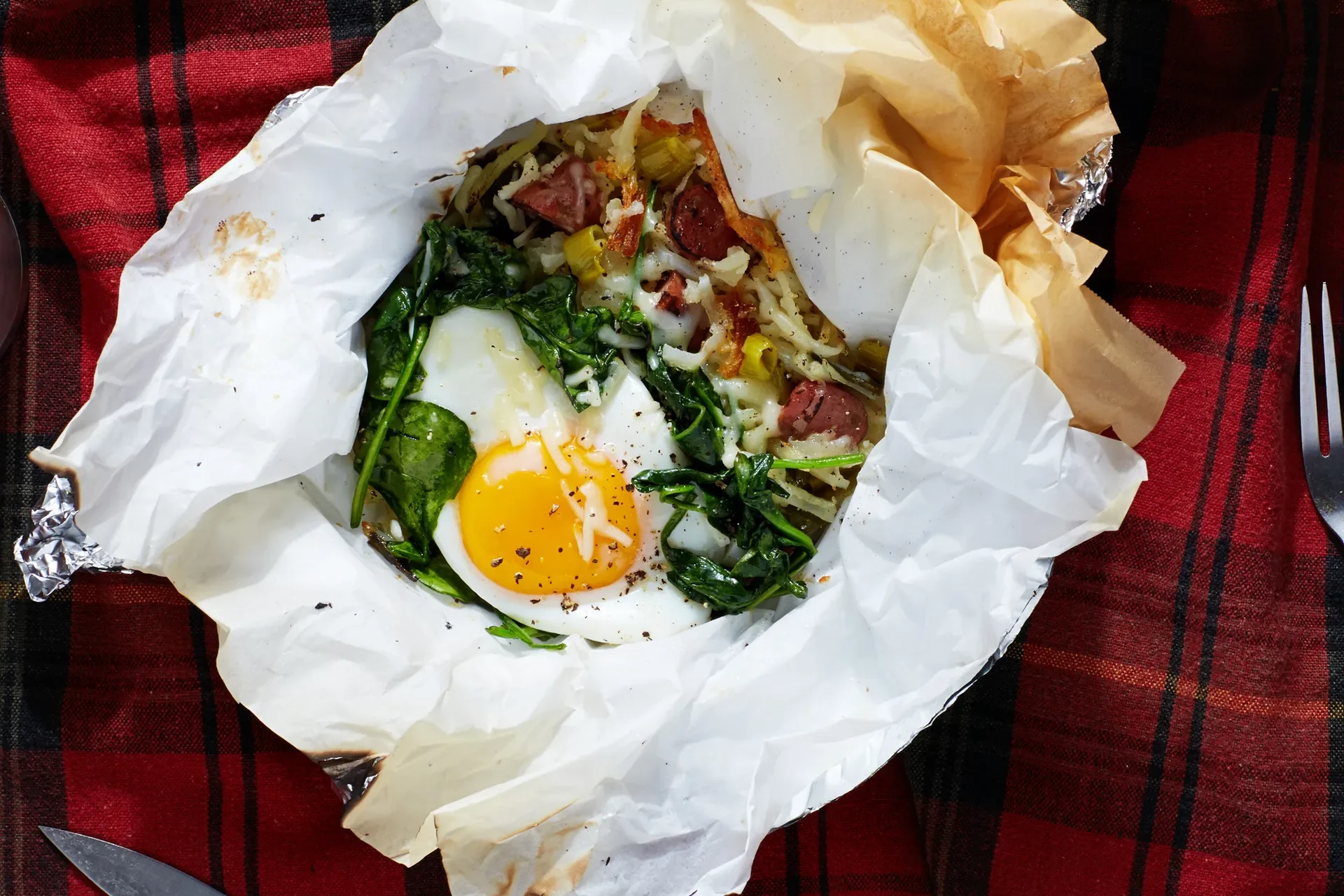 17. Foil Pack French Dip Sandwiches (Chelsea's Messy Apron): This meal is definitely not one you would normally think of as a camping recipe, but it is a great make-ahead option!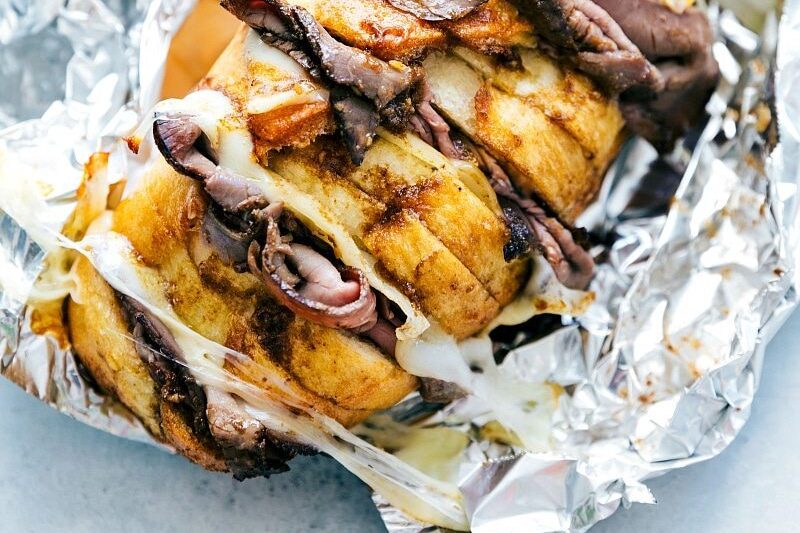 18. Breakfast Burritos (Happy Money Saver): Cook, roll, wrap, heat, and serve! These breakfast burritos are also freezer-friendly, so you can make them far in advance.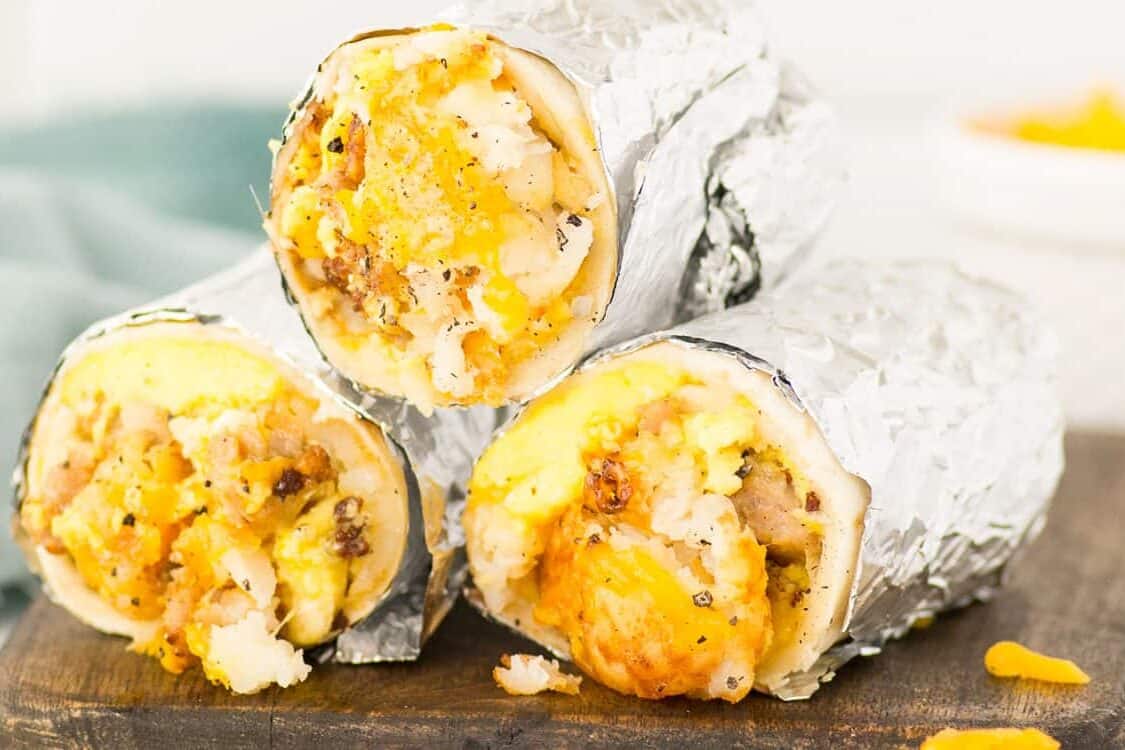 No Refrigeration Needed Camping Meals
Are you trying to keep it really simple and don't want to worry about keeping your food cool? Maybe you don't have room for a cooler? No worries! We've got you covered with these meals you can make with items that don't need to be refrigerated.
19. Pancakes: Just add water and syrup! We just love these dark chocolate-flavored Kodiak Cakes!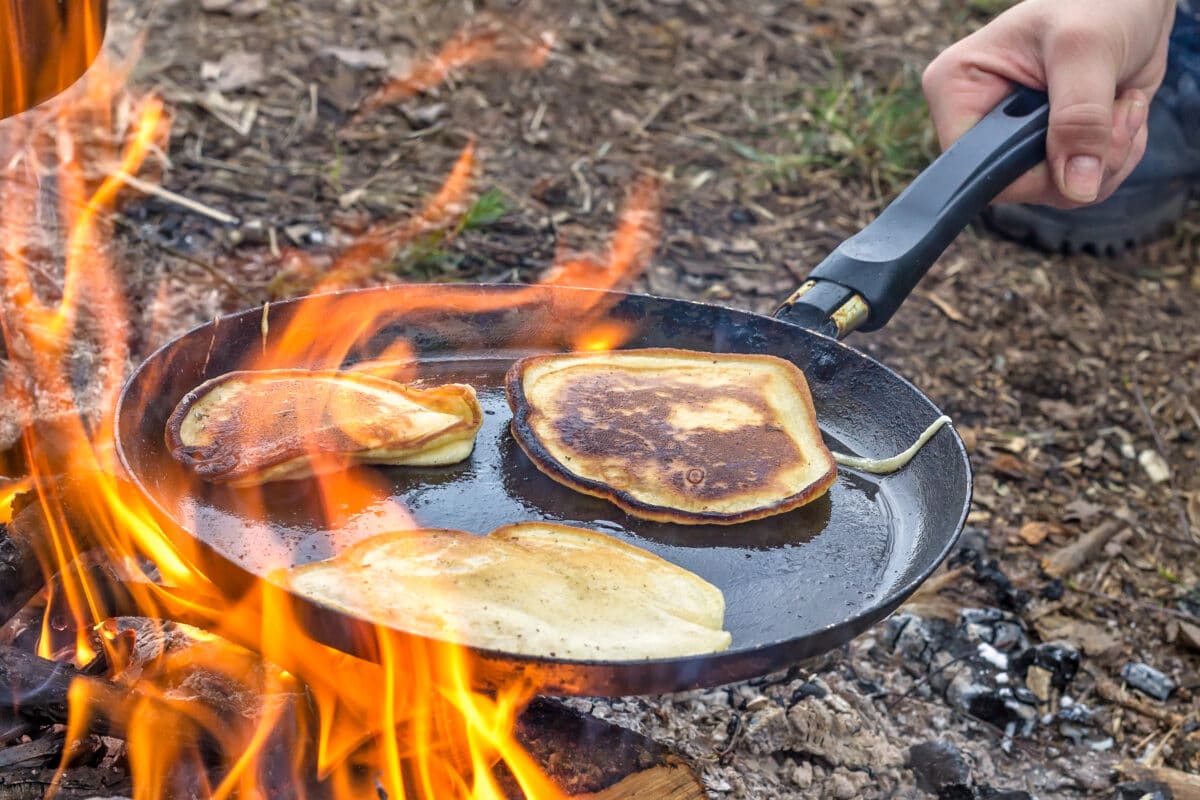 20. No-Bake Blueberry-Almond Oatmeal Bars (Two Healthy Kitchens): You can make these ahead of time or at the campsite. You won't need a cooler either way!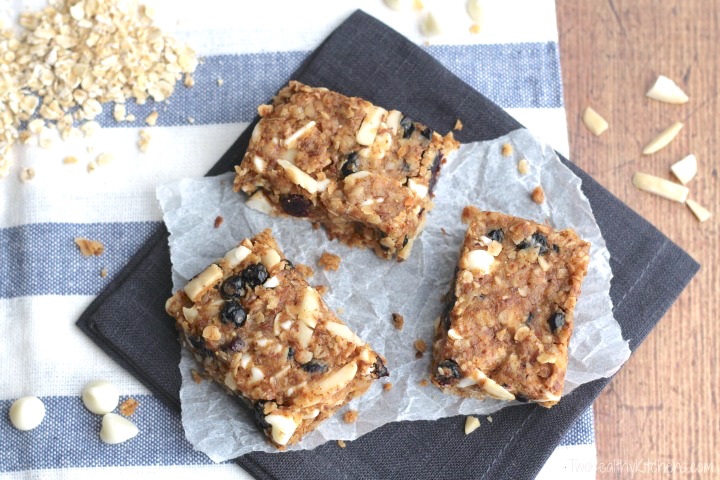 21. Camping Oatmeal (A Side of Sweet): Can you get any closer to nature than when eating a bowl of this camping oatmeal? We think not!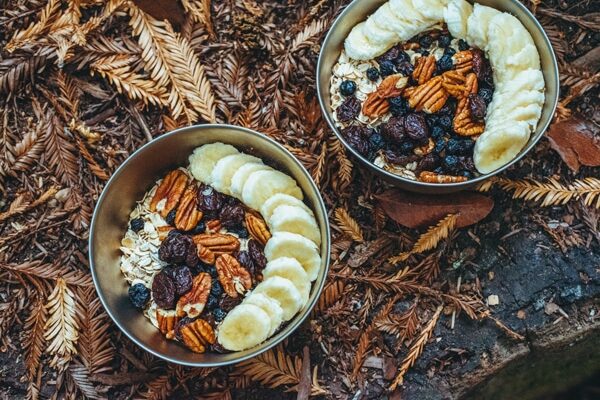 22. One Pot Red Lentil Sloppy Joes (Fresh Off the Grid): Try this twist on an old classic. You won't be disappointed!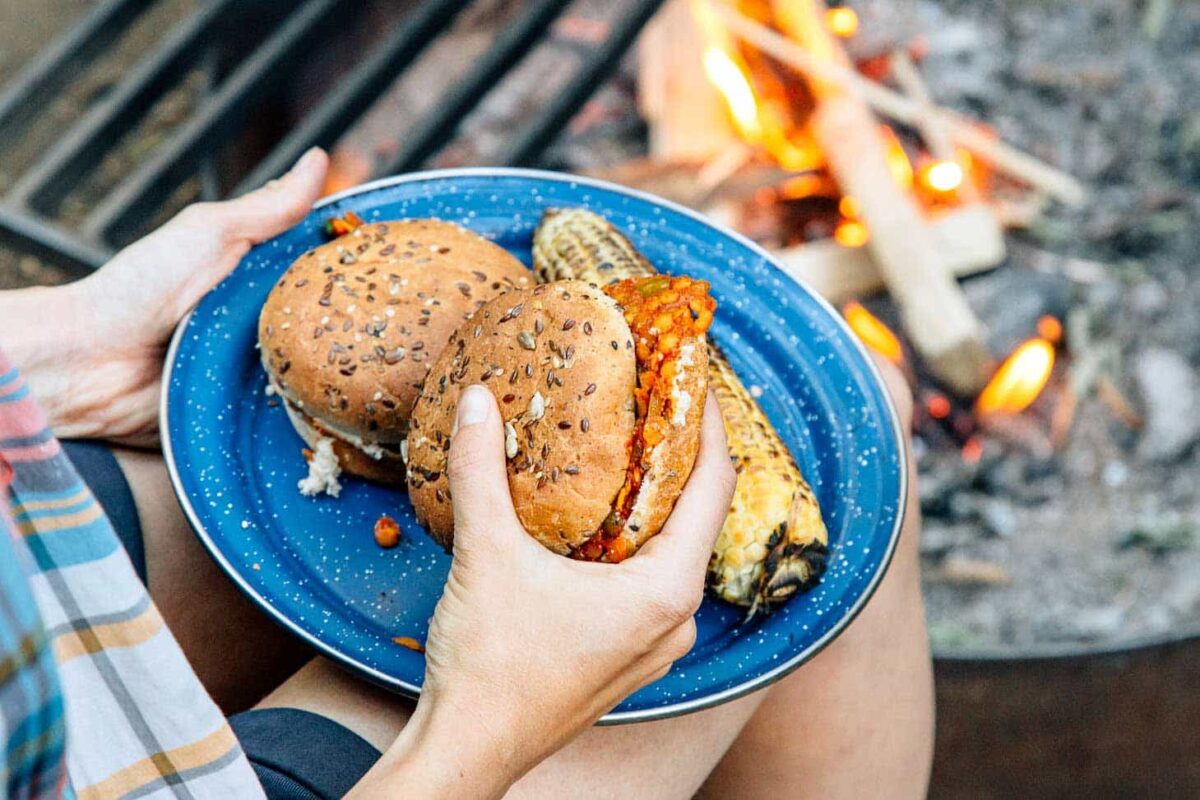 23. Smoky Avocado Toast (Fresh Food in a Flash): Doesn't campfire smoke make everything taste amazing? We think so!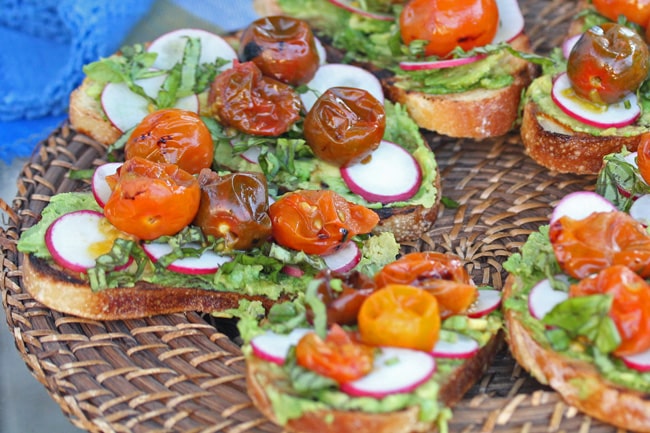 24. Campstove Chickpea Curry (Champagne Tastes): Don't forget to bring along some instant rice to serve with this tasty dish.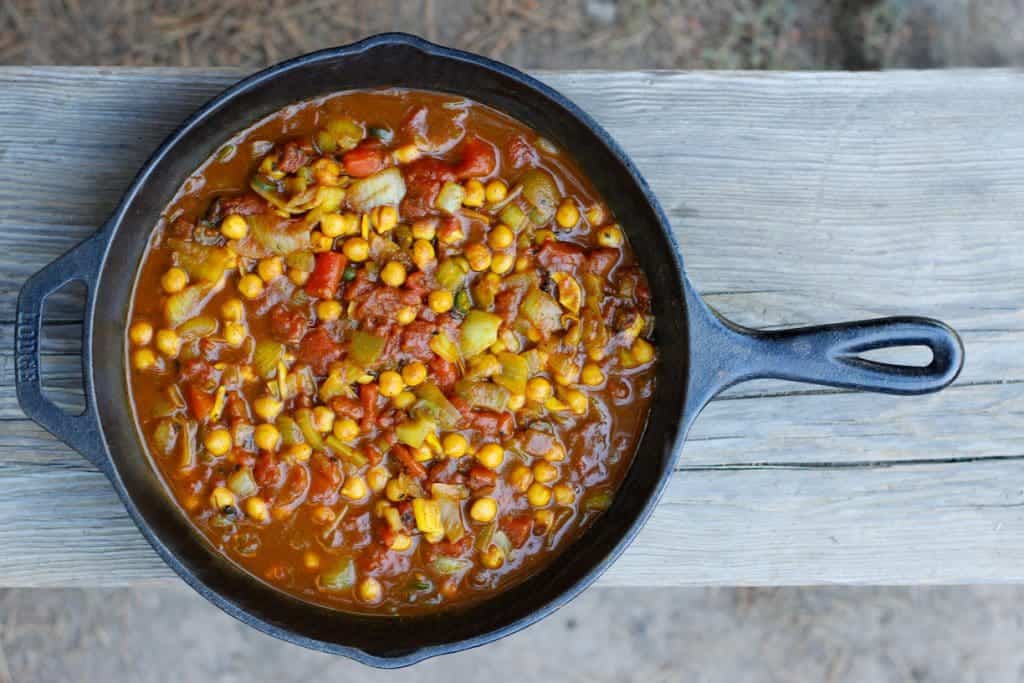 25. Chicken And Squash Dutch Oven Casserole (Reuse Grow Enjoy): Use canned chicken to make this super easy shelf-staple dish!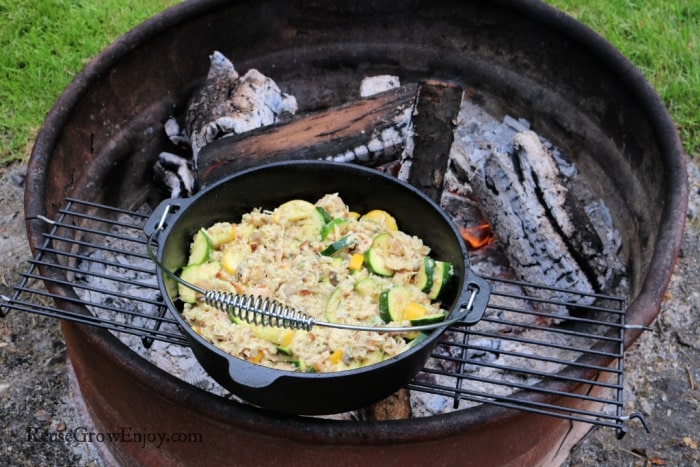 No-Cook Camping Food Ideas
Are there fire restrictions where you're camping? Or maybe you just don't feel like building a fire. Either way, we've got some great no-cook options for you!
26. Fruit and Yogurt Breakfast Parfaits (Iowa Girl Eats): Make them ahead or make them at the camp; either way, this no-cook breakfast is definitely a win!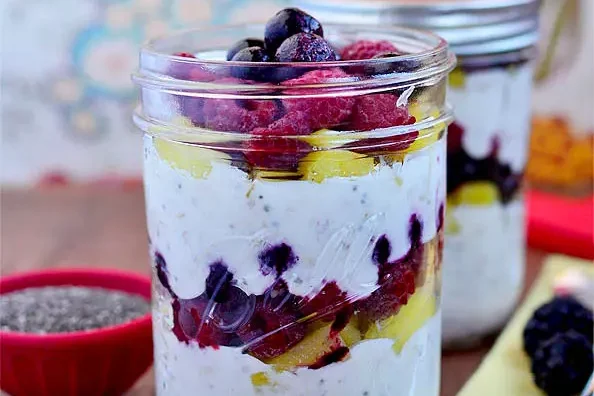 27. Sweet & Spicy Cashew Chicken Salad Wrap (Fresh Off the Grid): This sweet and spicy wrap is super easy for on-the-go hiking meals!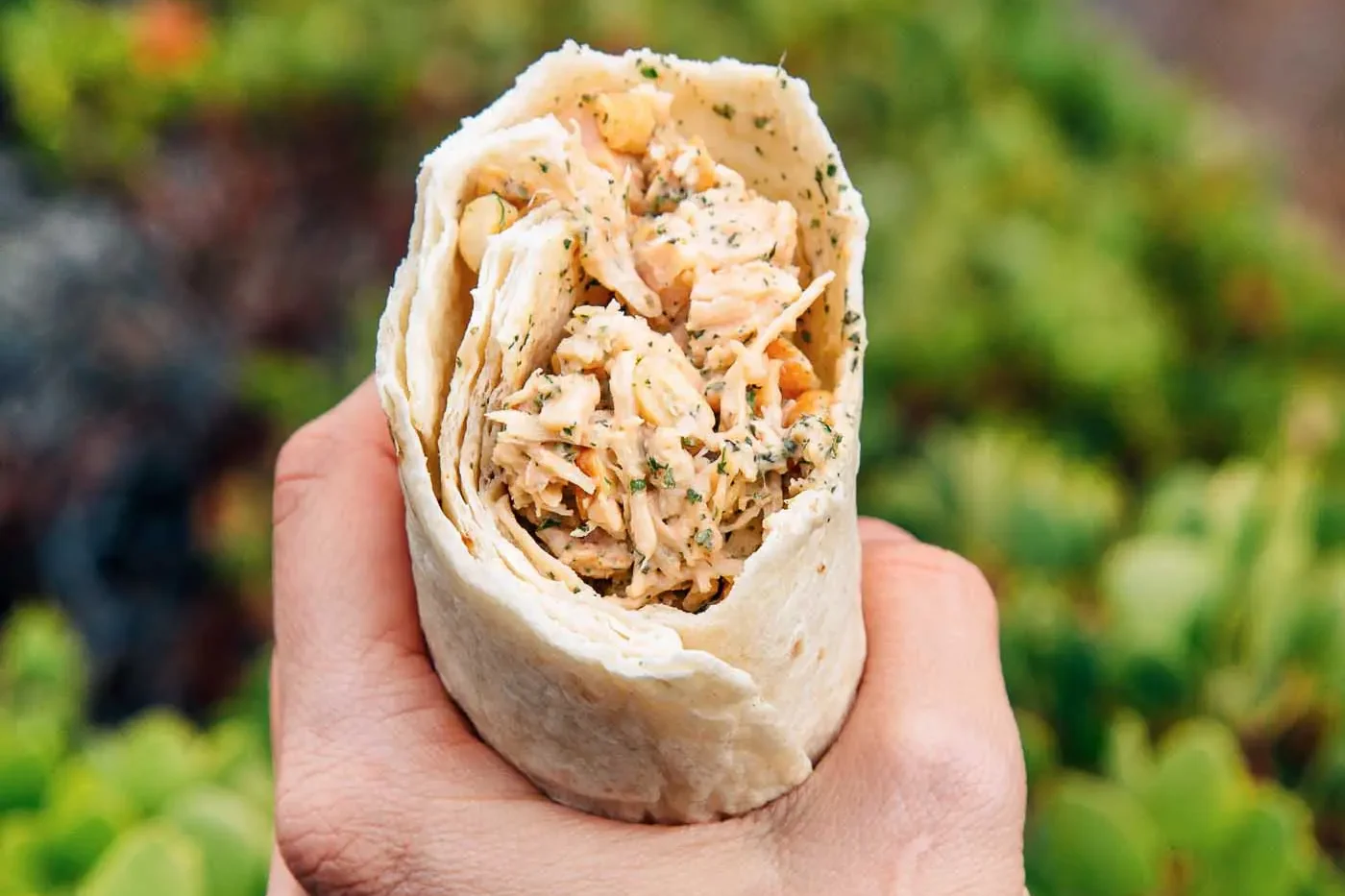 28. Pesto Tomato Wraps (Camping for Foodies): Not only are these quick to make, but these wraps have only five ingredients, making this perfect for busy camping trips.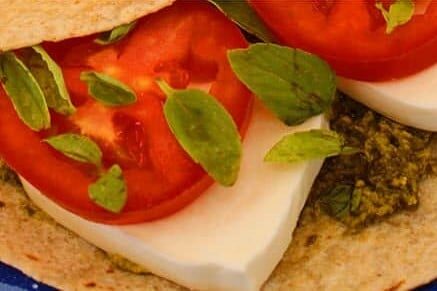 29. Homemade Healthy Lunchables (One Sweet Appetite): Have you ever made homemade Lunchables? If not, you totally need to try it! You'll have better choices of meat, cheese, and crackers—and you'll actually feel full!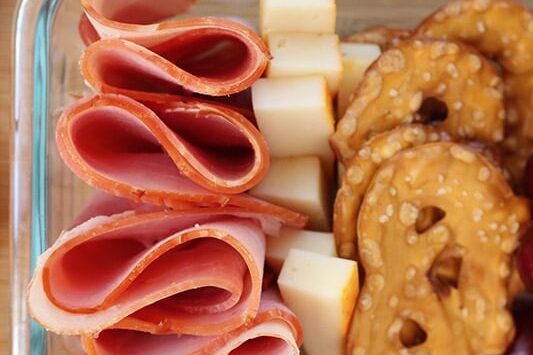 30. Cucumber Dill Avocado Tuna Salad (The Roasted Root): This no-cook camping recipe is a flavorful take on the classic tuna salad.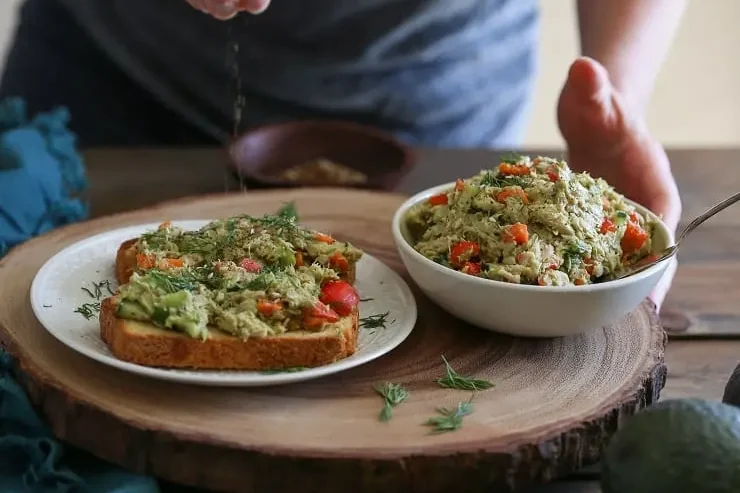 31. Southwest Camping Salad (Pure Flavor): Beautiful and bursting with color, this salad will make you feel better after eating all those snacks and s'mores!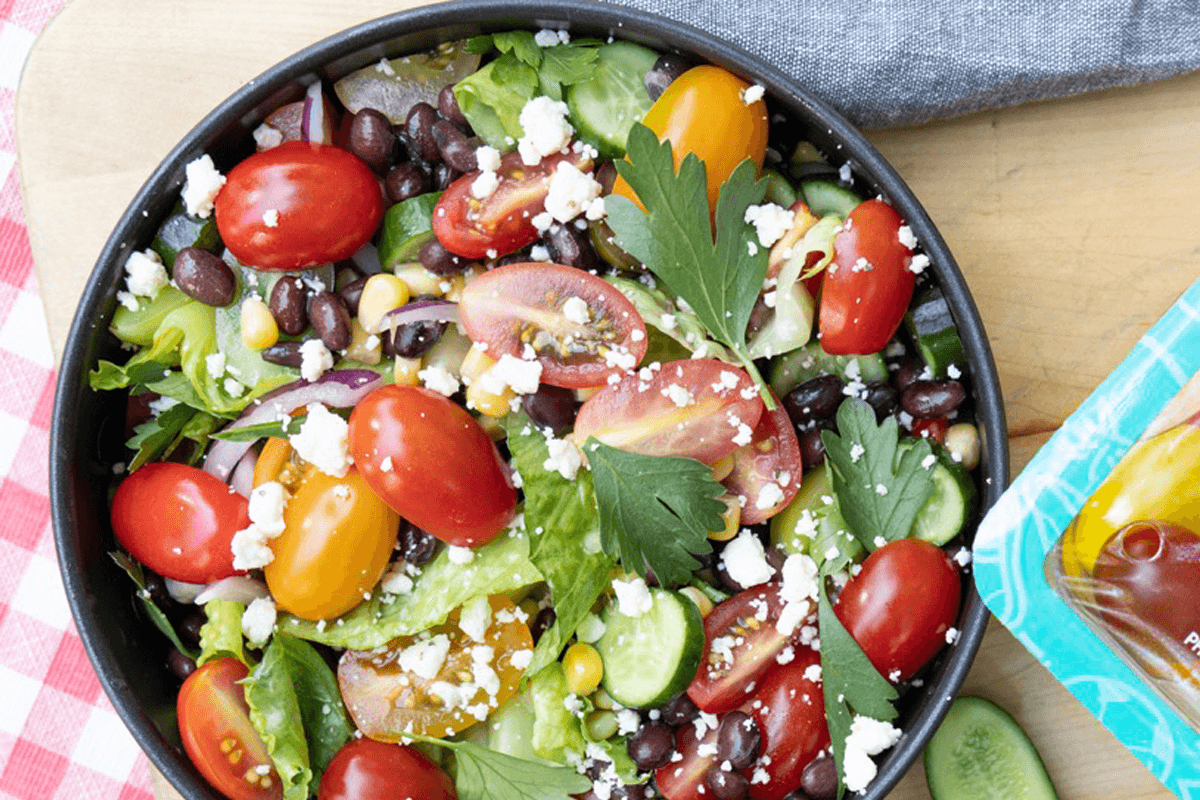 Easy Camping Meals for Kids
Kids … they're super picky sometimes, right? Here are some great camping meals for even the pickiest of eaters.
32. Frito Bandito (Happy Money Saver): Also known as Walking Tacos, this meal is so fun because you eat it right out of the chip bag! Kids will LOVE this!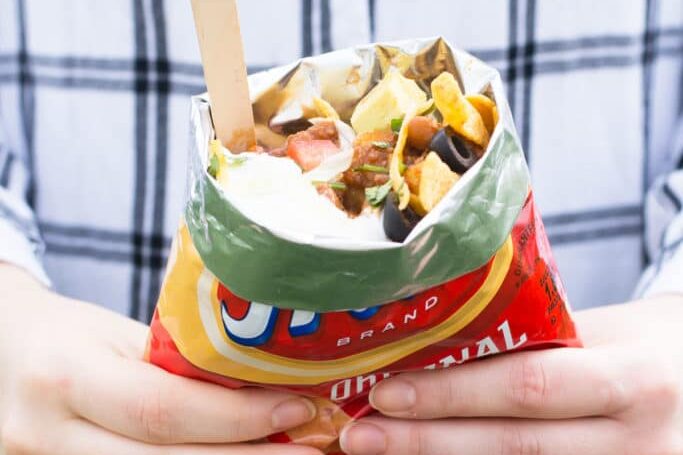 33. Camping Breakfast Sandwiches (Recipe Girl): Tell your kids it's from their favorite fast food restaurant, and they will gobble it right up! (But this version is tastier!)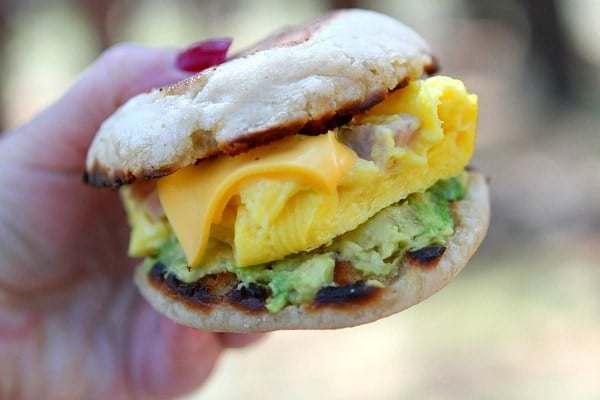 34. Boil in the Bag Omelets (Create Kids Club): Your kids will love adding their omelet ingredients to the bag and watching it cook in the water. It might not look pretty, but it will taste oh-so-delicious!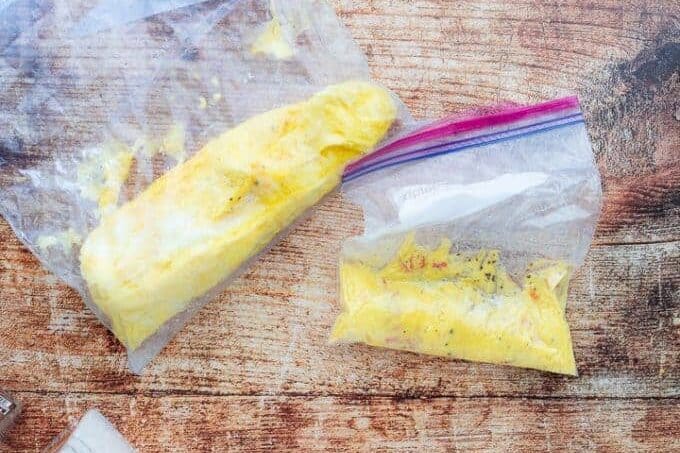 35. Foil-Wrapped Camping Hot Dogs (Frugal Coupon Living): Don't all kids love pigs in a blanket?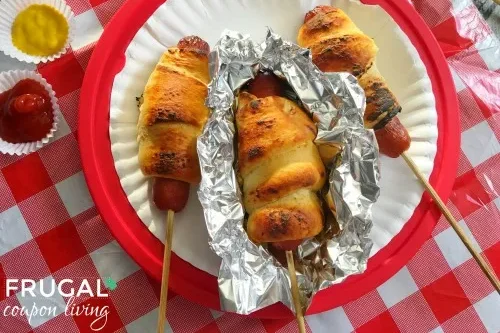 36. Campfire Pizza (Spaceships and Laser Beams): This non-traditional camping meal will have your kids begging for more!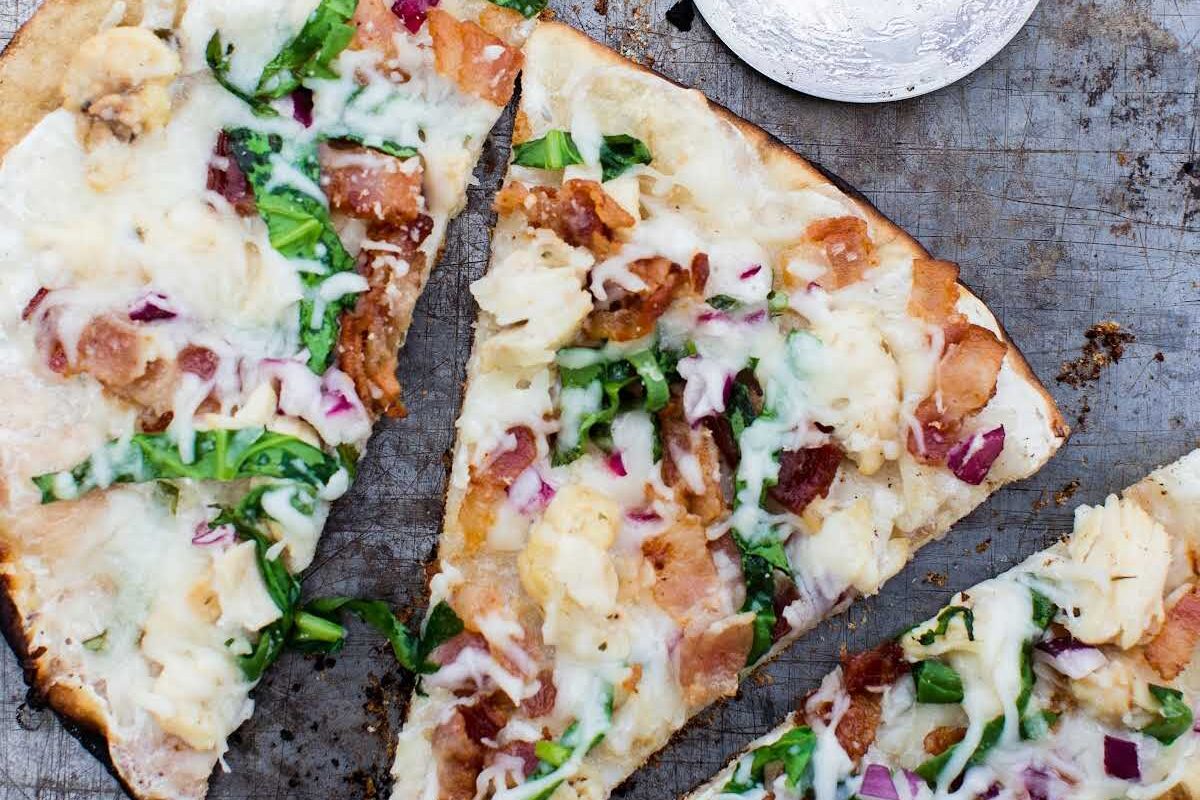 Dessert Camping Recipes
We couldn't leave desserts off this list, and we've rounded up some of the most mouth-watering camping food ideas for you! Enjoy!
37. Pound Cake and Berry Campfire Skillet Dessert (Taste and Tell): Just. Look. At. This. Picture! 😍 Don't wait to go camping to make this recipe!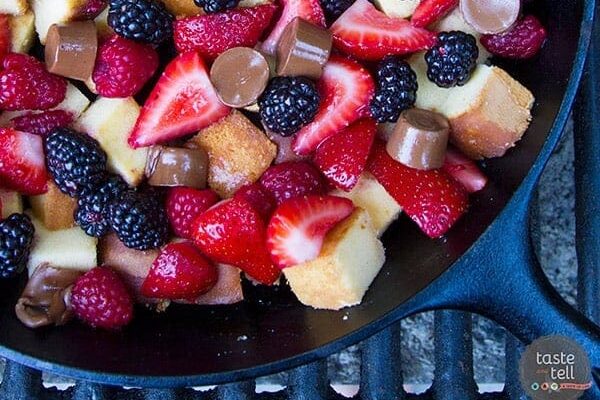 38. Dutch Oven Cinnamon Nut Pull-Aparts (Tried and Tasty): We love that this simple recipe uses thawed Rhodes Rolls and staples found in your pantry and fridge!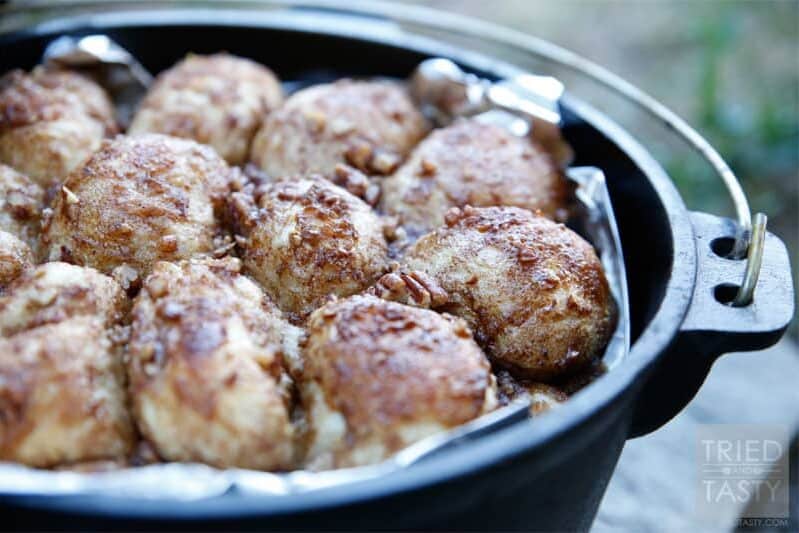 39. Cherry Chocolate Lava Cake (Let's Camp S'more): We just lava the look of this cherry chocolate lava cake! Use parchment paper linersfor easy cleanup.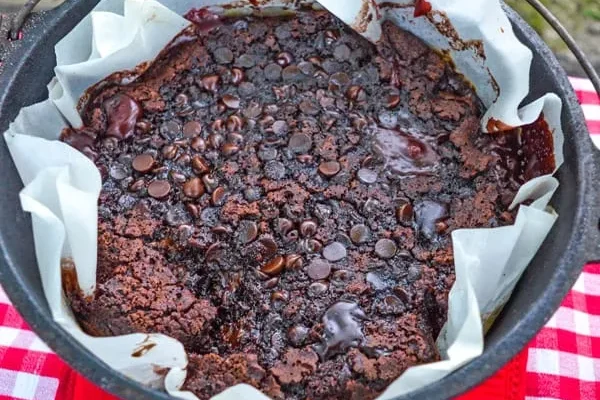 40. Campfire Cinnamon Rolls (Adventures of Mel): Mix it up ahead of time or whip it up at the campground. These ooey-gooey treats are sure to please!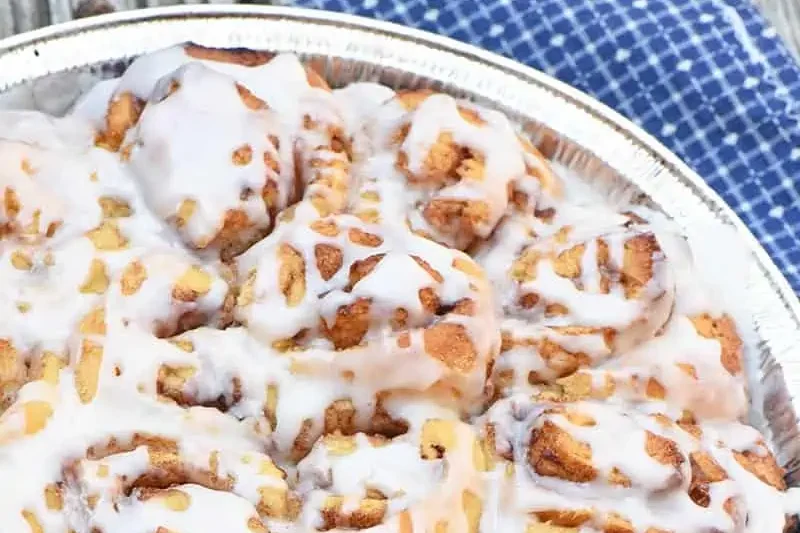 41. S'mores Dessert Roll-Ups (Echoes of Laughter): Use a variety of ingredients to customize these roll-ups for each camper!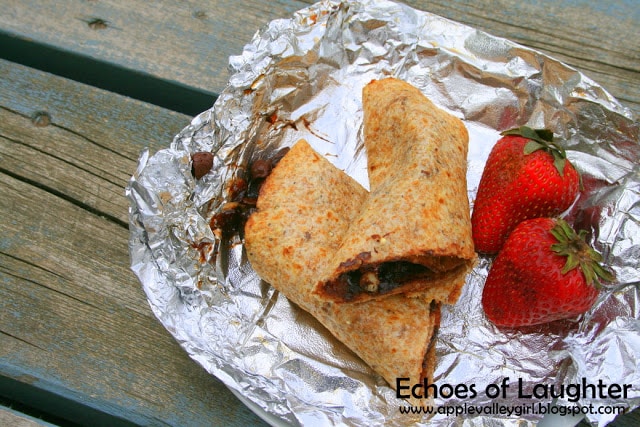 42. Dutch Oven Apple Cobbler (Fresh Off the Grid): You have to make this dutch oven cobbler at least once in your life!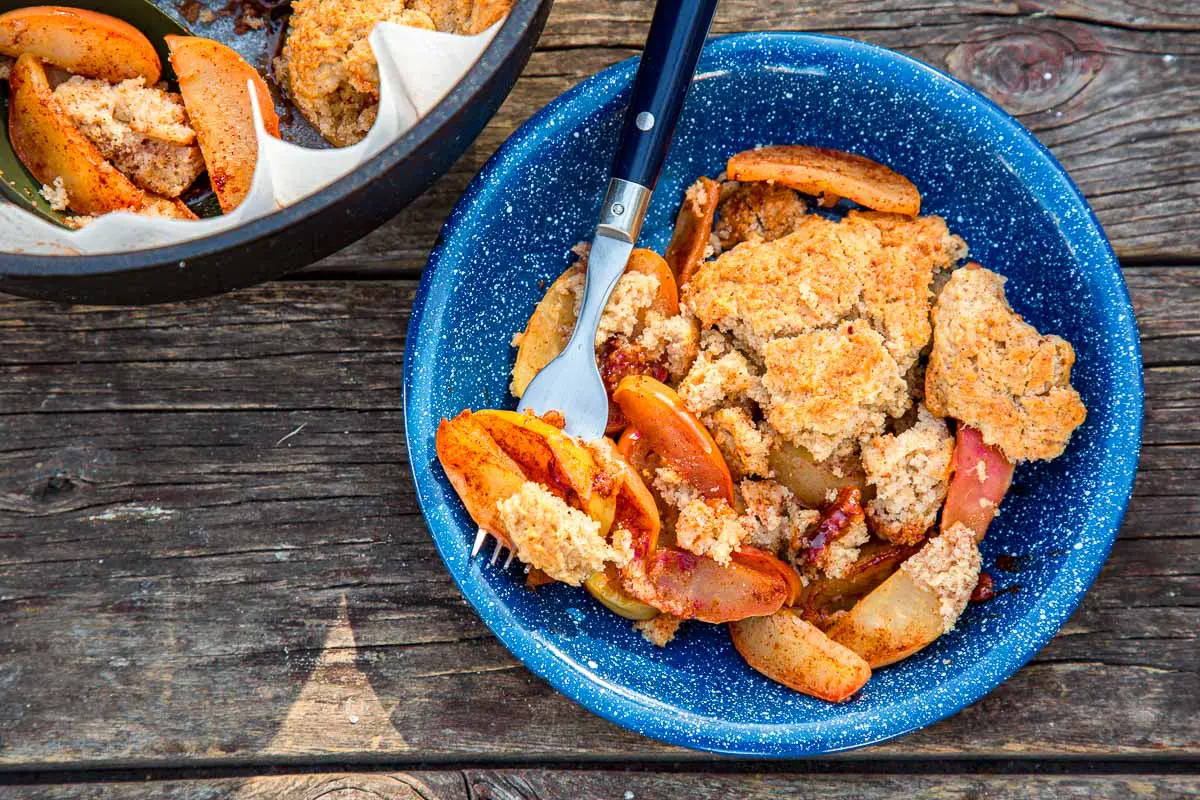 43. Campfire Strawberries (Delish): We love this new, fresh take on roasting marshmallows. Just don't let your marshmallow catch on fire!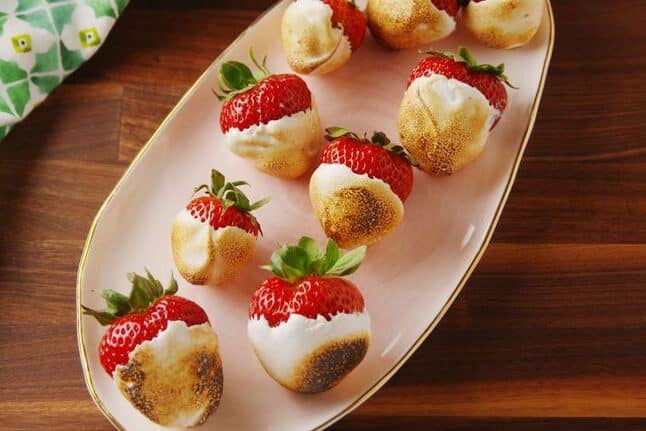 44. Campfire Cones (Princess Pinky Girl): Eat your s'mores out of an ice cream waffle cone. It's dessert on the go!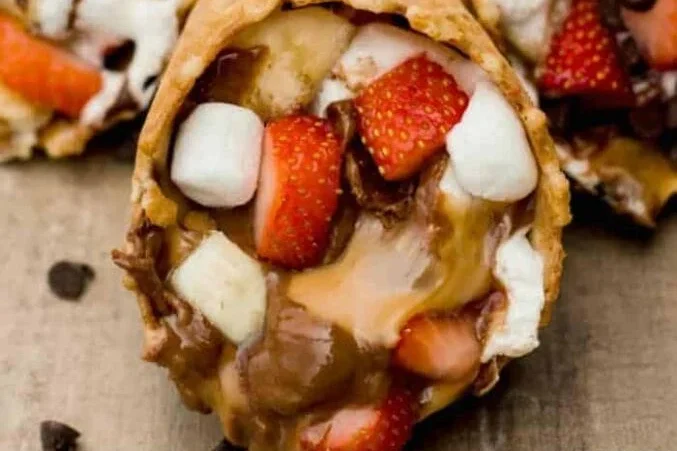 45. S'mores Nachos (Let's Camp S'more): Instead of making individual s'mores, why not make a skillet of s'mores for the whole camp crew?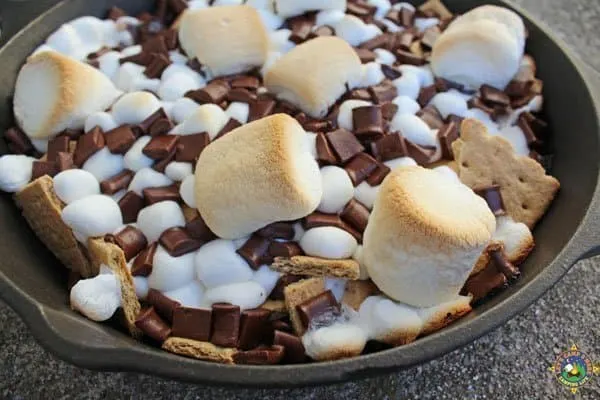 Are you hungry yet? We sure are!
If you want more camping ideas, be sure to check out our HUGE lists of 101 Best Kids Camping Ideas & Activities and 101 Useful Camping Hacks.
And if you're looking for camping fun for just you and your sweetie, take a look at our Romantic Backyard Camping Date. We think you'll love it!
Now, get out there—it's time to camp, sleep, eat, and repeat!