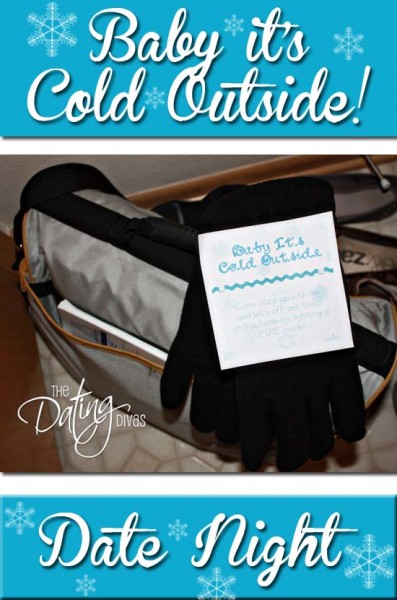 Have you felt the chill in the air? I decided we needed a NIGHT IN to off-set the cold because…
I left my husband an invite and a new pair of gloves (since I had made him cut his others for our
Halloween Costume
.) This pair was on sale at Old Navy for $4, but you could easily find a cheaper pair at Wal-Mart or the Dollar Store. You could leave it with ANY warm clothing (hat, scarf, socks, etc.) or none at all!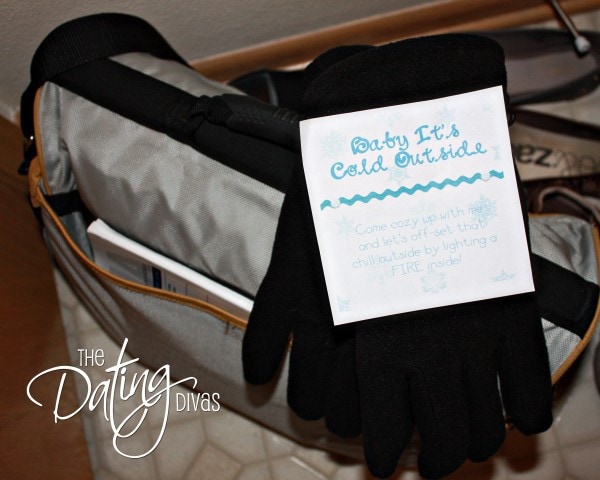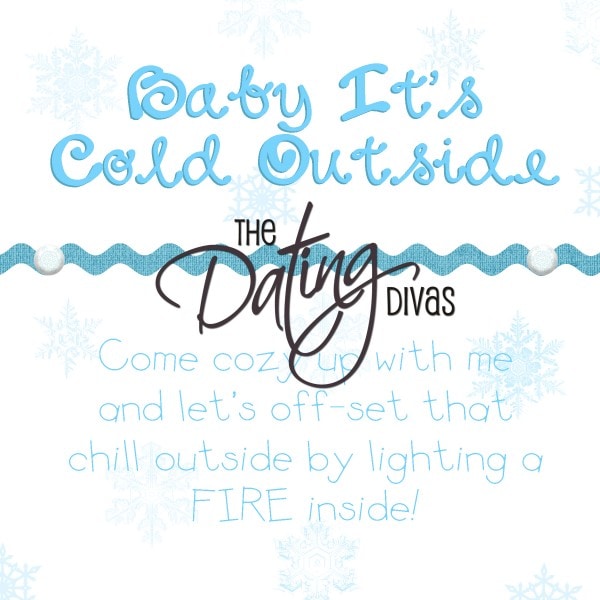 I wanted a Winter Wonderland feel for the date so I set to work earlier in the day hanging snowflakes from the ceiling. I had planned to cut the snowflakes out of paper, but when I found these beautiful foam ones at the Dollar Store 6 for $1 I decided to save myself some time and paper. I just strung them with fishing line and taped them to the ceiling. If you wanted to involve your kids, have them cut the snowflakes!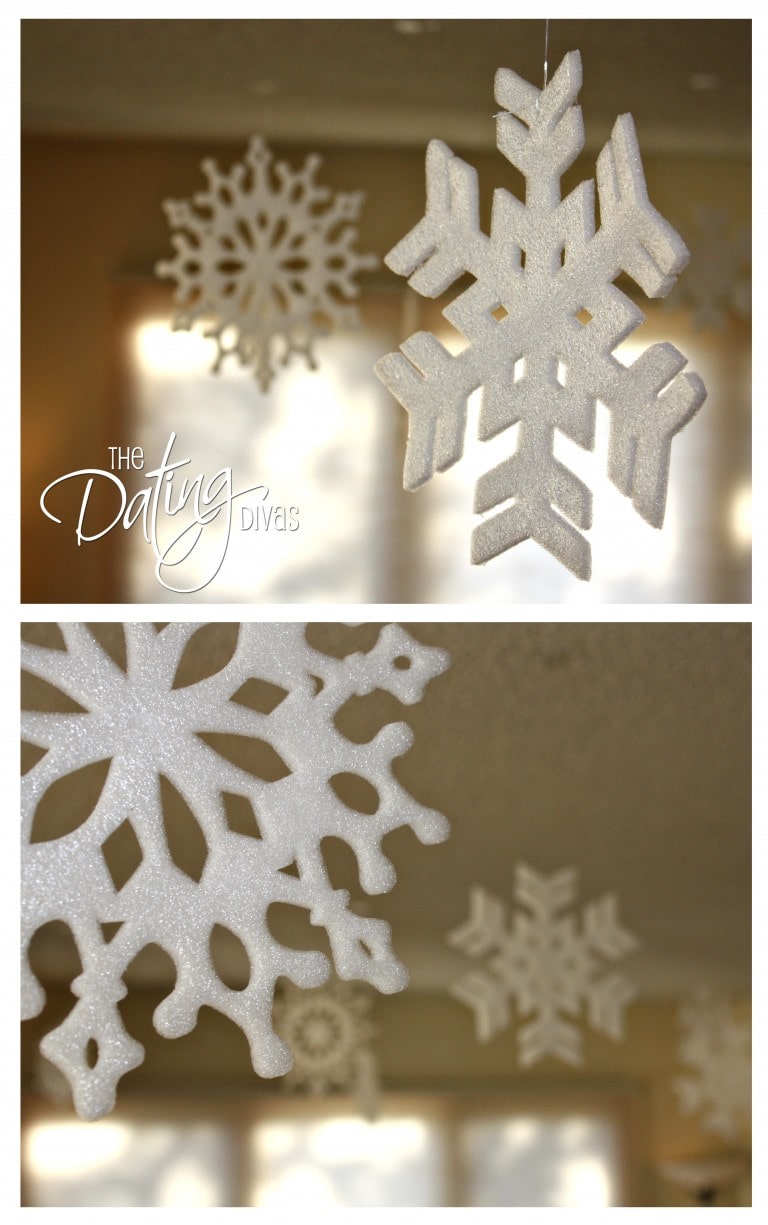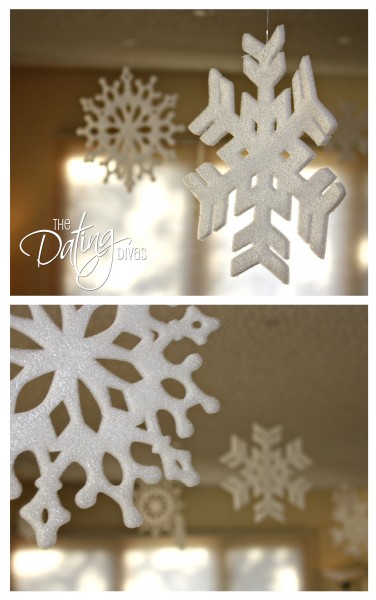 I also dug out a strand of white Christmas lights from the basement and hung those around the entertainment center and mantle. Between the lights and the snowflakes it really made it feel magical!
When my husband got home that evening we went about our normal evening and dinner routine. I then asked him to bathe and put our son to bed while I finished prepping the date. He agreed and it worked out perfect for him to be out of the room and I could set it all up!
I love the Christmas Song "Baby, It's Cold Outside" and decided we could get into the Christmas Spirit by watching a movie that features that song – Elf. And it works out perfect that it just happens to be one of my husband's favorite movies!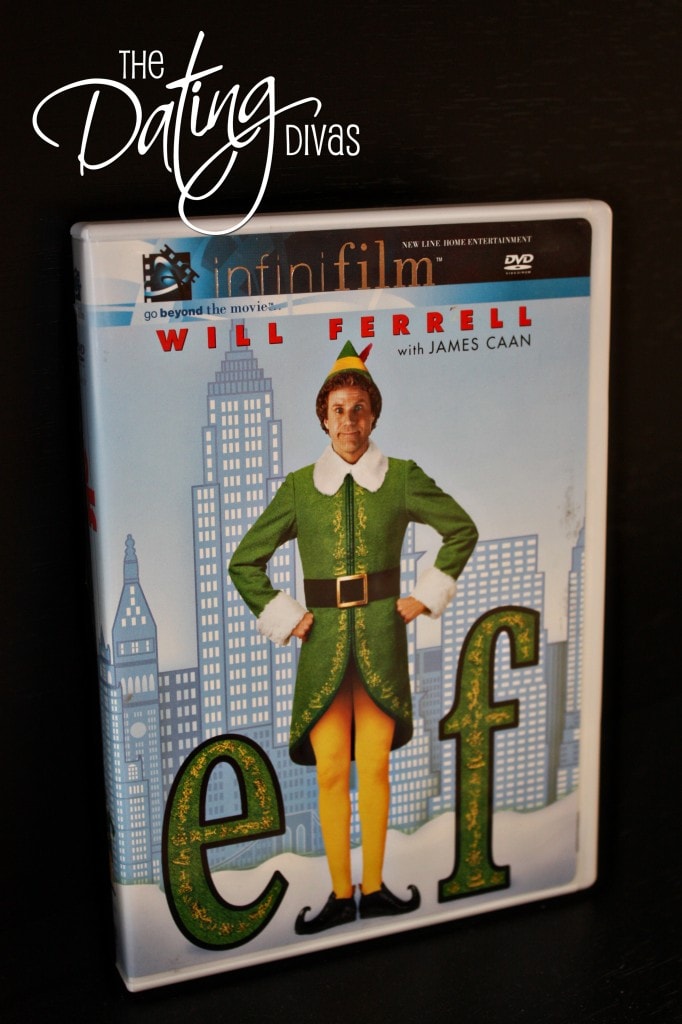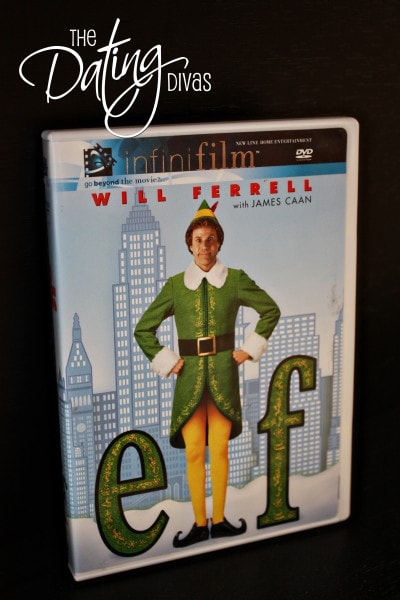 If you have a fireplace, get a fire going. It really sets the mood and makes your home feel cozy. No fireplace? Draw a picture or one, prop a laptop open with a picture of one going, light candles, or string an extra strand of Christmas lights!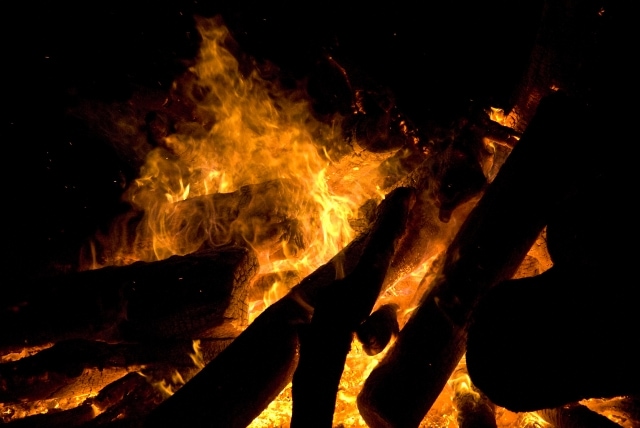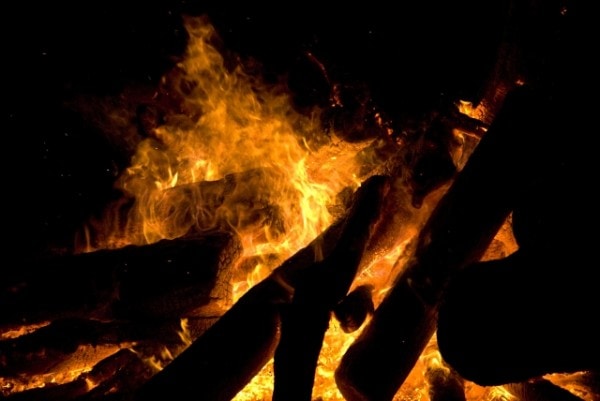 I decided I wanted to have my husband's favorite Holiday appetizers to accompany the movie. He loves caramel apples but hates biting into them. So with a melon baller, I scooped out apple bites and soaked them in water while I worked to keep them from browning. I then speared them with a skewer and dipped them in caramel. They were the perfect size to just pop in your mouth! He loved them.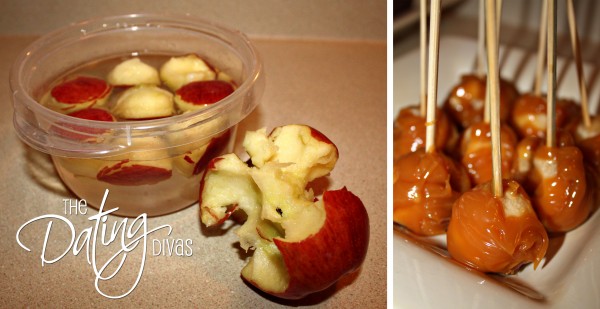 After laying out blankets and pillows, I cued up the movie, dimmed the regular lights and plugged in the Christmas lights, and brought out the food. Besides our caramel apples, we had a cheese ball and crackers, and Stephen's Chocolate Mint Truffle Hot Chocolate.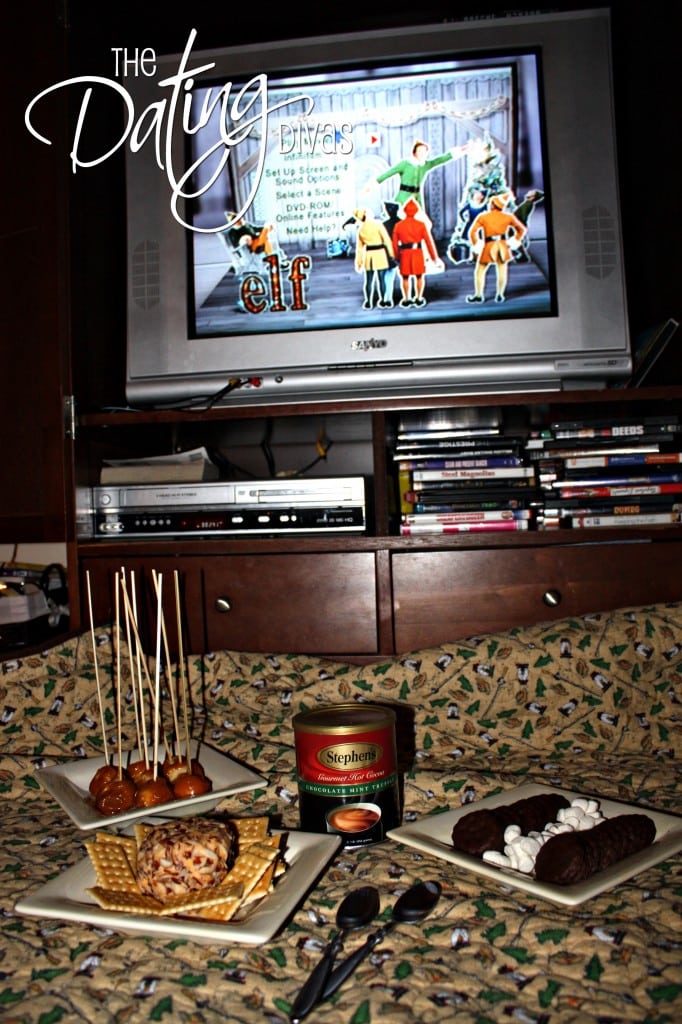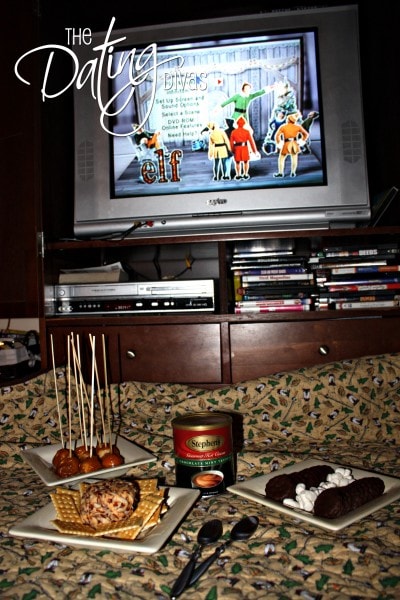 In the spread was also some marshmallows and Keebler Fudge Grasshopper cookies to go with the hot chocolate. These cookies are the BEST way to enjoy your hot chocolate! You can find them at any local grocery store in the cookie aisle (or Girl Scout Thin Mint cookies are the same…but who has any of those left around this time of year?!)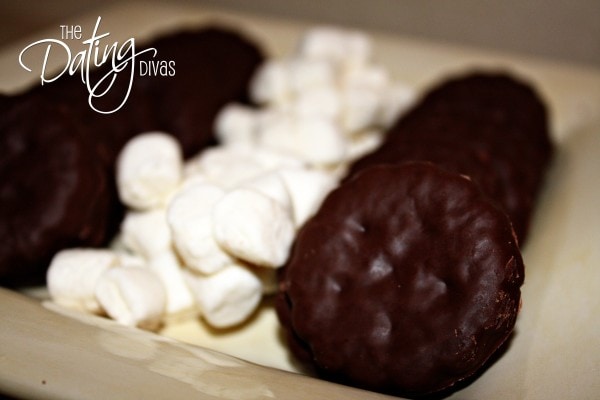 My husband was a little skeptical at first to try it, but I assured him he'd LOVE it! First, take a small bite off one end of the cookie. Flip the cookie over, and bite off another small bite on the opposite side. Then using the cookie as a straw of sorts, sip the hot chocolate through the cookie until you just start tasting the warm liquid in your mouth. As soon as you can taste the hot chocolate, pop the cookie in mouth and enjoy the melted yummy goodness! HEAVENLY!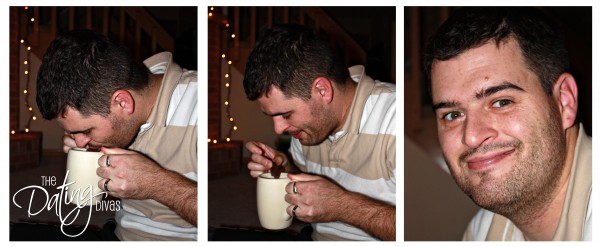 We laughed, ate, and thoroughly enjoyed being together and getting in the Christmas Spirit through this date. When it was finished, my husband turned to me and told me that this was one of his favorite dates! Success.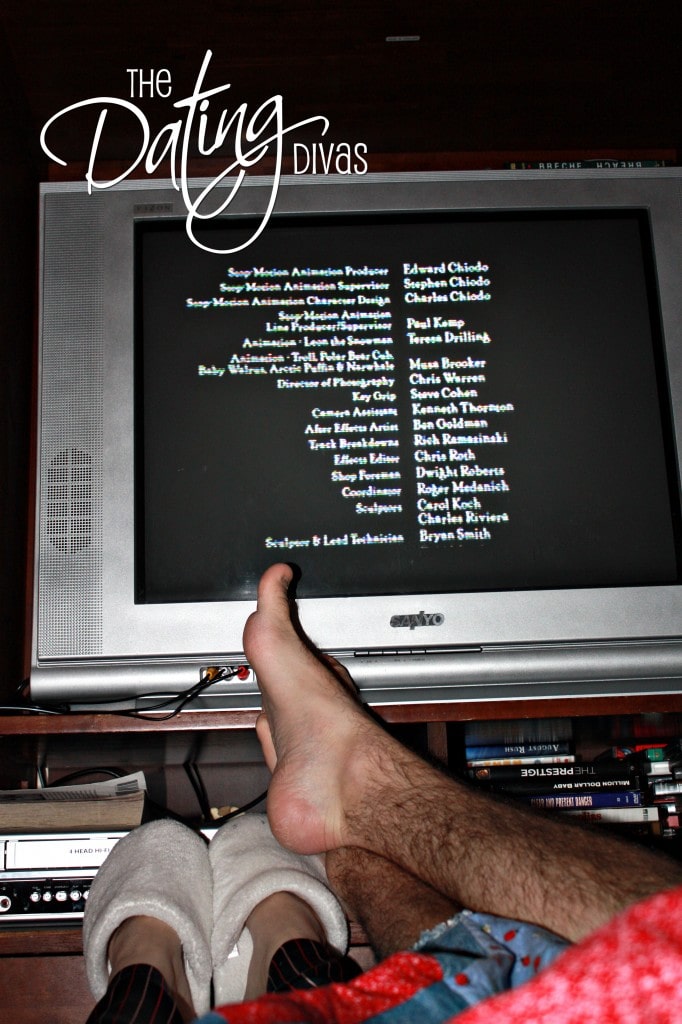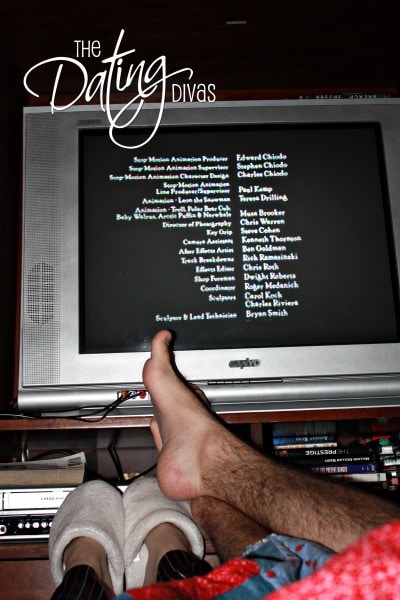 If you are looking for a date to warm up this chilly season, this is the date for you! It was also a great cheap date, as we are all trying to save a little extra cash for the holiday season. I also decided this would be a fun date for Christmas Eve, after the kids are in bed, presents are wrapped, and it isn't too late!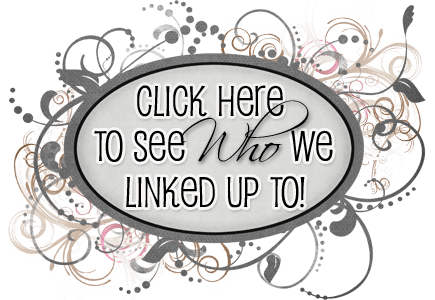 Baby It's Cold Outside Invite
Printables Designed by Erika Exclusively for The Dating Divas