A Family Feud Game For Couples
Family Feud is a classic hit game show that pairs two families head to head to guess the top answers to questions polled by the viewers. The families support one another as individuals guess and hope to uncover all of the top answers. We love this game so much that we decided to add our own special Diva twist, with a version JUST for couples! In our DIY Family Feud Game, couples compete by trying to uncover the top answers to one or our thirty family feud-style questions that are all themed around love and marriage! Our Couple's Family Feud Game is a great way to connect, enjoy some laughs and make memories. So, are you ready? Let's play The Feud!!!
To find these questions + answers by clicking the pink download button below.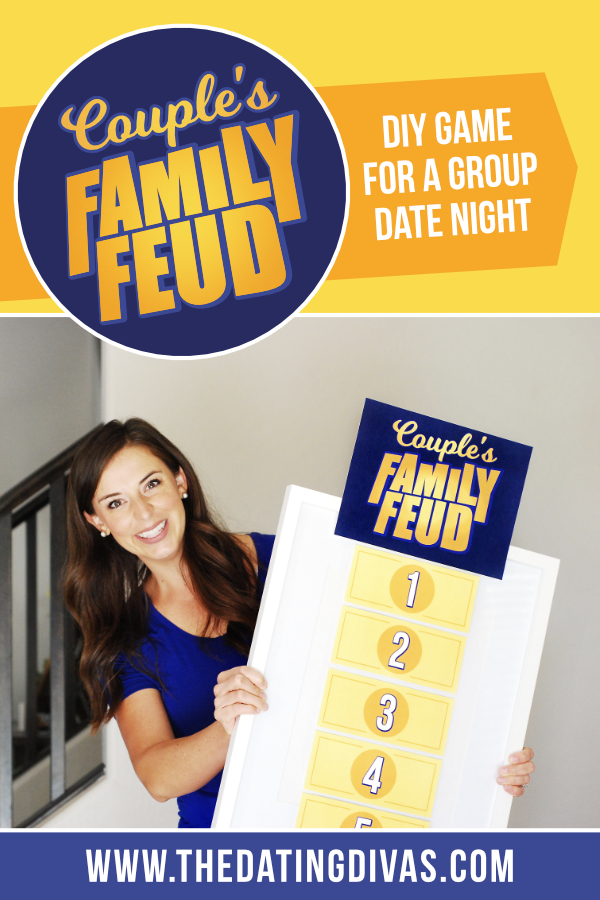 Disclaimer: This post contains affiliate links. To learn more about 'em, click here.
Top 5 Answers are on the board. What is the best thing about this Couple's Family Feud Game?
It is so fun to play!
The printables are free.
Everything is done for you/Easy to set up.
You can play at home.
This makes a great group date.
You win! Maybe you didn't quite know all of those answers, but you are definitely winning for finding this fun group date night idea! Thanks to our Diva designer Carisa from Messes to Memories, we have the ultimate game show night that is fun, free, easy to set up and you can play it right from home with your favorite couple friends! Check it out!
Couple's Family Feud Printables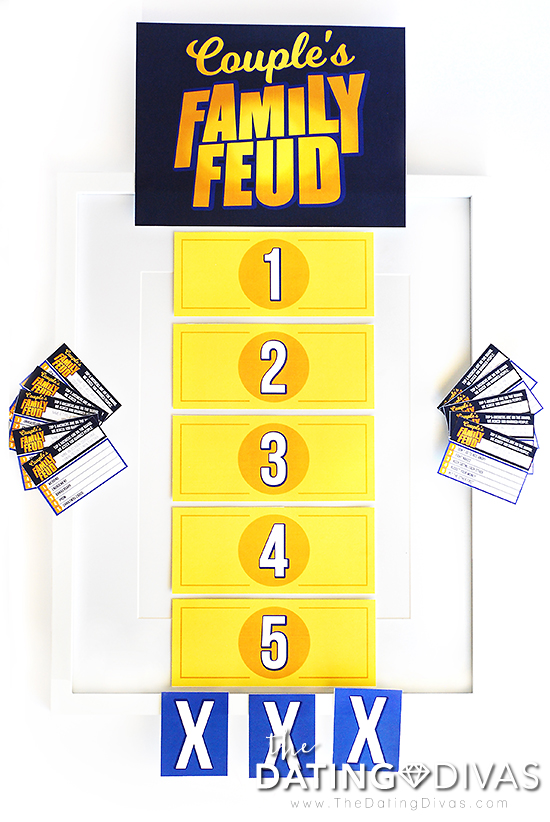 We have all the materials you need to set up your own Couple's Family Feud Game Night. Our free printable download includes:
Family Feud Logo Sign
Five Answer Covers
Three Strike Cards
Thirty Love-themed Couple's Family Feud Questions
Host Instruction Card
Family Feud Game Set Up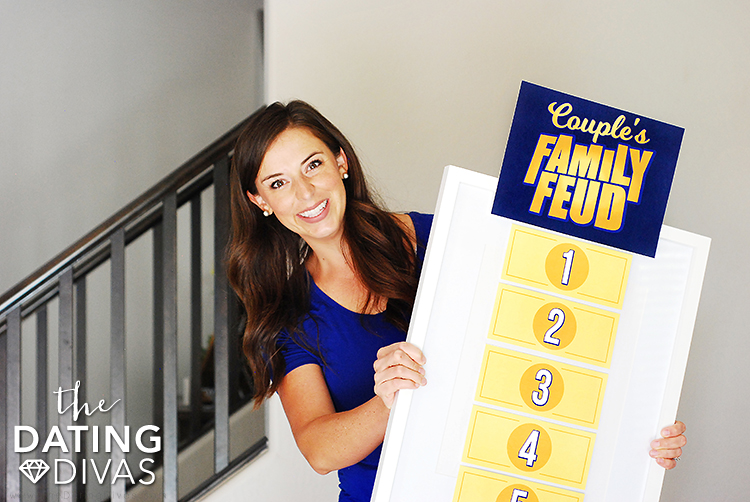 To set up your Couple's Family Feud game, you will need some sort of surface that you can put your game board on. Some things that you could use include a large white board, a chalkboard, or even a roll of butcher paper – any of these would work. For my game, I took an 18×24″ frame and I flipped over the picture on the inside and used a white board marker on the frame's clear plastic covering. Get creative! You will find you have something lying around your house that you can use.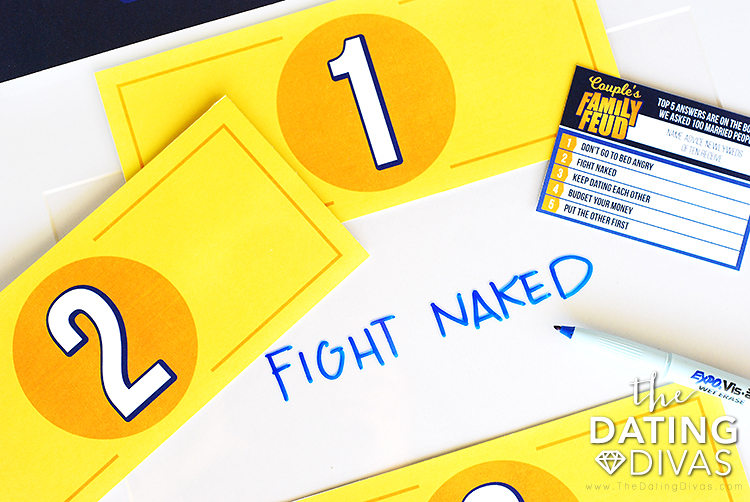 Next, place your Couple's Family Feud logo up top and then space out each of the five answer covers leaving space for three strikes at the bottom. When you are ready to begin the game, have the host select a Couple's Family Feud question card from the pile. The host will then, in secret, lift up each answer cover and write in the question card's answers. Make sure they are quick to cover them up so no one sees! Now, round one can begin.
How to Play the Couple's Family Feud Game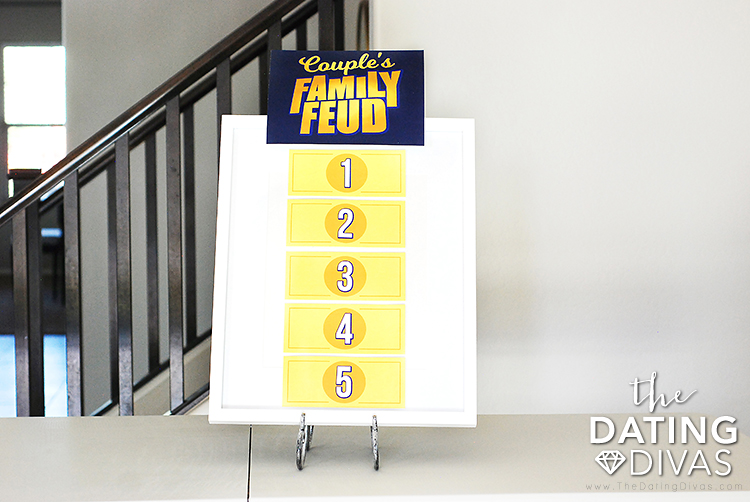 We have all the materials provided for you so you can really adapt this game to however your group wants to play it, but here is our suggested way to play:
Divide your group into two teams.

One member of each team comes forward in a face-off as the host reads a question.

The team that answers the quickest and/or has the highest rated answer on the board can decide to play or to pass to the other team.

The team that plays tries to reveal all of the answers on the board without getting three strikes (incorrect answers)

Should the team get three strikes the other team gets one answer.
If the answer is correct they receive all of the points from the entire round.
If the answer is incorrect the other team retains their points.
Points are awarded as follows: Answer 1 = 25 points, Answer 2 = 20 points, Answer 3 = 15 points, Answer 4 = 10 points, Answer 5 = 5 points
If any of that seems overwhelming, no worries. We have included an instruction card in the printable file that you can have on hand as you play!
Family Feud Common Question
Our most asked question: Can the host play too? 
Absolutely! When I played the game, I had too much of an advantage to play along because I had been the one to tally the answers to our reader's survey. Because of that I chose to be the host for the whole game and it was still so much fun!
However, if you really want to play along with the other couples, here is what you do: When you are printing and cutting the question cards out in preparation for the game just be REALLY careful not to peek at the questions or the answers. Flip them over to cut them out and then keep those question cards down. Easy! And you can totally play along! When it is time in the game for a new question round, just rotate through the players for who will be the host. Rotate taking someone from each side just to be fair and that is it!
Family Feud Questions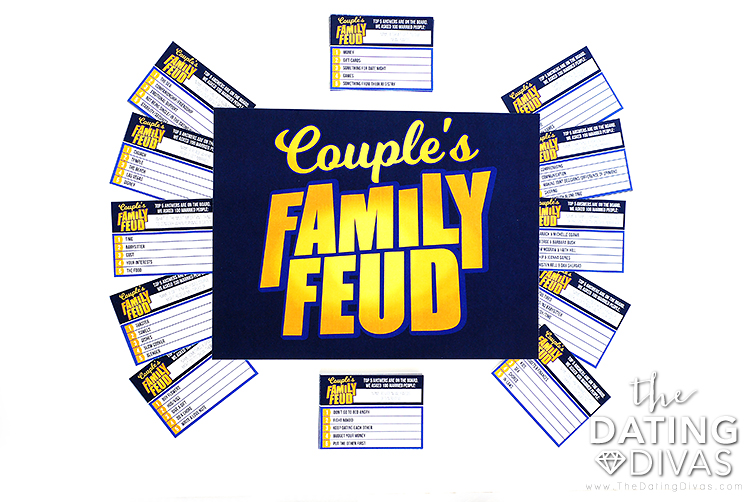 My absolute favorite thing about the date night is the extra effort that we went to to get these questions. First, all of the questions deal with love and marriage which makes for some funny situations. Second, we actually polled over 100 of our readers and collected your answers! So many of you took our Family Feud questionnaire and so when we says we "surveyed 100 couples" – we really did!
DIY Couple's Family Feud Game
We really hope that you love our little DIY Family Feud game! We would love to see how you end up playing the game! Make sure to tag us with #datingdivas or share to our Instagram handle @datingdivas
Couple's Family Feud Game
Printables Designed by Carisa @ Messes to Memories Exclusively for The Dating Divas