Need a KILLER at home date idea for a group?
Throw a Murder Mystery Party!
If you've ever been to a murder mystery party, you already know how outrageously fun they are! The costumes, the friends, and…of course…the suspense! BUT – these group date nights take a LOT of work to plan. Lucky for YOU, The Divas have done all of the hard work already! This incredibly creative Murder Mystery Party Pack has everything you'll need to throw a killer at home date…(no pun intended. Aw heck, ya, I intended that one!)
Don't know how a murder mystery date party works? Just check out this handy-dandy video to explain it all!

Disclaimer: This post contains affiliate links. To learn more about 'em, click here.
Looks amazing, right?! This is one of the most fun date night theme ideas! Of course, we have to give beautiful credit where beautiful credit is due! The incredibly talented Alexa Zurcher from Alexa Zurcher Designs made our vision for this pack a total reality – we couldn't have done it without her! You have to check her stuff out – we adore her, and everything in her Etsy shop is absolutely gorgeous. So thank you Alexa!
Your 80 Page Murder Mystery Party Kit includes:
Hosting Ideas & Suggestions to make party planning a breeze.
Invitations personalized for each character with costume ideas!
Character Biographies to set the stage and story.
Name Tags to identify each unique character.

Table Cards & Food Tents

to use if playing over dinner.
Task Cards for the characters to complete in each round.
Evidence Pieces to add intrigue and suspense!
Voting Ballots and Awards to vote for your favorite characters & suspects.
and much MORE!
Mystery Date Party Planning 
First off, let's chat about the host guide! It includes bucket-loads of tips and tricks on how to host a mystery party! For this at home date idea, you need to have 12 players…and it can be a lot of work to keep all of those people straight! To help you prep the party and tame the mayhem, we've included some handy-dandy charts. These will help when making character assignments to your friends and sending out the invites, so you can keep track of who you assigned to play each role.
Sometimes, people choose to host murder mystery parties over dinner (when we hosted ours, we did it after dinner and snacked on yummy treats while we did our investigating, but the choice is yours). So, if you did want to host it over a more formal, sit-down dinner, we have also included table cards for each character, so you can choose the seating ahead of time.
Just for fun, we've included some printable "money", to be used as a bribing tool throughout the game. (I mean…uhh…say what now?)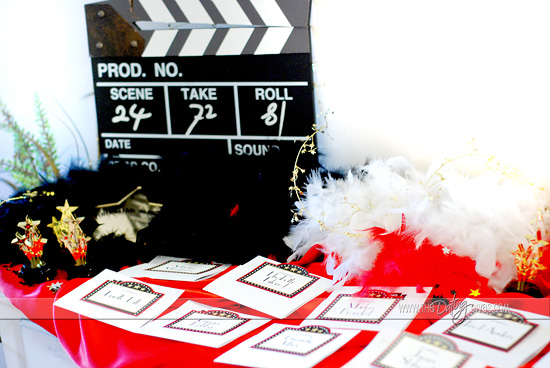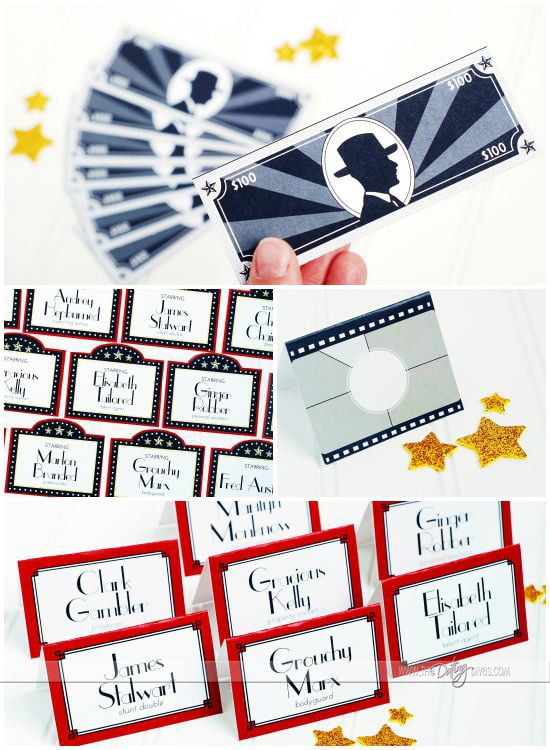 Invitations
These invitations fit our Old Hollywood Glam theme perfectly! Each invitation is customized, so when the player receives it in the mail, it describes their character, as well as gives suggested costume ideas. Gold washi tape adds a fantastic, glamorous touch to the outside of the envelope!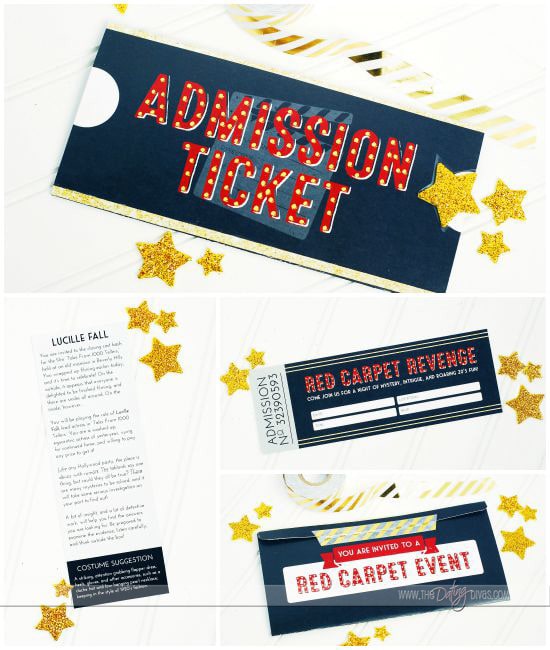 Task Cards & Character Biographies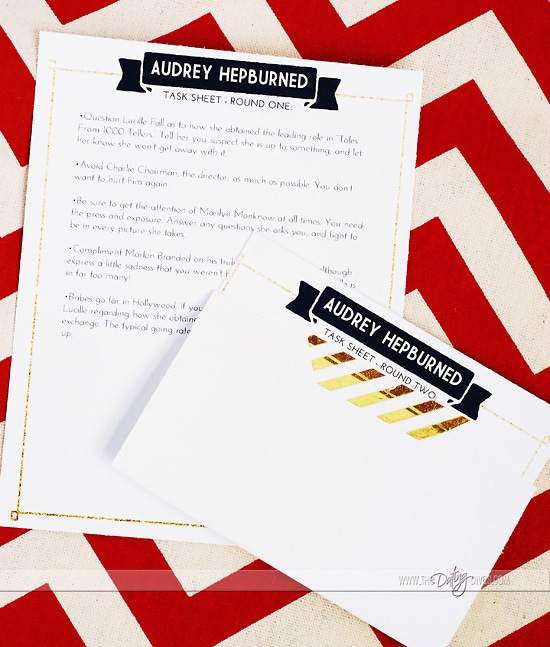 Each character in this Murder Mystery Party Kit is truly unique; and we made sure that the players know all of the details pertaining to them before jumping into character on the big night! Featured above are task cards, or "assignments", for each character to complete during each of the rounds. Time to get chatty and divulge all of that juicy info!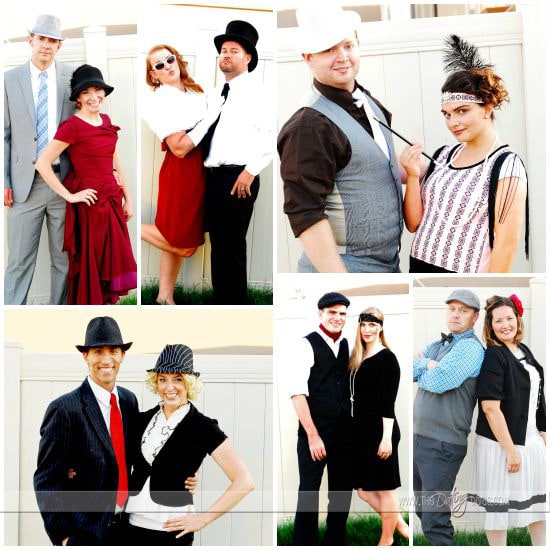 Evidence 
Taking notes on authentic documents from the 1920's, we have even put together some intriguing pieces of evidence that come forward just in the nick of time to help answer that final, burning question…who did it? Gotta say, these were a blast to dream up – the Western Union Telegram is my fave!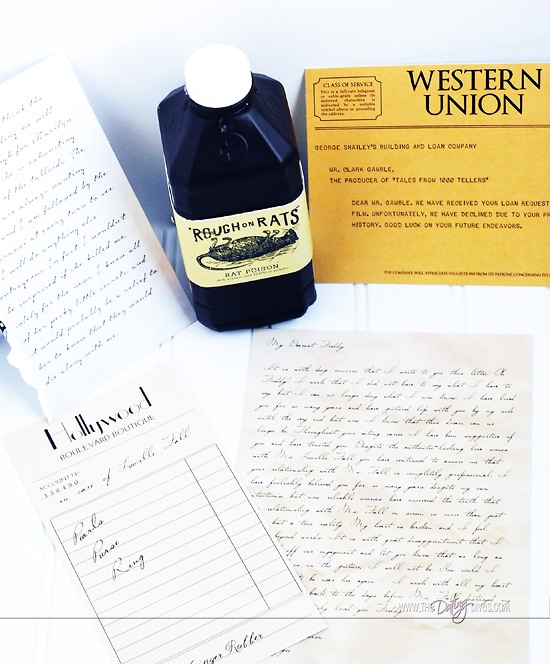 Group Date Awards 
What kind of Hollywood party would it be without awards? At the conclusion of the game, and the murder has been solved – there is much more to talk about! Decide on Best Characters, Best Dressed, and declare the official winners of the game before snapping some final pics and calling it a night!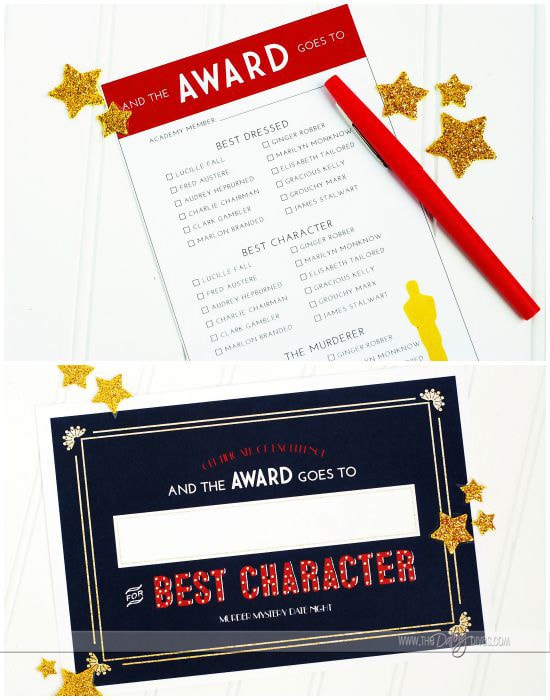 Fall is the perfect time to host a murder mystery party – talk about a great Halloween bash! We have put together everything you need to pull off one of most fantastic group date ideas. Grab your murder mystery kit today and get planning with this amazing at home date idea!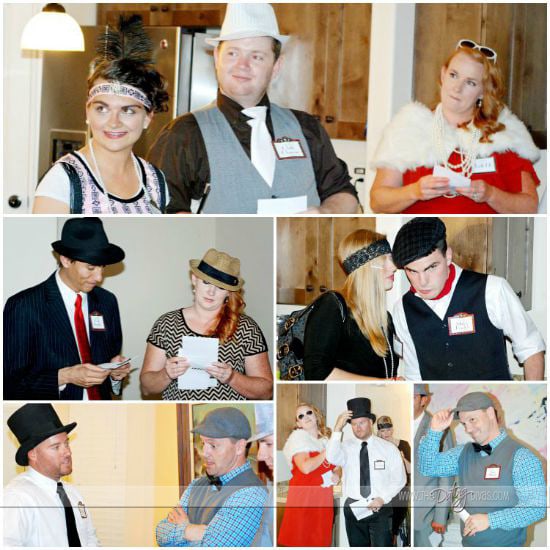 And the BEST PART (okay, besides all of the fun you'll have?) is DEFINITELY the price! Other mystery party kits typically run $50+ for a 12 player game …and ours is a fraction of that! (Yep, you are welcome!) We want everyone to be able to play this murder mystery game, and we wanna spread the love.
For only $19.97 this at home date idea can be yours!

If you loooove the idea of this group date night theme pack, you most definitely should check out our "Who Dunit" Clue-inspired date! Another one of our fabulously fun group date ideas is the "Win It In A Minute" Group Date Night!