Group Date Night Game:
The Battle of the Sexes
In the ultimate Battle of the Sexes – who do you think will win?! Get your friends together for this unique challenge: Men against Women, to see who knows more about the opposite sex!

Disclaimer: This post contains affiliate links. To learn more about 'em, click here.
Are you ready for a date night that will have you laughing all night long?  Based of the hit board game Battle of the Sexes
, this group date is fun, crazy, and sure to be a hit! Our Battle of the Sexes Date Night Game has everything you need to play the game right from home with your craziest friends! The game will challenge your brains, physical endurance AND creative abilities!
Our Battle of the Sexes Date Night Kit includes: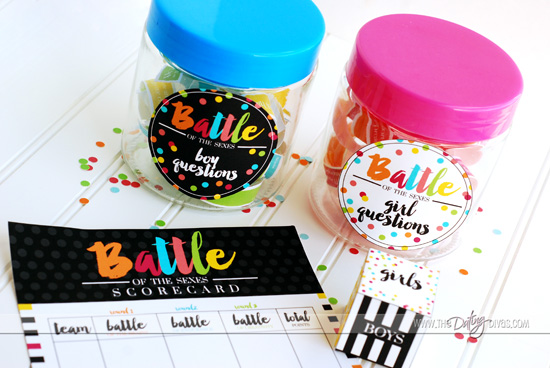 Instructions for each round

Scoreboard

Dice 

Jar Labels

Girl Questions 

Boy Questions
You will be floored by the gorgeous bold colors that our amazing designer Kiki from Kiki & Company created. She was absolutely amazing to work with and completely captured the vision for this date night idea! If you are ever looking for some personal designs –  she is your girl!
Also – a HUGE shoutout to my Diva girls Courtney & Carisa. This date night idea was a total collaboration between all three of us to bring you this fabulous game!
Here is How to Play: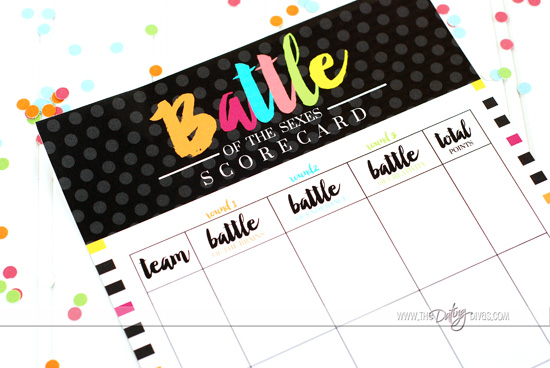 Once your guests arrive, split into teams: girls vs. boys (of course!). Choose Team names and get your scorecard ready. There are 3 rounds:
Battle of the Brains
Battle of Endurance
and
Battle of Creativity!
Points are explained in the instructions for each round! 
ROUND 1: BATTLE OF THE BRAINS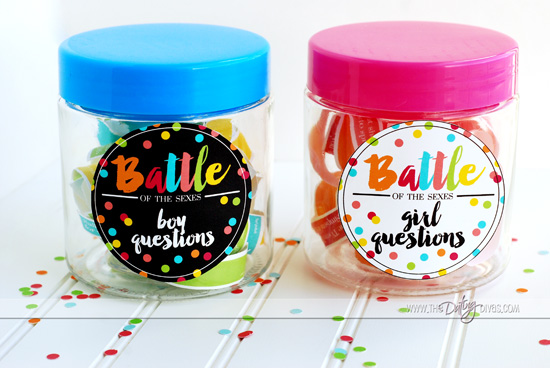 How much do you know about the opposite sex? In this game you will find out! For this round the two teams will take turns answering questions for these adorable question jars!  Diva Courtney came up with 60 unique and creative questions to challenge your brain!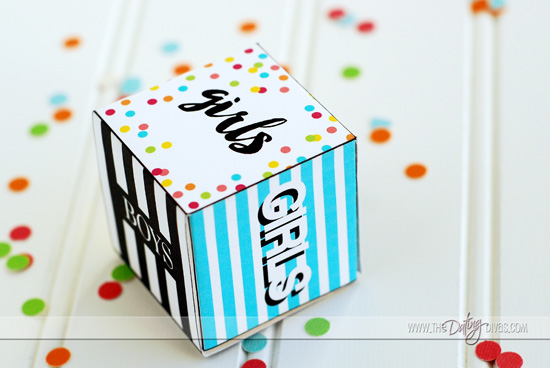 Each team rolls the die to know which type of question they are to answer.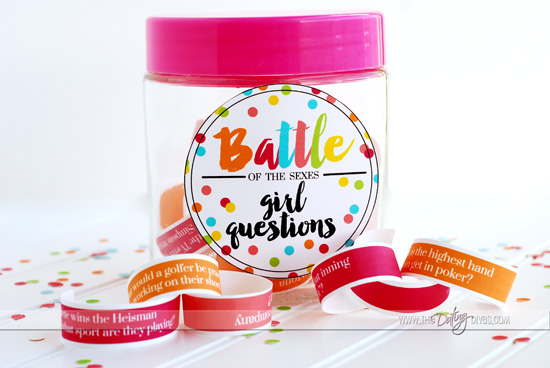 If the die lands on "Girl" your team must answer a "Girl" question!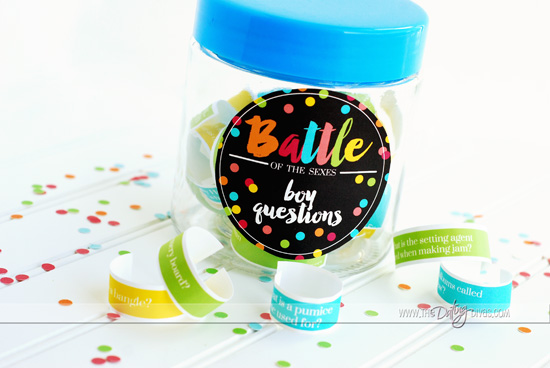 If the die lands on "Boy" your team will need to answer a "Boy question"
Fun, right?
Make sure to keep track of points on your scorecard! For each correct answer your team will receive one point!
ROUND 2: BATTLE OF ENDURANCE
Which team has more physical endurance? We are about to find out with the ultimate Battle of the Sexes relay! One player for each team will go at a time. Once one of your team members has completed all three of the tasks, the next player on your team can go. Whichever team collectively finishes their relay first wins the round and gains 3 points!
For the 3 tasks to complete – you can get as creative as you want! Choose relay activities that require endurance. Here are a few ideas:
Balance on one foot for 1 minute
Do 15 Push-ups
Crab Crawl Across the floor
Hold a plank position for 1 minute
Do a wall sit for 1 minute
Do 20 burpees
ROUND 3: BATTLE OF CREATIVITY
In this last round, ladies go first! The girls will be timed as a group! They will each be required to:
Tie a tie on their husband
Draw facial hair on their spouse
Write down 5 professional sports teams AND the city they are from on a piece of paper
Each girl from their team will need to individually complete these tasks! Once everyone from their team is done, the time will stop!
When the girls are done, it will be the guys turn to try and beat their time! The men will be challenged by:
Braiding their wife's hair
Painting their nails
Writing down 5 Chick flicks and the lead male in the movie.
Again, once all of the guys have finished their tasks, the time will stop! Whichever team finishes in the quickest amount of time, wins the round and gains 5 points!
And that is the game! So fun! Right?
At the end of the 3 rounds – determine the winner and, ahem, you should probably have some sort of wager between the sexes for the win! Adding an incentive is always a bonus and fuels competition!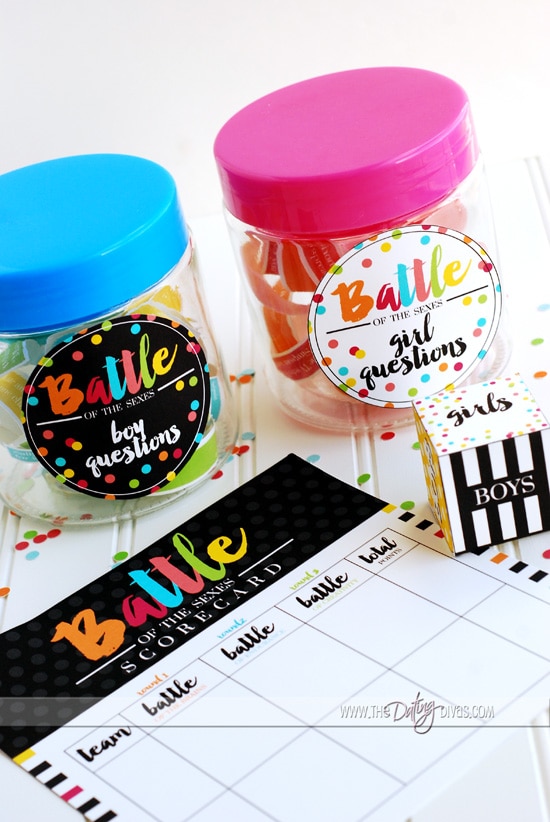 To get your hands on these fun printables – first go visit our designer Kiki and let her know you adore her designs! Then – get downloading these gorgeous printables so you can start the battle!