HUGE Beach Packing List
Raise your hands if you're ready for some serious summer fun! We're about to help you prep for all things wet and wild with our beach packing list chuck full of exactly what to bring to the beach! These beach essentials are our personal favorites so you know you're getting the best of the best, plus everything we're about to share is high-quality, family-friendly, and oh-so stylin'—and what could be better than that?!
Get ready to make a splash because your days of wondering what to bring to the beach or pool are in the past. Let's dive in!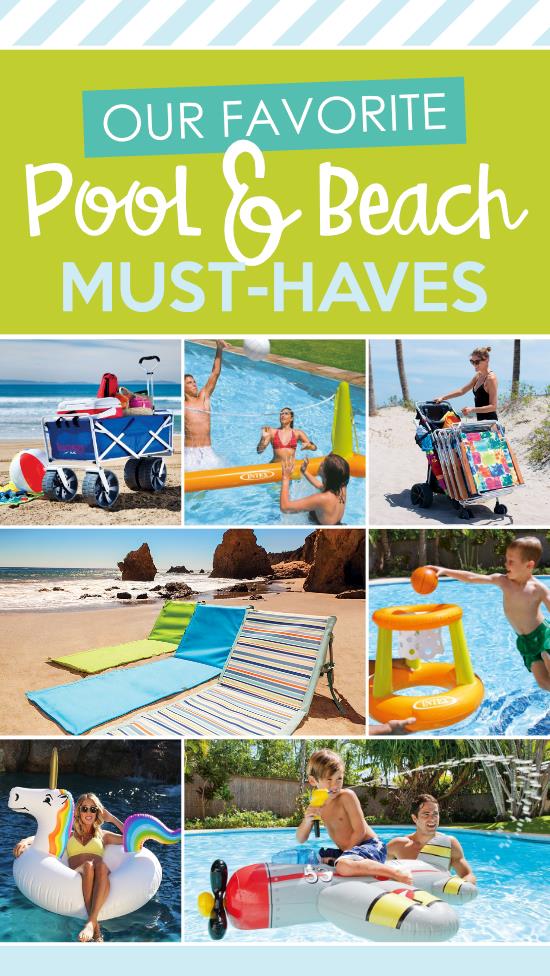 Disclaimer: This post contains affiliate links. To learn more about 'em, click here.
IDEAS FOR WHAT TO BRING TO THE BEACH
Here are some of the best tools and toys to make your day at the beach a HUGE success! You'll be soaking up the sun in no time, without a care in the world – because you know you're prepared for whatever the beach throws at you.

1. Sunglasses 
2. Mesh Beach Tote Bag with Insulated Cooler
3. Billabong Sandals 
4. Beach Hat
5. Sun Bum Sunscreen Lotion 
6. Sea Salt Spray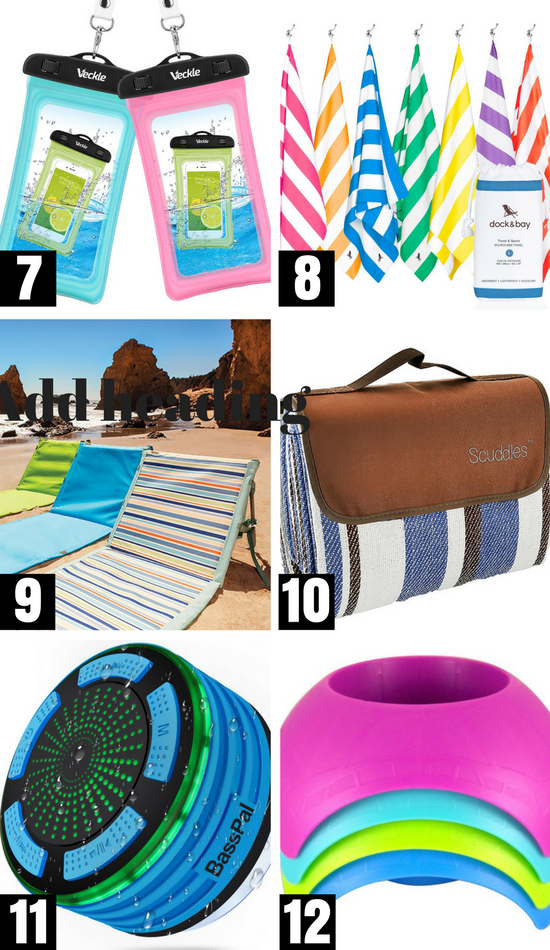 7. Waterproof Smartphone Case
8. Quick Dry Microfiber Beach Towel & Pouch
9. Portable Beach Mat
10. Outdoor Blanket
11. Waterproof Bluetooth Speakers 
12. Beach Drink Cup Holder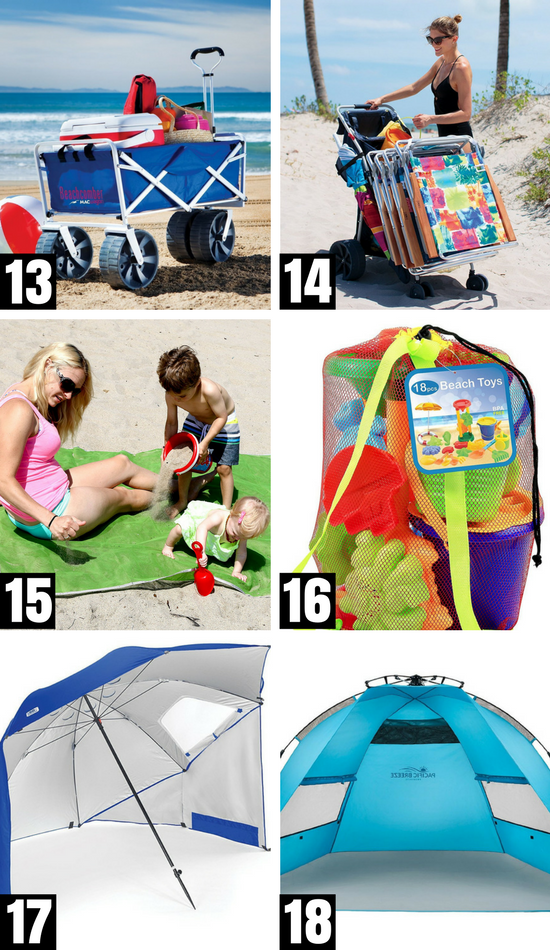 13. Folding Beach Wagon Cart 
14. Wonder Wheeler
15. Sand-Free Family Beach Blanket 
16. Beach Sand Toy Set 
17. Sun Umbrella 
18. Beach Tent
MORE BEACH PACKING LIST IDEAS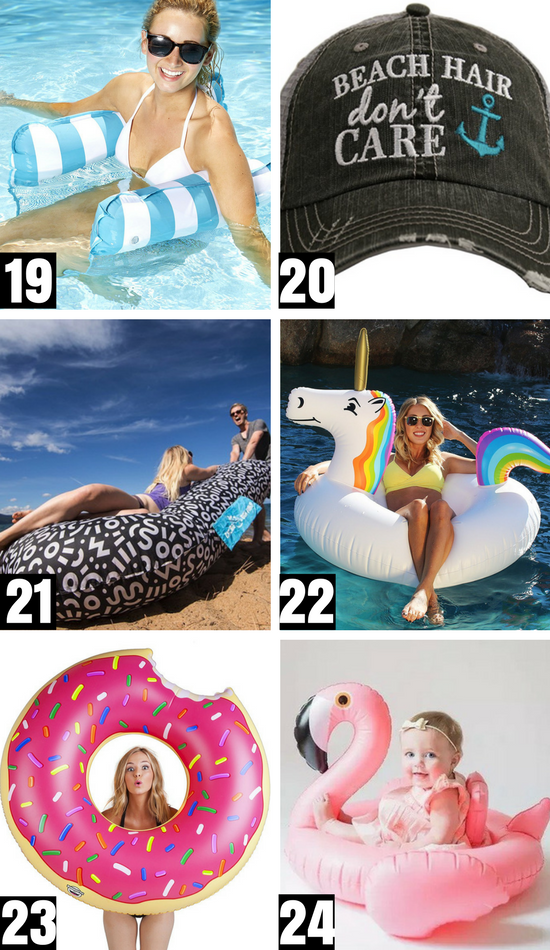 19. Pool Hammock
20. Beach Hair Don't Care Hat 
21. Inflatable Lounger
22. Unicorn Float 
23. Donut Pool Float 
24. Baby Flamingo Pool Float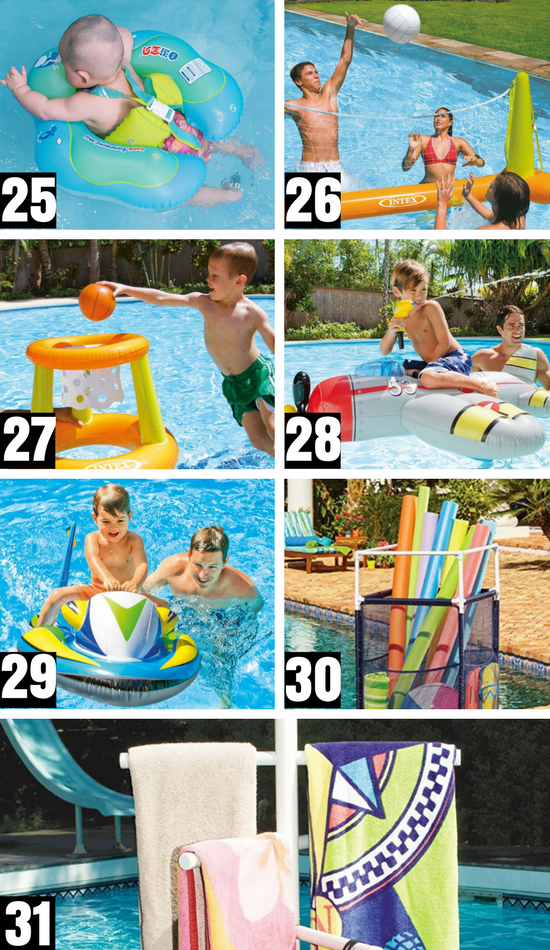 25. Baby Swimmer Float Ring 
26. Pool Volleyball Game 
27. Floating Basketball Game 
28. Water Gun Plane Ride-On 
29. Wave Rider Ride-On 
30. Pool Organizer/Storage Cart 
31. Poolside Towel Rack 
Was that a cram-packed list of pool and beach essentials or what?! For even MORE great summer fun, be sure and check out our list of The Best Modest Swimsuits that are just too cute for words!