Christmas Light Date Night
It's beginning to look a lot like Christmas! Actually, the stores have looked like Christmas since October, but now the neighborhood Christmas light displays are out and shining! I love taking our annual drive around that neighborhood (the one that puts our house to shame!). It brings us such joy to see the Christmas lights. It has become a family tradition! This year, we wanted to show our appreciation and add some fun to our drive with Christmas Light Awards! 
. 

Disclaimer: This post contains affiliate links. To learn more about 'em,
click here
.
Drives to see the Christmas lights are a tradition in many families, but this year take it up a notch by providing beautiful printable awards for your favorite house! Our amazing designer Dedra at Prettiful Designs has provided gorgeous invitations, ballots and awards for you to use as you pick your favorite light displays.
Invitations  
First, plan the perfect night to go on a drive. Then, invite your loved ones with these adorable invites by Dedra at Prettiful Designs. This date could easily be a one-on-one with your honey, a couples date night with friends or a family event with the the kids.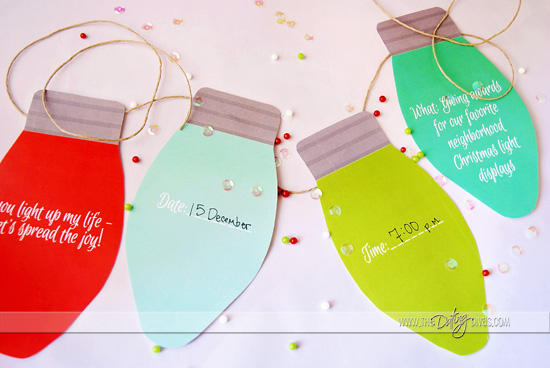 We have two invitation versions for you to choose from: 
 If you want to get crafty, string up the 4 bulb design with some decorative twine
 or ribbon
 and place them on your tree
or wreath – anywhere he'll be sure to see it.
OR
If you are looking for simplicity in your holiday season, we have a one-bulb version that can easily be printed and delivered! Quick and easy! 
The Ballots 
Next, print out your ballots! These adorable printable have a place for you to keep track of your favorite light displays and to cast your final vote.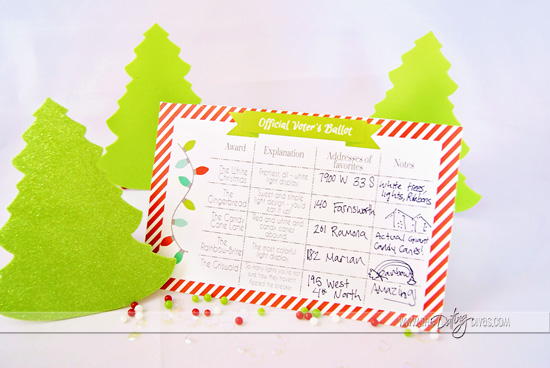 While driving through the neighborhoods you can look for the best of the best light displays in the following categories: 
The Categories:
The White Christmas Award – Awarded to the prettiest all-white Christmas light display!
The Gingerbread Award – Awarded to the most sweet and simple Christmas light display. 
The Candy Cane Lane Award – Given to the display with the most red and white lights and candy canes. 
The Rainbow Brite Award – Awarded to the most colorful Christmas Christmas light display.
The Griswold Award – Given to the home that has so many lights you are not sure how they haven't blown the breaker!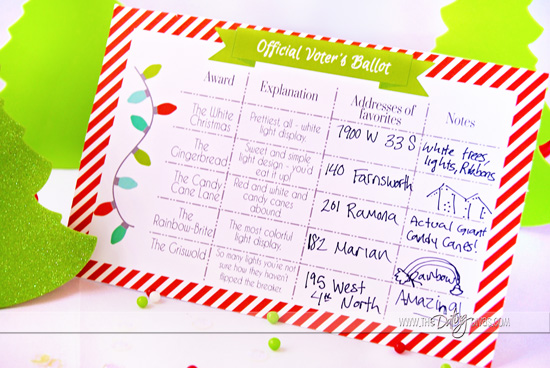 As you drive around the neighborhood use your ballot to take note of the best houses to revisit at the end of the drive.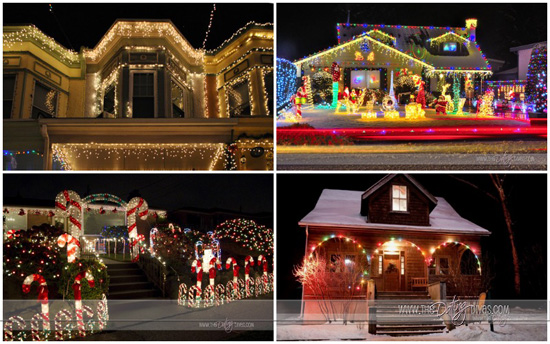 Awards 
 Take a Hot Cocoa 
break to tally the votes and choose the official winners. Use these free printables to make official certificates for the final winners. Then, make one last round to drop off your certificates to the winning homes. 
Christmas Light Award Date
Printables Designed by Dedra @ Prettiful Designs Exclusively for The Dating Divas