3 Unique Christmas Light Scavenger Hunt Lists!
It's finally December which means that sleigh bells are jingling and Christmas decorations are everywhere! Riding through town to look at the decorations is our favorite Christmas lights date tradition! Since this is a longtime holiday tradition for many families, we thought we would bring you our very best Christmas light scavenger hunt ideas! In this Christmas lights date (or family activity if you choose!), you and your loved ones will race to check various outdoor Christmas decorations off your list! With three different styles of Christmas light scavenger hunt lists, we have something for everyone!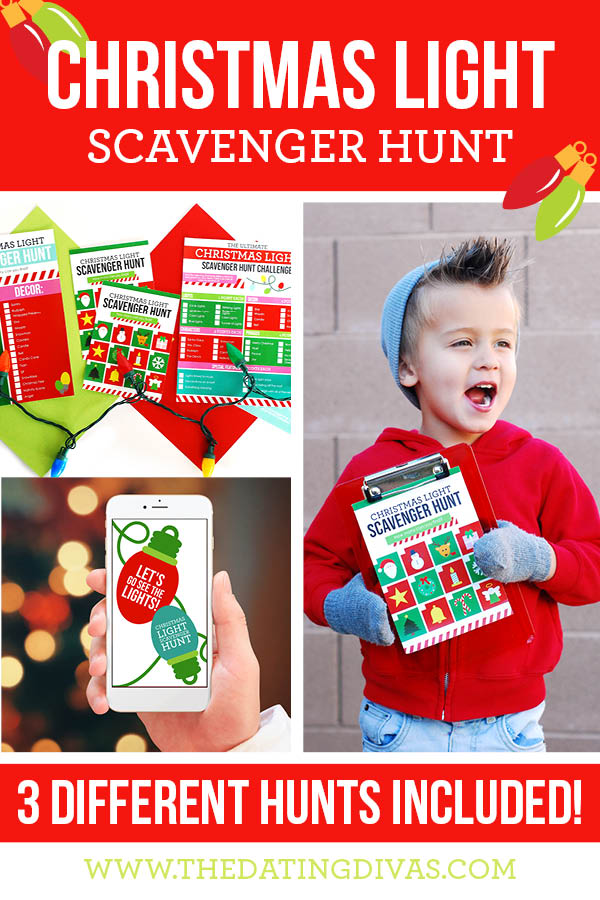 Disclaimer: This post contains affiliate links. To learn more about 'em, click here.
Enjoy an Evening Looking at Lights!
Many couples and families have a traditional Christmas lights date that they do. Looking at lights and decorations is part of the magic of the season. With this Christmas light scavenger hunt idea, you can add a little more fun to your time together. The idea is simple: use one of our three lists to mark off classic Christmas decorations as you go!
Firstly, you'll want to print off your amazing (and free!) printables designed for you by our very own talented Diva, Elizabeth. Don't you just love the bright colors she incorporated?! It looks exceptionally fabulous and holds up throughout the night on white cardstock
. I personally laminated mine with this inexpensive laminator so that I can use them every year!
The Christmas Light Scavenger Hunt download includes:
a digital invitation
a classic list
a list specifically for kids
a more challenging list with a point system and tasks to perform
Digital Invitation for a Christmas Lights Date
These Christmas light scavenger hunts can be used for any type of group. They are perfect for a date night with your sweetie, a night out with the family, or even for a group date with other couples or families. However you decide to organize your Christmas light scavenger hunt, we have a digital invitation you can share with your chosen group! This jpg image file can easily be downloaded and texted or emailed to your group to let them know of the event! Send the image and then follow up the message with your specific date and time. It is so easy!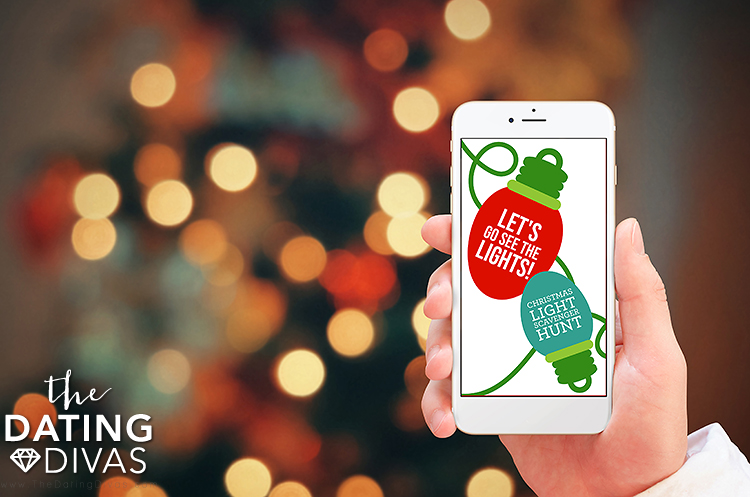 Around Town Christmas Scavenger Hunt!
Once you have everyone ready for the activity, pass out the Christmas light scavenger hunt lists. Depending on your group and depending on the Christmas scavenger hunt list you choose to use, you have some things that you will want to decide and explain in advance.
Will the group stay together or split up?
Are you racing to complete your checklist first, or casually strolling and marking the items off as you find them?
If you are splitting up, where do you meet up after?
Whatever you decide – explain all the details with your group so that you can all be on the same page and then head out for your around-town Christmas scavenger hunt! It is time to search for all of those Christmas decorations!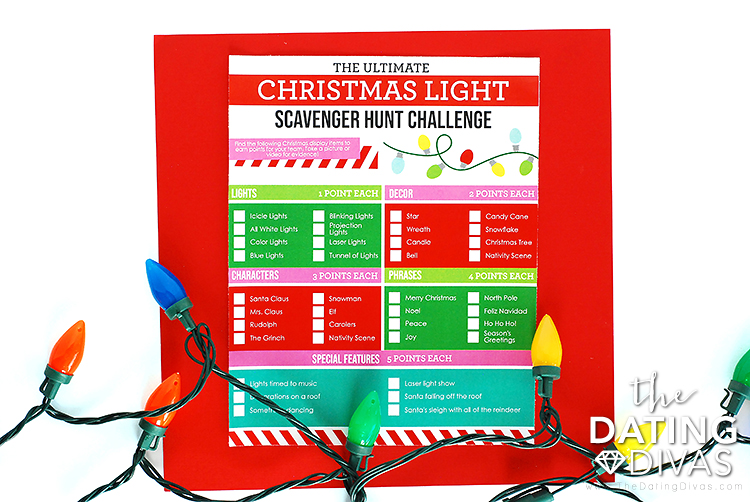 3 Different Christmas Light Scavenger Hunt Lists
We have three different Christmas scavenger hunt lists so that you can tailor your hunt to your specific group! You can read more about each of your options below so you can decide which Christmas light scavenger hunt list is best for your group.
Whichever list you choose to do, print off copies in advance. I also choose to laminate mine so that we can use it each year! I will provide my group with dry erase markers to check things off and at the end of the night, they can be wiped clean and stored for next year's Christmas light scavenger hunt.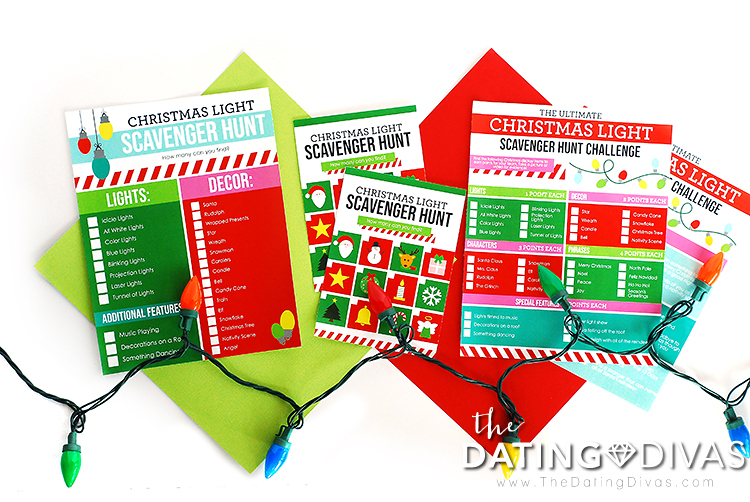 Classic Christmas Light Scavenger Hunt List
Our classic Christmas light scavenger hunt list is a simple checklist of typical Christmas decorations you are likely to find in your hometown for the most part. There are two different categories: lights & decor. Search to find as many items from the list that you can and check them off as you go!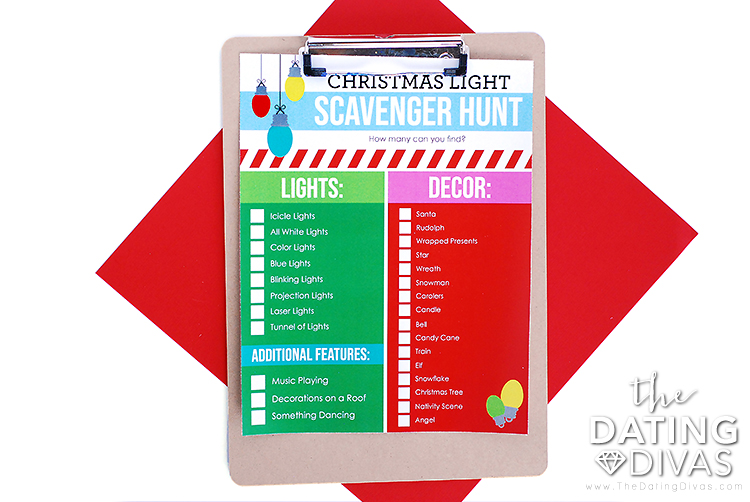 A Scavenger Hunt List for Kids
This list is perfect for little children who cannot read quite yet.
Even the littles ones can be involved in your Christmas light scavenger hunt with our list designed with the child in mind. Each of the twelve items is listed as a picture rather than a word. The kids can mark off each picture as they find the item. Easy and fun!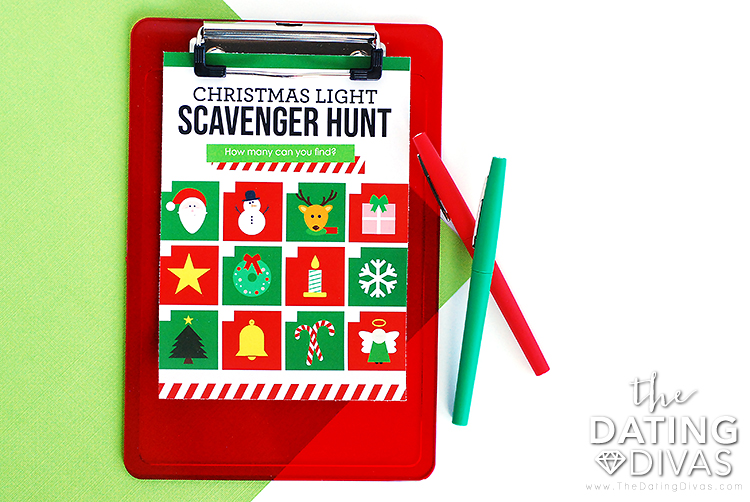 A More Challenging Christmas Light Scavenger Hunt List
This scavenger hunt is fun to do in teams and should be given a time limit.
For a more competitive approach to a Christmas light scavenger hunt, we have the ultimate list. This two-page list assigns a point value to each of the different types of decorations you might find during your hunt. The more difficult the decor item – the more points you can earn.!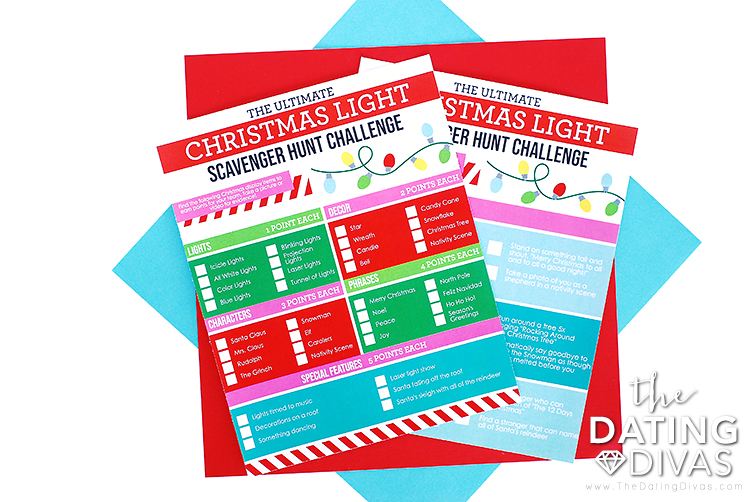 In addition to finding Christmas decorations, points can be earned by completing various Christmas challenges. For example, if you hug a snowman you can earn 6 points! Sing a Christmas carol to strangers? 10 points for you! Have them take a picture or video for evidence as well as for fun entertainment when you meet back after the hunt to share what you did and found during your around town Christmas scavenger hunt!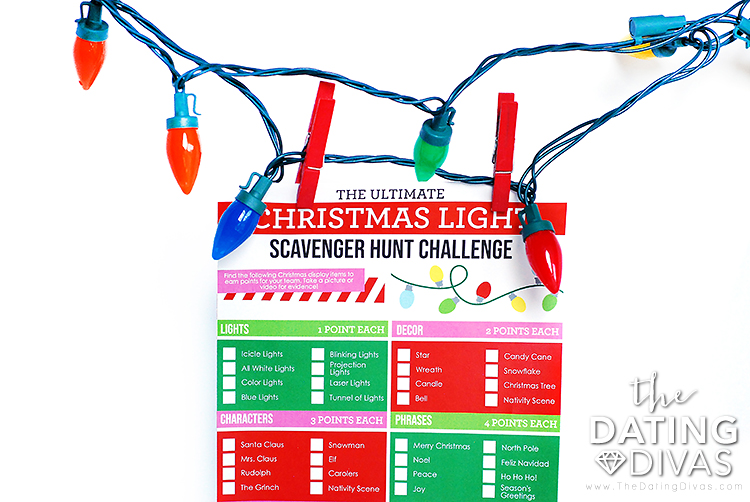 What I Love About a Christmas Light Scavenger Hunt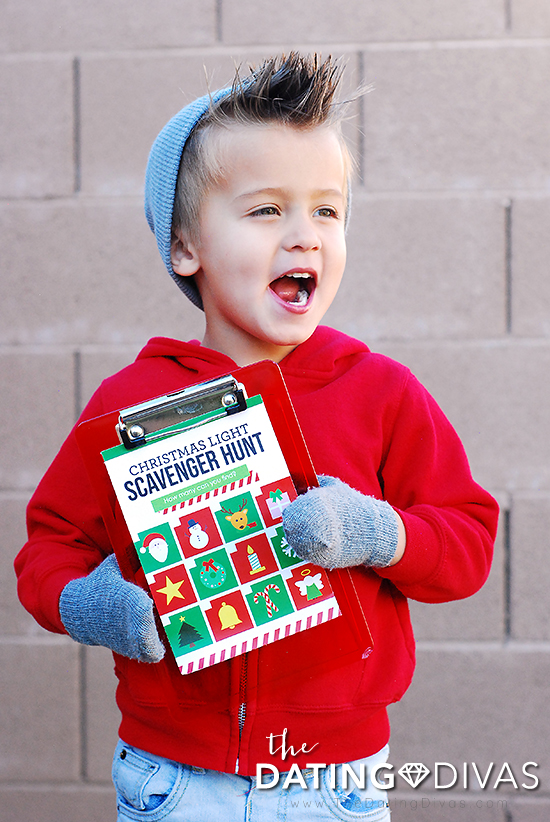 It is fun for any age! From young children to the young at heart – everyone loves looking at Christmas lights!
It doesn't cost you anything.
You have so many location options! An around town Christmas scavenger hunt is just as fun as one right in your neighborhood.
You can repeat this activity year after year as a family tradition.
So, what are you waiting for?! A little competition, some holiday magic, and a whole lot of beautiful Christmas decorations might just be the makings of your most memorable holiday tradition yet!
When you are out looking at the lights – consider also printing out some of these Christmas Light Awards to give to the houses that went all out in Christmas decor!
Finally, if you loved this hunt, we have a Christmas scavenger hunt around the house with Christmas-themed clues and activities!
Christmas Light Scavenger Hunt Lists
Printables Designed by Elizabeth Exclusively for The Dating Divas
Christmas Light Scavenger Hunt Invitation
Printables Designed by Elizabeth Exclusively for The Dating Divas