Cinco de Mayo Piñata
No Time for a Siesta, Viva La Bedroom Fiesta
Celebrate this Cinco de Mayo holiday with a piñata fiesta date. In this post, you will learn how to make mini piñatas. We will fill those piñatas with intimate coupons and little tokens of love. Simply have your spouse pull the string and it's time for a spicy bedroom surprise!
My family is Mexican – we look forward to Cinco de Mayo and enjoying all the bright colors, delicious food, and romance in the air! We don't need an excuse to have a fiesta any time of the year! You'll soon be feeling the same way. It's time to turn up the heat with this perfect occasion to celebrate a bedroom fiesta. The two of you will be swooning the night away.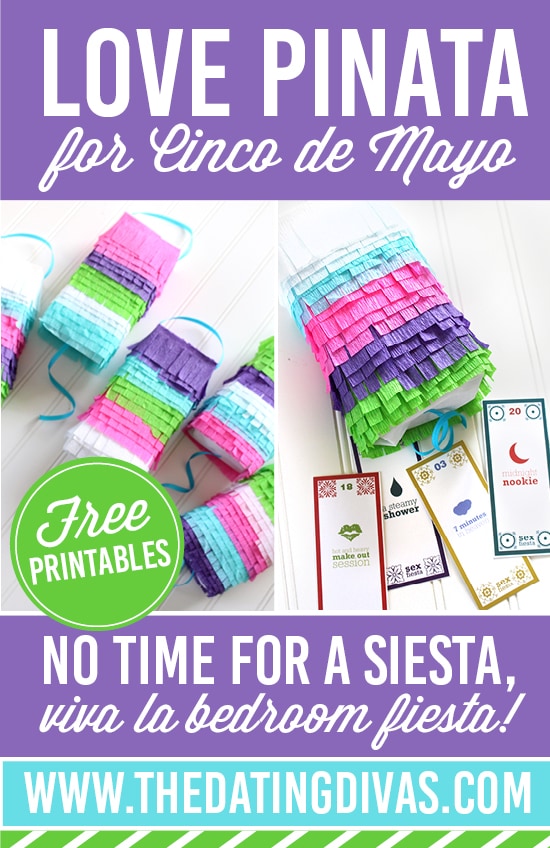 This post contains affiliate links. To learn more about 'em, click here.

We have to give a huge shout out to Karyn with If Actually for creating these gorgeous designs! She is awesome to work with – check her out for any future design needs.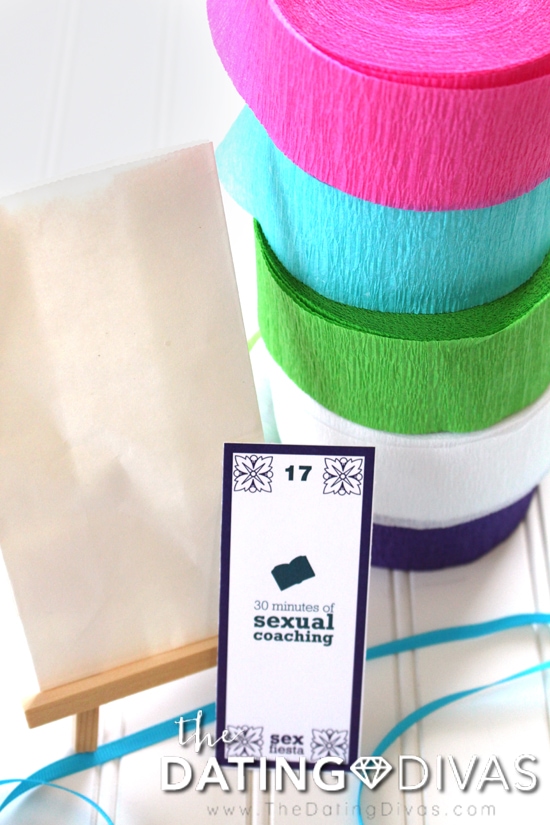 Mini Piñata Craft
This mini pull-open piñata craft doesn't get cuter or easier than this!
You will need: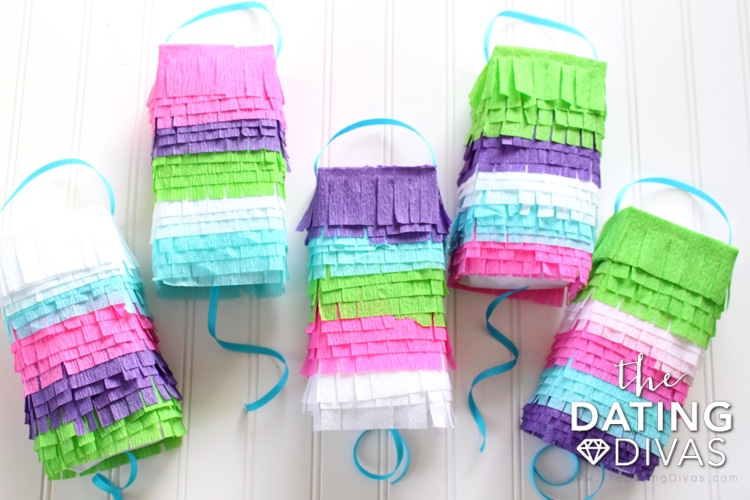 Creating your piñata will be easier than you think! Follow these quick and easy steps and you'll be ready for your fiesta in no time. These surprisingly took no time at all and were fun to make.
Turn your bag so the opening is facing down.

Hot glue a ribbon across what is now the top of each bag to use for hanging bag.

Place a love coupon and any light-weight intimate items (toys, lingerie, candles, etc.) that correlate with the coupon into the bag.

Hot glue a square piece of tissue paper to the bottom of the mini bag to close up the opening.

Glue a piece of ribbon to middle of the tissue paper.

Cut the crepe paper strips into fringe.

Starting at the bottom of the mini bag, wrap the fringed crepe paper around the mini bag, securing the tops of the crepe paper strips with hot glue.

Hang your mini piñata up.

Have your spouse pull the bottom ribbon to start the bedroom fiesta.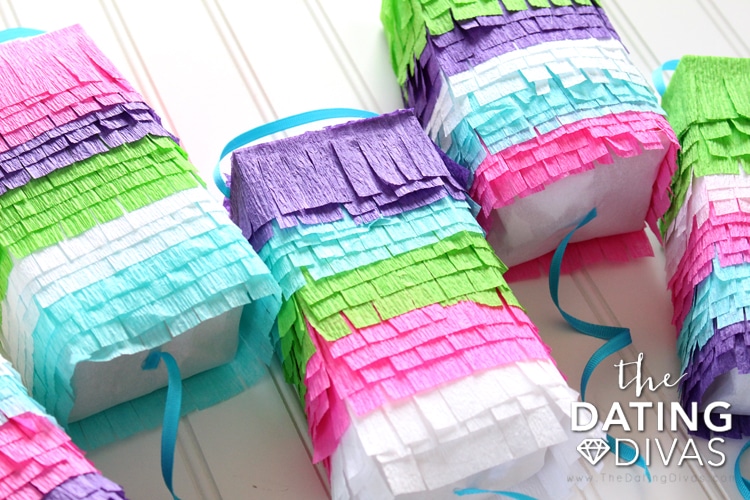 Here's a view from the bottom of the piñatas that will give you a better idea of how to seal your piñata.
You'll notice that we made 5 mini piñatas because we plan on having a bedroom fiesta each day leading up to Cinco de Mayo. You can either make one big piñata with many intimate coupons and toys that can be used over the next few months or a few mini piñatas. If you choose to make one large piñata, grab a larger paper shopping bag, follow the steps above, and use several layers of tissue paper to secure the bottom of the piñata.
In my family, when it's piñata time, we tease the person at bat and try not to let them hit the piñata (because we all secretly want to be the one to hit it), we pounce once the piñata is cracked open, and we hoard the loot for ourselves. Tonight is not the time to be selfish, so get that idea out of your mind, ha! With this bedroom piñata, the two of you will be as excited as can be, you'll coach your spouse to help them find the piñata, and you'll want to share all of the fun piñata items!
Now that you've made your piñata and you understand the rules, it's time to get this fiesta started!
Intimate Coupons
We've got the piñata lesson in the bag, so let's walk you through the coupons.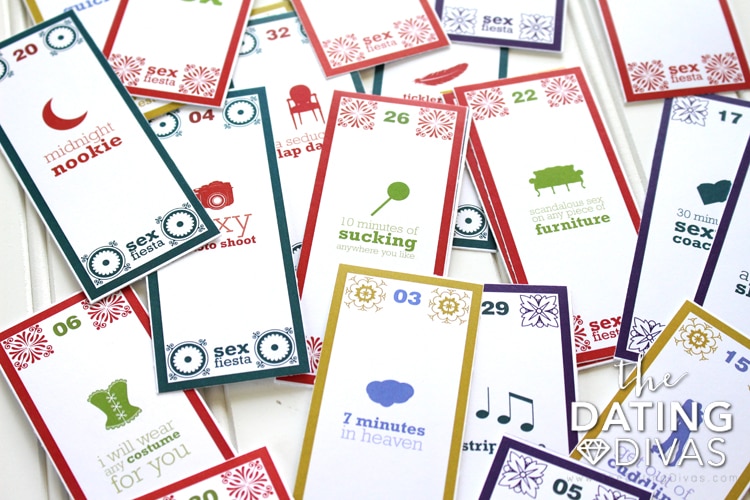 We have created 34 intimate coupons including 2 blank ones for you to personalize. You will have plenty of choices to choose from to guarantee that you will find the perfect, intimate moments for the two of you.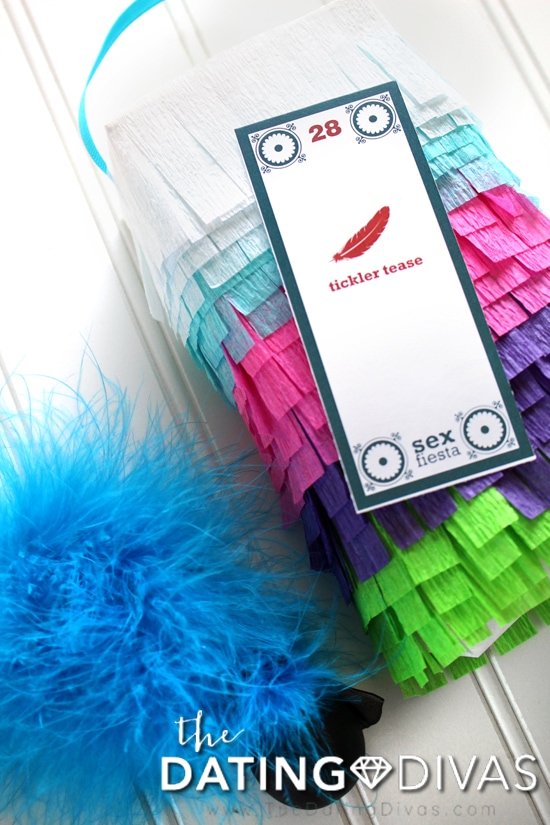 Pick your favorite intimate coupons.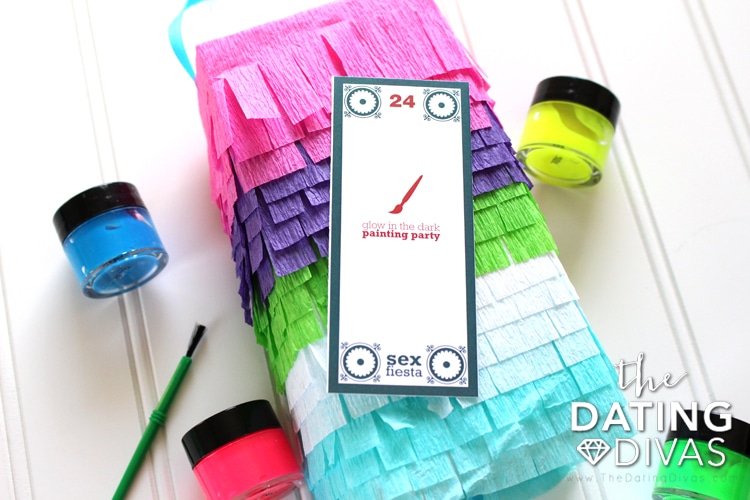 Grab a few light-weight intimate items.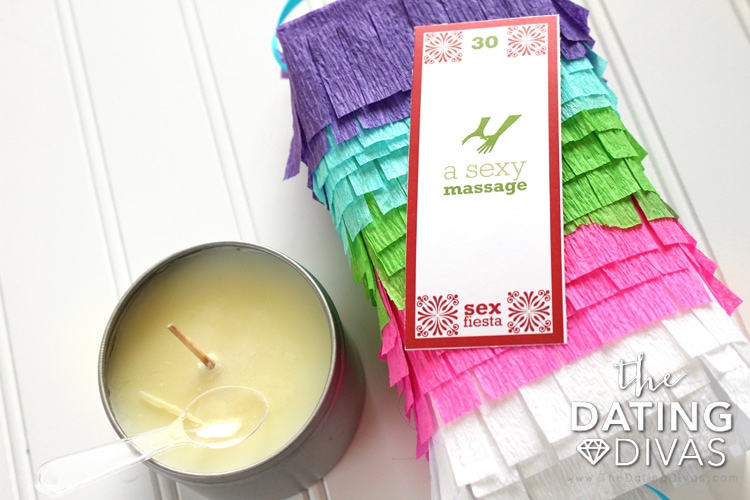 And you are ready for the…
Bedroom Piñata Fiesta
We have created two different invites to date night.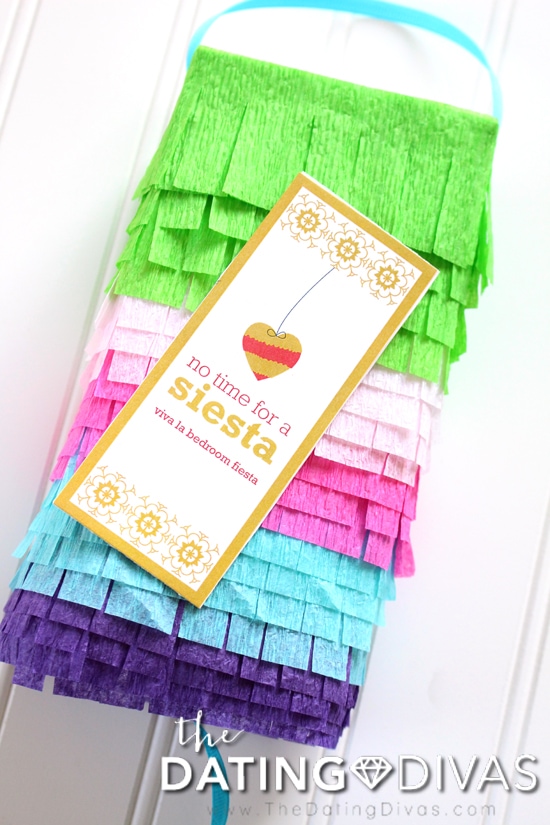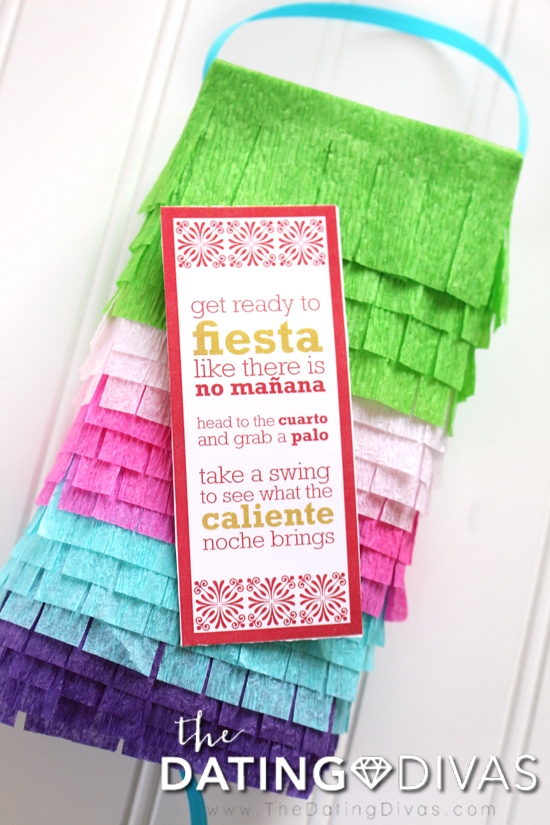 The above invite is for those of you who choose to create a piñata that can be hit to break open. Simply make the piñata without the pull ribbon. Be aware of what you put in the piñata, you don't want to break any of your intimate items.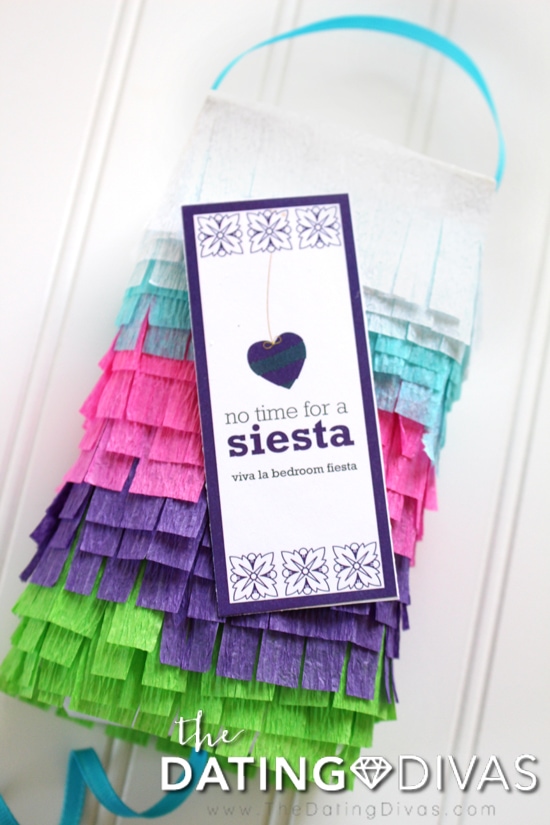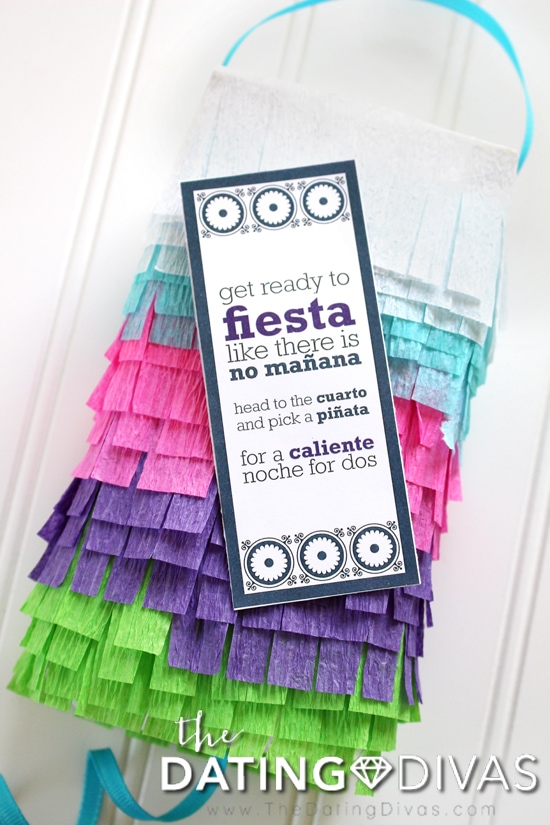 This invite is the one you will choose to use if you create a mini pull piñata.
Pick the invite that best fits your date night and give it to spouse before date night.
Start the night with a Cinco de Mayo fiesta. Prepare a Mexican quick and easy meal (or grab take-out), baile together, and end the night with the bedroom fiesta. Take a peek at the Spicy Spanish Date Night for a list of fun ideas to incorporate into your before party, then head back here for your after party, *wink.
Set the mood by hanging your piñata (or piñatas) from a string in your bedroom, lay out a blindfold, and a stick (the stick is only if you created piñatas without the pull string). Stash any items needed to fulfill your intimate coupon (or coupons) in a place that is easy to access but is out of view. If you are using 5 piñatas, stash all of your intimate items away, so that you can easily access the items needed for that night – leave the other items there for the next bedroom fiesta.
Before selecting a piñata, place the blindfold around your spouse's eyes, spin them around a few times. Then, let them have at the piñata.
That's it – now you two are ready to get this fiesta started!
The two of you are going to be screaming "viva la bedroom fiesta" before the night is through!
The beauty of this bedroom fiesta is that you can do this date and over and over again, without needing to reuse a single intimate coupon. If you create pull open piñatas, save them for later use, you'll be able to enjoy this date in a jiffy. A fiesta doesn't need to happen only on Cinco de Mayo, so get ready to viva la bedroom fiesta several times a year.
Happy Cinco de Mayo! 
Cinco de Mayo Love Pinata Fiesta
Printables Designed by Karyn @ If Actually Exclusively for The Dating Divas