Date Ideas for Couples Who Like Fun Party Games
 Need a last minute date night idea that requires nothing but your smartphone (or tablet)? Stop searching through all those other party games, this fun guessing game inspired by catchphrase is it. If you love the fast-paced nature of the classic game Catchphrase, look no further. We've put our own Diva-twist on this game and made it into one of our favorite fun date ideas. The theme of this party game: love and marriage. With five categories worth of "cards" you'll be laughing with your friends all night long!

Disclaimer: This post contains affiliate links. To learn more about 'em, click here.
The game cards are cute as can be and Carisa from Messes to Memories gets all the credit for their gorgeous design. She created some digital masterpieces so that all you have to do is click save and you'll have a professionally designed card game to use at a moment's notice. Plus, she even helped us by designing a fun way to keep track of the score.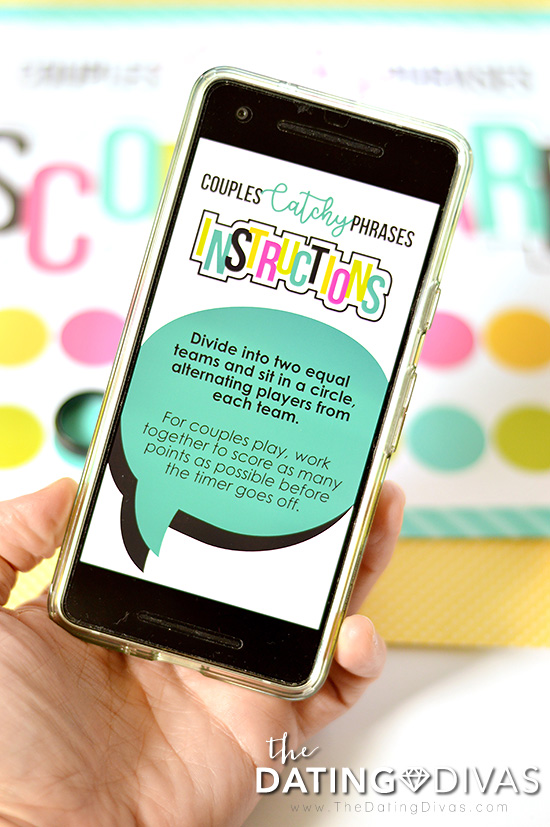 You can literally carry this game in your pocket! Pull it out anytime you need some quick fun because this group date party game is digital! The instructions are even included at the beginning of each set of cards but in case you're curious already…
How to Play This Fun Party Game
Sit in a circle with members of each team alternating places.
Set a timer (on another device) or use a timer from a different board game.
The first player gives clues to their team to help them guess the word or phrase on the card (remember it's a digital card on your smartphone). They can't use any part of the word or phrase but verbal and visual clues are both welcome. The entire team yells out answers and tries to guess at the same time.
Once the team guesses, they pass the device to the next player (who should be on the opposing team). That player scrolls to the next picture/digital card and gives their team clues.
Try to get your team to guess quickly because whoever is stuck holding the device when the timer goes off loses that round. The other team scores a point!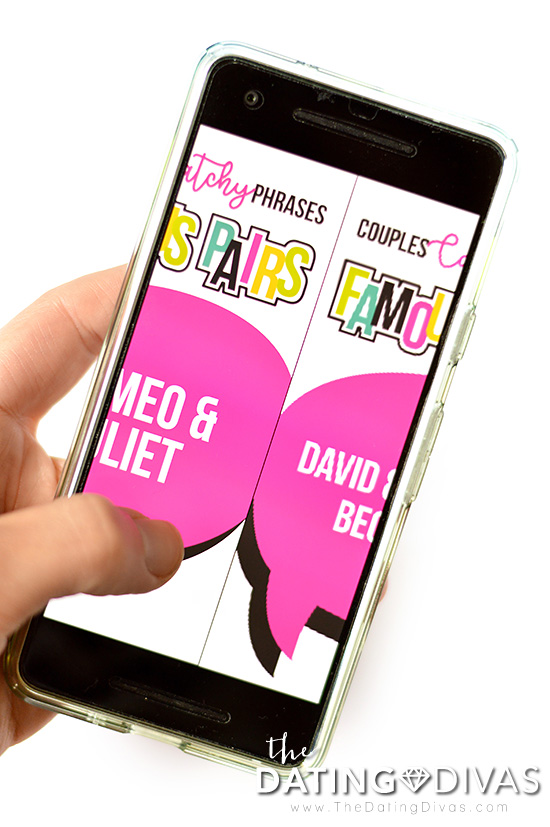 Catchphrase Party Games
There are FIVE categories of phrase cards to choose from which means your game night can last for quite awhile. You don't have to pick a new category for each round, just play until the cards for that category are through.
There's even a fun category called "Personal" in which you will try to get your teammates to guess the answer to the question or phrase on the card. So the card might say, "A First Dance Song". Instead of getting your team to guess those exact words, you'll pick a song that is often used as a first dance song in a wedding and give them hints for that. For example, you could choose "The Way You Look Tonight". If you want to get a bit more complicated and more competitive, you can award bonus points if your team also guess the phrase that's actually on the card too. The best part about these cards is that the deck is easier to replay because your answers can be different each time!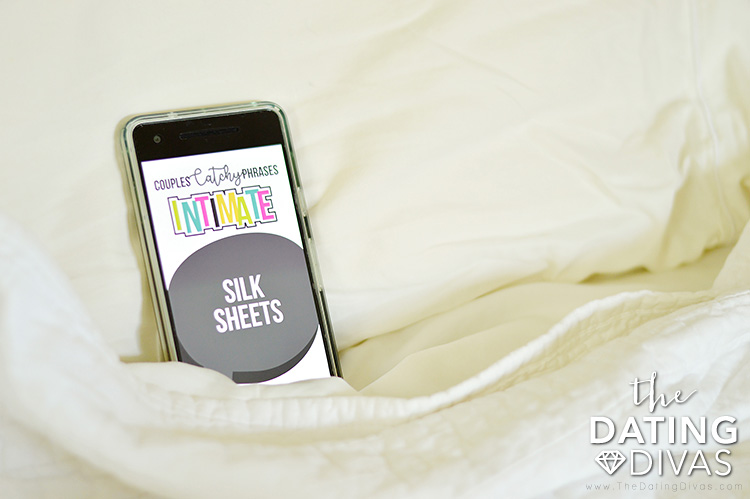 Intimate Couples Catchphrase Bedroom Game
So I do feel like I should warn you that we created one category that's a little saucy… some of the cards are a bit on the naughty side. Hopefully, nothing that will make you blush or embarrass you toooo much BUT you might want to save the "Intimate" cards for later in the night—unless you've got a particularly rowdy bunch of friends, you and your spouse could play a follow-up game in the bedroom.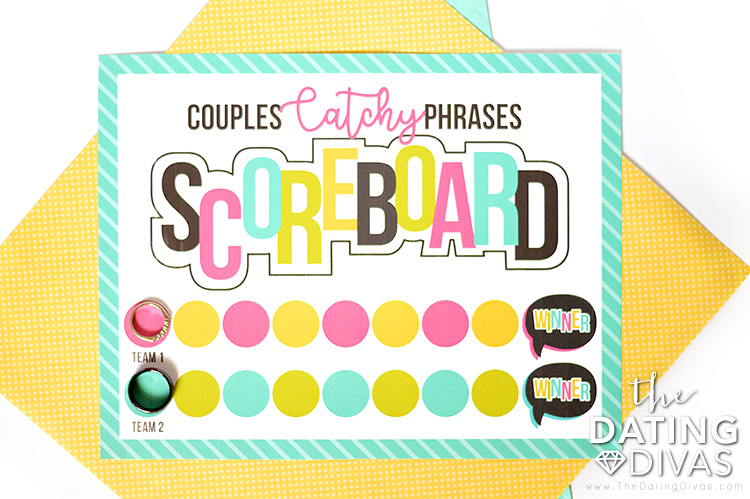 Catchphrase Scorecard
We did create a printable scorecard that makes keeping track of the winner a little bit easier. Don't worry, if you're in a pinch it's definitely not necessary for a good time. The points are pretty straightforward, so you should be all set either way you choose. My favorite thing about the scorecard is that you don't need game pieces or even a pen. It's designed to use two wedding rings as the game pieces. Isn't that clever?! Each time your team wins a round, you move your wedding ring pawn one space forward!
If you have trouble rounding up the troops for date night, don't think you've totally struck out on this game. You can modify the way the game is played to make it tons of fun for two, it's just a little bit less competitive.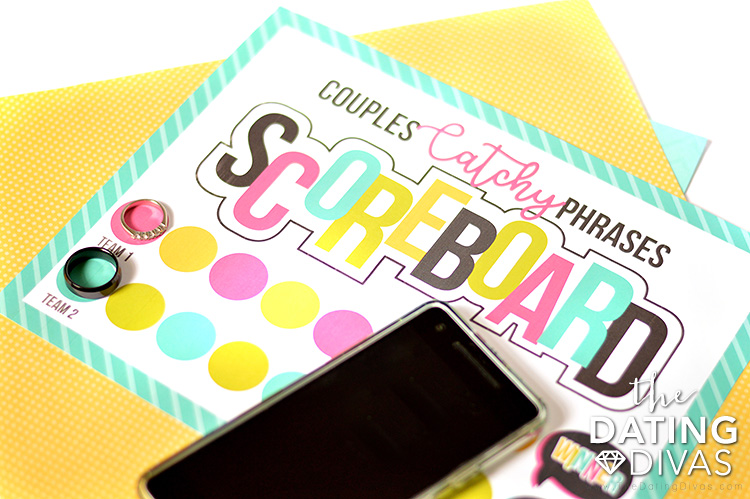 Alright, you're ready to play, aren't you? Even though every device is different, the file is just a folder of pictures, so everyone should be able to download! Avoid the hassle of printing and cutting and prepare the easiest date night ever in a matter of minutes! Procrastinating party planners, this game is for YOU! Simply click below on the link for the cards and save it to your device. When you open the newly saved folder it will have a folder for each category. To play, pick a folder and open up the first picture in the set. Read the instructions aloud and get started on game night!
SaveSave
Couples Catchy Phrases Game Cards
Digital Cards Designed by Carisa @ Messes to Memories Exclusively for The Dating Divas
Couples Catchy Phrases Score Card
Printables Designed by Carisa @ Messes to Memories Exclusively for The Dating Divas