Minute to Win It Games
Don't you love Minute to Win It games? If you haven't seen it, STOP everything you're doing and go check it out right now! Something about adults competing for little challenges or big money makes my adrenaline rush! So when NBC started Minute to Win It, my husband and I got completely hooked! If you haven't seen it, it is this awesome game show where the contestants have one minute to complete random games made from household items (think cups, ping pong balls, and other assorted items!) These Minute to Win It games are hilarious to watch, and even more fun to PLAY! So what are you waiting for? Let's get started!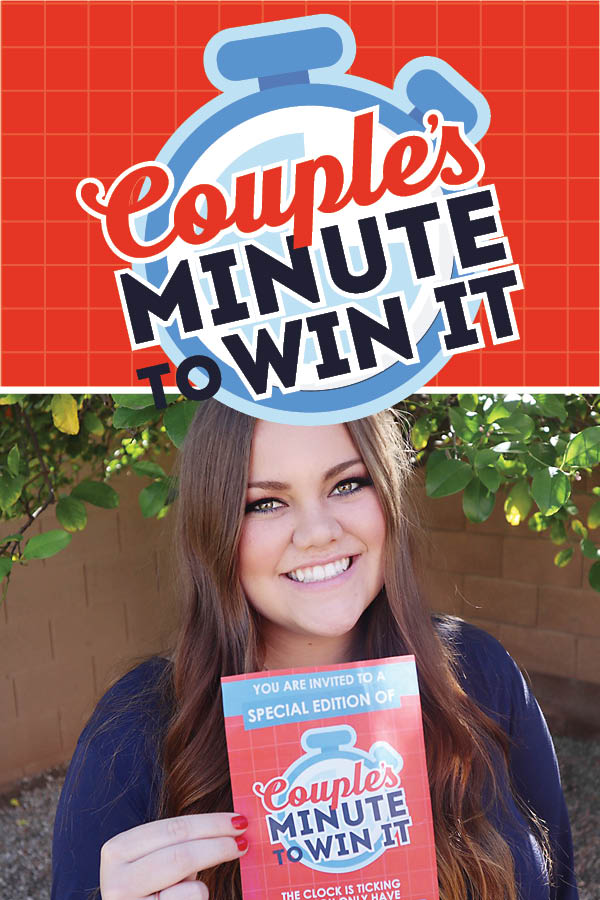 But first, we have to give a HUGE shoutout to the one and only Courtney from Paparelli and Dating Divas who created these Minute to Win Challenges for us!
Couple Games for a Party
It was obvious after the first few episodes that it would be SO fun to do this as a fun couples party game! A couple competing in a Minute to Win It Games against another couple? Yes, please! In hardly any time at all, The Dating Divas made an invite list of our most competitive fun friends and family. And with these adorable and free invitations created by The Dating Divas, I couldn't wait to send them out! And just like that the Minute To Win It Team Game Night was ON!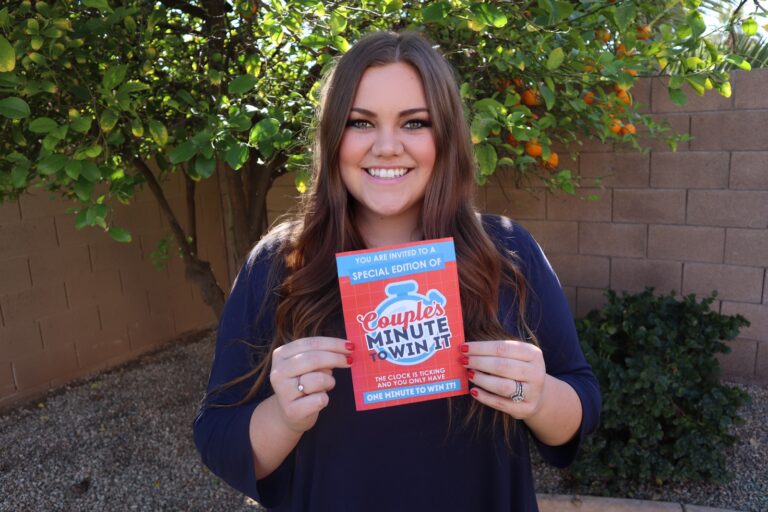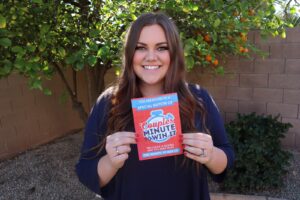 Minute to Win It Team Games
In order to play the Couples Minute to Win It Game, you need to be prepared! So here we created a free Must-Haves Minute to Win It Games for Groups printable! This blueprint will tell you exactly what supplies you need to create a fun couples party! And remember, depending on the number of couples you have competing, make sure your supplies add up! For example, you will need an oreo cookie for each team. So let's say you have 5 couples joining your group date. This means you will need 5 cookies! These Must-Haves printable will take all of your stresses of hosting the Minute to Win It team games away!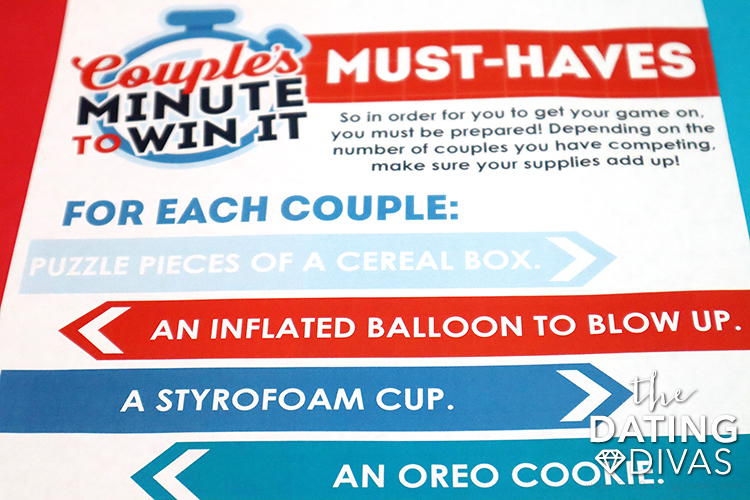 Minute to Win It Challenges
Just like in the Minute to Win It TV show, these Minute to Win It Team Games is calling for fun and competitive people! (Healthy competition is good for the soul, right?) SO, to build up the competitive vibe, I decided to also ask the 2 other couples I invited to come up with a team name ahead of time AND you can also have each couple wear a matching team outfit to take things up a notch! Yes, we take our game nights very seriously around here! Now on to the good part – the Minute to Win It games! The Dating Divas created 5 Minute to Win It Challenges for you! However, if you are wanting more, all of the games and corresponding levels are found on the website
here.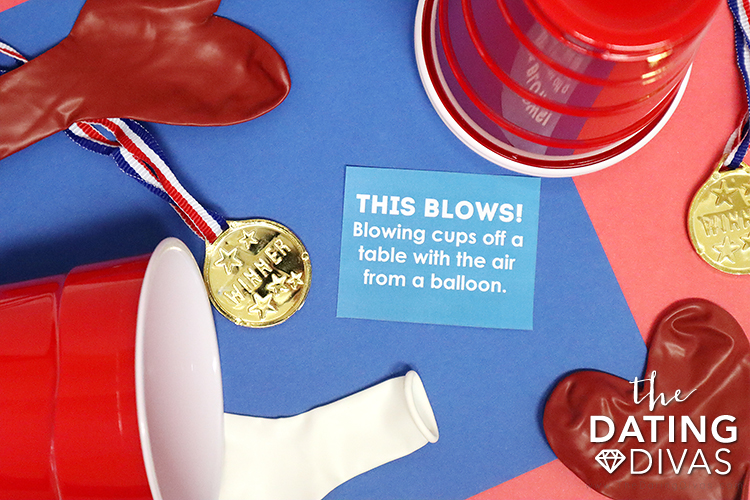 Fun Couples Party Games
Want to make this Minute to Win It games for adults one to remember? First, try adding some fun treats and decorations! Doing so can only add to this Minute to Win It games for adults! So head to your nearest dollar store and find plastic gold trophies or medallions for everyone. Also, you can have a color theme of red, white, and blue to match your fun printables! And don't forget to have this couples game night where everyone has enough room to move around! Lastly, don't be afraid to turn up the music and watch your group party!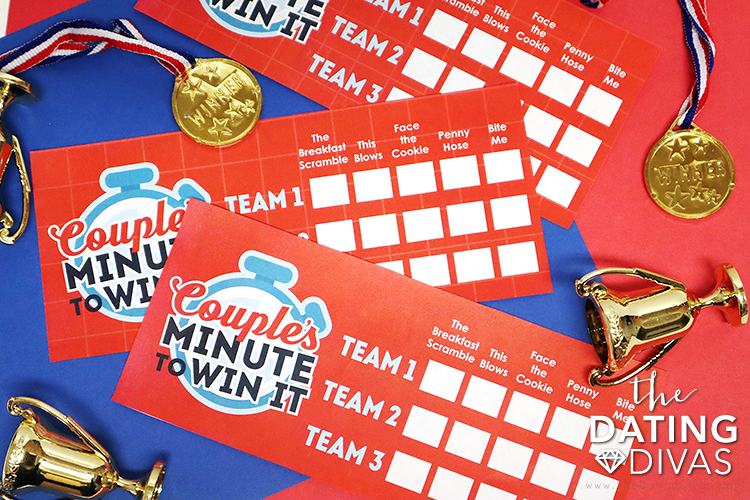 Couples Party
Finally, our Couples Minute to Win It Game for a group had begun! So we randomly took turns on which team would start – in case there was a strategic advantage to be learned by watching. Now each team had one minute to complete the task and had three lives. But once each life was used up, they were eliminated from the game. Our night was full of laughs, competition, and honestly was a total fun workout!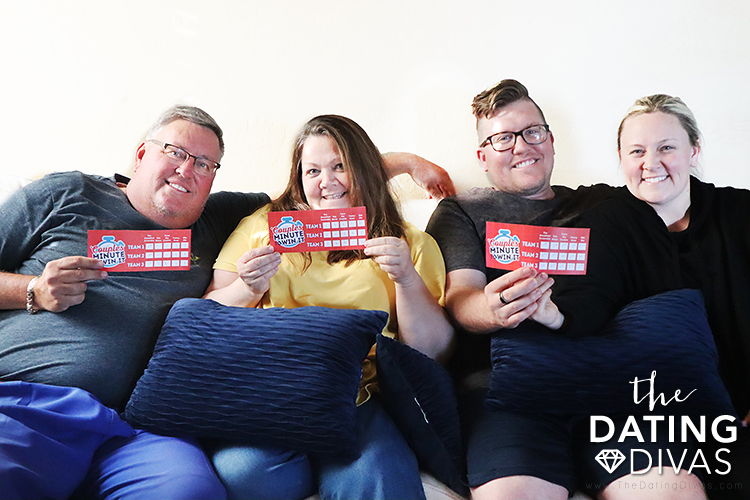 The Prizes
At the end of the night, we rewarded the Grand Prize winners and all other participants with random funny gifts from the Dollar Store – Mouthwash, a sombrero, gardening gloves, a sponge, candy, and a giant water gun! The prizes were almost as funny as the games themselves! Make it "Minute to Win It" themed and tie on a bow or staple your cute "Winner" printable onto whatever prize you choose for your guests! Everyone agreed that these easy Minute to Win It Games for a group were perfect and would be just as fun to play over and over again! (Same time next month, everyone?) As for me, my game show dreams were almost fulfilled with this awesome group date night…almost!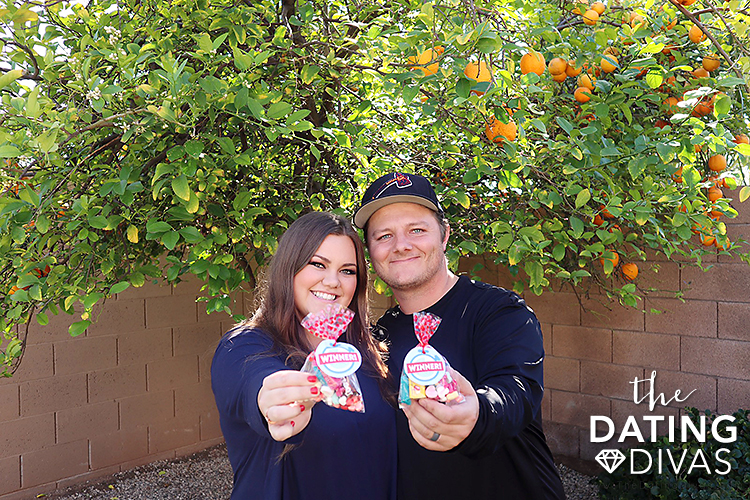 Check out what one of our readers did when they planned this date! (Check out Cara's version of Couples Minute to Win It here.) Great job Cara, and thanks for sharing with us. We love seeing other people enjoy and use our dates! Also, needing more group date ideas? Check out our epic Kickball Group Date and our Splash Party Group Date.