Anniversary Gift Ideas
Anniversaries are all about taking the time to look back on where you started, reflect on where you are today and to look forward to many more years to come. But how do you capture that in a GIFT? Choosing the perfect anniversary gift can be difficult – perhaps even harder the longer you are married! You start running out of creative ideas! Anyone with me? Well, no worries because creative ideas are what we do best – you've come to the right place! Check out these fabulous finds that can help you come up with ideas for creative anniversary gifts that are both memorable AND personal.
Disclaimer: This post contains affiliate links. To learn more about 'em, click here.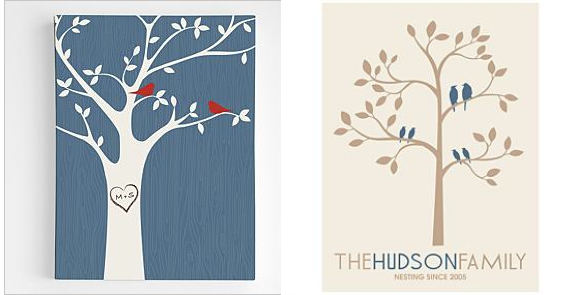 First, just look at these adorable family tree wall decor from Red Envelope. Aren't these sweet?
The Tree with the Couple's Initials just seems like a an iconic love gesture. Having your initials carved in a tree is so romantic, but this way you can see it every day.
The Nesting Tree is so creative! My favorite part is that you can have a bird for each member of the family in addition to the parental love birds! How cute is that?
And – I should mention both of these come in a variety of colors so you can match one that fits your home the best!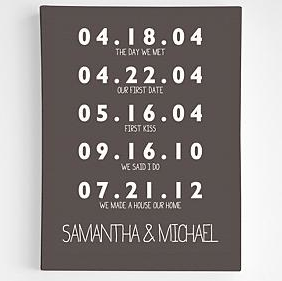 This gift idea has caught my eye on Pinterest before, but I had no idea that you could buy it personalized from Red Envelope! Just enter the dates that mean the most to you and your sweetie and you've got a gift! Now your hubby is a little less likely to forget those important dates!
Some of the most personal gifts include those that utilize a favorite photo that capture a memory. There are so many things that you can do now days with photos! We found a site, yorkphoto.com that is overflowing with creative ways to use photos to create a unique gift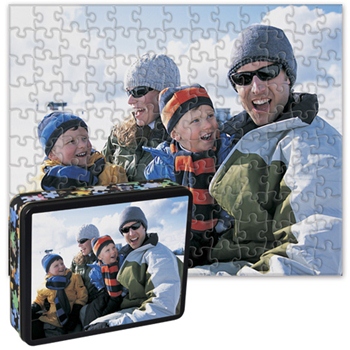 For example, you can customize puzzle pieces to form any picture you submit. How fun would that be to see your spouse figure out the gift piece by piece? And if that wasn't cute enough, it comes in a customized tin with your photo printed on top.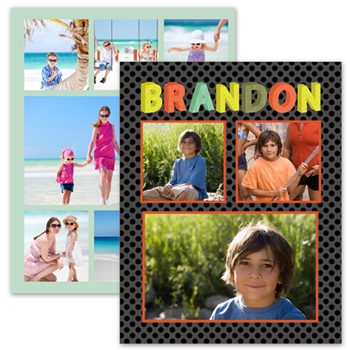 Perhaps your spouse would love a sweet reminder throughout the day of those he loves the most? Use your favorite photos to create a poster collage.  This is so easy to do and very inexpensive, too!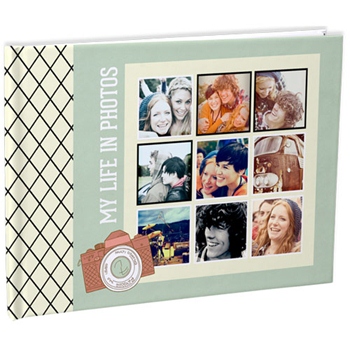 Finally, my personal favorite, is the customized photo book. I did this for my husband for our first anniversary and included our pictures from that entire first year together. With this option you can customize it as much or a little as you want to and include a dedication and notes about favorite memories. Even better, this could be a yearly tradition! Not only would you have a hardbound history of your relationship each year, but you have a new tradition and less stress each year to think of a new gift!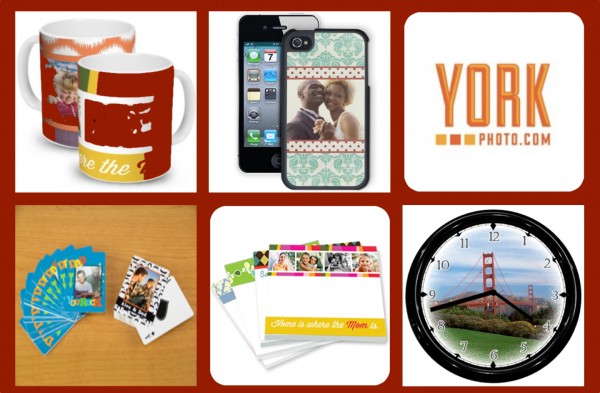 And that is just the start! There are so many things you can do with your photos. You can put a picture on a mug, notepad, clock,  iphone case – you name it! You can even put your picture on a deck of playing cards! What will they think of next?!
If you didn't find something here that caught your eye – don't worry we have more! Check out these 5 Creative Anniversary Gifts, or these DIY Anniversary Gifts,  or just browse around all of Anniversary Ideas. PLUS our Anniversary Pinterest Board is ever growing with ideas from all over the creative blogging world. You are sure to find something special!
Good luck and congratulations on another year of marriage!