A Nighttime Scavenger Hunt!
Summer is here and school is out! It is time for evenings of fun loooong after the sun has gone down! To celebrate no-more-school-nights, we have a fun activity that is perfect for a group date night or for the entire family to enjoy: an After-Dark Scavenger Hunt! With our free printables, the set up is quick-to-prep (like, just print and cut), but will provide hours of fun! And we don't just have one hunt – but THREE completely different scavenger hunt challenges! Let the summer fun begin!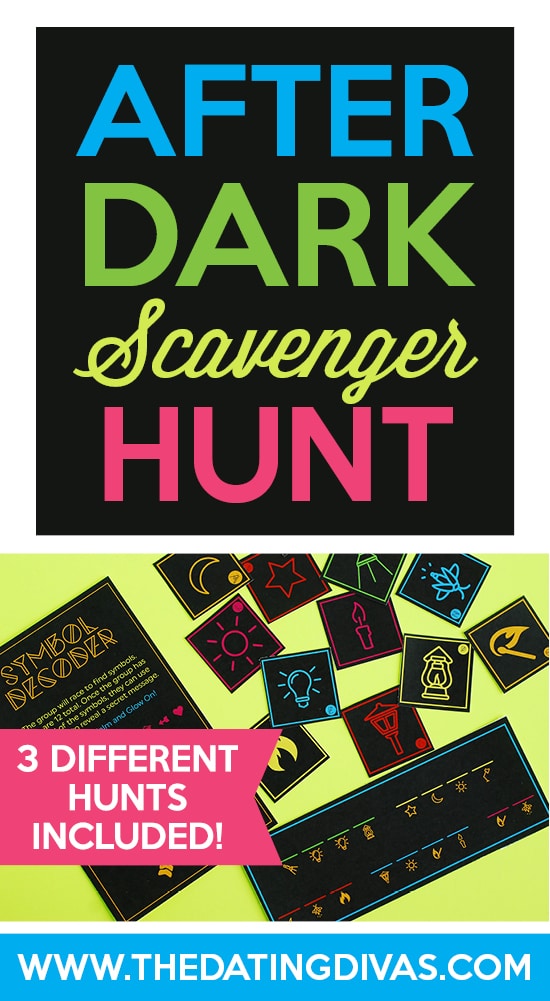 Disclaimer: This post contains affiliate links. To learn more about 'em, click here.
Scavenger hunts are super fun on their own, but add the challenge of a nighttime hunt and you have yourself an evening of fun! All of the hunts featured in this post were designed by the ever-so-talented Joanna from JAB Creative Australia. I LOVE working with Joanna and I love what she did with this design – including this brightly-colored invitation for the hunt!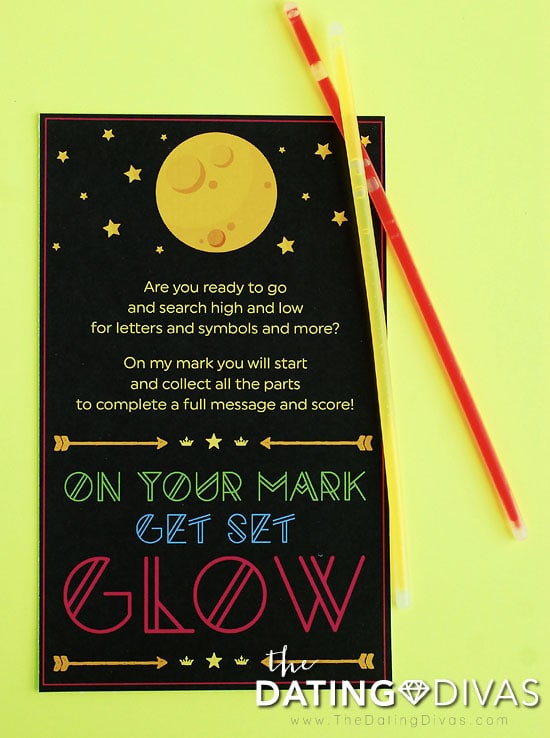 For our After-Dark Scavenger Hunt, we have 3 unique scavenger hunts – each with their own challenge and task! While each challenge is different, the basic idea of each hunt is the same…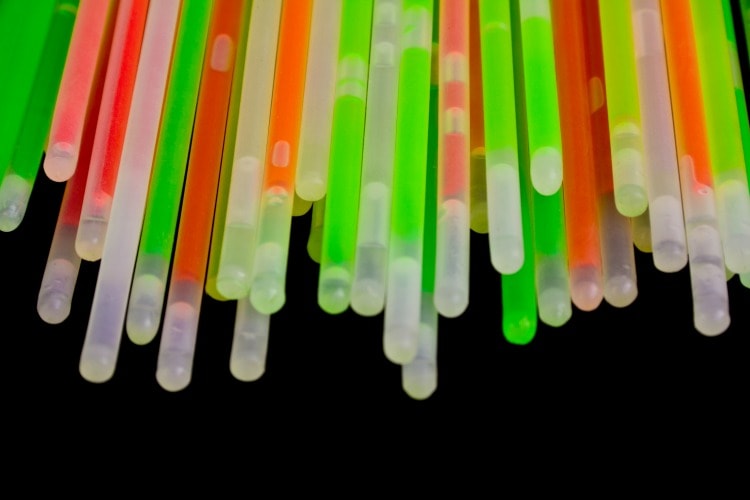 Hide the pieces of the particular challenge in a specified area. You can hide the pieces as is or, I think, it would be fun to attach the pieces to glow sticks and then hide them (might be a little easier to find, too!). Read the instructions (included in the printable PDF) to the group and send them off in search of the pieces. Hunters can go completely in the dark or (especially if there are little ones involved), you might want to provide some flashlights.
Here are the 3 different After-Dark Scavenger Hunts we have for you:
THE PUZZLE
In this Nighttime Scavenger Hunt, participants race to find pieces to a puzzle. Once all of the pieces have been collected, everyone attempts to put the different parts together to create a picture with a message.
TIP: When cutting out the puzzle pieces, you can tailor it to your specific group. If you're playing with kids, you may want to cut the puzzle pieces larger and more simple. If you're playing with adults, you can cut intricate and complex pieces for a greater challenge!
WORD SCRAMBLE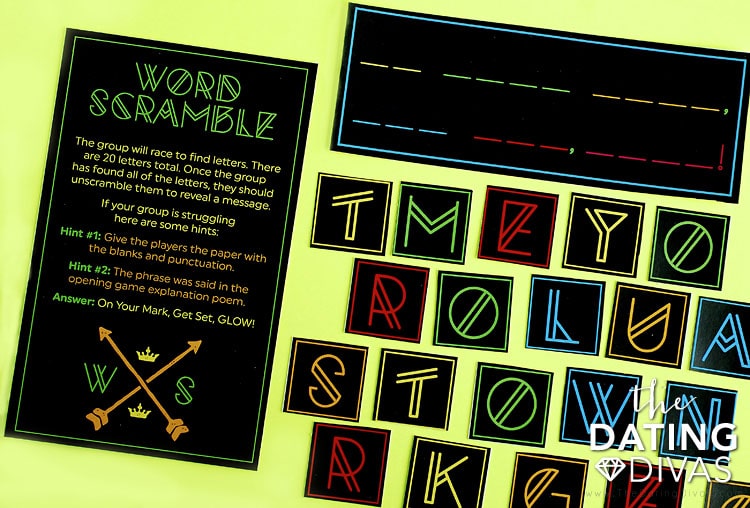 In this scavenger hunt, your group searches for cards with individual letters. There are 20 letters total. Once the group has found all of the letters, they should unscramble them to reveal a message.
HINT: You can play this game in levels. If the task is too tricky for your group, the PDF includes a "cheat sheet" with hang-man style blanks for the group to use as well as some verbal clues you can give if your group is struggling.
SYMBOL DECODER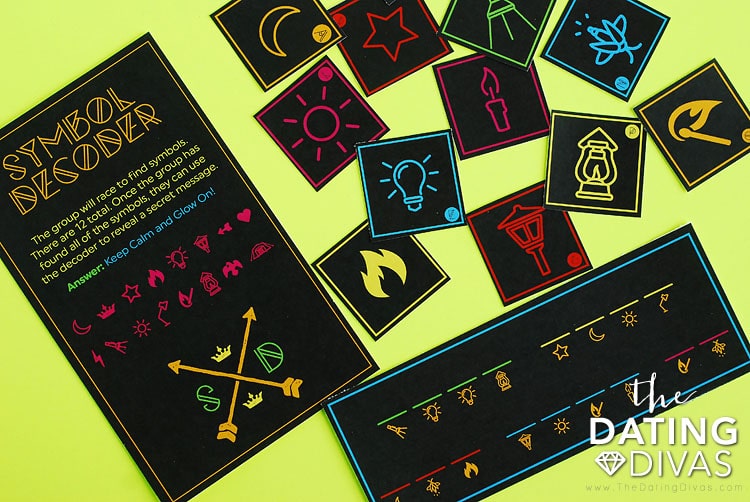 In this game, the group will race to find symbols cards. There are 12 total symbols for the group to find. Once they have found all of the symbols, they can use the printable decoder to real a secret message!
IDEA: Since the place for the group to write their answers is black, consider providing a fun neon gel pen to write in the answers! I am obsessed with these!
Seriously, SO MUCH FUN! Three unique scavenger hunts that you can do after dark with your family and friends! Grab some glow sticks, print these awesome (and free!) printables, and you are set for a fun evening!
After-Dark Scavenger Hunt
Printables Designed by Joanna @ JAB Creative Australia Exclusively for The Dating Divas