Basketball Date Night Bracket
Are you one of the Cameron Crazies? Do you root for the Sundevils? Consider yourself an honorary Hoosier? If you and your spouse love college basketball and consider yourselves the 'sixth man' for your team – OR even if you just enjoy watching the NCAA championship match-ups during March Madness – we've got an athletic date night full of fun choices where everyone wins. We've lived in North Carolina for a long time and I'm pretty sure you're not allowed to be a legal resident of this state unless you have a die-hard college basketball allegiance. Okay, I'm teasing. But March Madness is a big deal. During this time of year, most people fill out NCAA Tournament brackets and see if they can guess who this year's College Basketball Champ will be, so we thought we'd put a romantic spin on those brackets and create one that's inspired by the tournament. We turned those basketball brackets into a March Madness Date Night Bracket!

Disclaimer: This post contains affiliate links. To learn more about 'em, click here.
We used the bracket to give you a giant list of date night ideas that you and your spouse can choose from to create a night that's perfect for you! Thanks to Carisa of Messes to Memories, it looks like a really fun version of a typical March Madness bracket.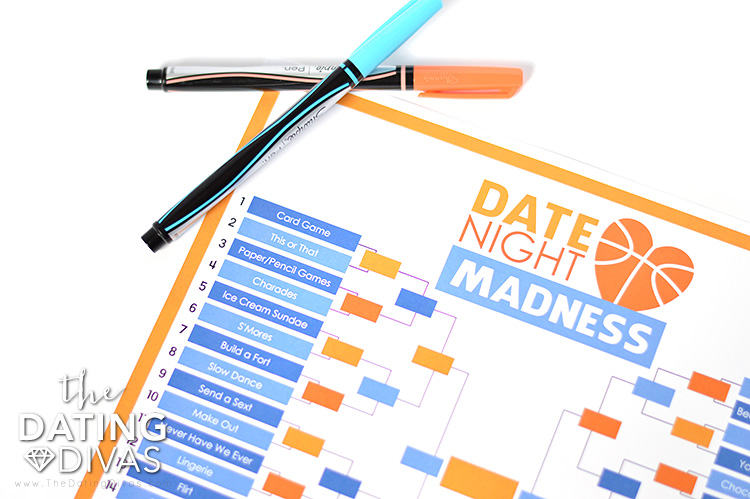 Throughout the night, you and your spouse will be given choices to make your at-home date night into the perfect evening. Your favorite date night ideas will win over and over so you'll get to do them more than once. You might get to send each other lots of flirty sexts or get to play more than one intimate shower game. Personally, I chose a lot of massages and fun games to play together, but that's what's so perfect about this Date Night Bracket, everyone gets at least a little of exactly what they want!
5 Creative Ways to Play the March Madness Date Night Bracket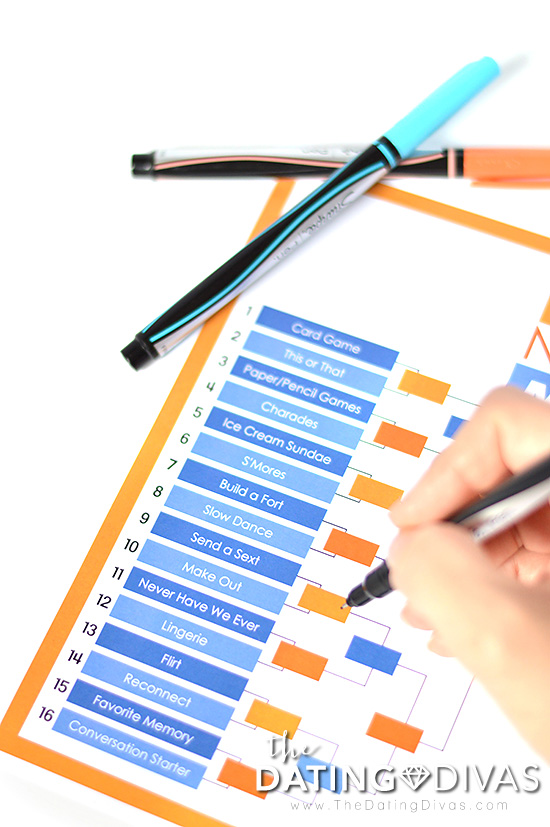 Coach's Choice: Start by choosing sides (left or right) of the bracket. Until the final 'game' you get to make all your own choices! In this version, you get to go down the list on your side and decide which idea wins each game. Simply add the number of the winner to the next box on the bracket and keep going until the final, championship game. In the final game, you'll be competing against your spouse's winning idea. Duke it out by trying to persuasively convince your spouse, flip a coin or try the ideas in the "Free Throw" or "Jump Ball" versions!
Free Throw: Go through the entire bracket together. For each game, talk to your spouse about which one you'd prefer. If you're both on the same page, go with that date night idea. If you disagree, ball up two pieces of paper and aim for the nearest trash can. The first person to make a shot wins their choice!
Jump Ball: In this adventurous version of the game, you're leaving everything up to chance. Use whatever you've got on hand to randomly make a decision for each game. Determine the winner of that date night idea by flipping a coin, rolling a die (the highest number wins), using a spinner, or for a slightly less random decision, try throwing a small basketball (or any ball) in the air to do your own 'tip-off' and see who grabs it first.
March Madness: If you want to combine this with the original, basketball March Madness event, print off some NCAA Tournament Brackets and fill them out (or do it online). Each time you correctly guessed a winning team, you'll get to make a choice on the Date Night Bracket. The great thing about this version is that your date night will actually be date weeks!
Team Work: Put communication and kindness to the test in your relationship by simply talking out each of your choices. If you're not so competitive, this is probably the game plan for you. Just make sure each person has a say and talk about what kind of a date night you'd both enjoy.
Unique Date Night Ideas List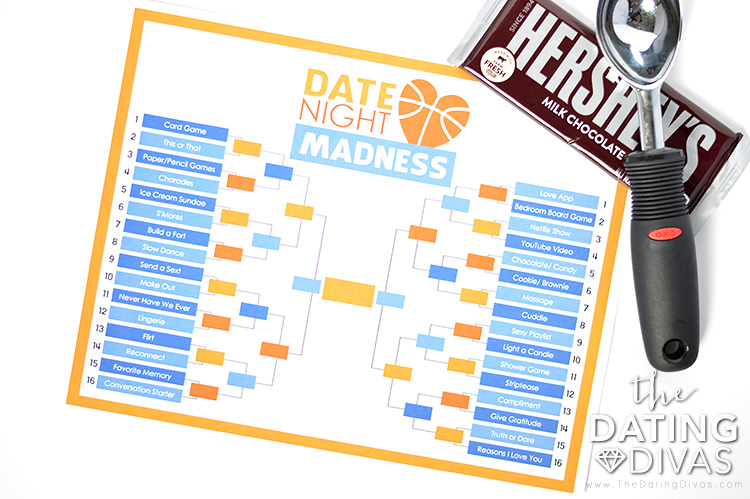 The fun date night ideas that are included don't require a whole lot of additional materials but you might want to take a quick peek ahead of time to make sure you've got what you need. Many of the games and more specific ideas are hyperlinked on the Date Night Bracket, so before you print you can click on to those ideas and see if you need or want to print any of them out, too. We didn't print much else out. When we chose a game that had other printables we just pulled it up on our phones and chose a card (or two) to do for that round. Don't forget, save this list of ideas on your Pinterest board!
Hope you have so much fun WINNING over and over again!
March Madness Date Night Bracket
Printables Designed by Carisa @ Messes to Memories Exclusively for The Dating Divas