Our Favorite Gift Ideas: Straight from The Dating Diva Retreat 2016
We just wrapped up our 2016 Diva Retreat! Let me tell you, it was the best one yet! You can read all about our fun times in our Diva Retreat 2016 Recap! We reached out to our FAVORITE companies to find items we knew that ALL of the Divas would love! I can't wait to show you all of the goodies! From the softest blankets on the planet, to darling swimsuits, handmade jewelry and more! We are sharing them today because we know they are some of our favorite gift ideas!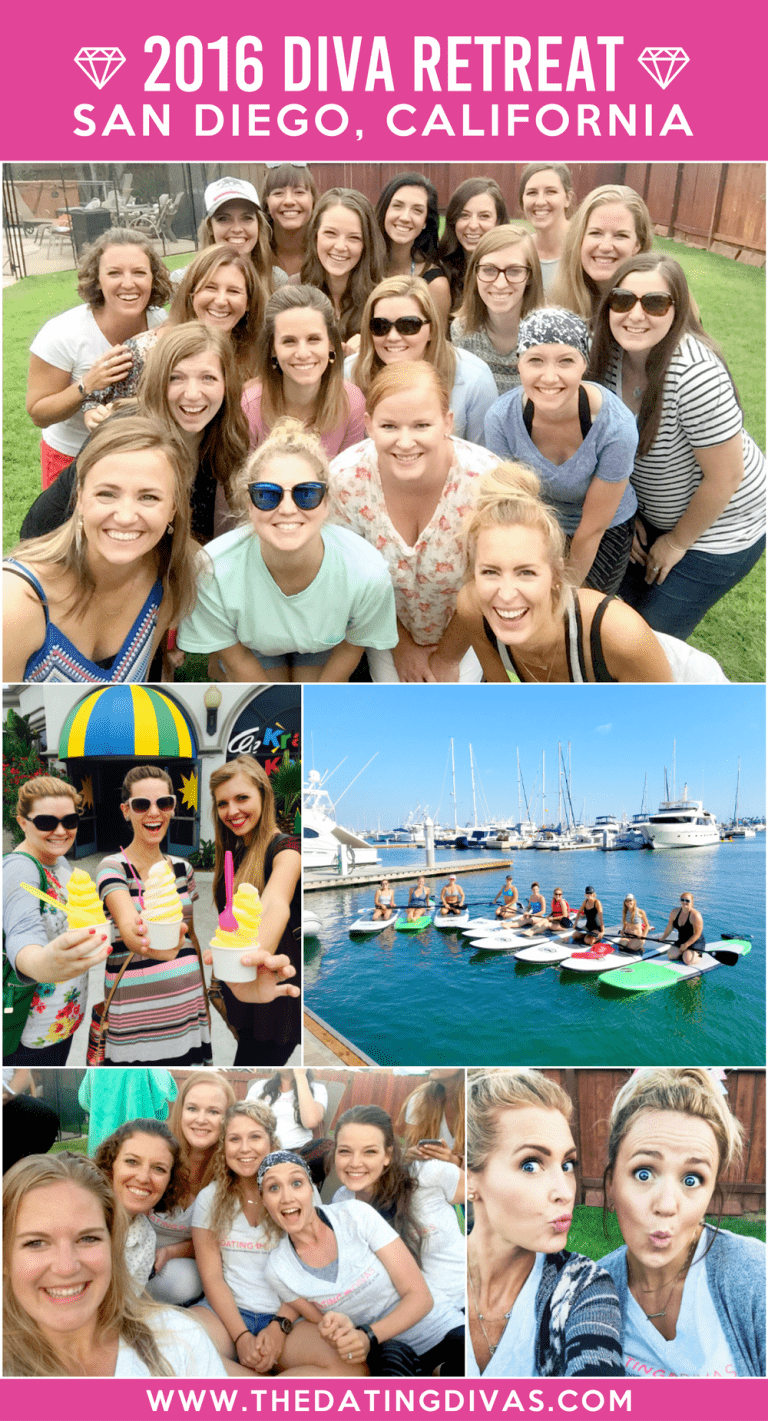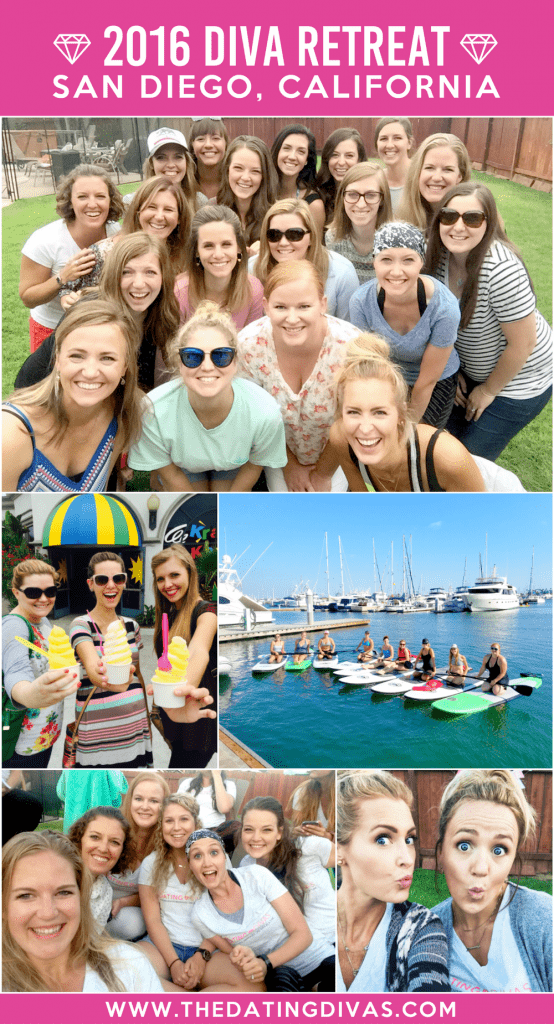 This year, we wanted to give all of our DIVAS something special. A reminder to them what it means to be a "Dating Diva" and why we do what we do! Our AH-MAZING "Diva Present" sponsor is Little Miss Lilyan. She custom made an "INSPIRE" necklace for each one of us. This beautiful, delicate necklace reminds us all to help others strengthen their marriage, and keep working towards our goals of uplifting each other and our readers! This was DEFINITELY one of our favorite gifts!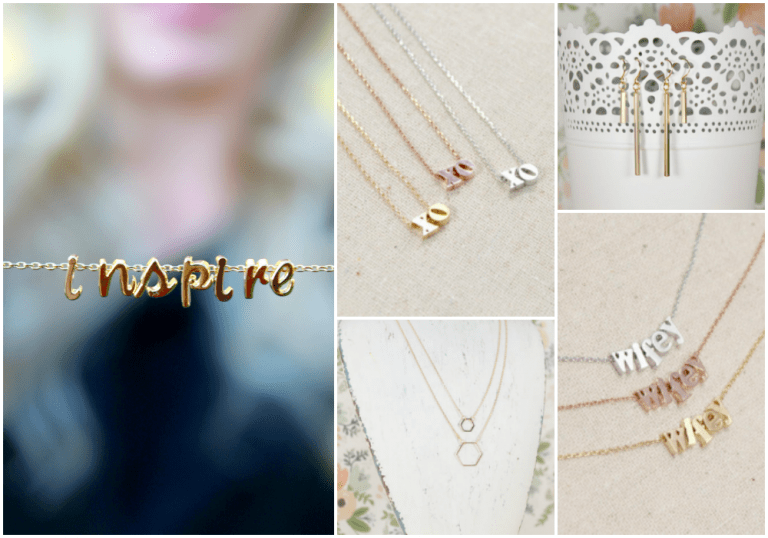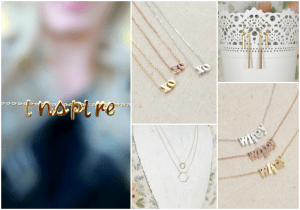 Don't you LOVE everything she has made?! Use code DIVA20 to get 20% off your entire purchase! #ChaChing!
Our favorite thing about Little Miss Lilyan is that her jewelry is completely customizable and personal. These beautiful necklaces were the perfect finishing touch to our inspirational weekend.
Some of our girls were a little sneaky and got the few of us that were planning and organizing this retreat a little present. They picked the best of the best, Saranoni Luxury Blankets!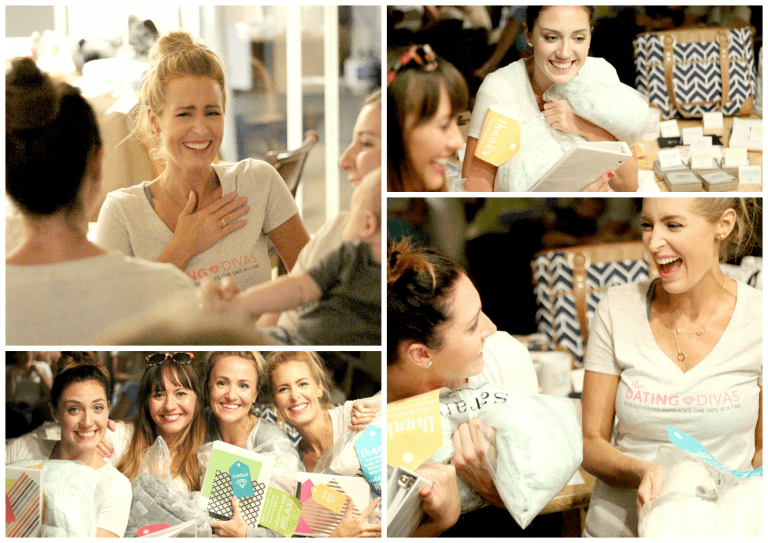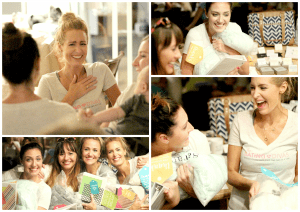 Trust me when I say that these blankets are the SOFTEST blankets in the world. Saranoni was our "secret sponsor" this year! We wanted to thank our amazing Retreat Committee for all their hard work this year, so we teamed up with our FAVORITE shop, Saranoni and got them ALL a cozy, cuddly blanket. I personally have FIVE of these blankets in my home, and just can't get enough! They truly make our house a home, and always lead to some awesome cuddling when we have an 'at home date-night!" You WON'T regret getting one of these (or FIVE #JustSayin').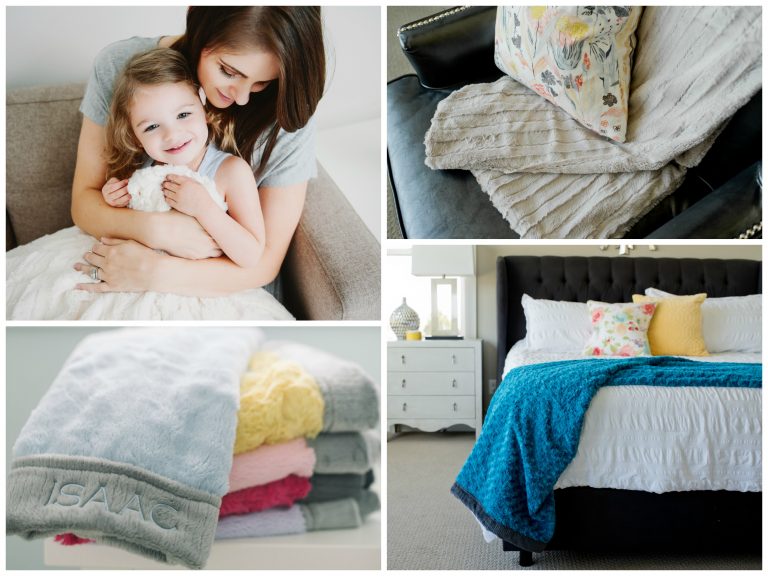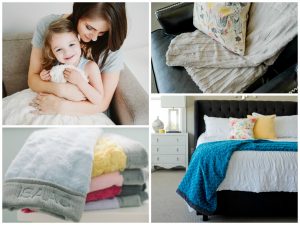 We are SO grateful for all of our amazing sponsors! Some of them donated an item for EVERY DIVA on our team! We made an incredible swag bag, stuffed with all of these amazing products! Prepare to meet your new favorite gifts!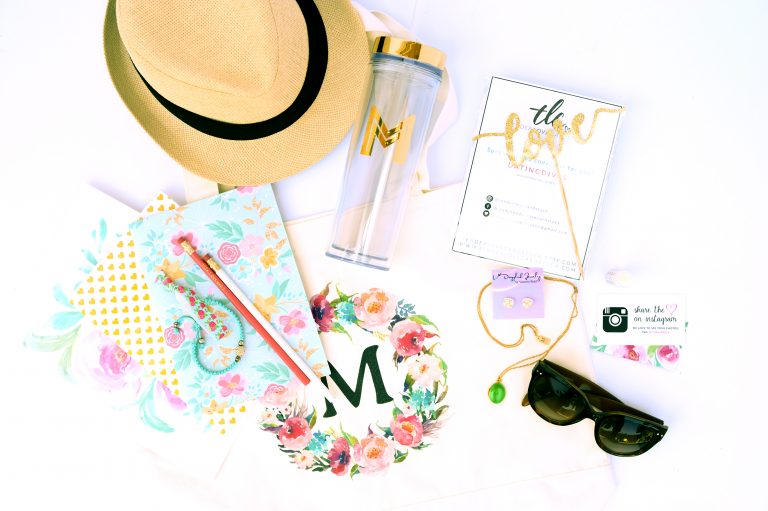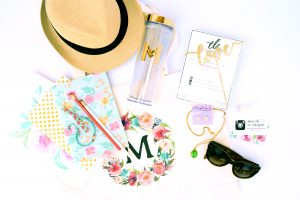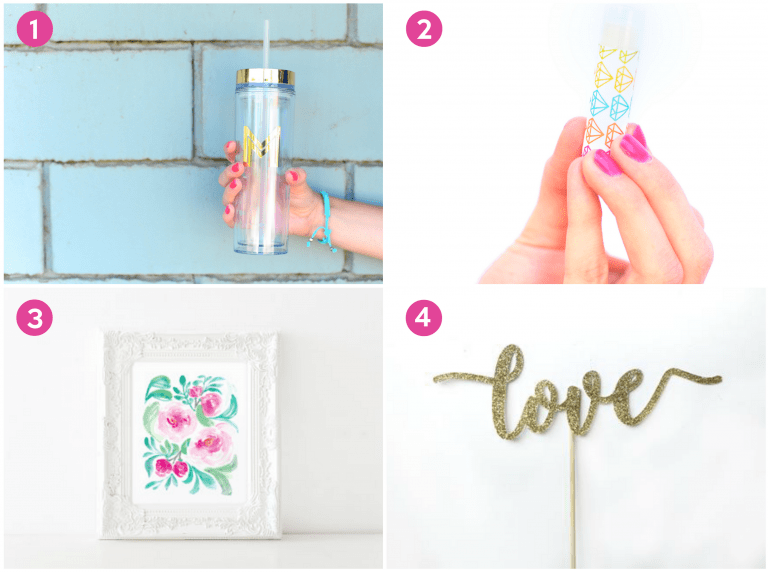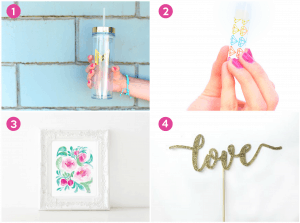 1. Diva Tumblers– ModParty sure helped make our retreat a PARTY! Each Diva got her own personalized tumbler! We loved that they took the time to add the personal touch for each Diva! These tumblers are SO cute, and were a lifesaver at our retreat! It helped us keep track of whose drinks were whose. Plus, I've used mine A LOT since coming home!
2.  Diva Chapstick– Along with our Tumblers, ModParty also sent us Diva-fied chapstick! Personalized with our bright diva diamonds! We LOVE how ModParty has options to make things SO personalized! Our lips were definitely happy all weekend long!
3. Floral Print– Bella Love Letters was SO generous and sent us loads of ADORABLE prints from her shop for our raffle! Not only that, but she gave each and every one of us our own floral print from her shop! This print is absolutely lovely just like our Divas!
4. Love Topper– You  know us, we are all about LOOOOOOVE. These sweet cake toppers were such a fun addition to our swag bag! I can't wait to use ours for our next anniversary. I may just make some chocolate cake to celebrate the weekend. All I have to do is pop this bad boy on the top, and BOOM, insta date night!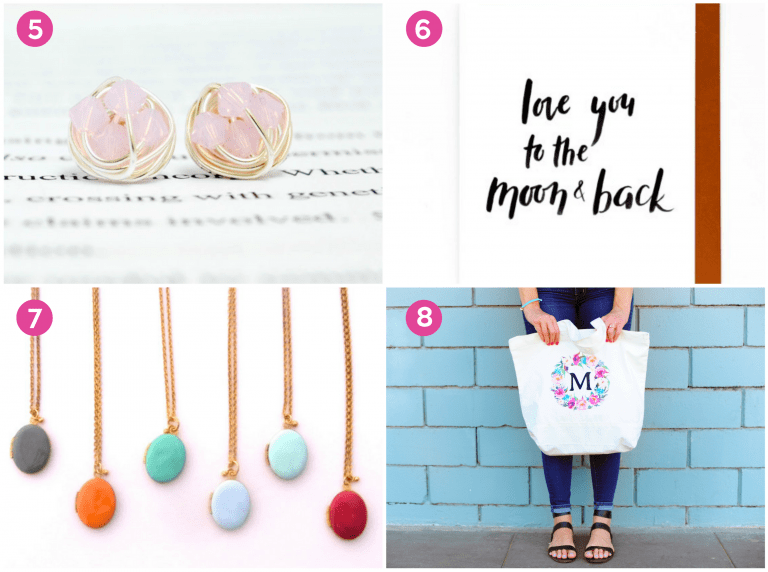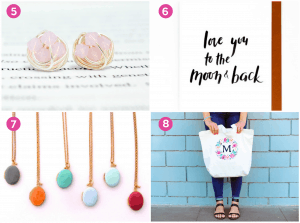 5. Earrings– The list just keeps going! Another item that was donated for our swag bags were these beautiful handmade earrings by VDazzled! Each Diva got her own pair of earrings, and I must say, I can't wait to wear mine!
6. Cards/Prints– We love sharing little notes with our loved ones, and Two Fold Shop helped us do that! Each Diva received a greeting card or wall art print! It was so fun to get a variety of items, and we could see what each other received! Two Fold Shop has gorgeous prints that uplift and spread positivity every time you read them. They are totally Diva-worthy with how uplifting their sayings are.
7. Locket– Another generous sponsor was MStreetStudio. Each Diva received their own locket! I LOVE mine, and I can't wait to put a picture of me and my hubby inside! Lockets are such special pieces of jewelry, that have such sentimental value. This sponsor truly provided a special piece for each and every Diva!
8. Swag Bag– Now, with all this swag, we needed somewhere to put it, right?! ENTER the BAG to our swag bag! Mugable Mugs made a custom bag for each Diva! We are IN LOVE with the gorgeous floral print they did for our bags! This baby is going everywhere with me!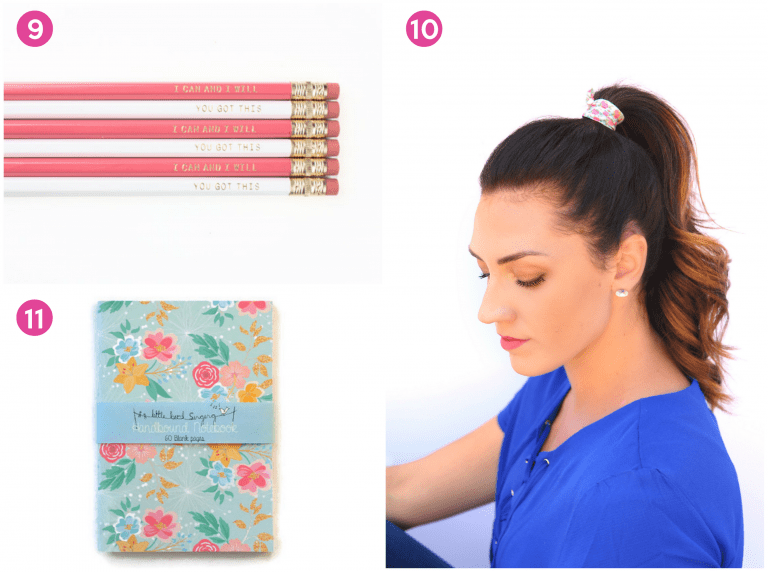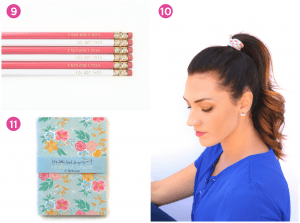 9. Pencils– CurioPress gave us these adorable pencils! Totally amped up the girl power with these cute sayings! "I can and I will" and "You got this!"
10. Accessories– Flhair Accessories provided each and every one of us a cute bracelet and coordinating hair tie! (These totally came in handy at the beach!)
11. Notebook– Little Bird Singing is an ADORABLE shop on Etsy that handmade 35 notebooks for our girls! These beauties are high quality, yet carry the charm of a beautiful handmade item. It  was so fun to have these and our pencils during the retreat! Especially during our Marketing Class!
Not only did we have fabulous sponsors for our Diva Swag Bag, we also had some INCREDIBLE sponsors for our raffle this year!
All year long we earn raffle tickets for our hard work. When it finally comes time for our retreat, all of our hard work pays off when we get to pick an AH-MAZING raffle prize! Our prizes this year were down right awesome!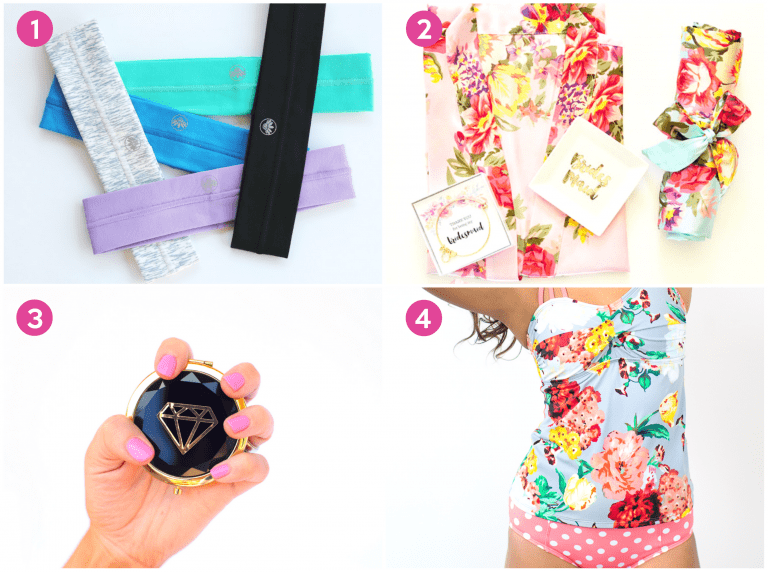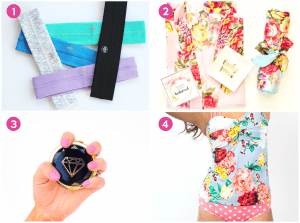 1. Gift Card– Senita Athletics is a company created by women who design the best workout gear FOR women!  We are talking adorable leggings, sports bras, and shorts all designed with YOU in mind.  They think of every last detail like hidden pockets to store your cell phone in as you get your workout on. They gave us some awesome workout headbands (that literally can't slip off!) AND a $50 gift card! We sure felt spoiled!
2. Floral Robe– Not only was ModParty a Swag Bag sponsor, but they also donated to our raffle as well! One of our Divas walked away with this silky, sexy, floral robe.
3. Diva Compact– Another prize that ModParty donated, was a custom compact. Since we didn't know which Diva was going to win, ModParty Divafied the company with our diamond logo! This compact was high quality and felt like luxury!  Plus! It is SO CUTE!
4. Swimsuit– Have you heard of LimeRicki? We basically are girl crushing on all their adorable swimsuits. Their swimsuits come in the most colorful, unique fabrics and they offer swimsuit styles that flatter EVERY body!  One of our lucky Divas got to pick out a swimsuit as a raffle prize!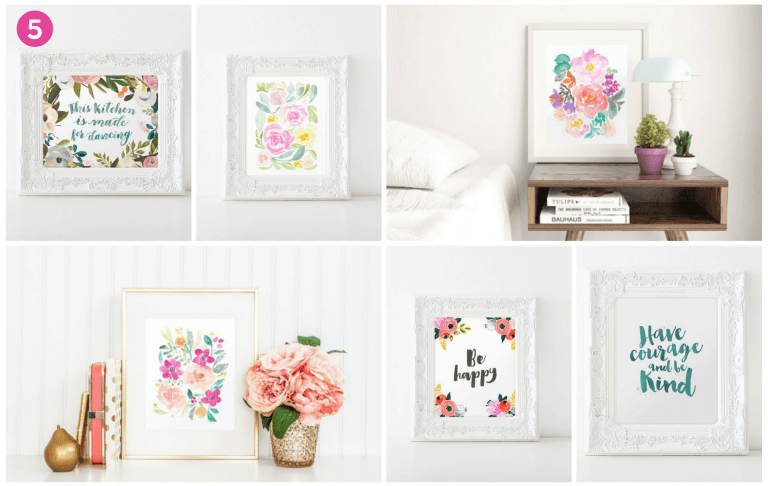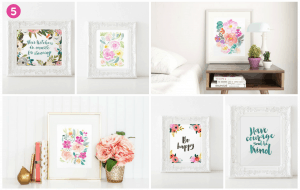 5. Prints– Don't you just LOVE personalizing your home with custom decor? We simply ADORE Bella Love Letters, and they donated so many fun prints from her shop! From floral prints, home prints, nursery prints, custom prints to motivational prints! Do you see one that's your favorite?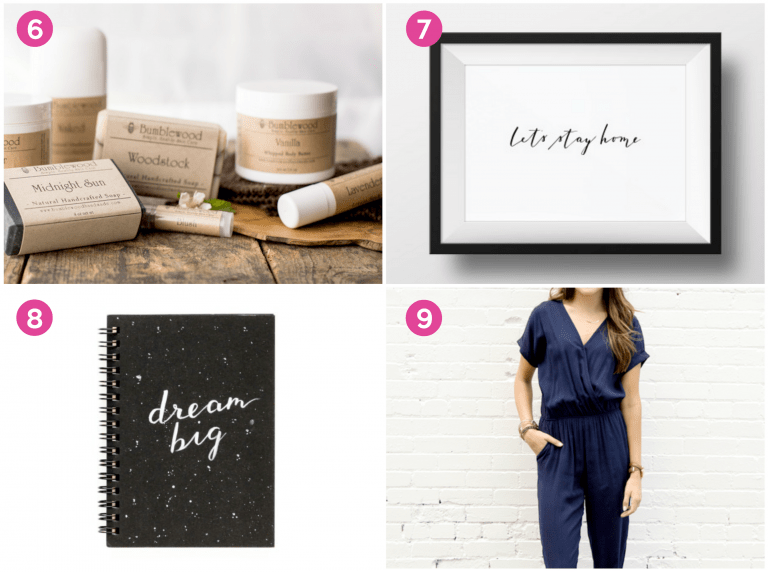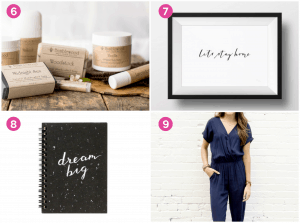 6. Gift Basket– Bumblewood is a skincare company that only offers ALL natural products. Their products are made with the highest quality of ingredients and they all smell amazing! This Bumblewood Gift Basket contains a bar soap, a sugar lip scrub, a lip balm, and a body butter so the Diva who won this is now ready to pamper herself from head to toe!  
7. Print– Two Fold Shop is basically our favorite! As Divas, we love to fill our homes with beautiful things that inspire us and Two Fold Shop packs a lot of motivation and inspiration into every one of their prints! They donated an awesome 8×10 print for our raffle!  
8. Notebook– Two Fold Shop also donated this "Dream Big" notebook! This pretty much sums up how we feel as Divas and in growing our relationships and this company. We are all working together to make our BIG dreams come true! I'm a little bit jealous of the Diva who won this notebook!
9. Romper Gift Card– Eva Jo Rompers sent us a gift card to give to one lucky gal! Have you seen how ADORABLE they are? Finding the perfect outfit is super easy when you have one fabulous piece to wear from head to toe. A few of our Divas were already fans and testified to all of us that not only do they look like a million bucks when wearing an Eva Jo romper, but they are soft and comfortable too! I basically want EVERYTHING from their site. This romper and this dress are my favorite!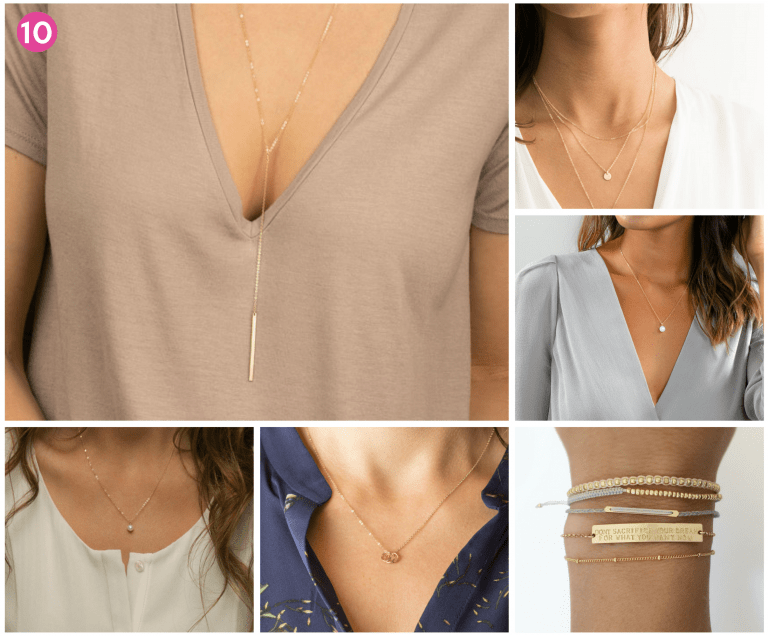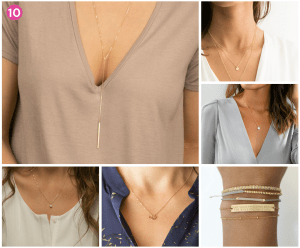 10. Six Breathtaking Pieces Of Jewelry– Layered and Long creates simply gorgeous pieces. We were lucky enough to get six of them for our raffle! The pearl drop necklace, delicate gold bracelet, dainty opal necklace, dainty ring necklace, minimal delicate necklace and this bar drop necklace are some of our favorites! We are in LOVE with her sweetly simple, sophisticated style! We have pretty much put all of their dainty layering necklaces on our Christmas gift wish lists this year (I hope our husbands are reading this!).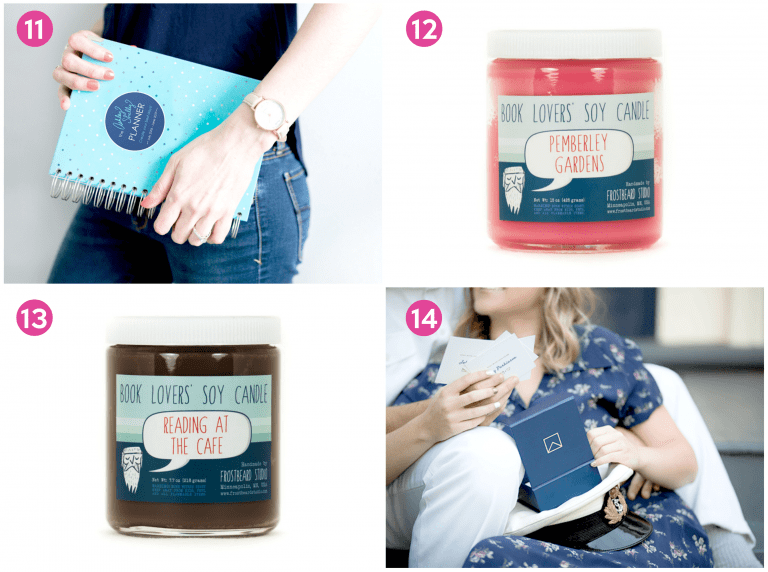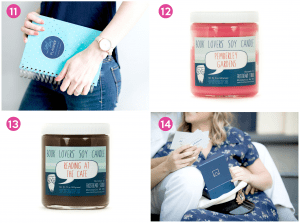 11. Planner– The Ashley Shelly Planner is designed to help you create your best days by planning on paper. Staying organized and inspired throughout the day makes such a huge difference in what you can accomplish. This planner setup is easy to use, beautiful to look at, and gives you a place to keep track of your most important tasks and daily schedule. 2017 planners will be available this fall!
12. Candle– "It is a truth universally acknowledged, that a single man in possession of a good fortune, must be in want of a wife." Everyone's favorite couple inspired this AH-MAZING Pemberley Gardens candle from FrostBeard Candles!
13. Candle– Cuddling up with your sweetheart and 'Reading at the Cafe' is one of my favorite relaxing dates! You can do it at home with this candle from FrostBeard Candles! PS The ladies couldn't stop smelling these candles at the retreat! Like seriously!
14. NoteCube– If you are looking for the perfect, thoughtful gift, LOOK NO FURTHER! NoteCube is an incredible company that helps you create the perfect meaningful gift! Gather up notes from loved ones and NoteCube will print off your notes, sweetly wrap them and send them to your loved one! This personalized gift is a Diva favorite, and we are so grateful they were a sponsor this year!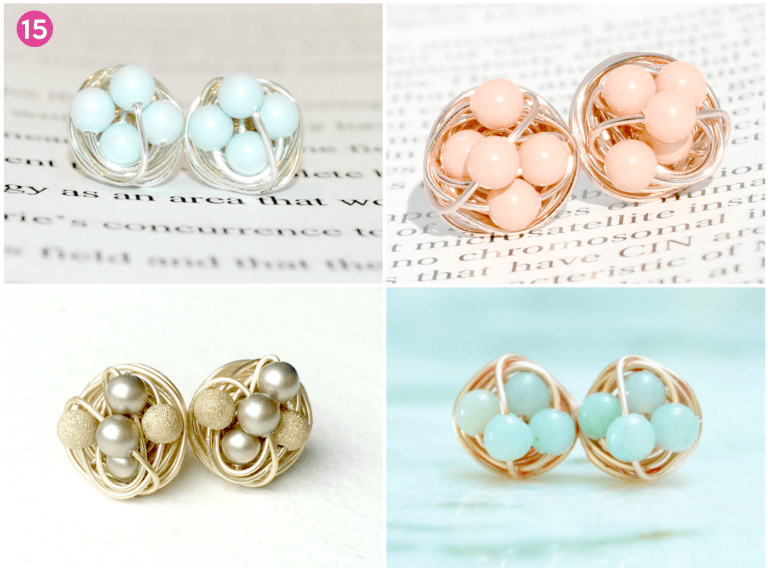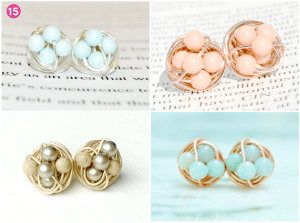 15. Earrings– Do you love giving handmade gifts? We sure do love receiving them! VDazzled donated five crystal stud earrings to our raffle! We just love all the colors and styles! There's petite and dainty, bright and fun, neutral colors, classic combos and refreshing styles!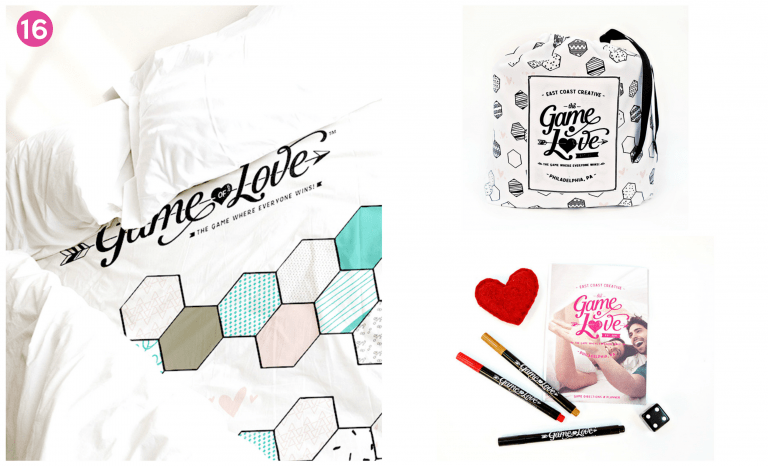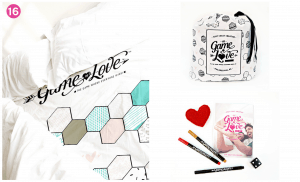 16. Five Game Of Loves– Game of Love is a well-known favorite around here! Game of Love Kits have everything you need to plan, prepare, and pull-off one of the best nights ever with their bedroom game board printed right on the sheets! You can create a custom game each time you play, and they have plenty of ideas for you to keep things… you know… spicy!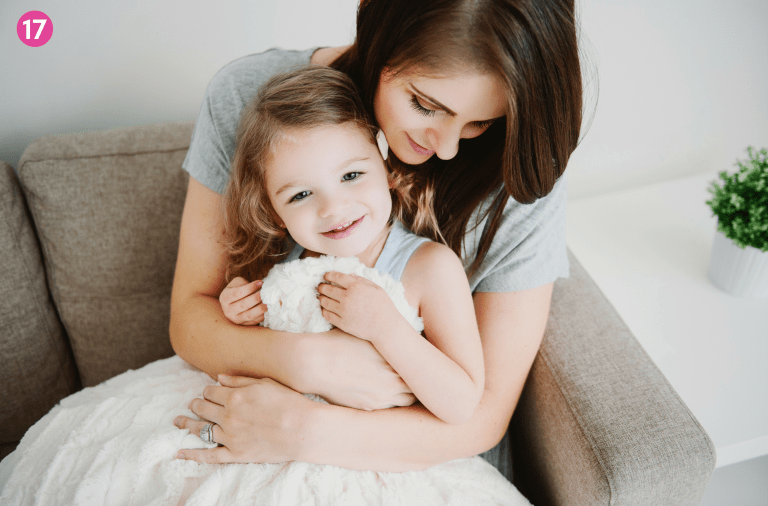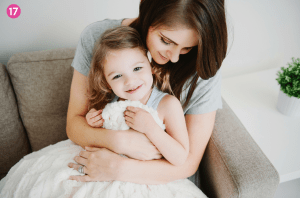 17. Luxury Blanket– Here it is again! Our favorite Saranoni Blanket! Not only was Saranoni our "Secret Thank You Sponsor" but they also donated one of their Luxury Blankets for a lucky Diva! This one is our favorite, but they have so many more! Which one is on your wish list?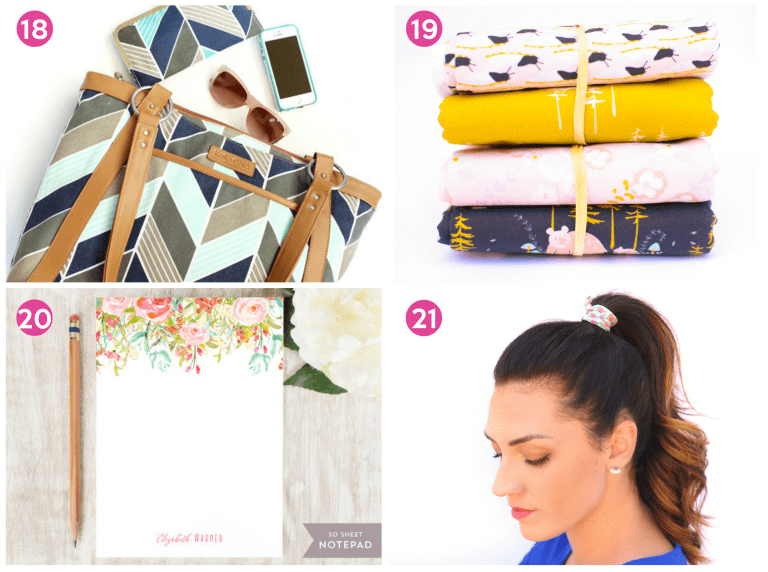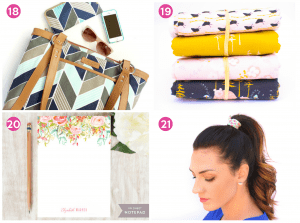 18. Camera Bag– Every Diva needs a camera bag! We love this Laptop/Camera bag combo from KailoChic! This bag is full of pockets and compartments to keep your bag uber organized. She has such fun and adorable styles in her shop!
19. Fabric Set– Spotted Pepper designed this adorable fabric! I mean, seriously?! How are some people SO TALENTED?! This Fabric Set was such a fun raffle prize! What would you do with this fun set?
20. Card/Notepad Set– CurioPress makes gorgeous, and I mean gorgeous custom stationery and accessories. This Card/Notepad Set was such a fun addition to our raffle! These pencils are pretty much the bomb dot com.
21. Prize Pack– A girl can't have too many hair ties right?! Or, am I the only one who loses them? They are probably off partying with all the lost socks. Flhair Accessories donated TWO prize packs for our raffle! They have some of the cutest accessories and hair ties! I love this Bachelorette Party pack!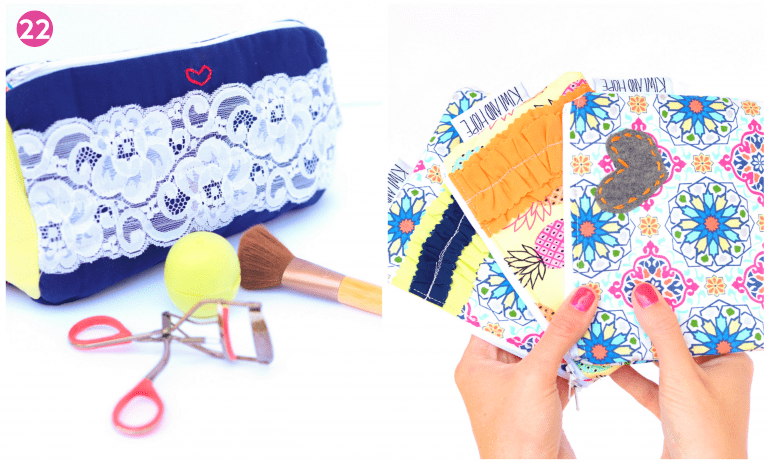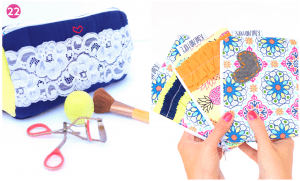 22. Zipper Pouches – Kiwi and Hope is a brand new handmade business that donated six adorable items to our raffle! They are perfect for makeup, organization, and all your favorite things! I mean, who couldn't use zipper pouches?!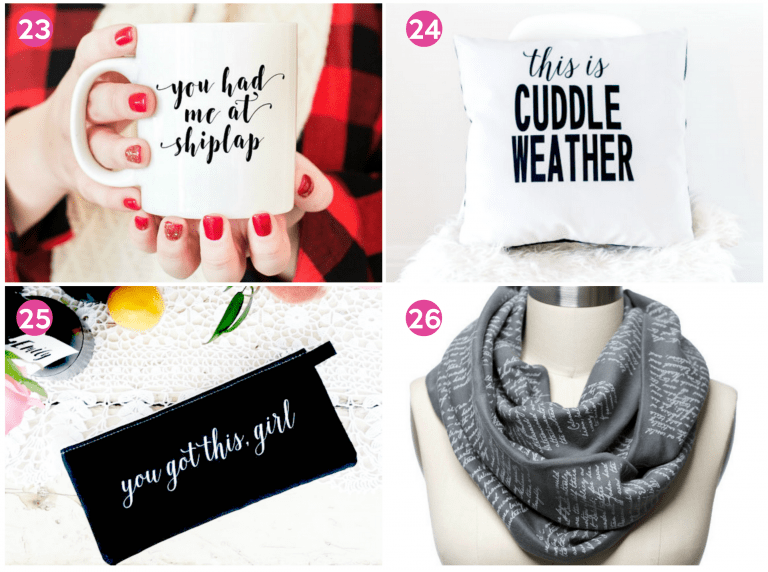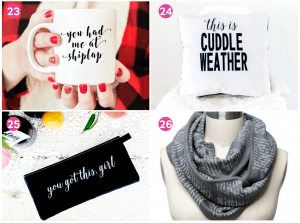 23. Shiplap Mug– Joanna Gaines is our spirit animal. So when we saw this Shiplap Mug from The Sweetest Digs, we knew we had to have it! I mean, you want one too now, right?!
24. Cuddly Pillow– Now that fall is upon us, #HelloPumpkinEverything, it's time to cuddle any chance you get! The Sweetest Digs Cuddle Weather Pillow is a new Diva favorite! Any excuse to get your cuddle on, right?! We can't help it, we love our hubbies!
25. Zipper Pouch– The Sweetest Digs also donated this "You Got This Girl Pouch". Totally Diva, right?! Who doesn't need some daily motivation?
26. Scarf–  Storiarts gave us this Sense & Sensibility Scarf for the raffle. I mean, seriously, who wouldn't want their favorite book printed on a scarf! This one is on my Christmas wishlist!
We just wanted to give a serious shout-out to our sponsors this year! We loved sharing our amazing weekend with some of our favorite gifts. Our retreat was one for the books, and we can't wait for next year! Which items on this list are on your wishlist? We'd love to hear as we plan future giveaways!
XOXO
Nichelle & Melissa
If you want to know more about our annual retreat, check out all the details of our 2016 Diva Retreat in sunny San Diego, California!