24 Sexy Conversation Starters for Couples to Use Tonight!
If you are looking for a way to reconnect after a long day at work, these conversation starters for couples are the perfect solution.  When we're tired, intimacy is often pushed to the back burner. Reignite the flame and get your spouse talking about all of the things that make your relationship sexy and fun! Today, we're sharing sexy pillow talk conversation starters that will get you both discussing and sharing the intimate aspects of your relationship in a flirty and comfortable way! Sexy conversation starters are the perfect way to bring back the passion while also connecting the two of you, making you feel closer. So toss the remote away, and use these pillow talk questions to really make the most of your night – Click the pink "download" button at the end of the post!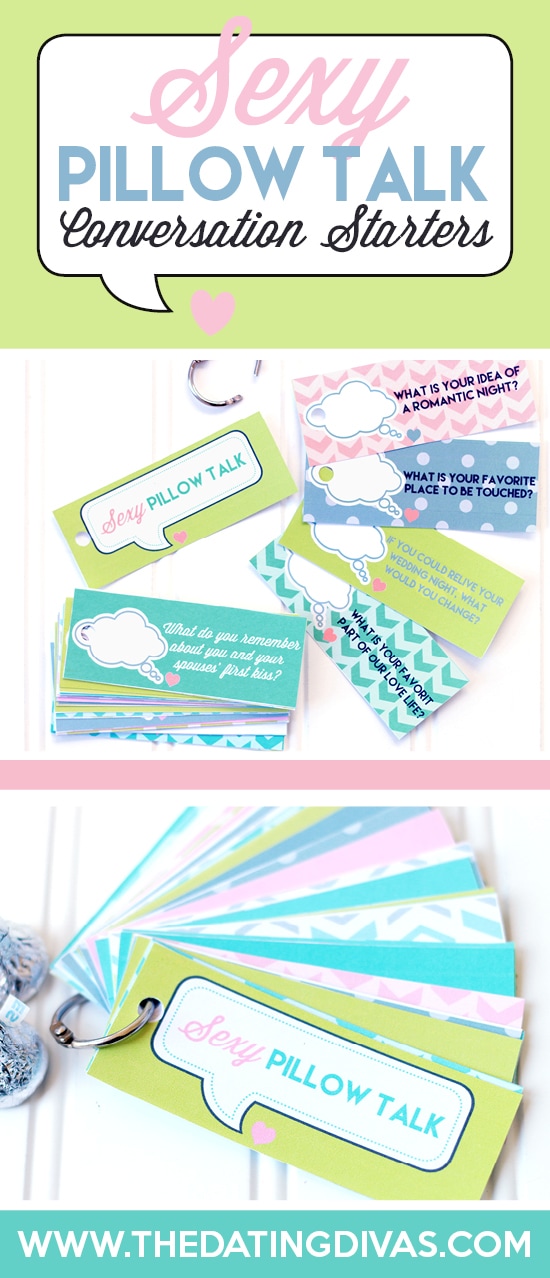 Pillow Talk Questions
Nighttime is the perfect time to reconnect with your spouse. The house is quiet and the kiddos are in bed. Put that phone down… (I'm talking to myself here) and engage your spouse in some seriously flirty conversation. Good pillow talk questions can make you both feel connected again. What do I ask? How do I start? Don't you worry! We've done all of the work for you. We've created these cute printable sexy pillow talk questions to help you get started. So just print out our free sexy conversation starters printables and you're on your way to your own sexy pillow talk date!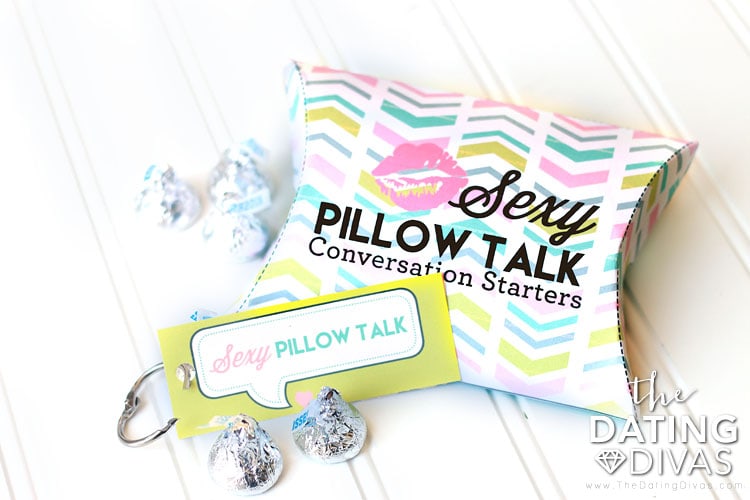 My kids are getting a little older and are starting to read things I have around the house. I don't mind them knowing I have a healthy and romantic relationship with "Daddy," but there are some questions that might make me blush if I knew that they were reading them. I thought a cute little pillowcase would be a great way to keep the questions together and private. It also works as a great gift for your spouse! Add some chocolate (who doesn't love that), and you're good to go!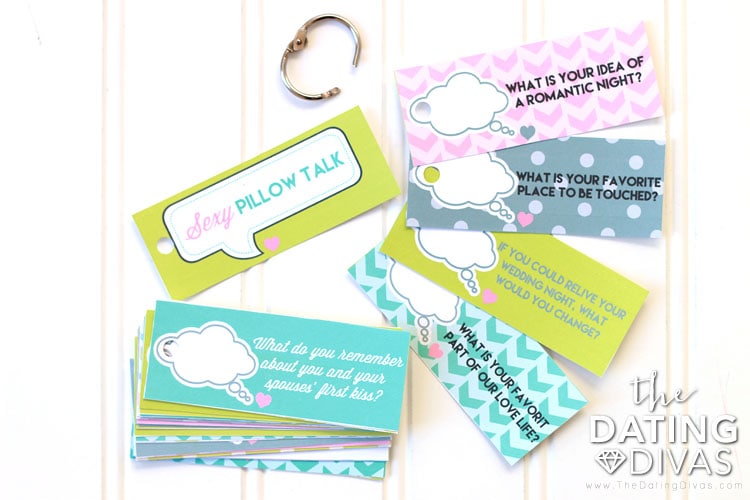 Put Together Your Sexy Pillow Talk Printables
The first step is, of course, to scroll down and download our free sexy conversation printables. Next, use a hole punch and a little metal ring to bind the questions together. Then, after you've assembled it, slide them into their pillowcase for safekeeping. Flip through the questions together until you've discussed them all, OR get distracted by other activities. You can finish the rest later…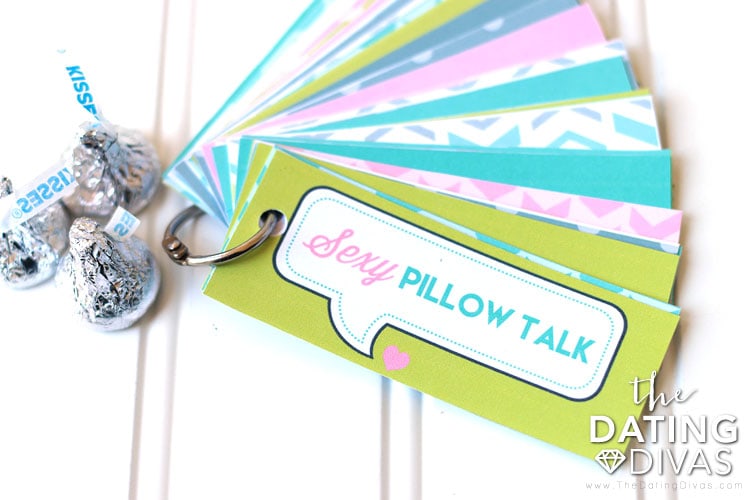 UPDATE: More Conversation Starters!
We've received such great feedback from you all about these sexy conversation starters! We also heard you loud and clear, you are wanting even MORE conversation starters for your marriage. Ones that really focus on the deep and important issues in marriage. So… we designed a whole NEW pack of Conversation Cards! These cards were designed to tackle the tough topics and really open up meaningful conversations.
Our NEW Conversation Starters Kit includes printables for creating your own unique carrying case for your cards, plus the 250 question prompts in the following 5 categories:
Intimacy,
Finances,
Quality Time,
Romance, and
Family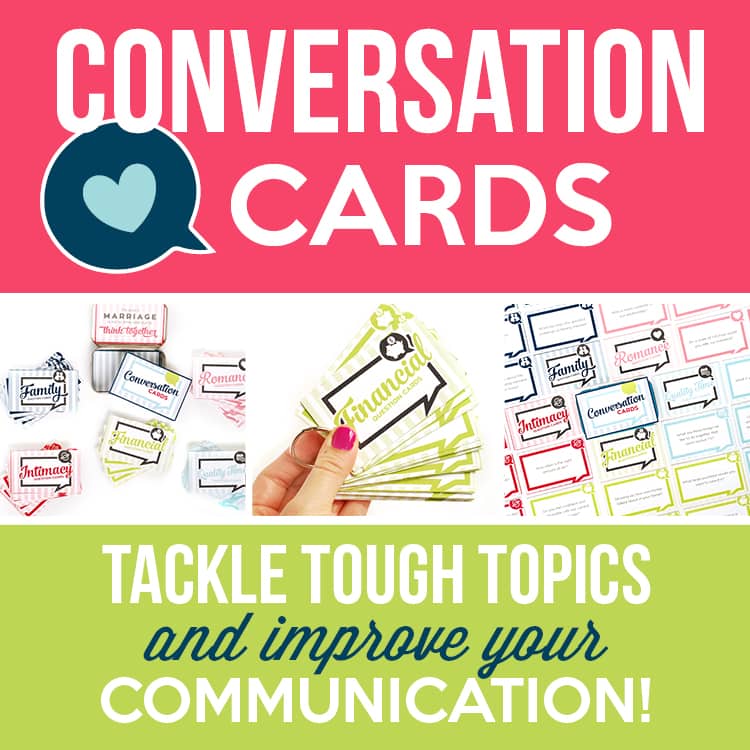 Check out all the deets and purchase our NEW pack. Then make sure and come back to download your FREE sexy conversation starters!
If you're looking to spice things up, even more, check out
Our Sexy Gift Guide
. They have tons of products to keep things exciting in the bedroom! We also can't get enough of
The Game of Love
– it is SO fun and a totally different game every time you play! Honestly, we could rave about it all day! One Diva bought it instead of an expensive dinner out for her last anniversary, and they've have been singing the praises ever since!
Sexy Pillow Talk Conversation Starters
Printables Designed by Cassia @ Cassia Leigh Designs Exclusively for The Dating Divas