Diva Retreat 2011: Park City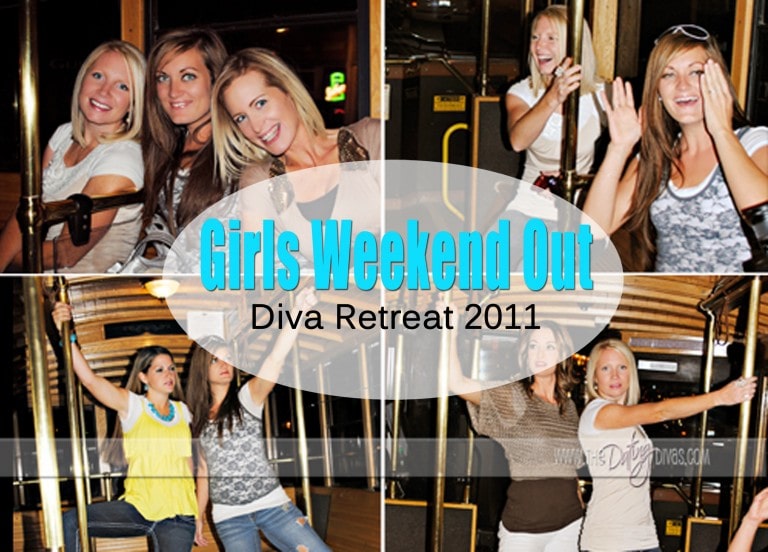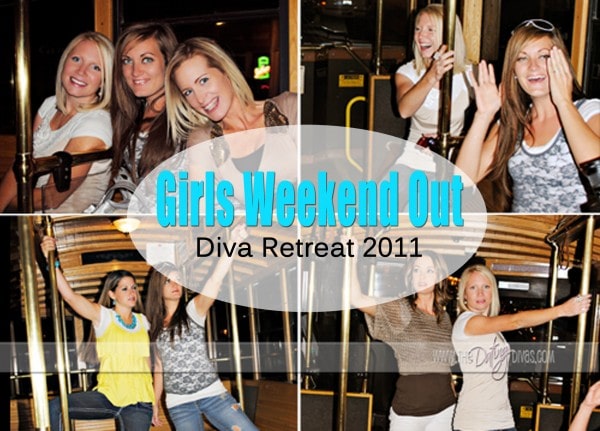 Disclaimer: This post contains affiliate links. To learn more about 'em, click here.
Can you say girls' night out?? Or better yet, how does a girls' weekend sound?! You heard me right! The Dating Divas stole an entire weekend just because! It's actually becoming a yearly tradition for us to get together just for da' fun-of-it. No work and ALL play! Though it seems to be a bit tricky to get all of The Divas together due to conflicting schedules, babies on the way, and just life in general. But for the Divas who were able, we had a blast!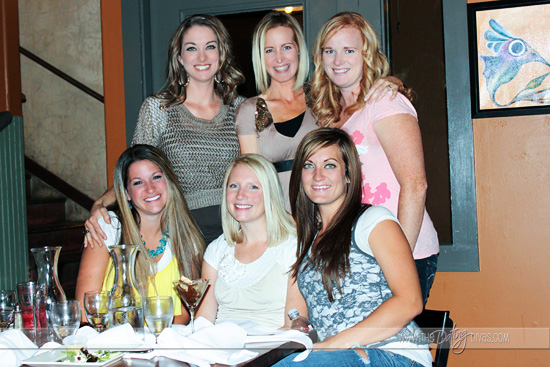 (Top row from left: Kiirst, Tara, Kari. Front row from left: Lisa, Wendy, Lisa.)
The first item of business was food, YUM! We made out like Bandits (thanks Kiirst and Groupon.com). Hungry as we were, it took a while to order because all we wanted to do was talk! Can you tell that Kari and I were just a wee–bit excited to see each other. . . so excited that the not-so-fancy silverware made us strike a pose!  Monkey see, monkey do!!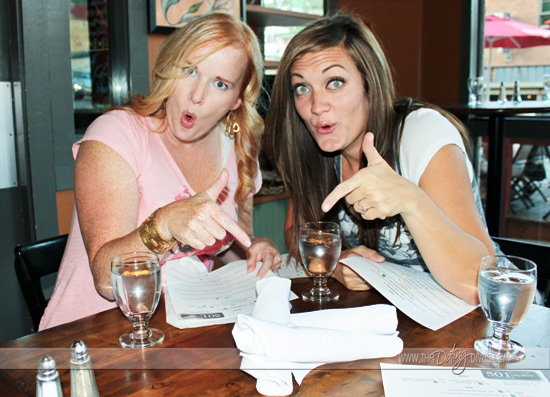 Can you guess what Wendy ordered???? She had Fish…. wrapped up in a leaf.
NOTE: She decided after some trial and error, that the leaf was NOT edible….bahahaha, too funny! I totally would have dug right in too, I mean, who wraps fish up?? Apparently we don't order seafood much.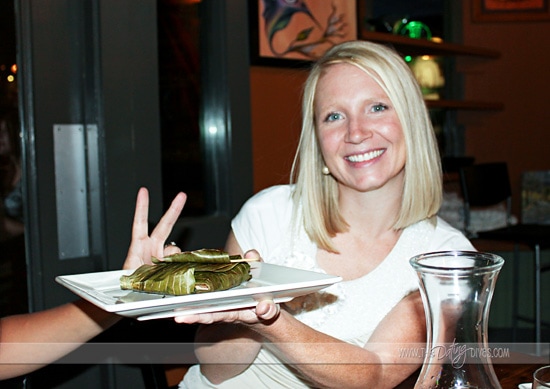 If you give a Diva one night out, she'll want one more. When you give her a whole weekend…. she'll take a ride on a trolley car and give the passengers a show!! Let's just say, what happens on a trolley car, stays on the trolley car! 😉 Trust me, you don't want to know! But I will tell you that, in my opinion, Kiirst totally rocked the show!!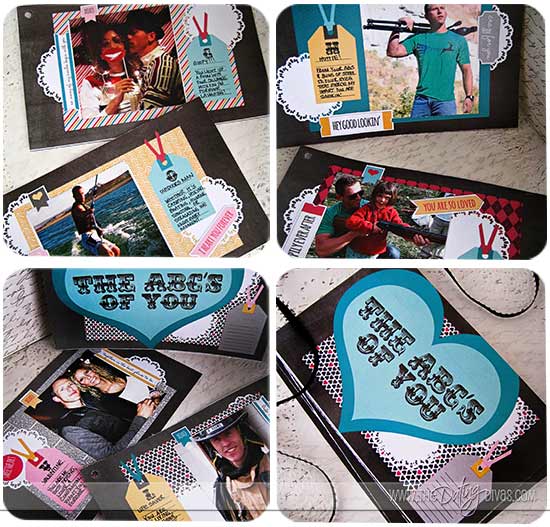 Wendy made sure that even the moose's lips were sealed!!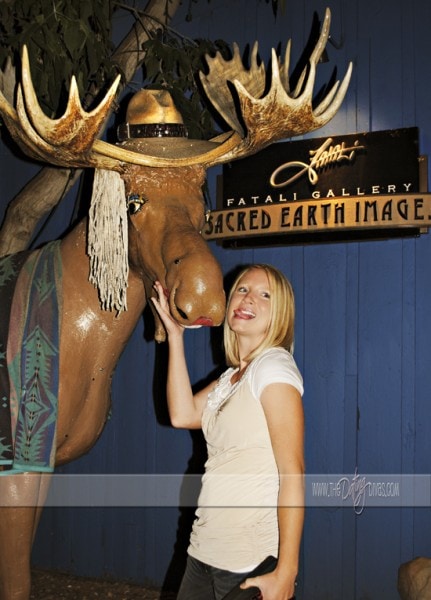 Oh wow, can you tell that it was getting late by all of our craziness?? And we weren't even close to sleeping yet! Had we bought our groceries for the weekend??? I think not!
TIP: When buying groceries past bedtime grab your friends, rock your shades, and use the ride-on-cart… it's a must!
Disclaimer: Um, not sure what the rule is on passengers….. but it worked for us!!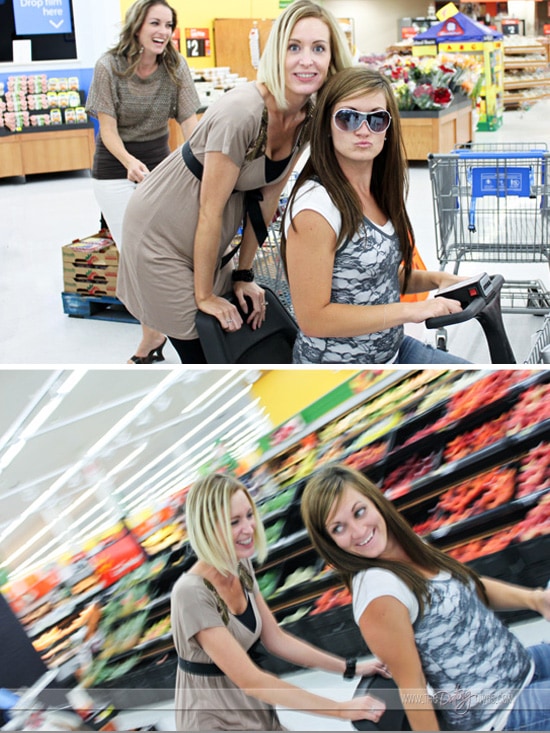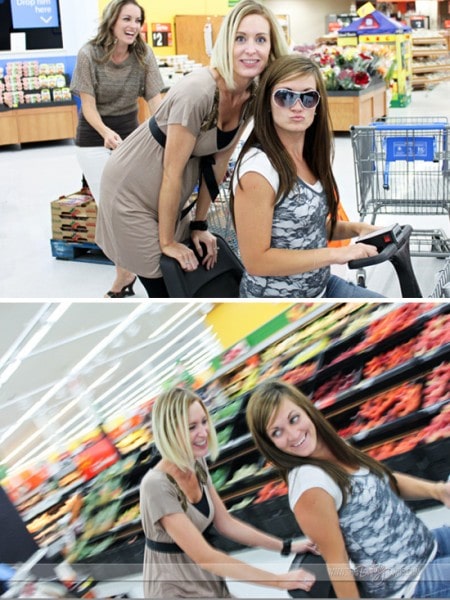 By the time we got all the groceries up to our room and put away, our jammies were calling our names! Never mind the fact that it was waaaay past bedtime at that point. That's just what happens when The Divas get together. Let the fun continue!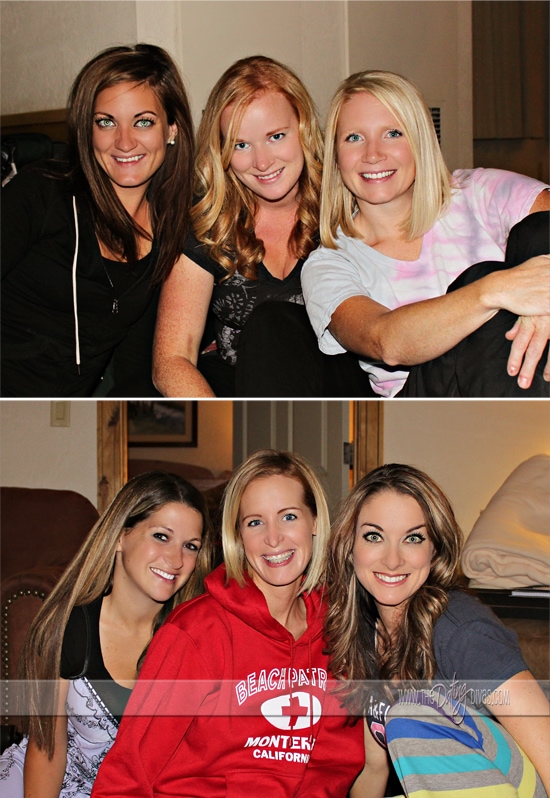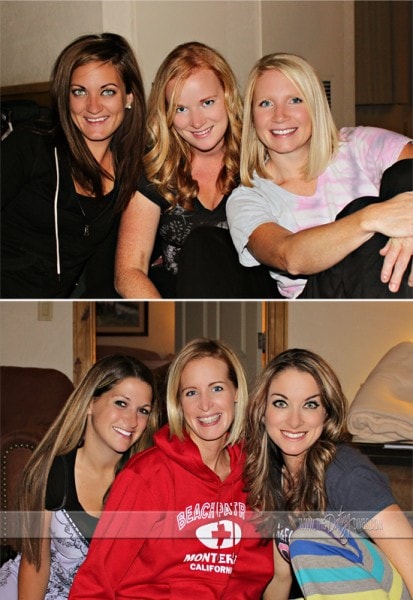 Oh. my. heck…. Lisa brought the funniest game to play! It's rightly called… Funny Bones!  I loved this game so much, I've already played it 5+ times since! I'm going to go ahead and let the pictures do the talking….pretty sure they speak for themselves.
Hum along with me: "Elbow bone connected to the ear bone. . . .Head bone connected to the shoulder bone. . . (and now for my personal favorite). . . Thumb bone connected to the nose bone. . . . ."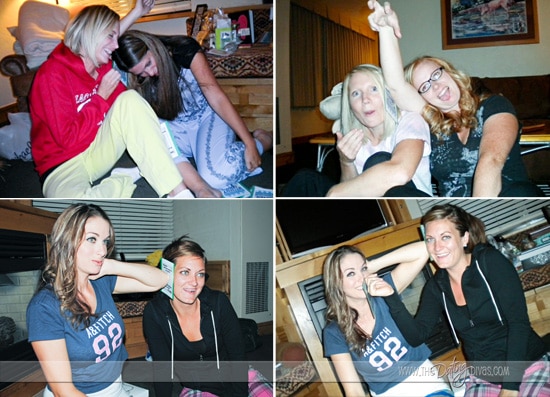 During the game, my phone starting ringing (it was past midnight mind you)! It happened to be my hubby calling to say goodnight……or so I thought. But instead of being greeted by him, the phone went dead…as if he hung up?!?!? What the heck?? Naturally, I waited for him to call back… and he did! Again, the same thing happened…. *click*, he was gone.  After a few more calls I was quite confused and a bit worried! Was he bum-dialing me? Was it my new phone acting weird? I wasn't about to wait for another hang-up, so I called him back. To my SHOCK, he answered….. and sounded dead asleep (He. was. out. of. it). So I had decided that he somehow had his phone in bed and was accidentally calling me. Sure, it didn't make a whole lot of sense, but that was the best conclusion I could come up with. . . .I mean it was weird! But then it occurred to me, "Could this be a prank?" Did The Divas put Dom up to this? Was he in on it? Maybe! But I couldn't know for sure.
Last year I pulled a pretty good prank on the other Divas by setting the alarm clocks to BUZZ in the wee-hours of the morning. So it totally made sense that every time my phone rang, it could be them getting me back, right?!  But THEN…. I decided to hop in the shower and couldn't get the shower head to work. Was that the prank?! How did another diva magically get the shower to work right after me? "They totally rigged the shower,"  I thought. But boy was I wrong…..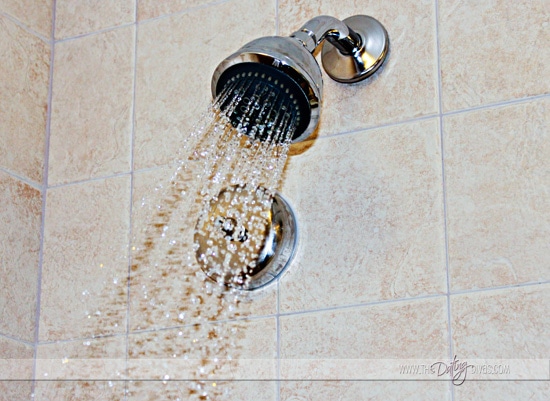 The next day we spent our day doing what most girls love to do. . .SHOP! While checking out the shops, my husband seemed to be calling and hanging up again! Seriously, AHH!! It was soo annoying!! Just when I was ready to turn my phone off, Tara called me and hung up, too! By that time I started to justify it. I did just get a new phone…. and it hadn't been working quite right since I got it. That was it…. *light bulb*…. that's why I kept getting possessed calls!!! Because of this dumb, new phone! I had figured it out…Problem solved! I was sooo getting a new phone as soon as I returned home.
In the meantime, the other Divas and I decided to show the hot tub what we're made of, but not before stopping a couple of friendly employees to snap this shot!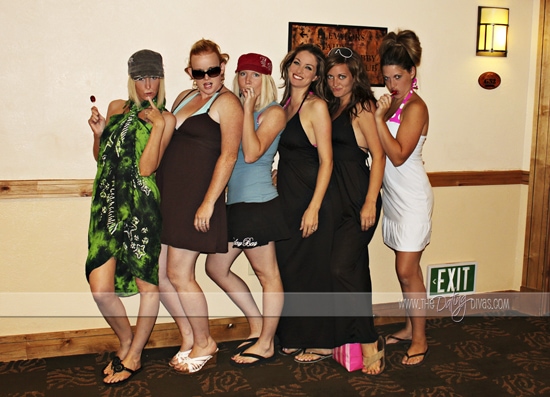 After we got back from the pool it was time to give our hair a makeover! I brought up some deep conditioners and put everyone to work! And can I just say that our beautiful Lisa has hair from a horse's mane! That girl is blessed with so much hair that Kiirst and I took turns getting her hair finished! Yay, for healthy hair though, it was so totally worth it!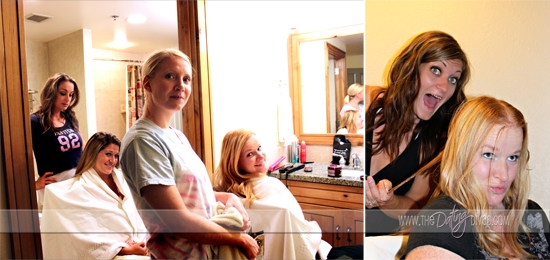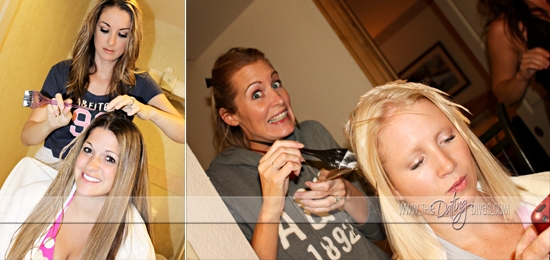 The next day we packed up and headed home. Wendy and I carpooled so we chit-chatted on the way home. Out of the blue she confessed, "Lis, it was us." I was so confused…. what was she talking about? "The phone calls!!"  It clicked…Ah-ha! I totally guessed that early on. Of course it was them!! Turns out, there is an App out there that allows you to make prank calls to your friends from other numbers! All I can say is:
"Watch-out Diva's, you have it coming to you next year!! bahahaha!"