The Perfect, Romantic DIY Gift for Him
If you are looking for a romantic DIY gift or just an amazing way to document your love story, look no further!  Our printable love journal is the perfect DIY anniversary or birthday gift for your husband.  This amazing printable pack includes journaling prompts, gorgeous one-of-a-kind graphics, and spaces to include treasured photos.
We collaborated with one of our all-time favorite designers, Erin of Strawberry Mommycakes, to develop a modern love journal that your husband will love.  The I Love Us book features 48-pages of beautifully coordinated designs and writing prompts.  All you need to do is print and add your unique story!  Documenting the what and why of your relationship has never been easier!
Watch This Quick Video of What's Included
in this DIY Love Book:
Introductory How-To Guide
Front, Back, & Spine Covers (2 Options Included!)
Dedication Page
Love Story Prompts
5 Love Quote Designs
6 Framed Photo Pages
Photo Embellishments & Caption Tags
BONUS Section: Quote Designs as Printable Art
All this for $12.97!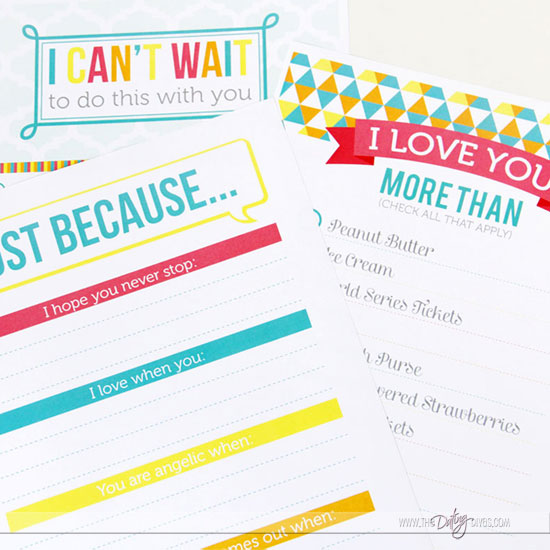 I absolutely love the bright colors and design elements included with this printable bundle!
How to Create this DIY Love Journal for Him:
Recording your story doesn't have to be tedious or time-consuming.  And, you don't need to have a background in scrapbooking or graphic design to pull everything together.  Nope!  With our printable I Love Us book, it's all done for you!  We've taken all the guesswork out of crafting a unique keepsake celebrating your relationship.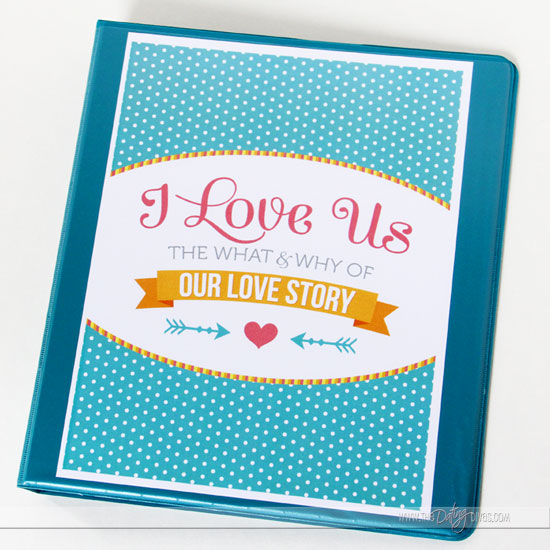 To get started, you will need pens, scissors, glue, a 1-inch binder, and several cute photos of you and your sweetie. If you want to keep your pages beautifully preserved for years to come, you might consider placing them in page protectors.  Erin included not just 1 gorgeous cover, back, and spine designs, but 2!  You get to take your pick.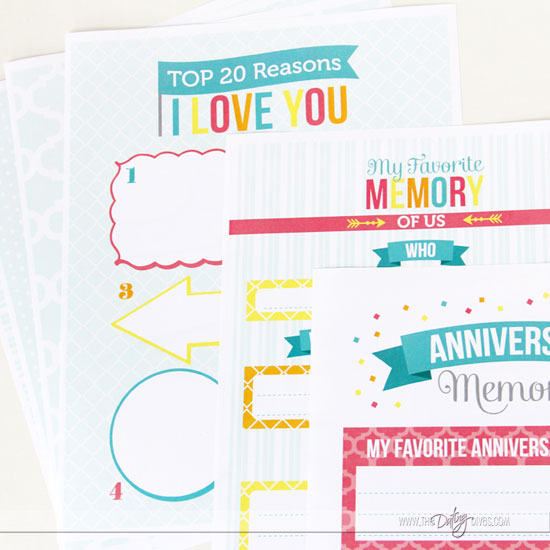 After you've placed your pages in the binder, it's time to start journaling!  Our DIY love book takes the stress out of trying to come up with the perfect thing to say.  Forget writer's block!  Our pages of journaling prompts will help guide you as you record the meaningful moments, feelings, and memories of your marriage.  You will be documenting:
How You Met
The What, When, Where, Who of a Special Event
Favorite New Years and Anniversary Memories
20 Things You Love About Him
Favorite Activities
Just Because Trivia
And… so much more!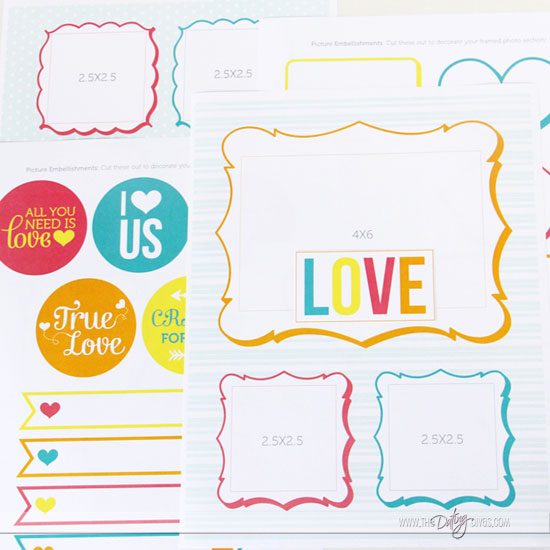 Once your journaling is complete, continue to personalize your DIY love book with treasured photos from your relationship.  Erin created several pages of photo designs in unique sizes and layouts.  The pairing of photos and your unique voice, as heard through the journaling prompts, will truly bring this DIY gift to life!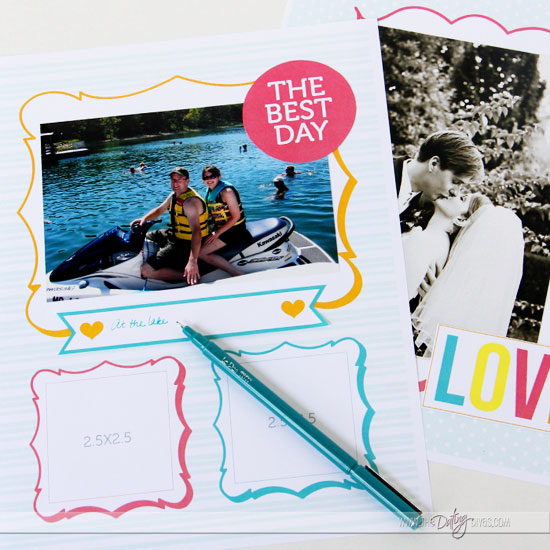 The last step is adding photo embellishments to the pages.  The ribbon banners serve as perfect caption placeholders to remind your spouse of shared times together.  Don't you love the cute arrows and LOVE graphics?!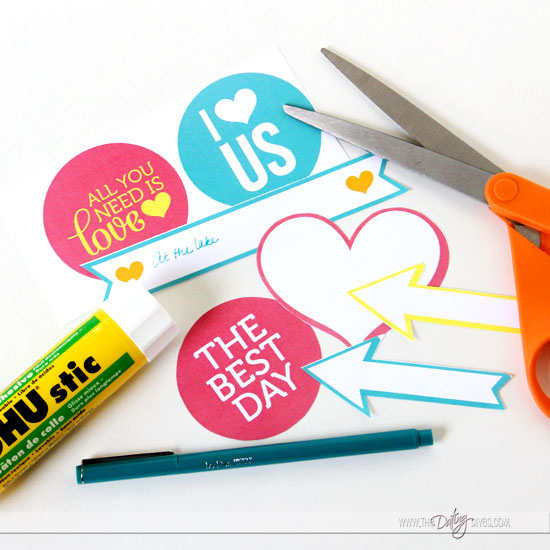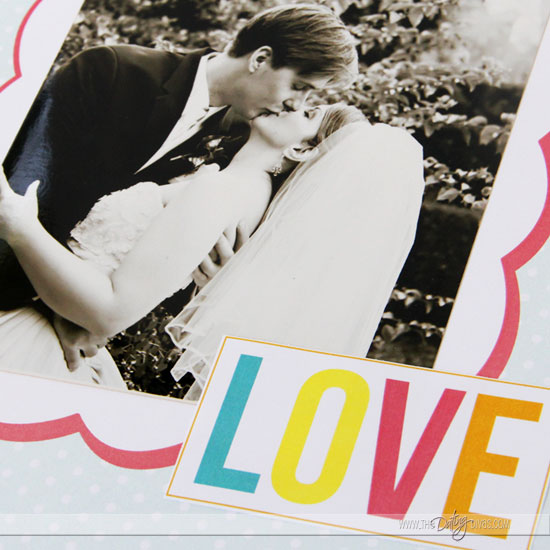 We bet your hubby will love this walk down memory lane!  He will be amazed at all the care and effort that you took to create a one-of-a-kind gift for him.
SPECIAL BONUS DETAILS!
Throughout the love journal, Erin included 5 gorgeous love quote designs.  These beautiful images are one of my FAVORITE parts- they are such inspiring visual reminders of the power of love.  Erin was kind enough to translate these quotes into art prints as a SPECIAL BONUS for our readers!  Yep, that's right- we've included a special section of 8×10 and 5×7 prints featuring all 5 of the gorgeous quotes captured in the book!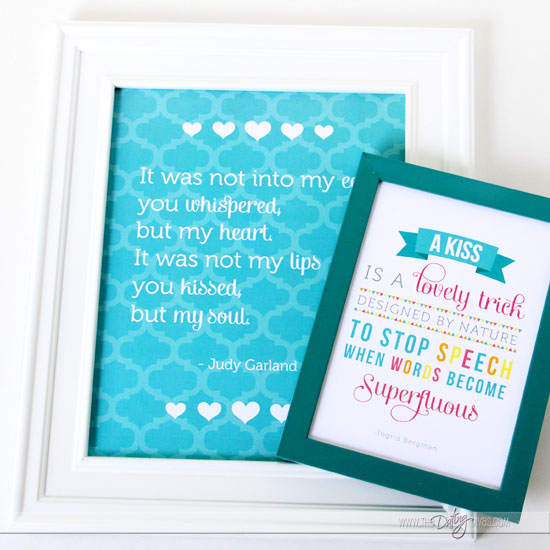 Simply print out your favorite graphics and place in a frame for instant home decor!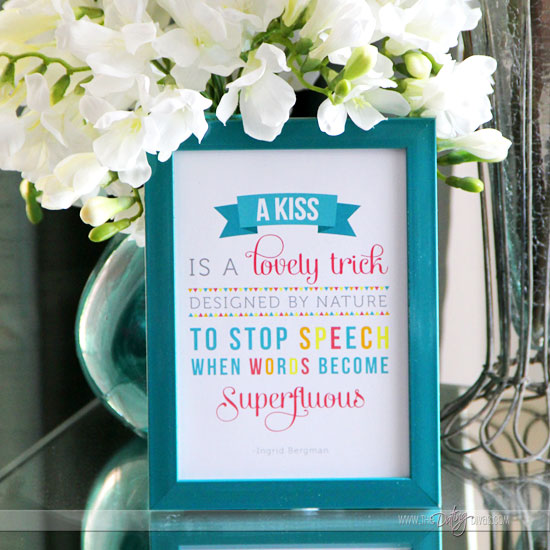 These art prints are amazing!
Get this entire Printable Bundle & Bonus for just $12.97!

The I Love Us book is the perfect, personalized romantic gift for him!  Consider your search for the most amazing anniversary or birthday gift for your husband OVER when you purchase this special love journal.  Can you imagine the look on his face as he reads through this DIY book?
If you loved this project, be sure to check out our unique printable baby album for parents-to-be!  Just like the I Love Us book, this printable journal features beautiful graphic design elements, as well as guided writing prompts.  All the work is done for you with both of these instant downloads!
Start documenting your love story today!