Printable Love Coupons for Him
These DIY Love Coupons for him or her are a great gift idea for any significant other and for any occasion – because we all know that buying gifts for a spouse or boyfriend can be one of the hardest tasks out there!
With 24 different love coupon options, you can customize the perfect set of love coupons that your spouse or boyfriend is sure to love! We've included a variety of love coupons for either of you to enjoy. A love book coupon is a quick and easy gift idea that is always a hit. We have love coupons for him, for her, for anyone you love! You could use these as Valentine's Day coupons, or they would also make a great anniversary gift. We have a whole slew of coupon book ideas for making your own couples coupon book. So let's see how easy it is to create your very own DIY Love coupons gift!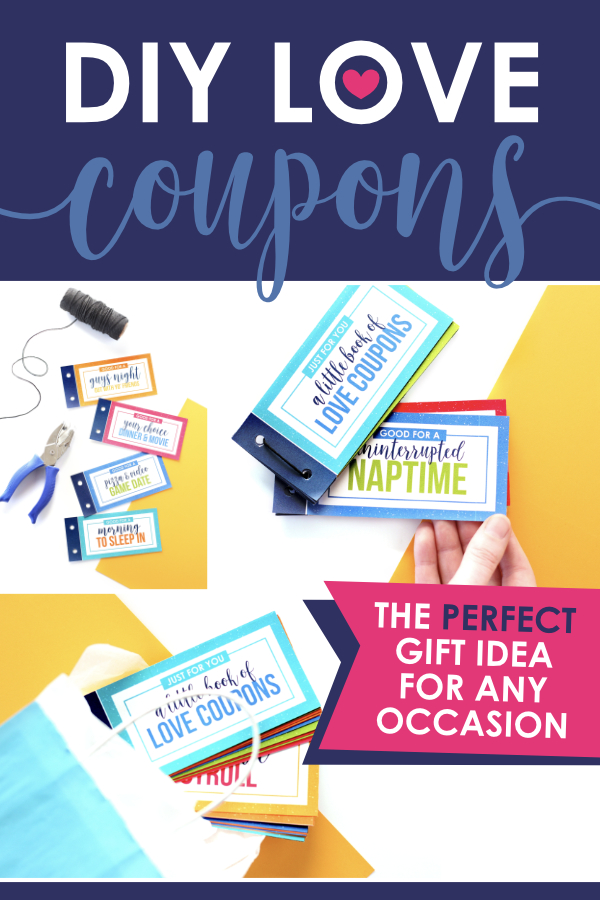 Disclaimer: This post contains affiliate links. To learn more about 'em, click here.
DIY Gift Ideas
Together with Carisa at Messes to Memories we created these gorgeous love coupons. I wanted these to pair perfectly with gift cards or tickets or other small gifts to create the best gift for my sweetheart. They are a perfect size so that they don't take up too much space, but are also big enough that you won't lose them. If you gift this coupon book for a boyfriend or husband it will become a prized possession. Trust me, anyone would be excited to receive one of these couple coupons.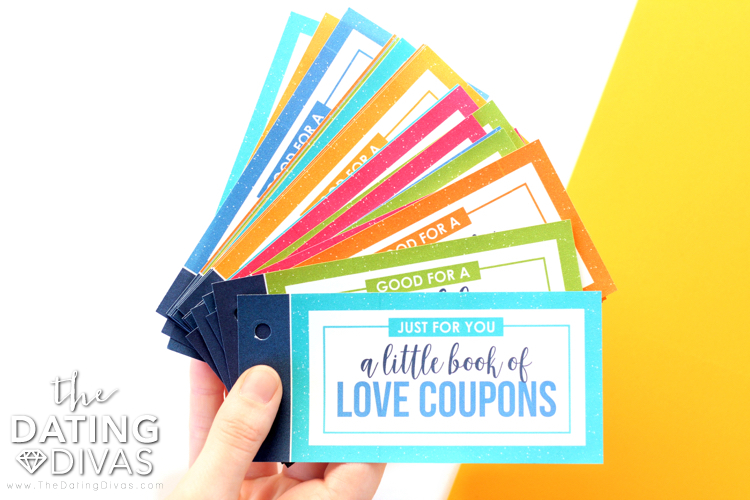 When choosing a gift for my spouse I always try to give my spouse something that is first and foremost personal and secondly something he can enjoy for several days – not just on his special day! These beautifully designed DIY love coupons are the perfect combination of these two elements! Love coupons for him can also become love coupons for her if you are a husband searching for a creative and meaningful gift idea. Seriously, even just one love book coupon will make her swoon and feel totally loved.
We have so many coupon book ideas, so keep scrolling and get ready to create your spouse's future favorite gift! Creating a coupon book for a boyfriend or husband doesn't have to be hard anymore. Using our printables and inspiration, you can be on your way to creating your own couples coupons right away! I see a super cute DIY coupon book in your future.
What You Need for Your DIY Love Coupons
Like we mentioned before, this DIY coupon book is almost too easy to make! You just need a few items. This is such a creative and meaningful gift. Certainly, the best part is you get to give a creative gift full of great couples coupons, but you have to use no brainpower and no money! Now that is a major win. So if you're stumped as to what to get your sweetheart for a holiday, make these as birthday, anniversary, or Valentine's Day coupons. Truly, if you're in a pinch DIY coupon book to the rescue!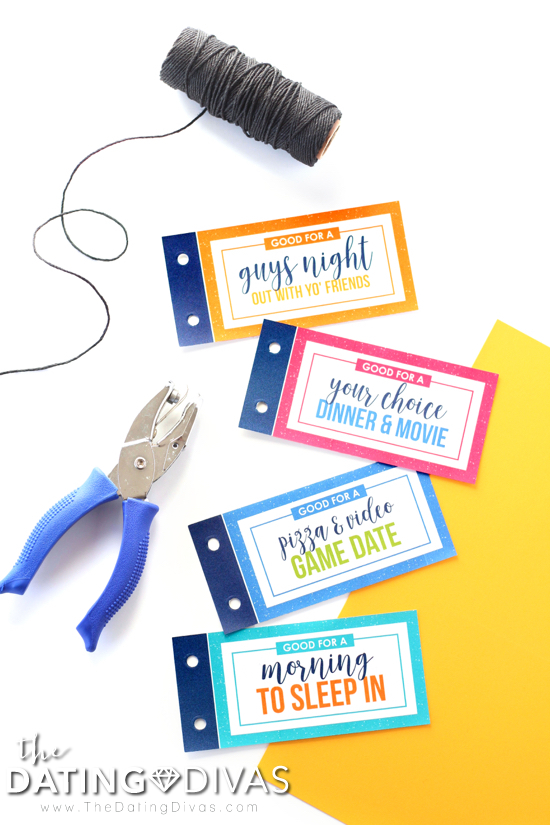 For your own love coupon book, you will need:
Make Your Love Coupon Book
Making your own customized, DIY love coupons book is simple. Now, let's get started making love coupons for him! First, pick out which love coupons you want to use. There are 6 different bright colored coupon book ideas and you can print and make as many as you want! So in that way, it's customizable. Choose the couple coupons your spouse would love and discard the rest. Or use each one and every love book coupon–the choice is yours! If you're using these as anniversary or Valentine's Day coupons count out however many love coupons for him you're willing to fulfill.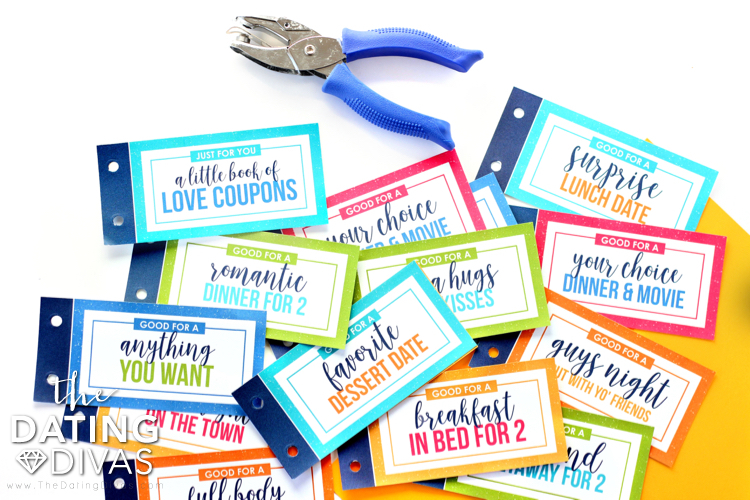 Then, use a hole punch to add two holes on the left-hand side of each love book coupon. Just make sure that each of the holes is in the same location for each of the coupon book ideas. Finally, simply attach some twine and tie it off your couples coupon book however you like!
Which of the 24 different surprises in the couples coupon book will YOUR sweetie drool over? If you can't decide, it's perfectly acceptable to just do them all! Or your could always save some of the ideas as future, special occasion, anniversary or Valentine's Day coupons to gift your sweetheart.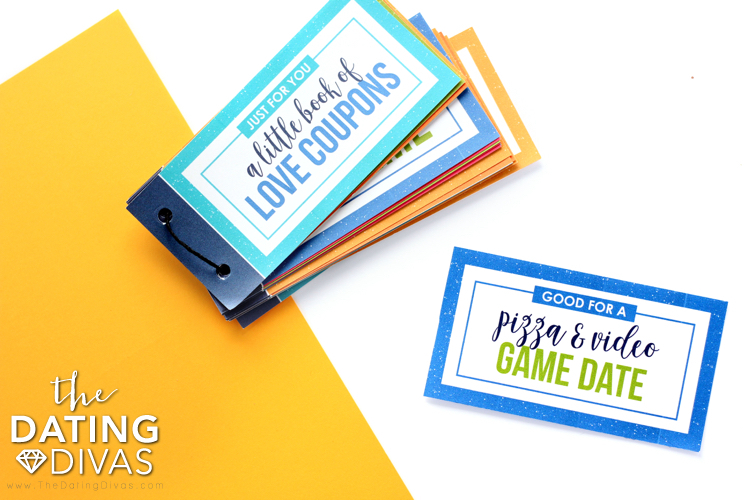 Finally, the best part of any love coupon book is that you can add small items to go along with individual coupons. More than just a coupon for a movie, add the gift card to the local theatre OR the actual tickets to the show they have been excited to see! Your boyfriend (or spouse) will LOVE it! Certainly that will take this DIY coupon book to the next level.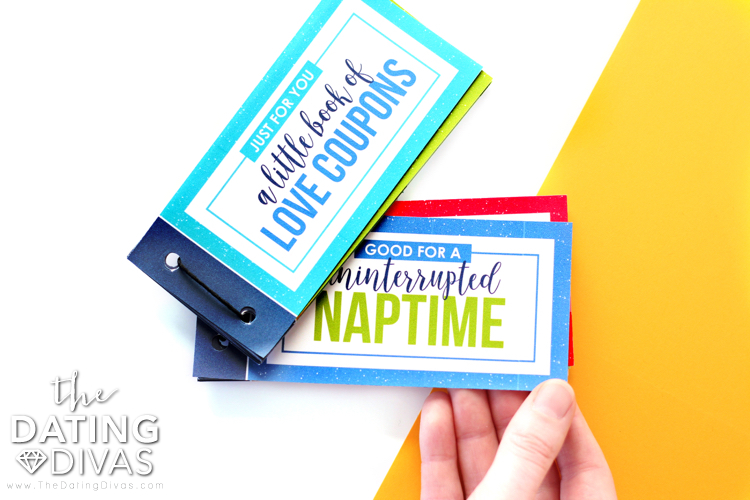 Love Coupons Gift Idea
There are so many options for what you can gift with this DIY Love Coupon book. From practical to playful! Once you have chosen your coupons and accompanying gifts, you can slide them into a gift bag and you're good to go! This gift is PERFECT for so many occasions -Valentine's day, birthday, or anniversary gift ideas. And something like this never gets old!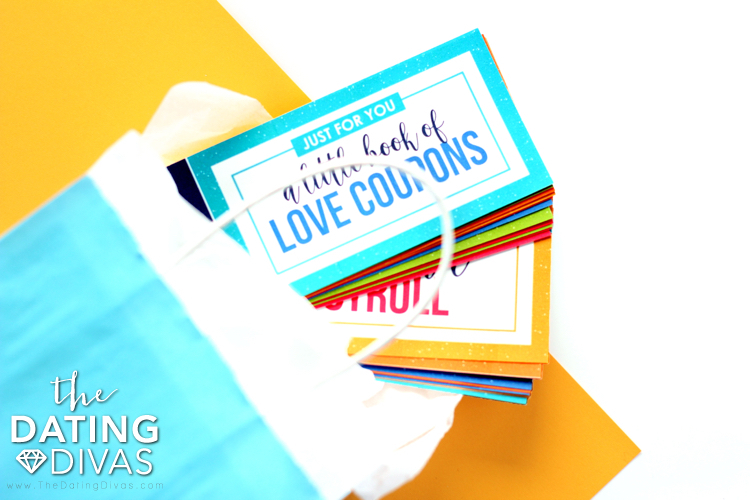 Ta-da! You have your very own, customized love coupon book – a PERFECT gift for any spouse, boyfriend or loved one! They are going to LOVE this! I am so excited for my hubby to flip through all these love coupons and see what surprises await him!
Quick and Easy Gift Ideas
Grab your coupons below and create the perfect love coupon gift! This gift is thoughtful, meaningful, and creative. Basically it's perfect and there is no reason to look any further. But if you are completely out of time, you can always grab a pre-made book here!
For more fun gift ideas check out our Spicy Book of Love idea or our 5 Senses Gift Basket!
DIY Love Coupon
Printables Designed By Carisa @ Messes to Memories Exclusively For The Dating Divas