Double Feature Movie Date Night

This post contains affiliate links. To learn more about 'em, click here.
Lights, Camera, ACTION!  
Who's ready for a MOVIE PARTY!?
The good ol' at-home-movie-night is probably one of the most popular date ideas out there.  And for a good reason!  Who doesn't love to turn out the lights, cuddle up close to their honey, and munch on some yummy snacks?
Well, today we're excited to share some FUN ideas and FREE printables to make your at-home movie night extra special!
First off, I need to give a HUGE shout-out to the lovely Erin of Strawberry Mommycakes.  She is the talented lady who designed this whole printable set just for YOU, our readers!  And they are fabulous!  If you use them, make sure to stop by and give Erin a quick thank you.
Ok, are you DYING to see all of your free goodies?!  I thought so…
YOUR FREE DOWNLOAD INCLUDES:
1.  "Admit Two" Ticket
Just fill in the date, time, and location to invite your sweetie to your movie date night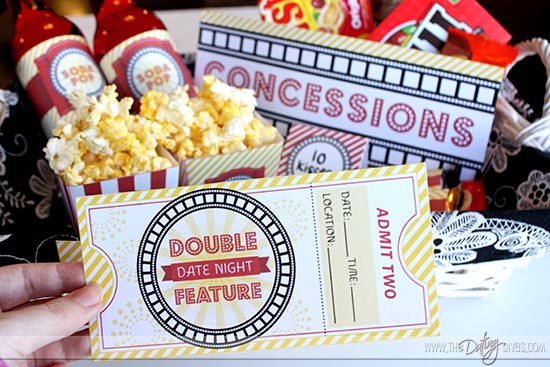 2.  Double Feature "HIS CHOICE" and "HER CHOICE" Sign
That's right- you each get to pick a movie for your double feature.  And neither one of you gets to veto the choice of the other.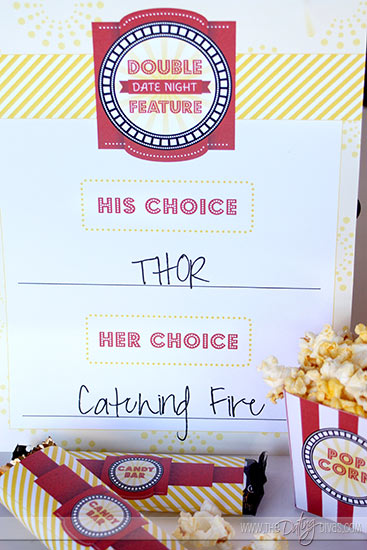 3.  "Concessions" Sign
After all, what's a movie night without some yummy snacks?!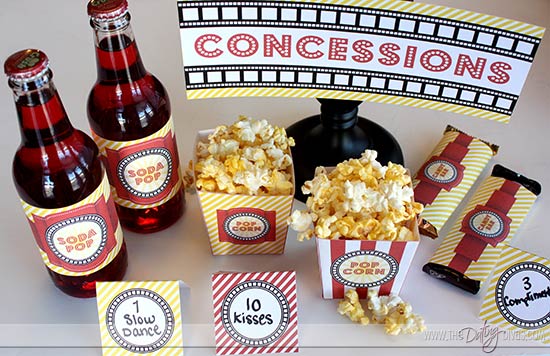 4.  "Soda Pop" Labels
Grab your two favorite drinks from the store and stick these labels on them.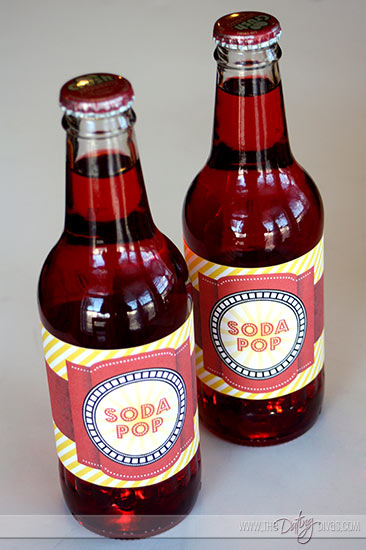 5.  Printable Popcorn Boxes
These cute little boxes are super easy to put together.  Just cut, fold, and glue then fill with some microwave popcorn.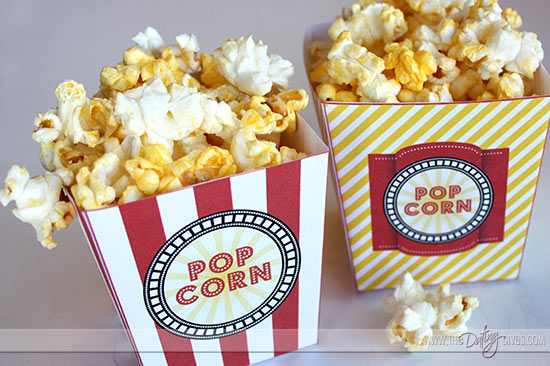 6.  Candybar Wrappers
Grab a couple of your favorite candy bars and wrap these cute labels around them.  (Note: these labels are for the small, standard size candy bars.)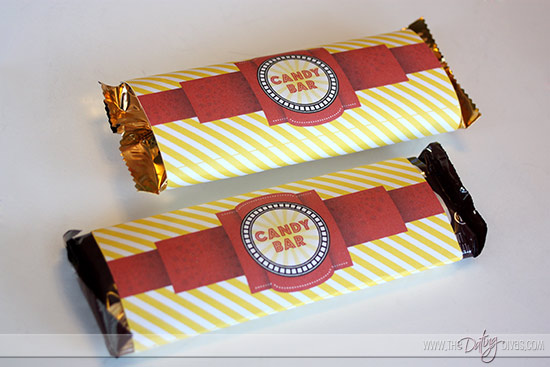 7.  Concession Price Tags
Yep, your honey is going to have to earn his snacks!  Instead of money- he'll be paying in affection.  You can be as creative as you want with your prices.  Make him give you 10 kisses, a slow dance, or…. something a little steamier.  *wink*wink*  It's totally up to you.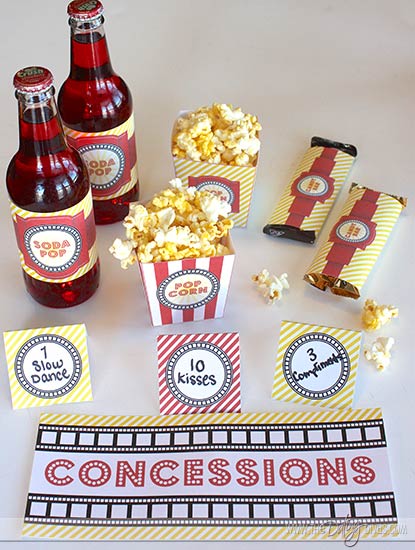 See?  Everything you could need for your own little movie party for two!
Not only is this a FUN date night, but it would also make a FABULOUS gift…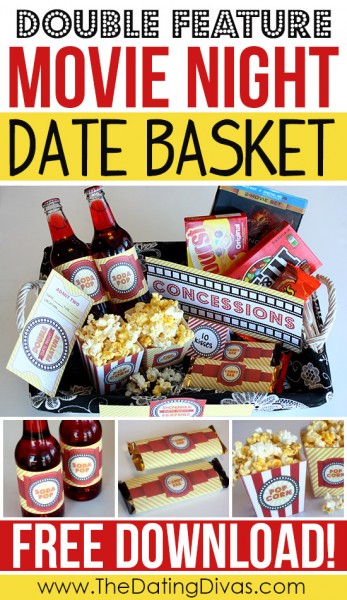 Just stick everything into a basket and voila- you have one KILLER anniversary, bridal shower, Valentines, Christmas, or birthday present!