A Fun Easter Egg Hunt Game For All Ages

 
Tired of the same old, traditional Easter egg hunt? Want to try something new to add a little more spark to the Easter game? We have put our brains together to come up with a super fun (and FREE!) Easter Egg hunt with fun new twists that every age will enjoy! Whether you are prepping for a traditional family Easter egg hunt, a neighborhood gathering, or even want to plan a fun group date night with your favorite couples, this Easter egg hunt game will add so much more pizazz to your Easter activity!

Disclaimer: This post contains affiliate links. To learn more about 'em, click here.
Racing around the backyard in search of colorful eggs has been a tradition for a LONG time. Now, it is time to add a little more fun to this classic Easter game! We have some fun printables designed by the talented Carisa from Messes to Memories that you can add to your next Easter egg hunt for some extra fun!
 Easter Egg Hunt Invitation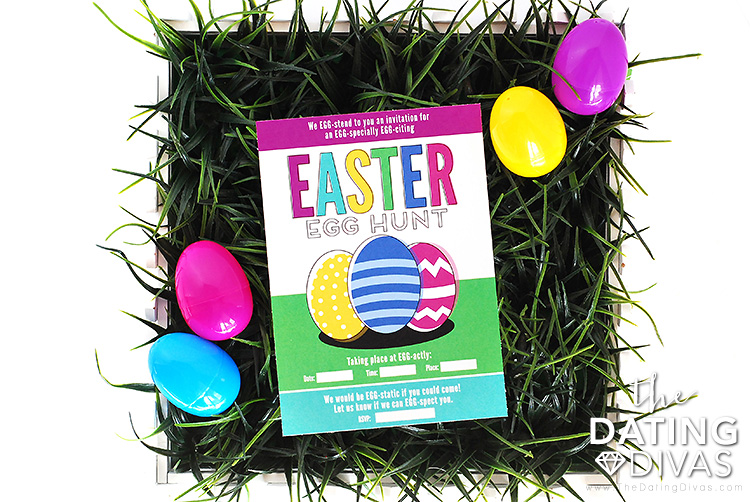 We have two options for inviting your guests to your Easter egg hunt! We have a paper invite that you can pass out to your guests or we have even created a digital invite (link down below) that you can download and then send out to your guests via email or text message. So easy . . . and cute!
Easter Egg Hunt Game – With a Twist!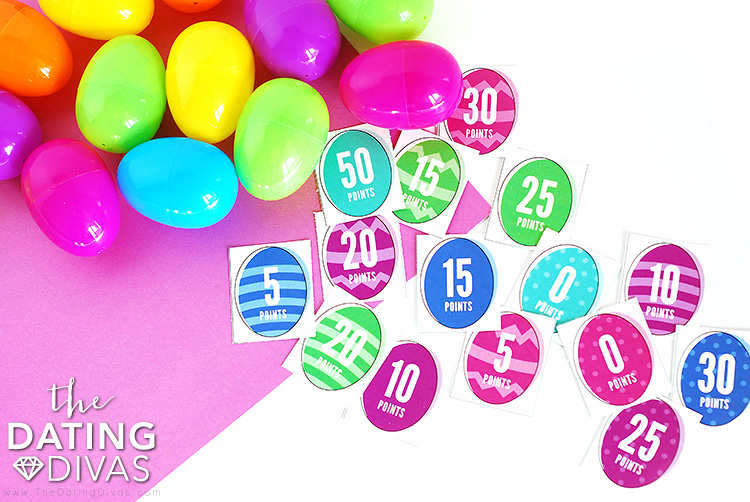 Now for the fun, new twist! When preparing your Easter eggs, just add these printable point cards to the plastic Easter eggs. Not only will your guests have fun searching for the eggs (like the traditional Easter egg hunt), but they also get to have a little competitive fun with trying to earn the most amount of points. This might require a little more luck than skill, but the idea is that after all the eggs are found, the seekers can open their eggs, count up their points and have a chance to win the grand prize (see below!).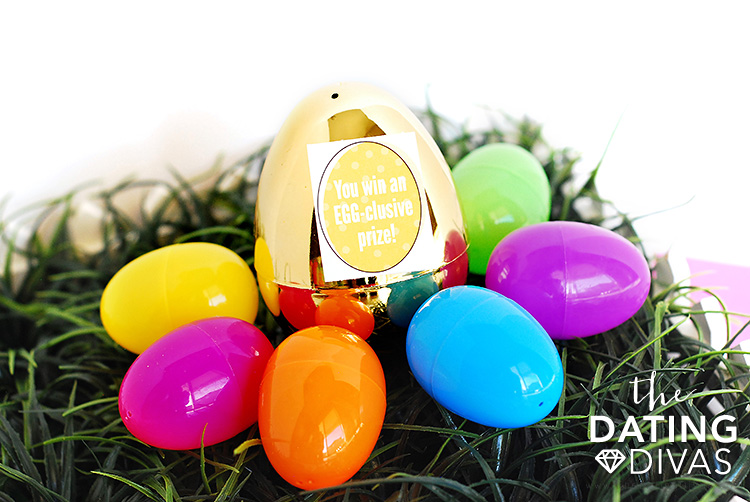 But wait! There is more! To make your hunt even MORE EGG-citing, we have another twist: The Golden Egg! These golden eggs have extra point earning abilities! These eggs contain printable instructions letting them know what unique way they can improve their score. For example, the golden egg might let the person know that they can steal an egg from another person or that they can exchange their lowest point egg with someone else's highest point egg. Get the idea? You definitely want to get one of these! We even included blank ones so that you can personalize them with the types of prizes and twists your guests will love!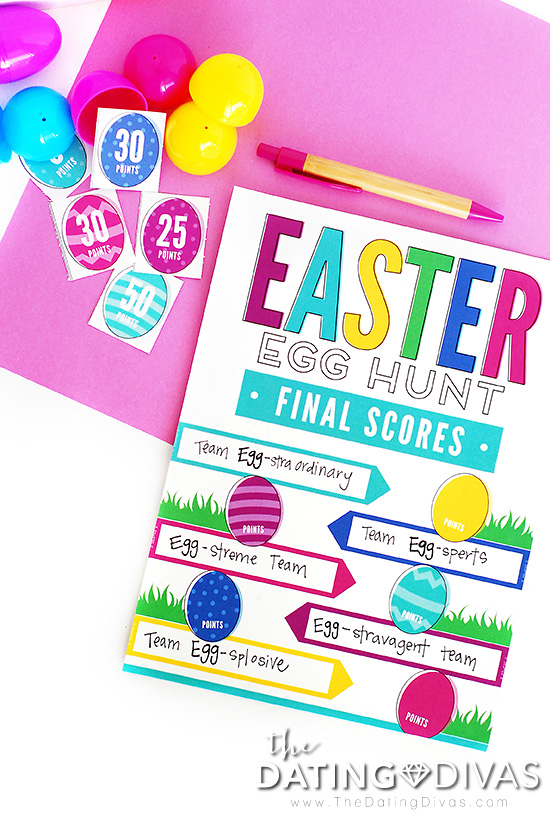 And to keep track of all of those points earned, we have a fun printable scorecard to determine the final winners of your Easter egg hunt game!
Easter Egg Hunt Game Ideas:
When it comes to doing your Easter egg hunt, there are still a few more ways you can play to make your Easter game even more unique. Here are a few ideas that you could incorporate in addition to the printable points and the golden egg ideas that we provided:
Relay – It could be fun to play in teams! Just like a relay – send one member of your team out to retrieve an egg. When they find an egg, they race back to their teammates and then the next person heads out. This adds a fun team aspect!
Moonlight Egg Hunt – Do your Easter egg hunt at night! You can add glow sticks to the eggs or provide flashlights for the seekers! This provides an extra challenge.
Change Up The Location – Instead of doing an Easter egg hunt in your yard, take it indoors or to a park. There are limitless options for locations to change things up a bit!
Limit the Amount of Eggs . . . or Don't – In my house, we always had a limit on how many eggs we could get during our hunt, but if you add the points to the eggs – it might be best to just let everyone get as many eggs as they can get. The more eggs = a greater chance to earn more points. It is up to you!
The Grand Prize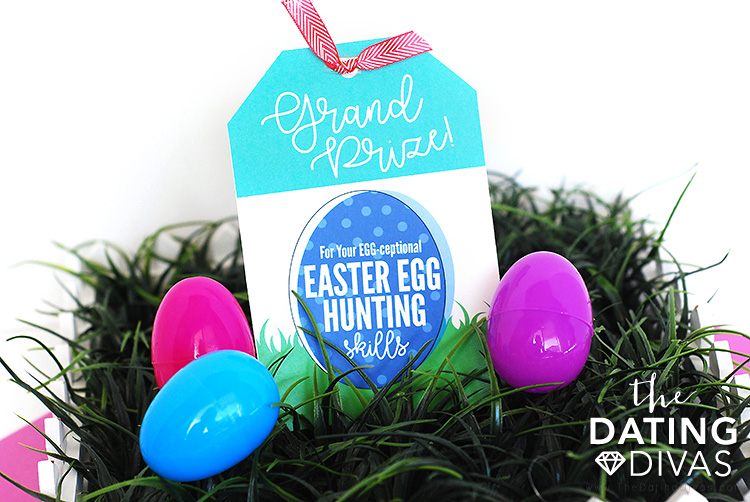 So, what do you win? The unique twist to this Easter egg hunt game is that the person (or team) with the most amount of points at the end wins! Well, wins what? Something fabulous, of course!
Your grand prize will depend greatly on who your guests are. Whatever the prize though, it would be fun to fill an Easter basket full of the special prizes and top it off with our printable gift tag. The better the prize – the greater the stakes! Here are a few ideas (depending on your guests):
For a group date night: movie passes or a gift card for a fun date night out.
For a hunt with kiddos: a fun toy, a huge chocolate bunny or special Easter treats (is anyone else OBSESSED with these Tootsie Roll Eggs?)!
For family: Maybe some coupons good for chores done on their behalf or extra special privileges!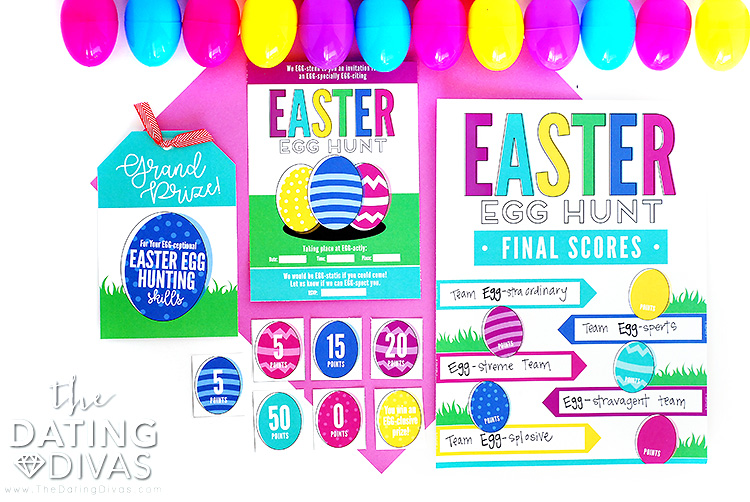 Fun, right? Such a simple change can add so much more fun to your Easter egg hunt. It won't take much more time on your part, and will be so much fun! We have made it so easy for you! You can get all of these colorful and unique Easter egg hunt printables just by clicking the link below!
Happy Easter!
SaveSaveSaveSaveSaveSave
SaveSaveSaveSave
SaveSave
SaveSave
SaveSave
SaveSave
SaveSave
SaveSave
Easter Egg Hunt
Printables Designed by Carisa @ Messes to Memories Exclusively for The Dating Divas
Easter Egg Hunt Digital Invitation
Printables Designed by Carisa @ Messes to Memories Exclusively for The Dating Divas