Unique strip card Games
Playing strip card games is a great way to ease any tension around sex, but not all of us are poker fans. It's me. Ha! I feel like I have to re-learn the rules every time we play and let me tell ya, that's not a turn-on. So we decided to create a different type of sexy strip tease fun.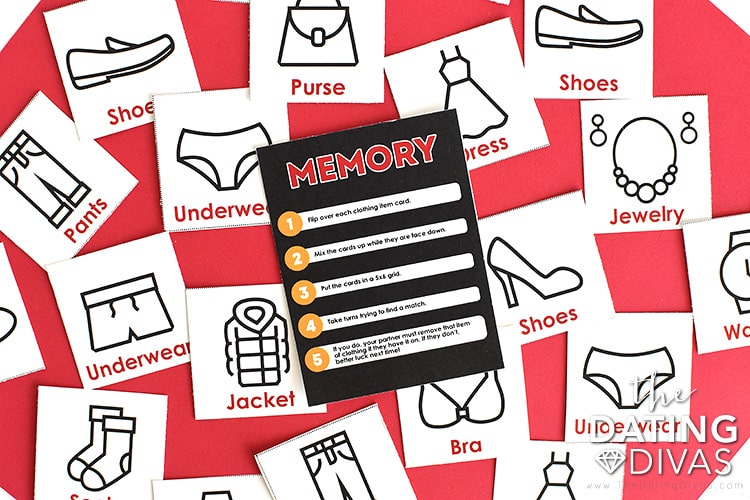 Memory Strip Card Games and Ideas
Memory is exactly what you're thinking: The classic picture-matching game! But these strip card games couldn't be the same as our childhood favorites.
First, cut out all the cards. The ones that have images on them will be turned upside down, so you can't see the picture. After you make your grid, take turns trying to find a match.
Here's where we get spicy. If you find a match, your partner must remove that item of clothing. And if your partner finds the match? You're up, and your clothing item comes off!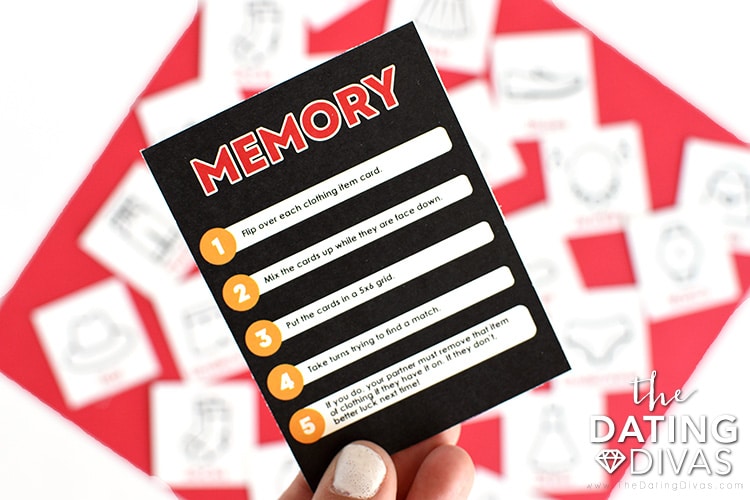 You and your partner might not be wearing each clothing item you uncover, and if you don't have it on, you don't lose a thing. Have fun!
Sexy Striptease: BLANK SLATE
This card game has the option to use the same clothing cards as Memory—we love the chance to reuse the same prep! Here's how it works:
First, you both need a piece of paper and something to write with.
Cut out the cards that have blanks on them, and lay them in a pile face down. (Try your hardest not to read the word cards because it will make it more fun for you if it's a surprise, too!)
Ok. Now that you're prepped, flip over one of the cards and write down how you would finish the phrase. You might be adding a word before or after the given word. The _____ shows you where.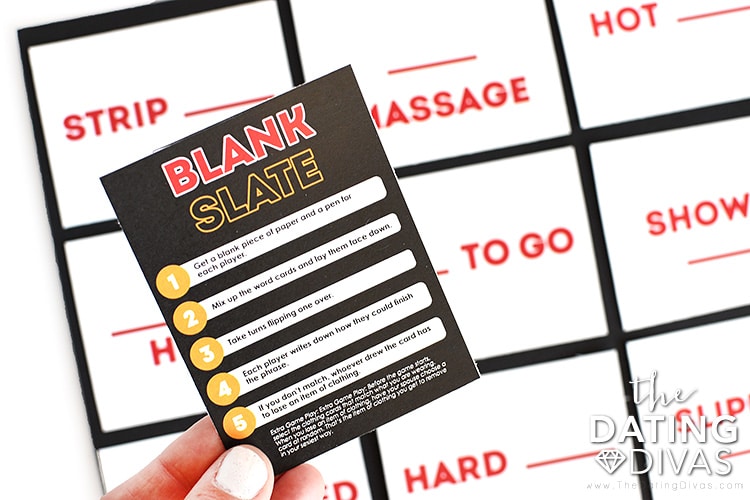 You are trying to match your spouse's thinking. And if you don't? Whoever drew the card has to lose an item of clothing.
Now here's where this striptease gets sassy. If you want to use the clothing cards from memory, you can choose each card that represents the clothes you're wearing. So I might grab the shirt, bra, underwear, skirt, and shoe cards. Now when I have to remove an item of clothing, I let my husband randomly choose which one.
Just One: Themed Sexy Card Game
Just one word is all you get and all you give for this strip card games play. Each card has 5 different words on it that you will try to get your spouse to choose, but you can only give them a one-word clue.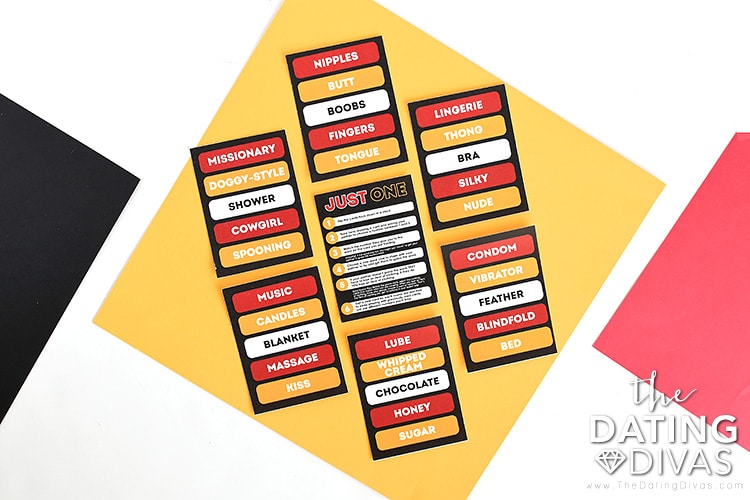 Have your spouse choose a number between 1–5 and then count down on your card to figure out what word they have to guess.
For example, if the word was hot, you might say "stove" to get your partner to guess this round's word. Except we would never do anything that tame, especially if we want it to lead to a strip dance and then some! So, each of the words has something to do with sex or romance. And if your partner doesn't guess the word, they lose an item of clothing. If they do? You're stripping it down. You can use the same Memory cards to randomly determine which item of clothing you are taking off in your sexiest way.
Oh, and because each card has 5 words, you can play each card multiple times, so you get the most out of the strip card games.
We hope you love these fun and unique strip card games because a well-timed sexy strip tease can be oh-so-good! If you're looking for more bedroom card games, you are going to need the Deck of Desire sexy card game. Or if you are wondering how to up your sexy striptease or strip dance, we have just the post. Learn how to do a striptease with some pointers and a playlist! Have fun and enjoy!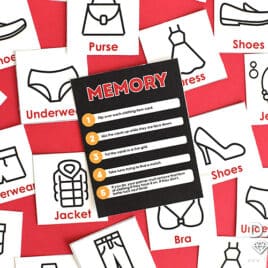 Strip Card Games
Printables Designed by Elizabeth Exclusively for The Dating Divas