Fun Family Movie Night
Lights, Camera, Action! Are you a mom, dad, or kid who LOVES movies, snacks, and spending time with the fam? Well, this is the perfect idea for you! We know how important it is that you spend time with your loved ones, but it can be tricky finding something to do that EVERYONE enjoys. That's where this family time idea comes in! Not only is it super simple to prep and assemble, but it's something that everyone will enjoy. Ready to start the reel and make the movie night magic happen? Dim the lights and let's go!

Disclaimer: This post contains affiliate links. To learn more about 'em, click here.
We could not have made this adult and kids movie night idea a reality without the amazing design skills of Carisa from Messes to Memories! She put the perfect touch on all of our printables and we couldn't be more grateful!
Family Movie Night Invitation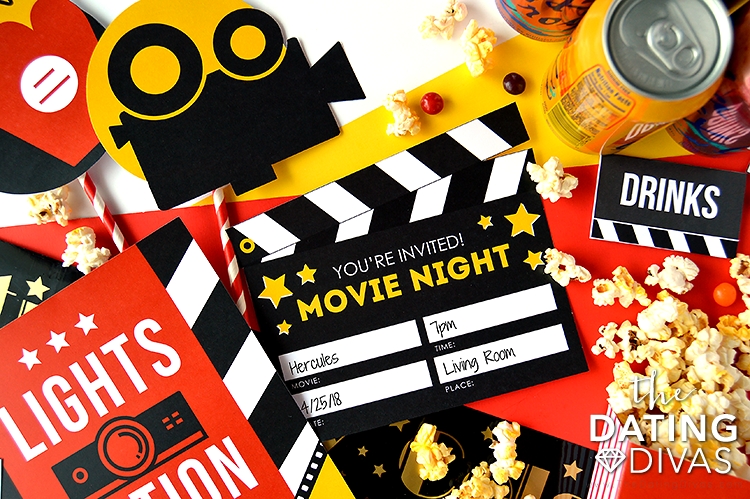 There's no better way to get everyone excited for a little movie-themed family time than with our oh-so-adorable Movie Night Invite! Check out this bad boy and tell us that's not one of the cutest things you've ever seen? The movie clapper design is the PERFECT way to let everyone know of the excitement to come and it contains spaces to write any info you need to. From date and time to the name of that classic family-friendly flick, you'll be inviting in style. Assembly is super easy and simply involves printing, cutting, and filling out. Place your invite somewhere the entire family is sure to see it and you are well on your way to an evening of feature film family fun (try saying THAT five times fast!).
Movie Night Tickets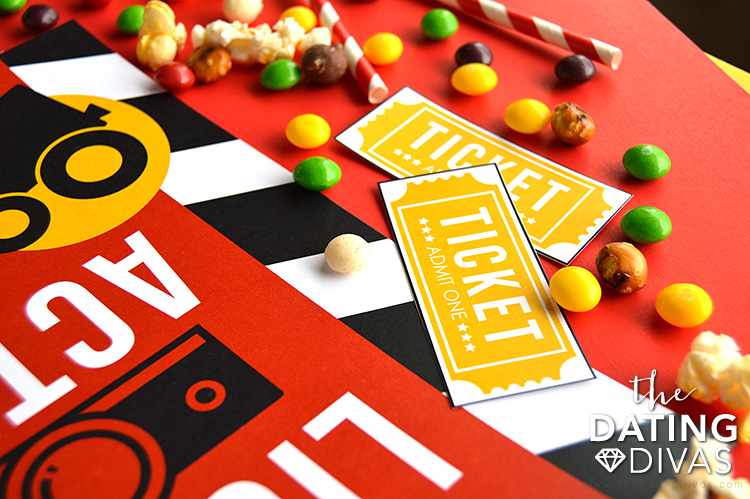 For even MORE pre-movie family fun, be sure and print these golden goodies. They're completely versatile and can be used as admission to see the film, or can be redeemed for movie night snacks and beverages! How totally Hollywood.
8×10 Movie Night Print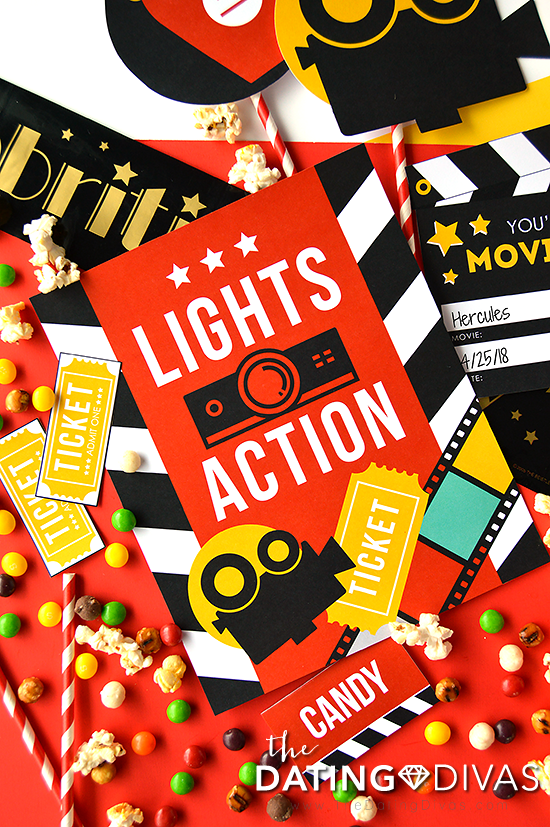 We don't think any fun family activities are complete without setting the stage and our 8×10 Movie Night Print will help you do just that! With the classic 'Lights, Camera, Action' wording and a layout that is so completely perfect for a little family time fun, this mini-poster will get everyone in the mood in no time flat. Plus it makes a GREAT addition to your movie night snacks stand. Keep reading to learn how to make yours! We know you will want to use this great idea over and over again, save it on Pinterest!
Movie Night Snacks Stand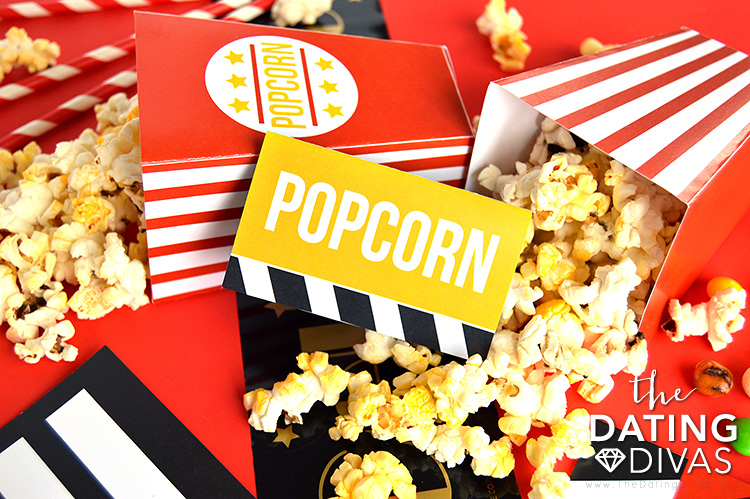 Who's ready for some munchies?! As if the above ideas aren't fun enough, we're about to help you take this movie date even further! Our colorful concession tags and printable popcorn boxes add just the right amount of pizazz while also being totally functional. We've also included a couple of blank tag options so you can truly customize your concession stand to your family's taste. How great is that?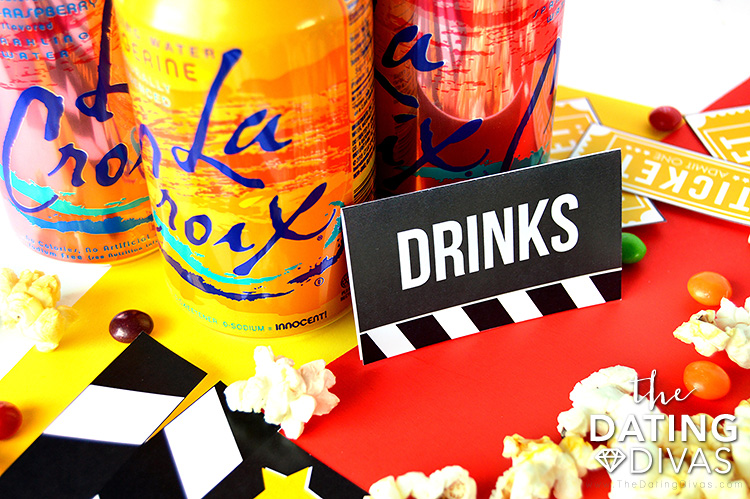 Need a few ideas? Take a look at the following list of food ideas to add an extra special edible factor to your movie night.
Ideas for Movie Night Snacks
Popcorn

Soda/Water
Pizza
Doughnut Holes
Candy ie. Milk Duds, Twizzlers, Whoppers, Starbursts
Pretzels
String Cheese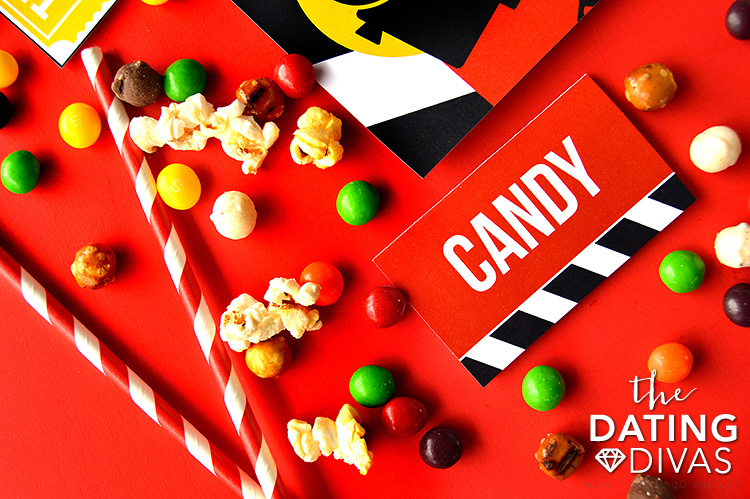 Movie Night Photo Booth Props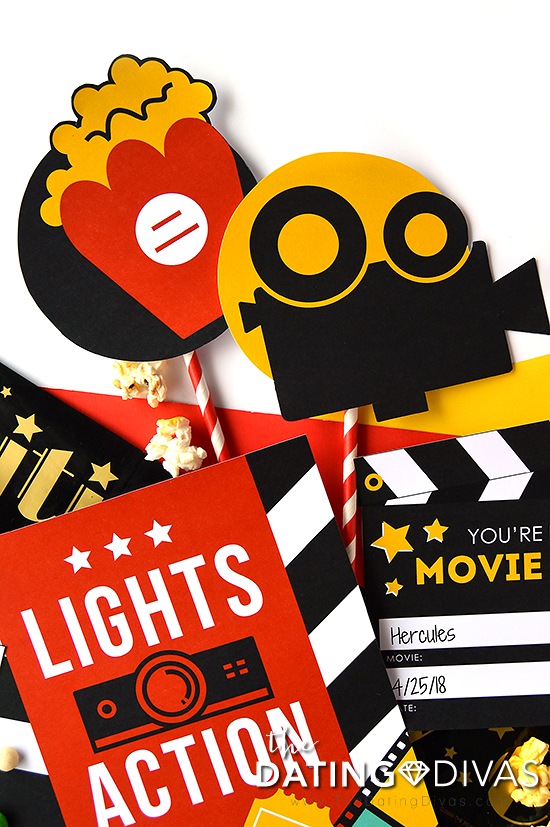 Sure, the movie may be the bulk of the entertainment, but no evening with the fam would be complete without a little extra fun in the form of these fantastic photo booth props! Use them before, during, and after the film to lighten the mood, unleash your inner movie director, and even score some treasured photo ops. Simply print, cut, and attach to the rod or stick of your choosing! Move over Spielberg!
Kid Friendly Movie Ideas
Need an idea for the main event that everyone will love? Take a look at the list below for some of our favorite flicks that are PERFECT for a combined adult and kids movie night!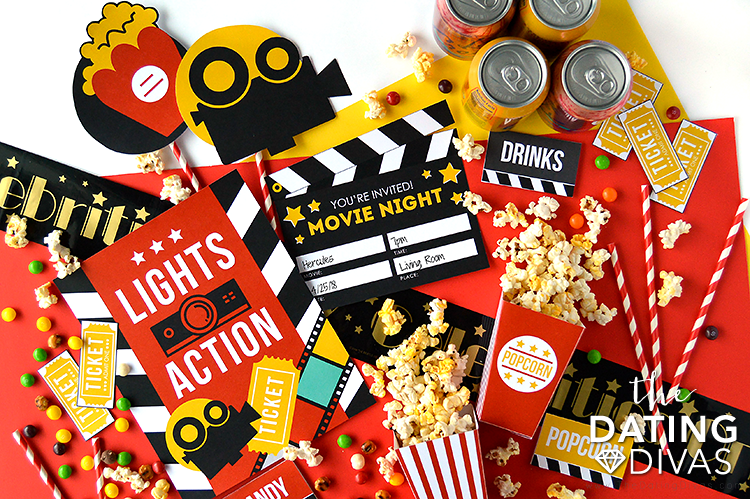 For a movie night treat the ENTIRE family will love, this idea is it! And… cut!
SaveSave
SaveSave
SaveSave
Family Movie Date
Printables Designed by Carisa @ Messes to Memories Exclusively for The Dating Divas