Father's Day Gift Ideas Dad's Will Love
Buying for Dad can be tough! What do you get for the man who has everything? Finding the perfect Father's Day Gift ideas for your Stepdad, Grandpa, Father-in-law and even your Godfather can be even tougher, right?? Men are just hard to shop for! And a meaningful Father's Day gift is hard to come by. What can you get that lets them know you appreciate their example, their hard work, patience, and hugs? Dad's do an awful lot and we really want them to feel our love and appreciation, so we've searched high and low for the best Father's Day gift ideas – including some fun DIY Father's Day gifts that the kids can help with!!
Look no further! We've compiled the ULTIMATE list of Father's Day gift ideas for any or ALL of the father's in your life. Even gifts for dad who has everything. Cute Father's Day crafts to sweet treats for Dad, this list is sure to have something that ALL of your dads will absolutely love and appreciate! Grab a pen and paper and start taking notes! Or pin this baby now! There are just too many to choose from!

*Disclaimer: This post contains affiliate links. To learn more about 'em, click here.
We hope you're ready for this! We promise our list is so good, you'll have Father's Day gift ideas for years! We've organized our Father's Day gifts in 5 categories. Here's what you'll find below:
Let the Father's Day fun begin!
40 Father's Day Gift Ideas for Dad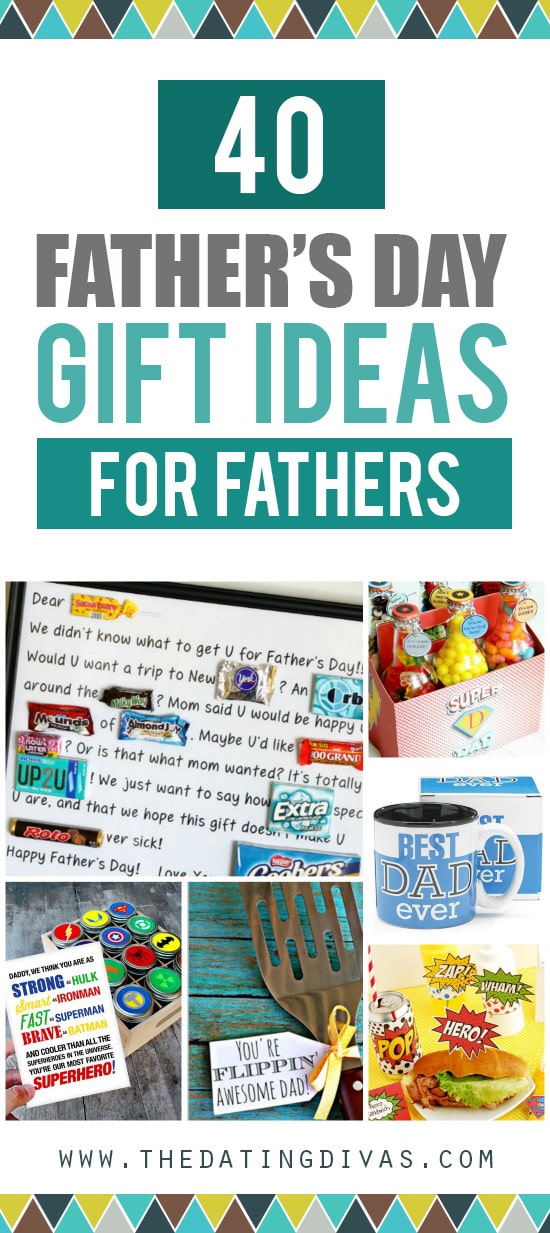 One of our absolute FAVORITE gift ideas right now is in partnership with Wilson Sporting Goods!

Did you guys know you can get a completely customized, one-of-a-kind replica game football for the amazing Dad in your life?!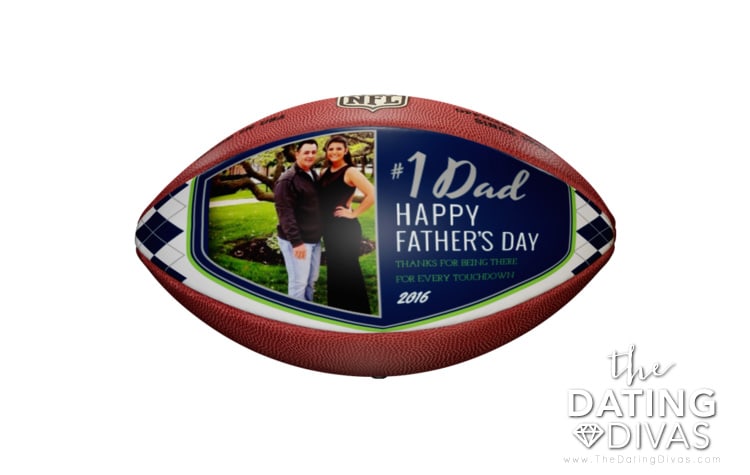 Is this not the COOLEST gift ever?! My hubby is a DIE HARD football fan, and when he got his hands on the customized ball I made for him, his face absolutely lit up and he hasn't set the ball down since!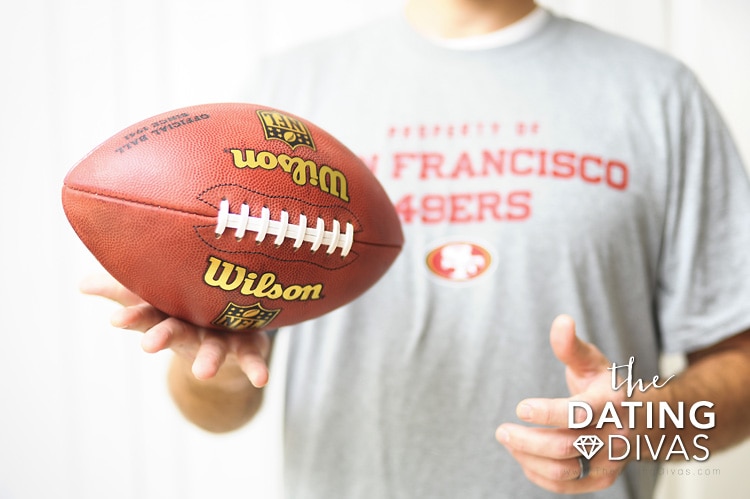 This man bleeds red and gold for the 49ers so when I got started making his ball, it was obvious what to choose for him!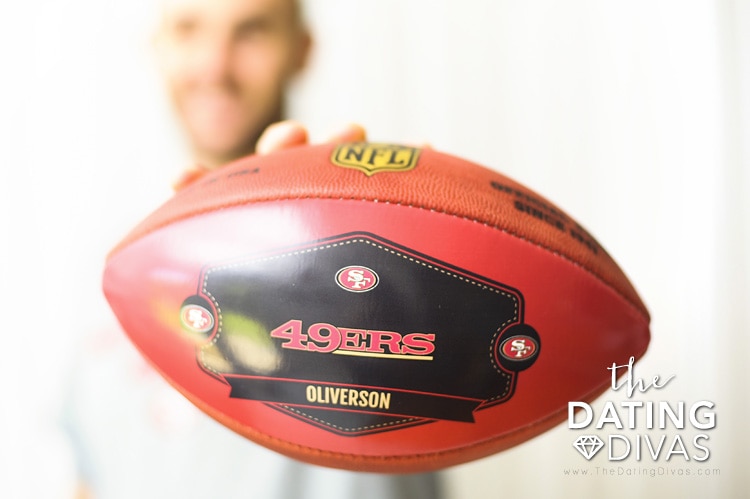 You can customize your ball in SO many ways! You can use personal pictures, there's a place for a message or text, you can choose either college football teams or professional, or you can even get one for the graduate in your life!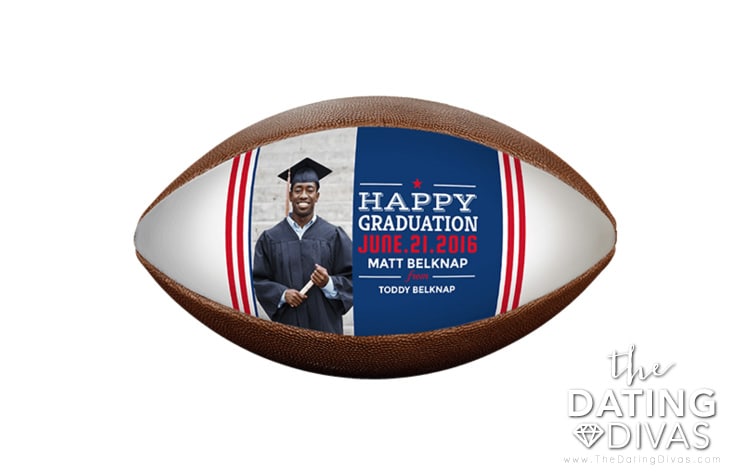 Pretty sweet, right?? Do you want to know the BEST part? Wilson Sporting Goods has offered to give OUR lucky readers a chance to win their own customized football just in time for Father's Day!
Create your own customized ball here!
Here's the rest of our FAVORITE Father's Day gift ideas!!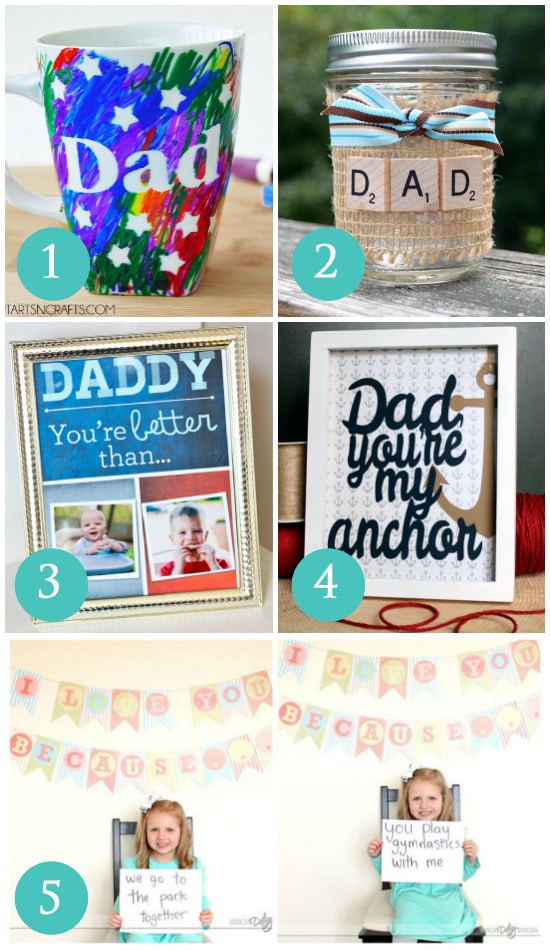 1. DIY Scribble Mug – Grab your kids and paint markers and let them go to town! This idea is quick, easy, and a definite keepsake for Dad!
2. Gift of Time – What a CLEVER idea! Create a jar of time with Dad. This is a win-win for both Dad and the kids as it's full of fun dad-kid date ideas. Who doesn't want more time with Dad?
3. DIY Father's Day Photo Mat – Take pictures of your kids holding their favorite thing in the whole wide world! Attach it to this darling printable photo mat and let Dad know that he is loved even MORE than that!
4. Printable Wall Art – What a sweet message! This is a gorgeous piece of wall art that can fit nicely into everyday home decor.
5. "I Love You Because" Video – Grab your mobile device or video camera and record your kids sharing all of the reason they love Dad. Ask them fun questions and record their funny responses. Dad will get a kick out of this!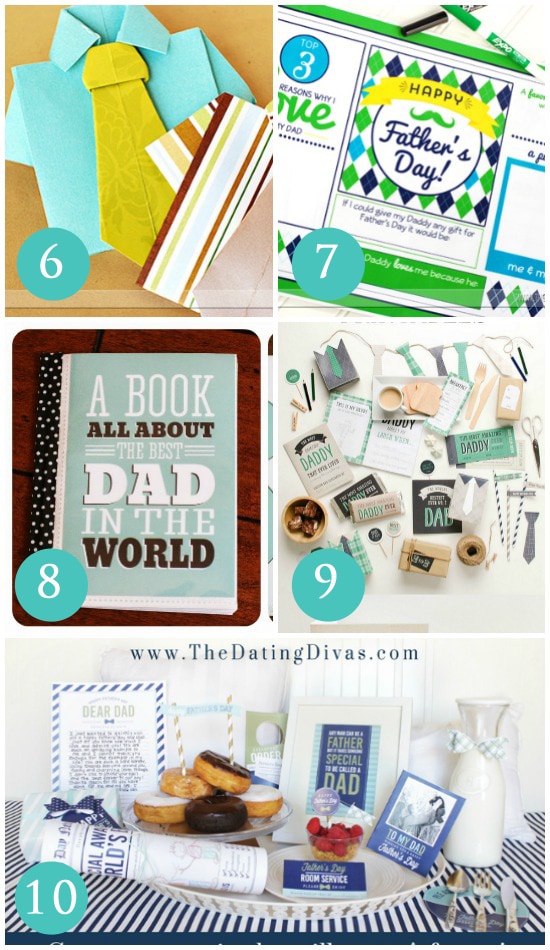 6.
DIY Origami Shirt and Tie
– How cute is this?! Write Dad a sweet note on the inside of patterned piece of paper stock and then fold it into a shirt and tie, just for him.
7. Printable Father's Day Placemat – Welcome Dad to breakfast with his favorite breakfast meal served on a fun, printable placemat filled in by the kids!
8. "All About Dad" Book – This is a perfect gift from the kids as it allows them to answer questions about their dad for their dad. He is sure to get a chuckle from a response or two.
9. "Dad is Rad" Printable Pack – This gorgeous printable pack has everything you need to create the best Father's Day celebration. From a darling banner to food labels and cards, Dad is sure to feel spoiled.
10. Breakfast in Bed Kit for Dad – Let Dad sleep in! BUT once he's awake, greet him with yummy treats and sweet messages. This darling printable pack creates the ultimate breakfast in bed surprise!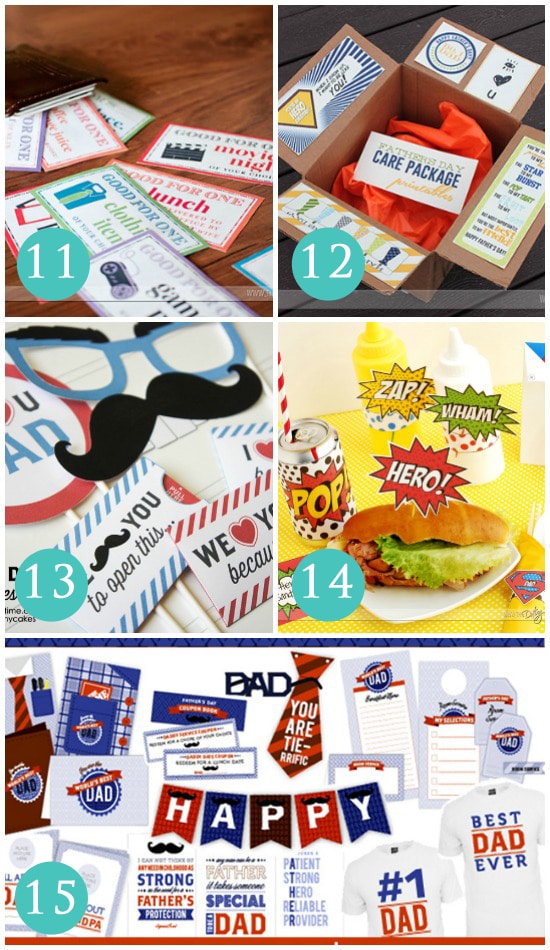 11.
Wallet Surprise
– These printable coupons are a great surprise to place in Dad's wallet. He'll love finding redeemable coupons that he'll actually want to use!
12. Long Distance Father's Day Care Package – If you can't be with Dad on Father's Day, send him this SUPER care package full of his favorite goodies and treats!
13. "We Love Dad" Printable Kit – Print these darling photo booth props to create fun pictures of the kiddos, just for Dad. This pack even includes a fun "We love you because" card.
14. Super Hero Lunch – If Dad is your superhero, let him know with this fun, themed, lunch idea. Decorate his favorite lunch meal with these fun printables!
15. Ultimate Father's Day Kit – Look no further! This pack allows you to spoil Dad in EVERY way. There is a darling banner, printable cards, t-shirt iron-ons using cool transfer sheets, activities, and more – nothing was missed here!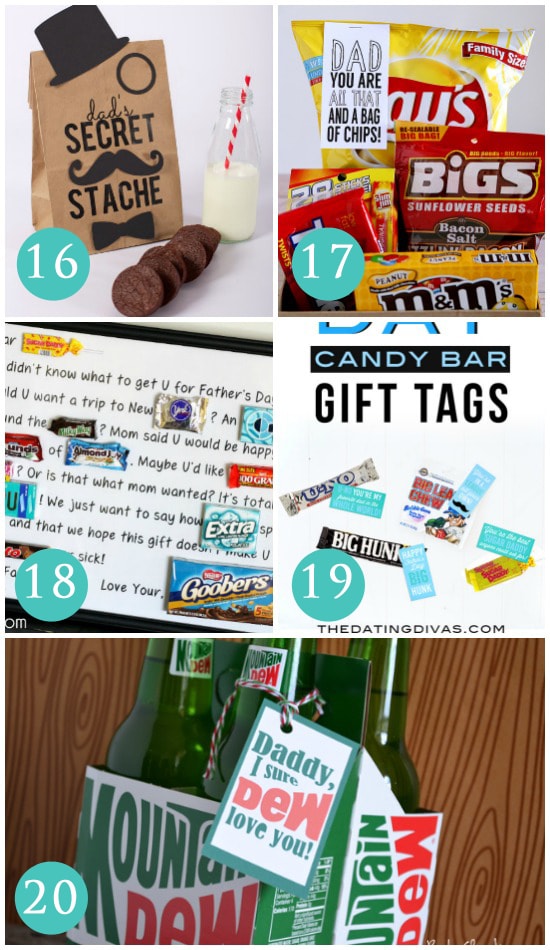 16.
Dad's Secret Stache
– It's true! Sometimes we eat Dad's favorite treats before he even has a chance to taste them. This year, give him a stash that is untouchable by others!
17. All That and a Bag of Chips – LOL! Create a gift basket FULL of Dad's favorite treats. Be sure to include his favorite chips and add this silly, printable tag!
18. Father's Day Candy Poster – This poster already has a thoughtful message written for you! All you have to do is add the candy!
19. Father's Day Candy Gift Tags – More food, we know! BUT, what dad doesn't love treats for his desk or car?! Add these tags to keep it Father's Day inspired.
20. "Sure Dew Love You" Tag – Is your dad a Dew drinker? Perfect! Add this tag to a case of his favorite drink for an affordable and easy gift idea.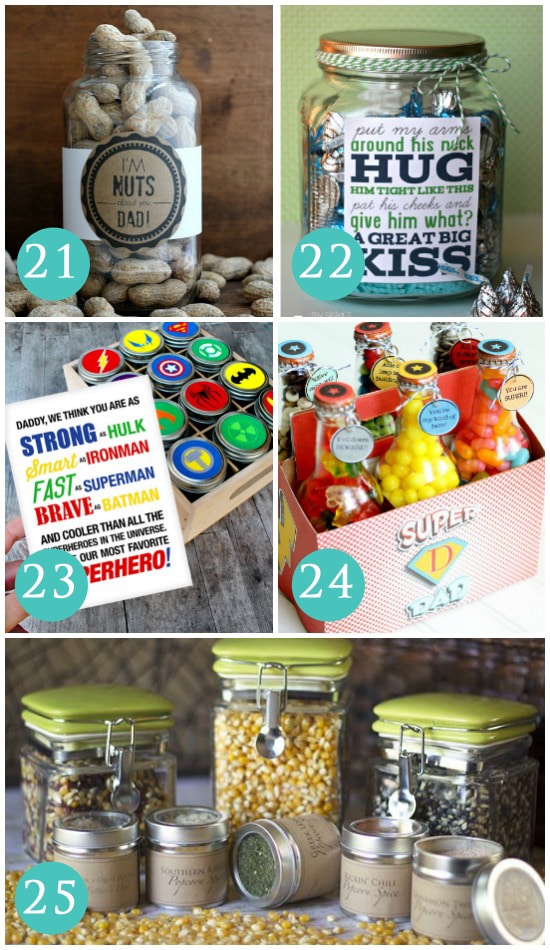 21.
"Nuts About Dad" Jar
– Peanuts, mixed nuts, trail mix – any of these will do when adding this printable tag to a full jar!
22. Kisses Jar – Give Dad kisses! Oh, and chocolate kisses as well! Add this sweet printable tag to a jar of Hershey Kisses for a delicious gift.
23. Super Hero Jars – Grab 12 small mason jars and Dad's favorite snacks. Fill each mason jar with a snack and top it with a super hero printable tag. Add the darling note and VOILA, you have a SUPER gift for your SUPER dad.
24. Super Dad Soda Box – Here is another play on the above idea. Only this time, find 6 clear shaped bottles, designed perfectly for a six-pack container. (Something like these!) Decorate them with the darling printables and tags. Now, you have another SUPER idea.
25. Popcorn Pack – YUMMY! This idea is original and very practical. Make Dad a kit full of different popcorn and flavorings using some yummy popcorn like this. He might even share!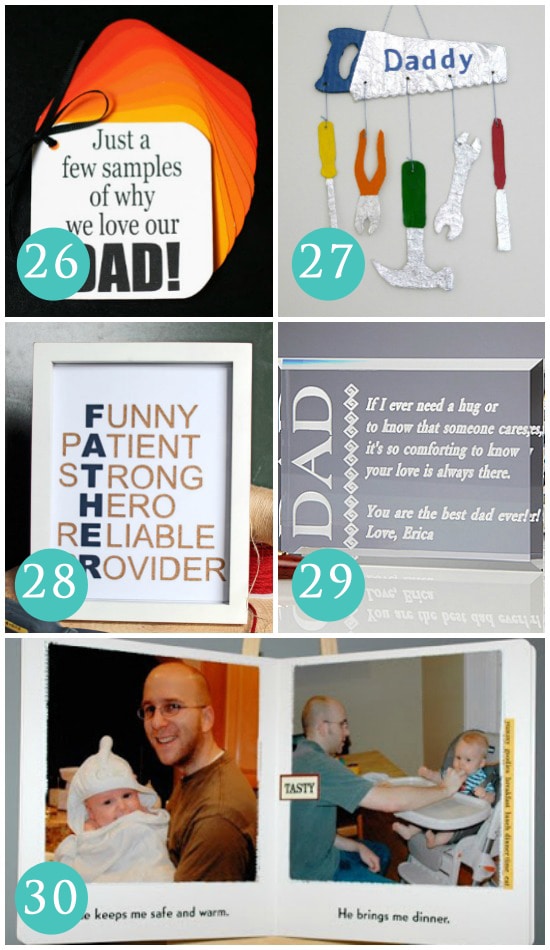 26.
Samples of Why You Love Dad
– This is the most clever idea! Grab sample paint chips and have the kids, and yourself write all of the reasons you love Dad on each one. Add a title page, as shown, and you have an inexpensive and thoughtful gift.
27. DIY Daddy Tool Mobile – If your dad is handyman, then he will love a Daddy Tool Mobile created by the kids using cardboard, mod podge, and tin foil! Such a fun and easy idea that is perfect for Dad.
28. FATHER Printable Wall Art – Use this printable image to create a meaningful piece of wall art OR a card perfect for Dad.
29. DAD Plaque – These gorgeous plaques are perfect for displaying on Dad's desk in the office. Sign this sweet message with names of your kid(s).
30. DIY Board Book – Picture books are the best keepsake around. Create a board book of Dad with the kids. It's something he can then use to share and read to them. Win-win! Even easier, we LOVE Shutterfly's books – plus, they are always having awesome sales!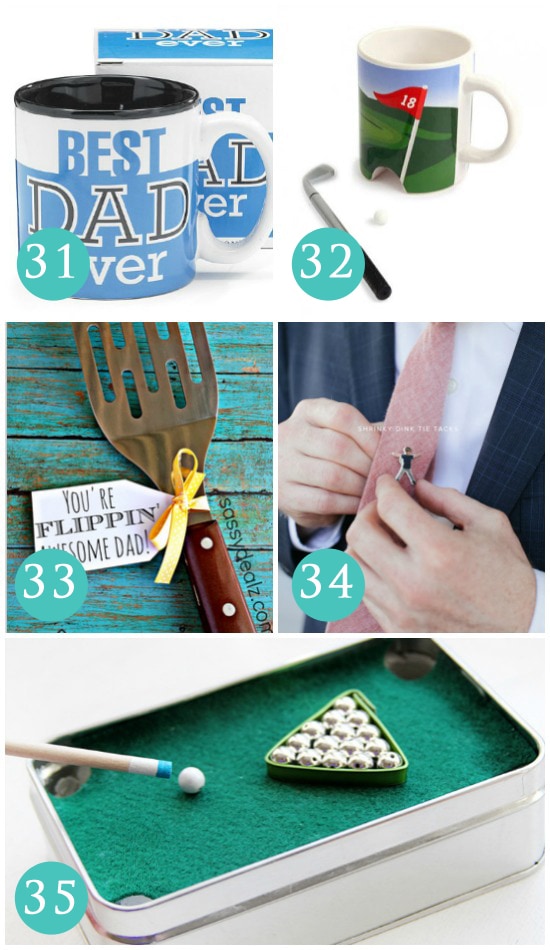 31.
Best Dad Ever Mug
– Have a coffee or hot chocolate drinker?! If you do, then a mug is the way to go! This item will be used with the same amount of love that was used giving it to him.
32. Golf Mug – If you have a golfer AND a coffee lover, then this is the ULTIMATE gift. But even if he's just a golf lover, this gift is perfect for taking a break in the office for a mini putt session. Too funny! (****AFFILIATE LINK PENDING****)
33. "Flippin' Awesome" Tag – If Dad is the chef, then present him with a nice new grill tool like this one and fitting gift tag.
34. DIY Shrinky Dink Tacks – Ah shrink-a, what-did-you-say? LOL! Create a tie pin that is a small image of the kiddos in your life. How clever is this?
35. DIY Mini Pool Set – Sometimes Dad needs a break. Give him something that is easy to transport and fun to play with – this DIY pool set. Don't have time to make one? Try this one out.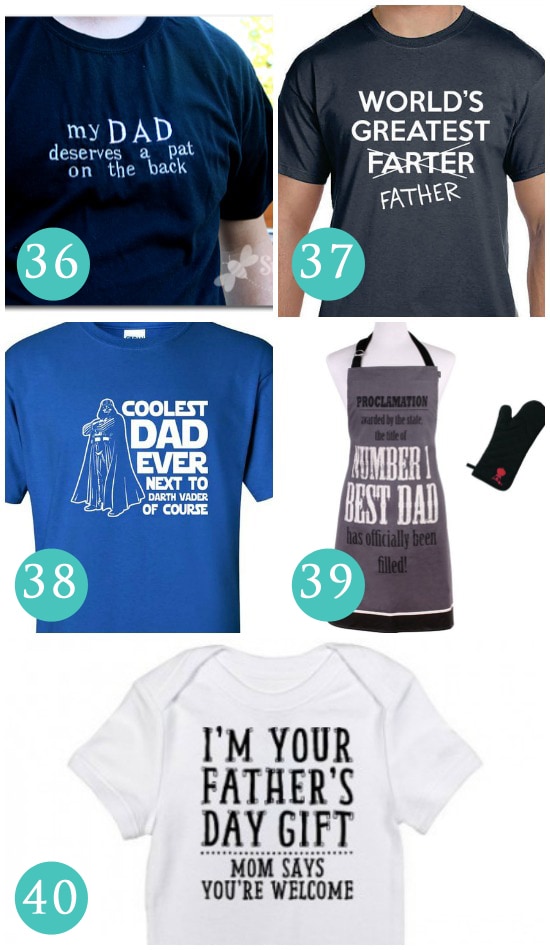 36.
Pat on the Back T-Shirt
– This idea is just too cute. Write "my dad deserves a pat on the back" on the front of a T-shirt and then have the kids place handprints on the back!
37. Greatest "Farter" T-shirt – If your Dad has a reputation for his smell, then this might be the best, and most fitting, gift of all!
38. Coolest Father T-shirt – Many dads are Star Wars fans. Grab him a gift that lets him know just where he ranks next to Darth Vadar… pretty flattering, huh?!
39. #1 Dad Apron – Smell that BBQ? Give something Dad he can use, like an apron to keep his clothes clean while those BBQ juices fly!
40. Father's Day Onesie – This little onesie would be a great way to announce to your spouse that you are expecting a little one OR if you just had a little one, dress them in this darling onesie on Father's Day.
25 Father's Day Gift Ideas for Grandfathers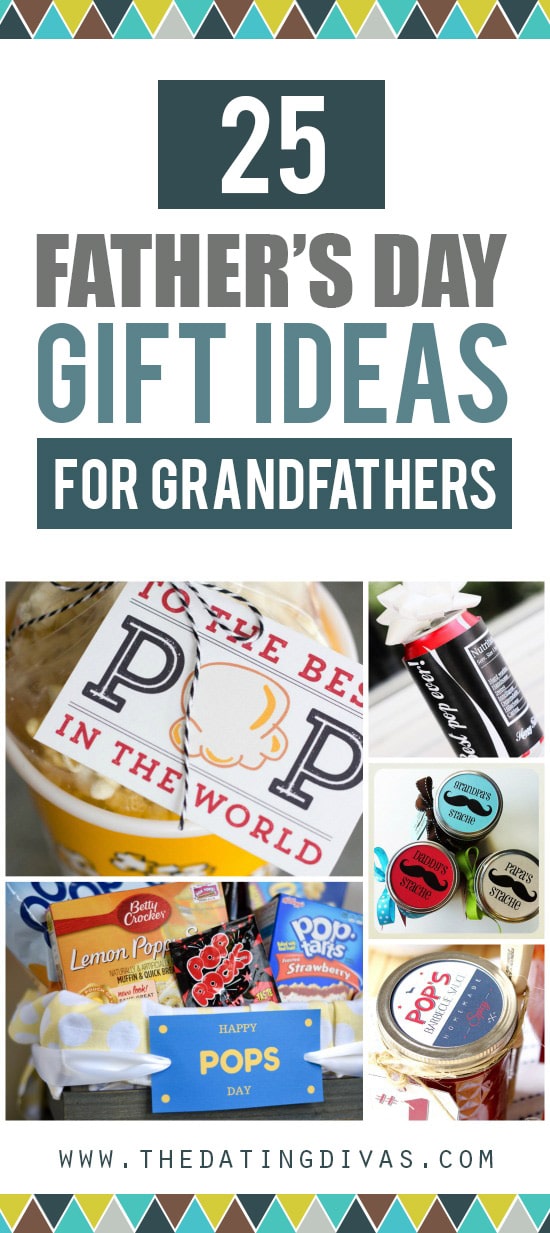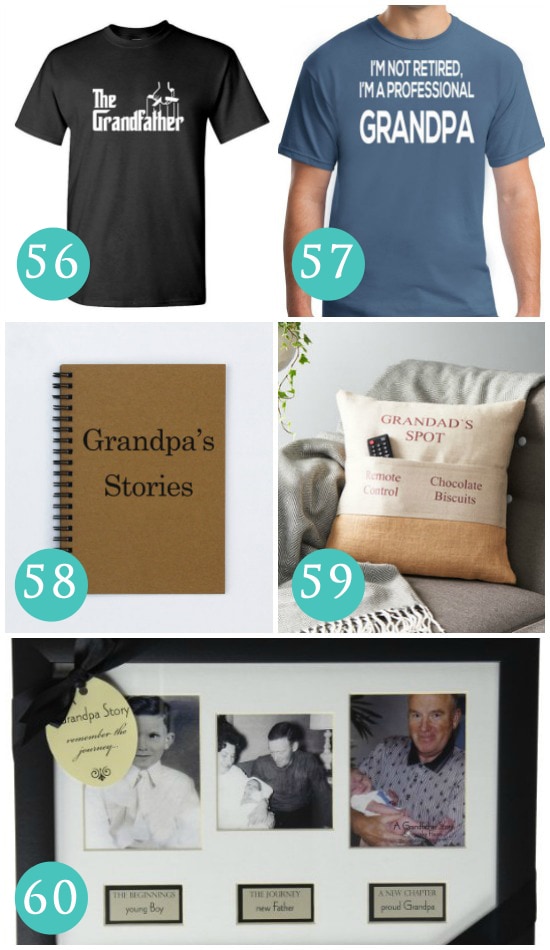 56.
"The Grandfather" T-shirt
– Your grandpa probably loves, or at least, has seen the movie, "The Godfather." And if they love it, they might just love this shirt!
57. "Professional Grandpa" T-shirt – And we're sure he'd tell you it's a busy, yet fulfilling job!
20 Father's Day Gift Ideas for Stepdads
10 Father's Day Gift Ideas for Fathers-in-Law
10 Father's Day Gift Ideas for Godfathers
Are you overwhelmed with AMAZING ideas?! No worries! Just keep this round up handy for gift ideas year round for all the fathers in your life.