Romantic Ideas For a Fifth Anniversary Gift
Congratulations on celebrating your fifth anniversary together! A whopping 5 years married is a BIG deal!! That's half a decade! Your anniversary is the perfect chance to remember the day you committed to be each other's partners through life. There is no question that completing your fifth year together is worthy of a celebration and a special gift, but what? No worries – we have got you covered! We've got some fabulous Fifth Anniversary gift ideas coming at ya right here!! We've thought of 3 DIY anniversary gift ideas that are perfect for a fifth anniversary, PLUS we have over a dozen links to additional gift ideas and suggestions for celebrating your special day!

Putting together an anniversary gift that is both personal and unique can be tricky! Spouses can be hard to shop for and sometimes you just want something more than a material gift. Well, an anniversary gift that is special is completely within reach! We have put together not one, not two but THREE uniquely special gift ideas to celebrate your anniversary. And with the talented skills of Courtney from Paperelli Design  you know that these printables are going to be gorgeous! Courtney always creates the highest quality designs and makes your requests come to life! The kit includes:
Anniversary Picture Frame – A unique display for your home to show just how long you have been married. 

Jenga Game

 

–

(Traditional Wood Gift) Remove Jenga game pieces to reveal your favorite memories together, tasks to complete and questions to answer.

 
Hand Love Note –  A unique card that you can personalize and make your own!
Bonus Anniversary Ideas – Browse links to over a dozen additional ideas to make your anniversary memorable. 
With so many fabulous ideas for your fifth anniversary gift – the hard part might be choosing just ONE! But then again, you could choose the best gift idea for your relationship, or you could just do ALL three! Check them out and decide for yourself: 
ANNIVERSARY PICTURE FRAME
Create a unique picture display for your home that shows exactly how long you have been married! Take a picture with you and your spouse holding the printable number prop. After printing the picture you can then place it in our frameable anniversary print to display in your home!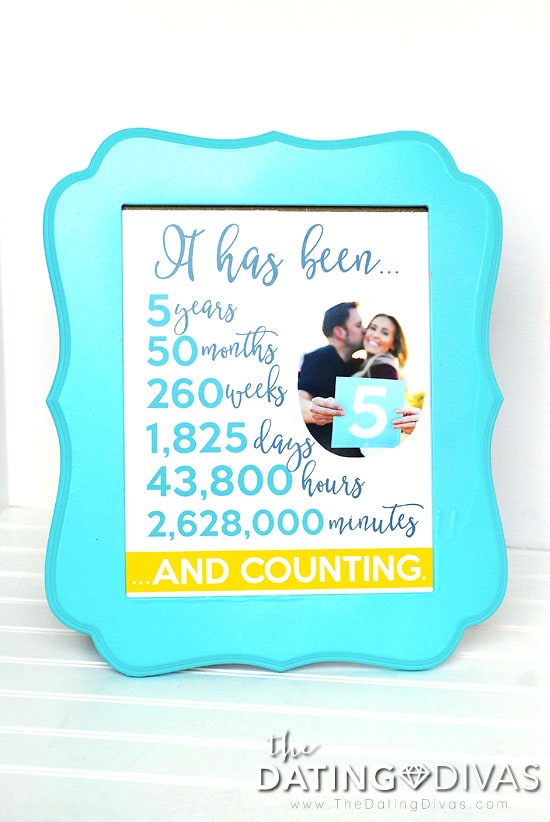 Can you imagine doing this year after year? It would be so sweet to see your love (and looks) evolve! And you could eventually collect all of the pictures into a book or have a special wall in your home dedicated to the displays!
JENGA GAME
For a fifth anniversary gift, it is tradition to give something made of wood. With the theme of wood in mind, we created a printable pack for a unique anniversary version of the game Jenga!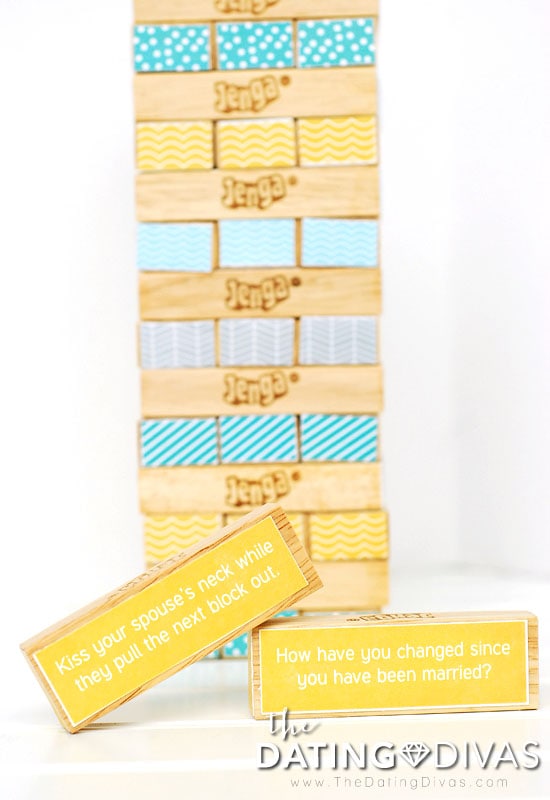 This fun twist on the classic game of Jenga is a flirty and sweet activity for your fifth anniversary! Use the instruction sheet to personalize Jenga pieces with your favorite memories, love notes and more!
HAND LOVE NOTE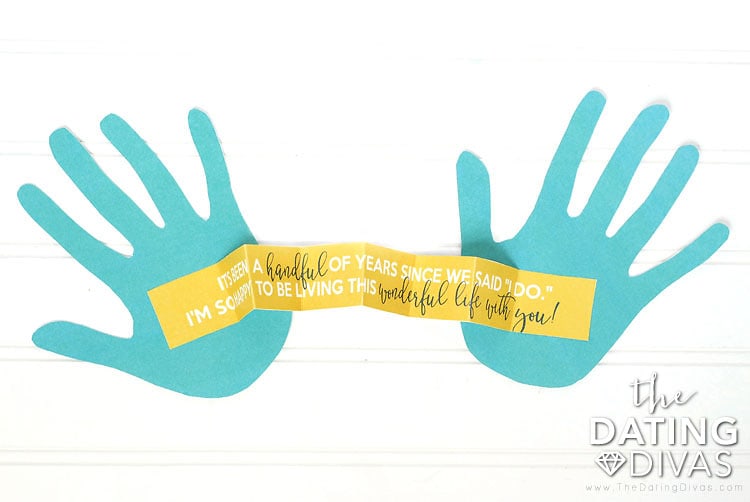 You have been married five whole years – high five for you! Now, give your spouse this sweet love note with this message: 
It has been a HANDful of years since we said, "I do."
I am so  happy to be living this wonderful life with you!
BONUS
As a bonus to you (because we just love you!) the pack not only has the three gift ideas, but it also includes over a dozen additional links that include unique anniversary traditions, ideas for anniversary-themed date nights and even more gift ideas! Seriously – we have everything you could need and more for a memorable anniversary celebration!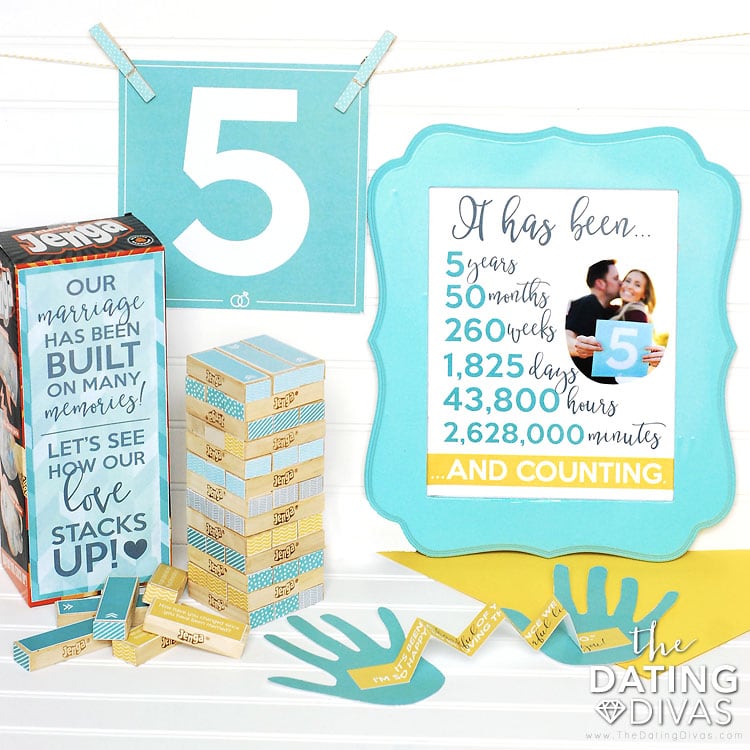 Your
Fifth Anniversary Gift Pack
can be downloaded for just
$7.97!


Then, just print and personalize! It doesn't get any easier!
Loving this is idea, but not at your 5th anniversary yet? Don't worry- we have the first FIVE YEARS of marriage covered!
Check out our other kits-
ANNIVERSARY BUNDLE
You can even buy all five years' kits as a pack (at a killer discount!) and have meaningful gifts for your first FIVE anniversaries covered!!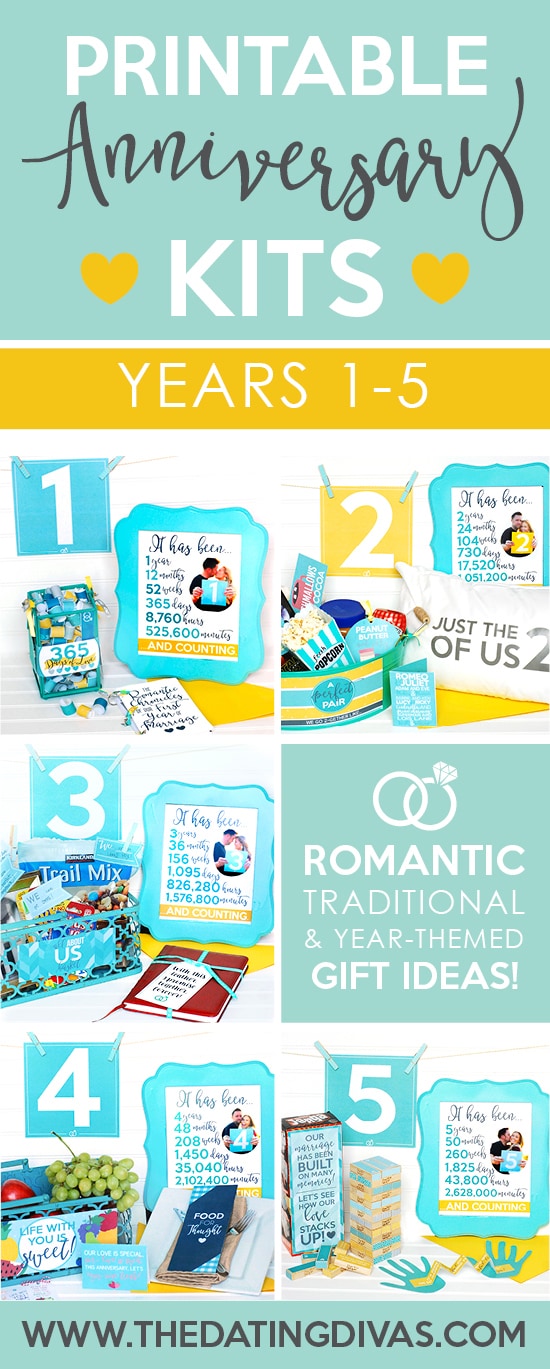 Get all
Five Anniversary Gifts Bundle 
for only
$19.97!


Have you been married for more than 5 years?! We've got YOU covered too! Check out our Anniversary Gifts By Year!
Happy Anniversary! May you have many more years of marital bliss ahead! Mwah!