If you feel inspired by Chip and Joanna from Fixer Upper (the popular HGTV show), this will be the perfect date for you! We're talking about the ultimate
DIY Project Date
That's right – we're getting our creativity on! Pull out your hammer and nails to design and create a project for your home that you'll love! If you're anything like me, you already have a list of project ideas in the back of your mind and you just need to set aside some time to sit down and pull all those ideas out. If you're not, but you still want to get your hands on a fun DIY project for your home, we've designed an inspirational date night to help you and your spouse get busy with a fun DIY project.

Disclaimer: This post contains affiliate links. To learn more about 'em, click here.
One of the reasons I love watching Fixer Upper is because Chip and Joanna are just so inspirational. One of our favorite quotes from the very beginning of their series is "Today is a good day for a good day!" 
Not only are they good people, Chip is just hilarious and weird and totally relatable. And Joanna is poised and down to earth, but also quirky and creative. My husband and I actually both love to watch Fixer Upper and we relate to Chip and Jo on many levels. Although, we still have a lot to learn when it comes to project design and decorating.
Fixer Upper Date
Start by sending your spouse a text letting them know you're planning a fun date night! The invite says it all! Your spouse will be excited to start a DIY home project date night that includes watching one of your favorite HGTV shows.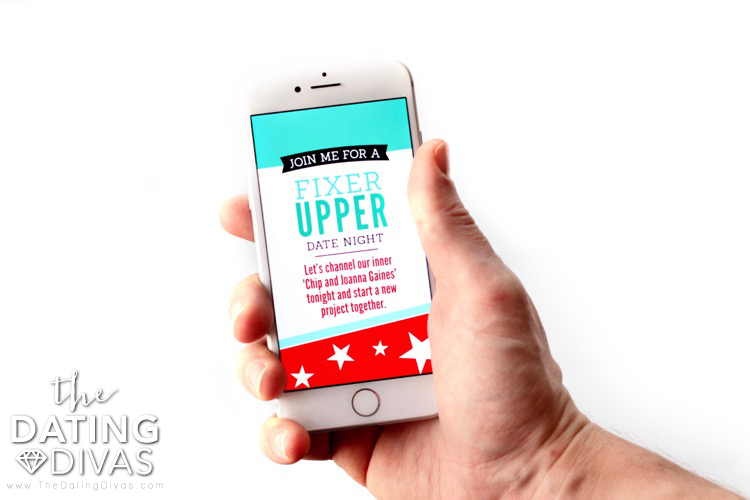 When date night rolls around, cuddle up to watch an episode of Fixer Upper! This is a great way to start your date because it will get you ready to get a little out-of-the-box, creative and excited for a new project!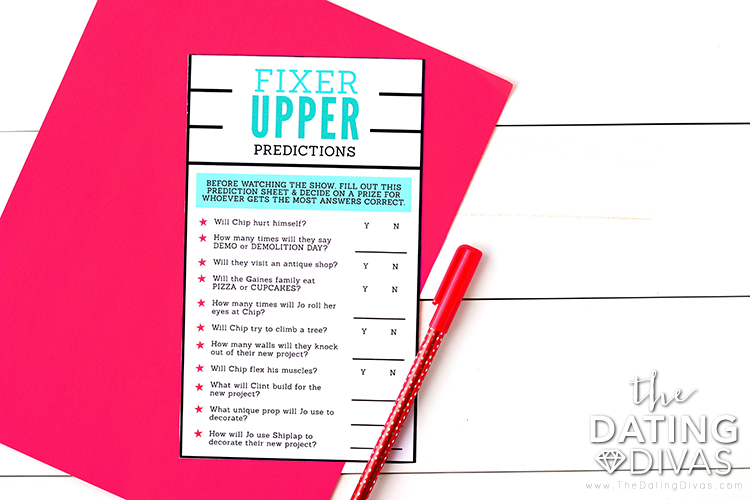 Before you get started, fill out a Fixer Upper prediction sheet. If you know the show, you'll be able to make some pretty good predictions and you might just giggle a little at how ridiculous these prediction questions are – oh how we love Chip and Jo!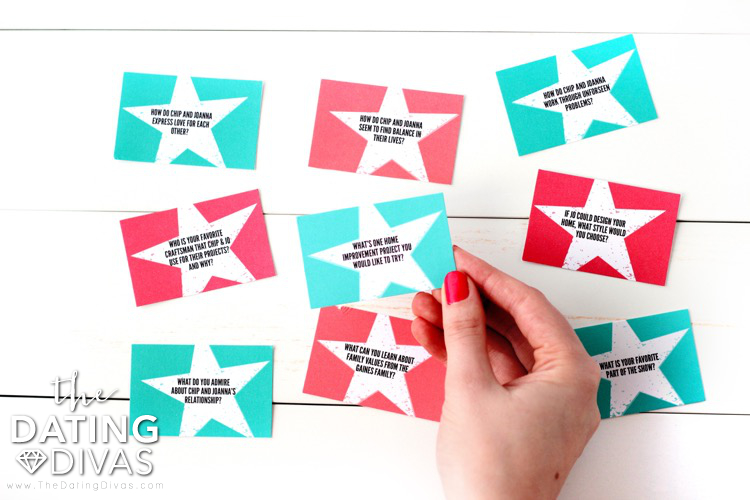 We've also included a couple of Fixer Upper conversation starters to get you and your spouse talking. Like I said before, we love how inspirational this couple is. Take a minute to talk with your spouse about how they inspire you in real life. Our questions will lead you to discuss more than just your next project! Although, if your next project isn't happening anytime soon, try pinning this idea so you've got it saved for later!
DIY Project Planner
Once your show is over, pull out the project planning sheets and sit down to discuss what projects you want to do! Start with the brainstorming sheet. We've got a few questions to help you narrow down what types of styles and design elements you're wanting to include in your project. Feel free to organize all your plans on a handy dandy clipboard to help keep you organized!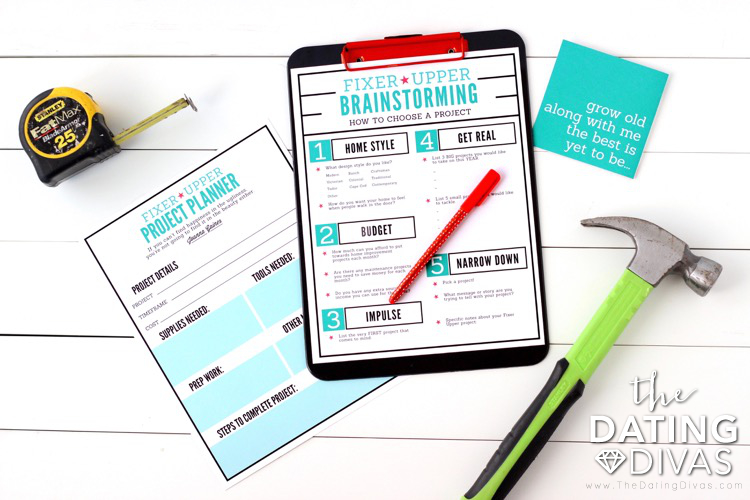 Plus, we've got a few questions to help you stay realistic and keep within budget. We know that it's fun to dream, but when it comes to pulling off a project in real life, you need to face the facts!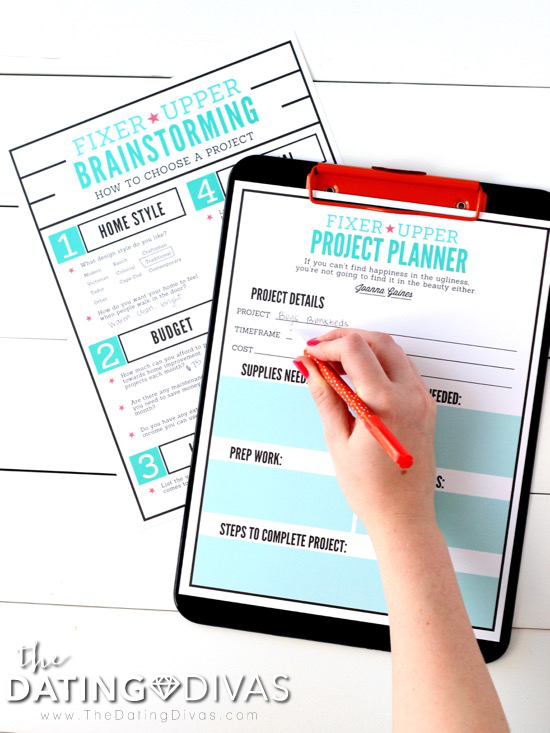 After you've narrowed down your project, create a shopping list and a timeline for completing the project. Now all you need to do is get to work on the actual project! Let the fun begin!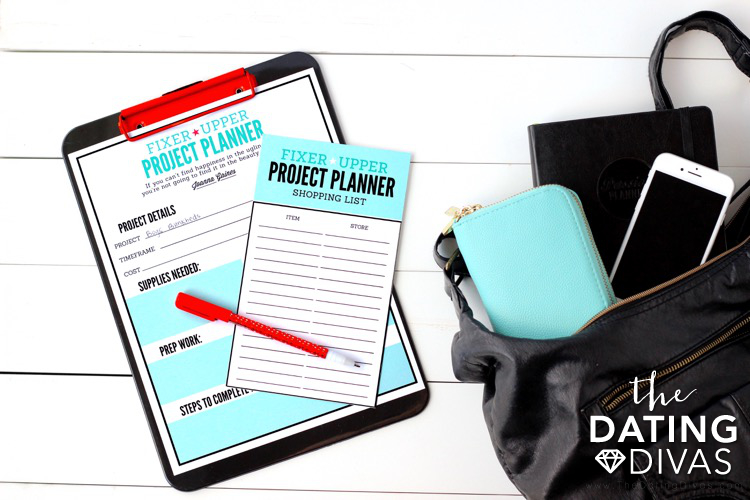 Keep in mind, this may turn into a two or three part date (in which case, you might want to pin this as a reference point!). You will probably need another date night to go shopping for your project. Then you can set aside a date to get to work on it. We suggest turning on some more Fixer Upper while you're working 😉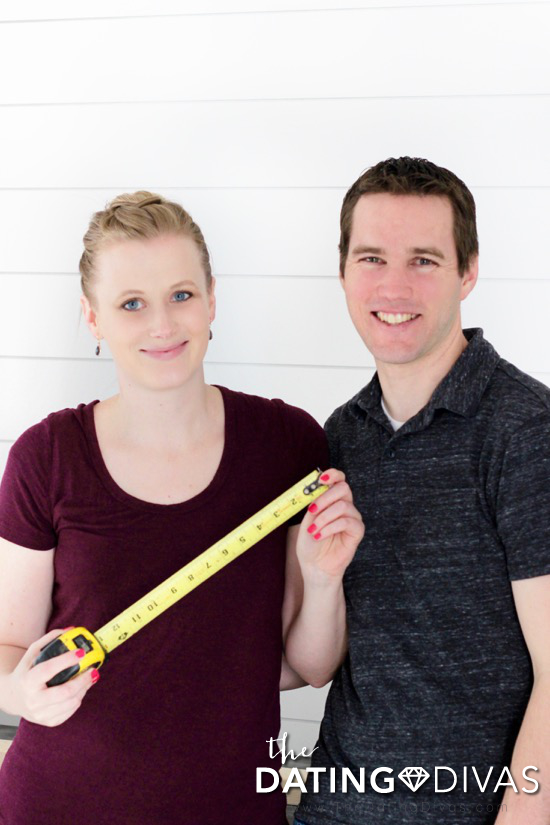 Get your Fixer Upper Date Night on!! Grab the printables and digital invite below!
SaveSave
Fixer Upper Date Night
Printables Designed by Carisa @ Messes to Memories Exclusively for The Dating Divas
Fixer Upper Date Digital Invite
Printables Designed by Carisa @ Messes to Memories Exclusively for The Dating Divas