Sexy Surprise Tease for Him
Are you wanting to spice things up in the bedroom? Or maybe you just want a fun, sexy surprise, to show your man a little extra lovin'. This sexy tease is just the thing you're looking for! What will he say when he sees this unexpected flirty clothesline draped across the front room and up the stairs leading toward the bedroom? No doubt his jaw will drop and his eyebrow will be raised… You can bet there will be a curious grin in there, too! Surprise him with a sexy tease that will lead him right to you!
Disclaimer: This post contains affiliate links. To learn more about 'em, click here.

We've taken out all of the guesswork. All you have to do is print the super sexy printables created by Courney from Paperelli Designs. Then snap and print a few shots to really tease him!
Men are such visual creatures, this fun little idea will surprise him and remind him how fun and how sexy his wife is! I think every husband loves a little tease! A sexy tease is even better! On top of that, it is beyond easy to create! Don't have a string, bakers twine, or clothespins on hand? No problem! Whip out some dental floss and paperclips! Nothing can derail this sexy tease. Really, who cares? He'll be anxious to see what's on his wife in that last picture and behind that bedroom door!
How-To Make a Sexy Tease
Earlier in the day, throw a few flirty hints his way that you're thinking of him and looking forward to some alone time… Then with the self-timer on your camera, take a handful of pictures ranging from all layered up down to almost naked. Never fear… if you're camera shy or prefer to keep it more conservative, have the last picture be one of you in your bathrobe with your hand on the sash, ready to un-tie! Or even one of you peeking out from under the covers. Let his imagination do the rest! For most of these pics, I simply printed my own pictures at home (you don't need professional quality pictures to get this point across). Once you have your pictures printed and the printables ready to go, start the assembly process. Save these fun printables on your Pinterest board!
On the door when he walks in, or on the first pin on the line attach the Sexy Surprise Tease poem to get him ready for some fun! You are about to make his day!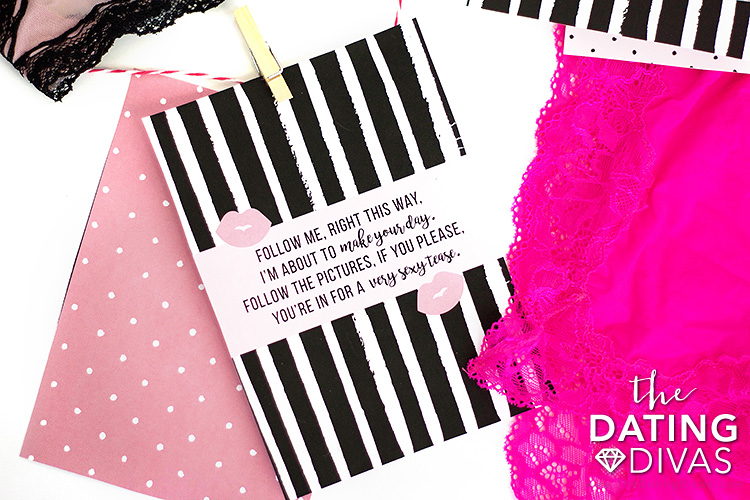 Use the blank prints to layer behind your photos as backgrounds. Attach your pictures to the line, each one getting progressively more revealing. Next, attach the sexy tease notes to really up the anticipation. Use the lip illustrations to either cover certain parts of your photos–to tease him even more–or as cute embellishments to the line!!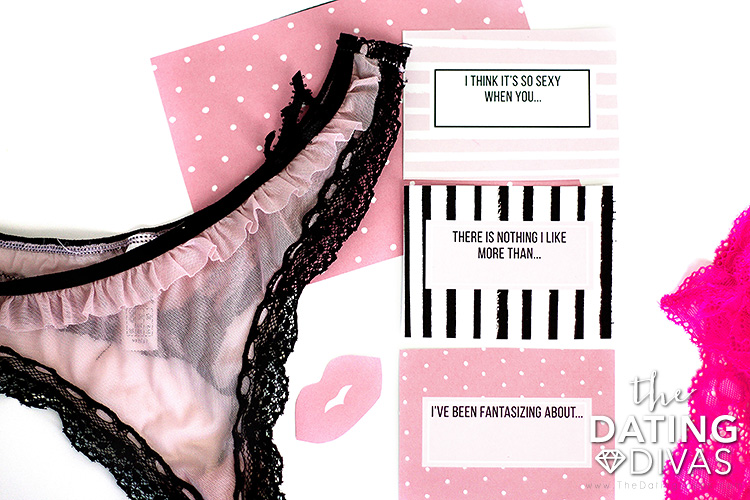 Finally, get ready to end this very sexy tease with the best surprise of all–you! I don't think he'll soon forget coming home to this little surprise! Save this idea on Pinterest!
SaveSaveSaveSave
SaveSave
SaveSave
SaveSave
SaveSave
Sexy Tease Surprise
Designed by Cortney @ Paperelli Designs Exclusively for The Dating Divas