A Paint and Sip Date Night Activity for Two!
Have you ever heard of paint and sip nights? These paint nights are ALL the rage right now – and for good reason! People are signing up to do paint nights for a unique girls night out, for family parties, and, of course, for date night! The idea of a paint and sip night is to enjoy an evening of painting, have a favorite drink on hand and, most of all, enjoy the great company!  Painting together is a unique bonding experience – perfect for date night! And, with our free downloadable printables, this date night can make painting with a twist a uniquely bonding experience!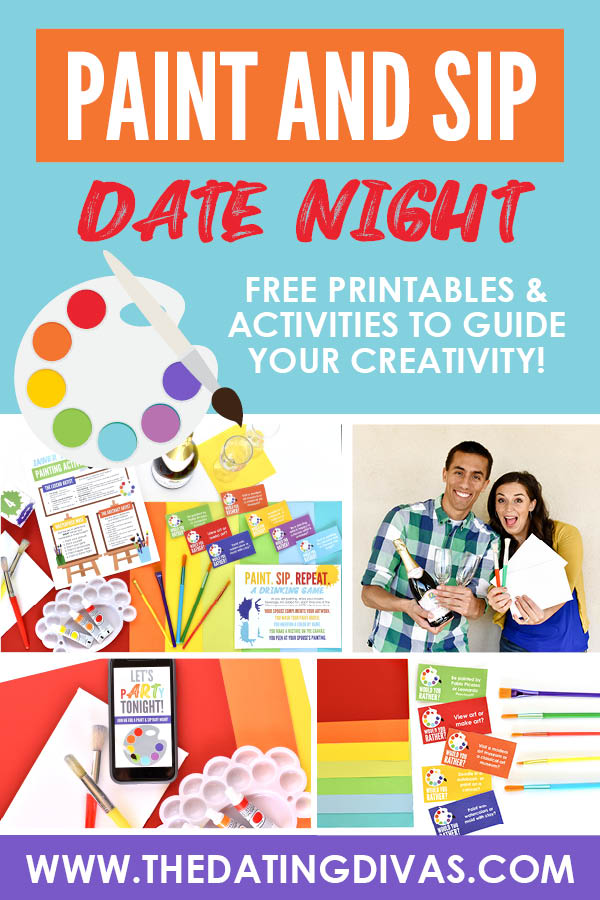 No matter what your artistic ability – this date night is all about releasing your inner artist. This paint and sip date night is all about widening your creative date night palette and trying something new! Fortunately, for this date night, you don't even have to be a good artist. This is a date night activity that is more about the experience than the final masterpiece creation!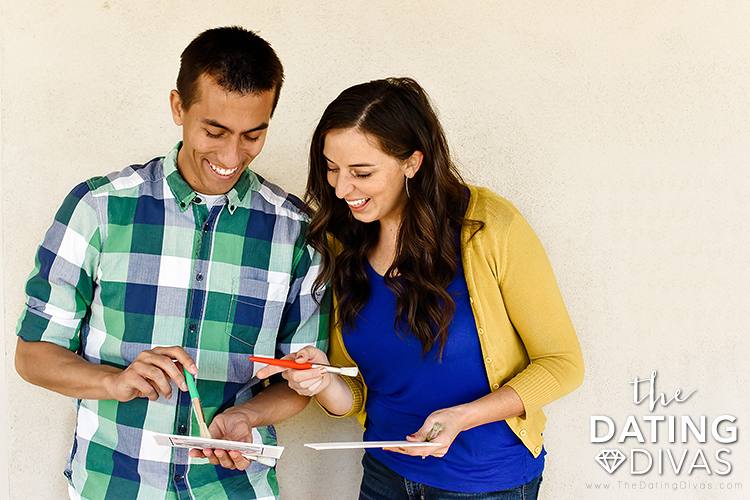 Your Paint and Sip Date Night Printables
While many couples are signing up to do a paint date night out on the town, sometimes it can be more enjoyable to have a private date night at home. With our free paint and sip date night printables, you don't have to go to a specific paint and sip event!  You can enjoy all of the fun from a paint night activity right in the comfort of your own home! Thanks to our graphic artist extraordinaire Courtney from Paperelli, we have a variety of printable activities to help guide you and your spouse to create your very own private paint and sip party!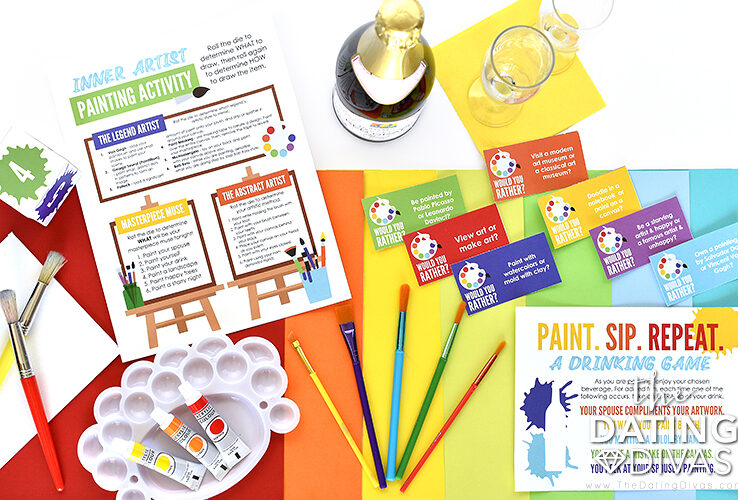 Your downloadable paint and sip date night printables include:
Digital Paint Night Invitation
Painting Inspiration Activity
Sip and Paint Game
Would You Rather Art-Inspired Conversation Cards
Materials Needed:
With a date night like this, you will need a few additional supplies. Most importantly, you will need paint, paintbrushes (this is an inexpensive set!) and two blank canvases. For convenience, you could also grab a Couples Paint Kit from Dip N' Paint (one of our FAV companies!) They will give you 10% off your order with code DIVAS!
Also, for the "sip" portion of your date, you will want to select a drink that you and your spouse love. We made some delicious homemade lemonade as part of our date night, but a store-bought bubbly is also a great option as well.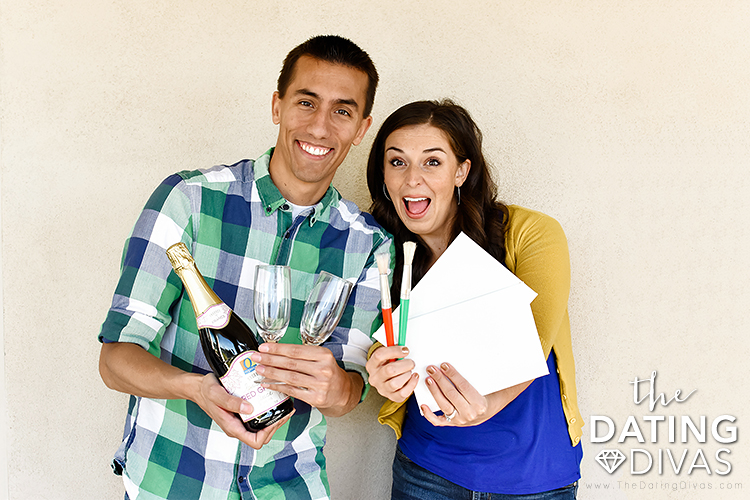 You really don't have to get too fancy on the supplies for this. Your local dollar store or Walmart will likely have adequate supplies. We actually found ours around the house and just kept the paint night supplies super simple.
Paint Night Invitation
To get your spouse excited for this creative date night, we have an invitation for you to share. Because we communicate so much through phones, we made you a digital jpg file that you can download and text or email to your spouse. The invitation tells your spouse that they are in for a unique paint and sip pARTy!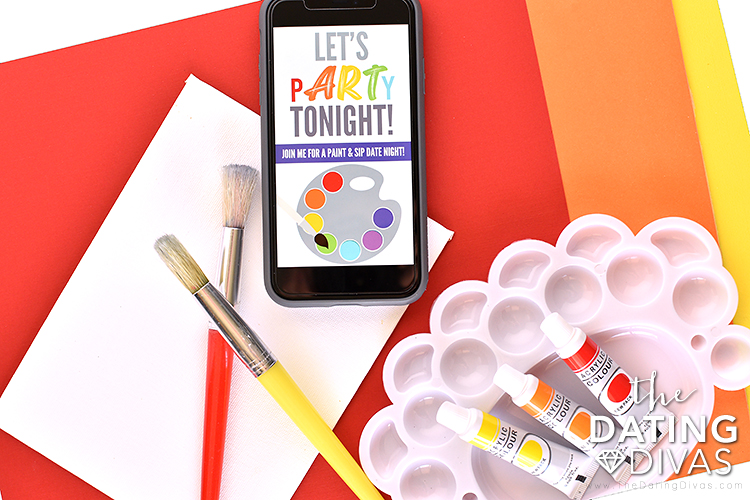 Painting with a Twist – Date Night Activity
Now, for the fun part – the painting! In order to help guide you and your spouse during your paint night, we have a printable painting activity to mix things up a bit. First, roll the die to determine WHAT to paint. Based on what you roll, the printable will instruct you to paint anything from a self-portrait to happy little trees! Then, roll the die again to determine HOW you will draw the item. For example, you might need to paint with your eyes closed. Or, maybe the roll of the dice will suggest that you paint with your non-dominant hand!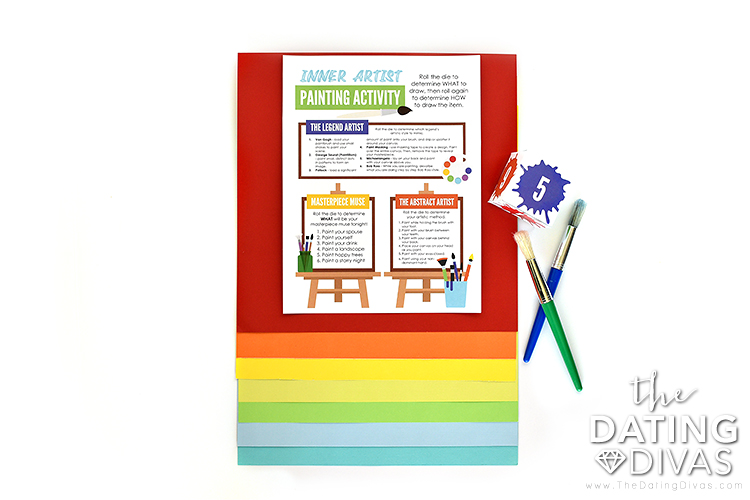 Finally, if you are feeling EXTRA ambitious, you can roll the dice again to determine the artist style you will mimic. Whether you select Michaelangelo or Bob Ross, you will be painting with a twist in a way that you have never before. Who knows? All things considered – the right combination of the die might just produce a true masterpiece!
SIP and Paint Activity
Once you have your painting muse selected, you can also add in another fun element to the date night – the "sip" portion. While you are painting, you and your spouse can enjoy a favorite beverage. As the evening progresses, you will naturally paint and sip and then sip and paint, but the fun part is just starting!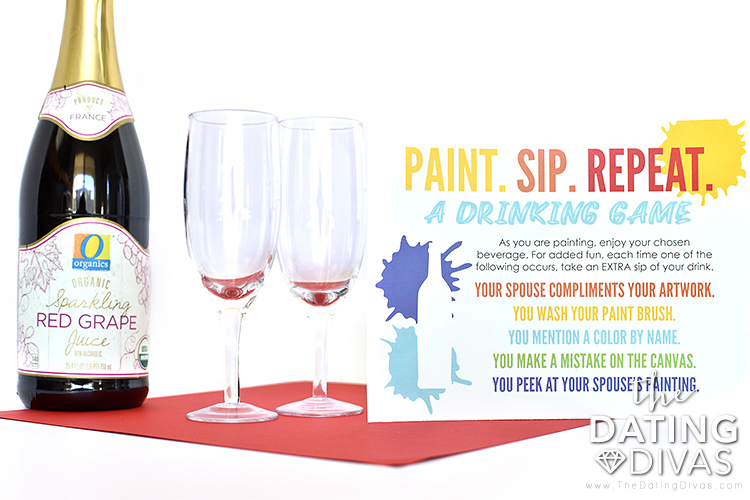 For a little added fun, each time one of the items on the printable card occurs, you will take an EXTRA sip of your drink!  Actions such as peeking at your spouse's painting are punished (or better said rewarded) with an extra sip! Or, you can cause your spouse to take an extra sip by simply complimenting their artwork! This date night is so much more than just paint and drink – it is all about bonding and flirting, so have a little fun with it!
Would You Rather Paint and Sip OR Sip and Paint?
As though the painting activity and the silly paint and drink game weren't enough – we have even more to make your paint and sip date night a bonding experience! We have included a dozen unique questions that, although simple, can really strike up a conversation!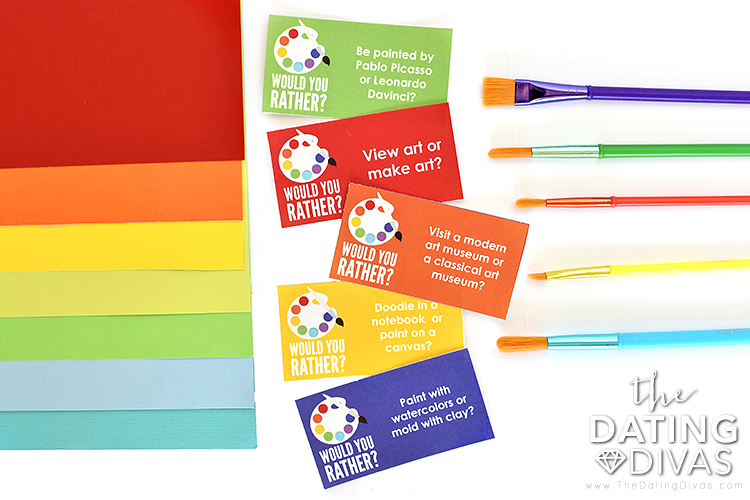 Each of the twelve question scenarios is focussed on the art-theme. While you are painting, pull out some cards to get to know each other a little better! For added fun – try to guess how your spouse will answer and see if you were right.
What We Love About a Paint and Drink Night
A night of painting with a twist is something we think will be a date night that any couple can enjoy. Here is why:
Even if you are not artistically inclined, the silly structure of the roll-the-die activity makes it more about being silly than being skilled!
This date night provides so many opportunities for flirting! Activities such as the drinking game give you chances to tease and taunt your spouse.
Maybe you will even "brush up" on your painting skills in the process (pun TOTALLY intended!).
The conversation cards can really provide a chance to talk about new things other than the usual topics.
The date can be as simple or as elaborate as you want it to be. The idea is simple – just paint and drink! You can use one of the activities or all of them – depending on what you are your spouse would most enjoy.
Most importantly, after this date night is over, you will have a canvas masterpiece to remember your date by.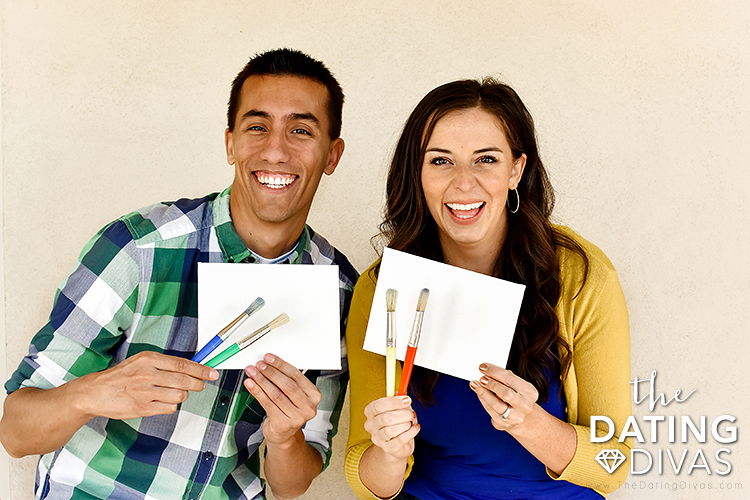 Whether you are a budding artist or an aspiring Vincent Van Gogh – this date night can be fun. Release your inner artist, and brush up on your skills!
And, after your masterpieces are created, you and your spouse can have a little artsy fun . . . in the bedroom! After painting a canvas, why not paint your spouse? We have some DIY Body Paint Ideas and Recipes that you are going to love! Or, we have our popular Go Picasso! Bedroom Black Light idea that would be the perfect ending to this paint and sip date night! Talk about painting with a twist! These ideas take the artist's palette to a whole other level!
Paint and Sip Date Night
Printables Designed by Courtney @ Paperelli Exclusively for The Dating Divas
Paint and Sip Digital Invitation
Printables Designed by Courtney @ Paperelli Exclusively for The Dating Divas