Ghouls Night Out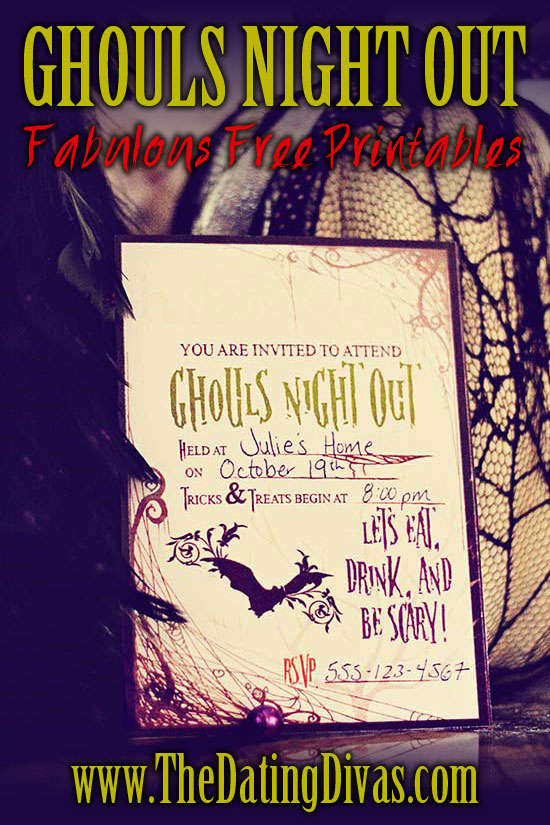 Disclaimer: This post contains affiliate links. To learn more about 'em, click here.
It is always fabulous spending time with your husband, but every now and again a girl has got to have girl time! Just a few hours with some amazing ladies can really boost your spirits and energy level:) If you are a fan of Halloween fun and DIY Spa nights, then you are going to LOVE Ghoul's Night Out!
You can make this super simple and just invite a couple of your best girl friends for a casual night over at your house OR you can go all-out in a decorating frenzy and invite as many fabulous ladies as you can squeeze into your house. Totally up to you:)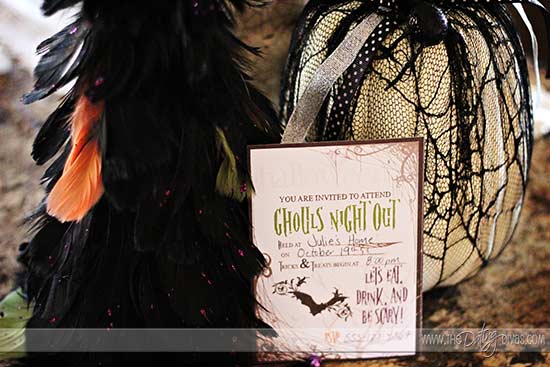 Every great party begins with festive invitations and Kristin from CdotLove created the best ones for this event. Aren't they fabulous?! The best part is that it's your lucky day and you get them for FREE!!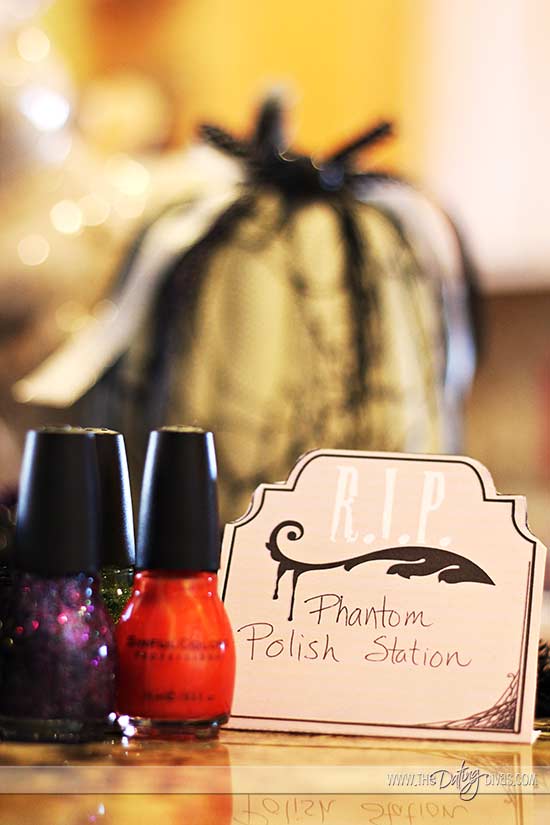 Since this is an at-home spa themed party, you are going to want to stock up on Halloween nail polish colors. For your Phantom Polish Station go for anything with sparkles, orange, black, white, purple… even green are all great options to create some amazing-looking finger- and toenails. You also may want to have some polish remover and cotton balls on hand so that your guests can easily remove their old polish.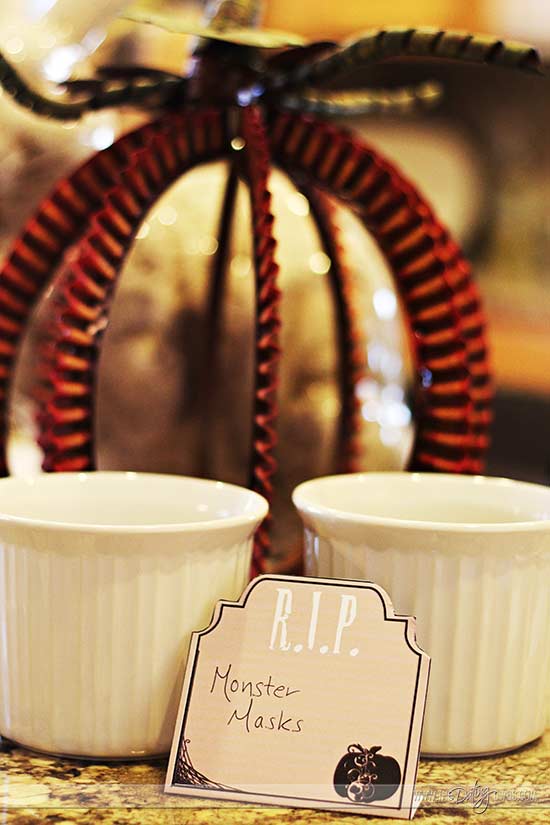 Get ready to scare each other with some fresh DIY spa Monster Masks!! You can easily whip one up that consists of 2 mashed avocados with 2 tablespoons of apple cider vinegar, 2 tablespoons of plain yogurt and a squirt of honey. You can mix it by hand or with an electric mixer for a smoother consistency.  This could be a fun one to try since it is a Frankenstein Green color- just make sure all your kids (if you have any) are sleeping before you do this or it could be quite frightening for them to see!! We also have a fantastic post with a TON of great DIY spa tips.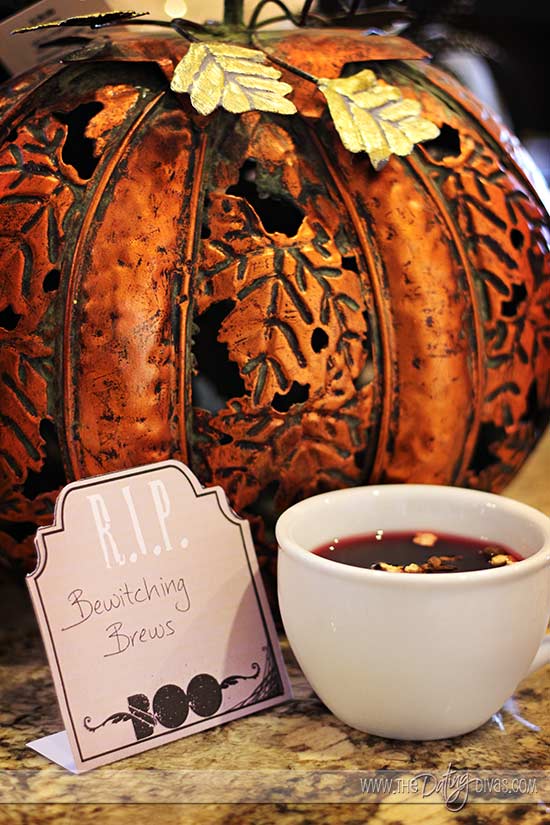 You will certainly want to have some tasty drinks and treats at your Ghouls Night Out event. I am all about deciding what to serve and tying it in with the theme. I know so many of you out there are super crafty and creative and can turn cookies and cupcakes into fancy looking ghosts and witches and pumpkins. If that is one of your creative strengths, then you are awesome…me…not so much, and since I want people to actually eat what I make I am all about keeping it simple and tasty. You could really serve any festive fall drink for your Bewitching Brews. One of my favorite drinks shown here is a recipe from my mom for Cranberry Orange Cider, which is the perfect Fall drink and so easy to make.
Cranberry Orange Cider
Simmer 2 cups of water, 1 & ½ cups sugar, and 4 cinnamon sticks 10 minutes.  Add 1 quart cranberry juice, 1 quart water, 2 cups orange juice, and 2 Tablespoons lemon juice. Add mulling spices if desired (I got mine at Trader Joe's, but have made this lots of times without using them too). Simmer without boiling for 30 minutes.  Serve hot.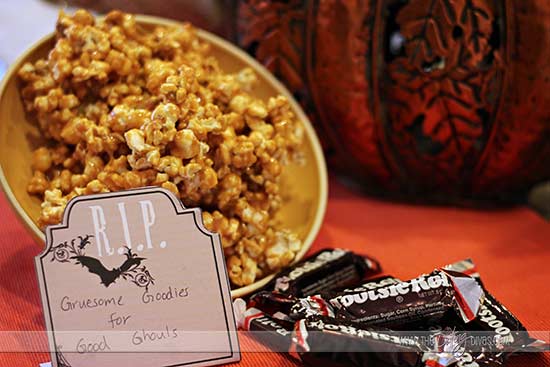 Pick your favorite treats to serve as your Gruesome Goodies for Good Ghouls. My Aunt Jayne's Caramel Popcorn is one of my all-time favorite treats so I had to make some of that.
Caramel Popcorn
2 cups brown sugar                ½ cup corn syrup
1 cup margarine                       pinch of salt
Pinch of baking soda                  pinch of cream of tartar
2 x in the popcorn popper (or 3 bags microwave popcorn)
Put sugar, corn syrup and margarine  into a heavy pot.  Stir well, boil for 4-5 minutes.  Add salt, cream of tartar and baking soda.  Pour over popcorn.
Candy, chips and salsa, fresh fruit, pumpkin loaf…you really could serve anything delicious and your guests are sure to love it! If you are a culinary queen then look no further than Pinterest for some dazzling ideas. The Dating Divas Pinterest Board has nearly 400 awesome Halloween ideas just waiting for you:) If you aren't following us already, then you have been missing out and have got to join in the fun!
Are you totally in love with the tombstone food markers? I know I am! I purposely had these left blank so that you can print them out and use them with anything you decide to serve or any activity you decide to do (fortune telling, anyone?). Kristin with CdotLove created these as well and there are 4 different ones on a page. So fun and so cute!
For amazing delicious recipes that OUR husbands love, check out our Dating Divas Recipes Revealed Cookbook!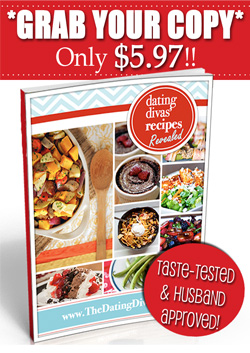 Ghouls Night Out
Printables Designed by Kristin @ CdotLove Exclusively for The Dating Divas