Schedule some MUCH needed time with your ladies using our
Girls Night Out Planning Kit!
Hey girl! Here at the Divas we know that for busy wives and moms, a little time with the girls can do WONDERS. After some female bonding we're always more refreshed, happy and buoyed up, with more energy for the husband and family. Sometimes getting all the ladies together can be tricky to coordinate, but have no fear! We're here to make girls night happen, not just once, but EVERY month!
This cute little video will tell you how to put your own monthly Girls Night Out into action!

Disclaimer: This post contains affiliate links. To learn more about 'em, click here.
 Have you ever wondered how to do a girls night out? And make it a regular event? We teamed up with the AH-MAZING designer
Alexa Zurcher
to make a gorgeous planning and party kit. She's produced some oh-so cute printables (thank you 
Alexa
!!). The girly colors and gold confetti make a darling girls night out theme for your first party. Not only that, we've given you tons of tools and tips on how to do a girls night out EVERY MONTH! Now, getting all your besties together is going to be super fun, simple, and doable! Hooray!
 This Pack Includes:
Girls Night Questionnaire to poll your friends' interests
Party Invitations– printable and mobile versions

Pretty Party Decor

  to decorate for the first girls night party!
Party Favors for the ladies AND the guys at home
Icebreaker Game called "Whose Lie Is It Anyway?" 

Organizing Tools

for the host to coordinate future get-togethers
All you have to do is print this darling pack and you're all set for your monthly Girls Night!
Planning and Prepping 
Girls Night Out Ideas Questionnaire
Moms and wives have BUSY schedules! Thus, figuring out a moms night out can be tricky! We've made it easy to coordinate times and activities that work for EVERYONE with a Girls Night Survey Questionnaire. Send this out via mail, OR we've included super easy electronic version that can be emailed to each lady!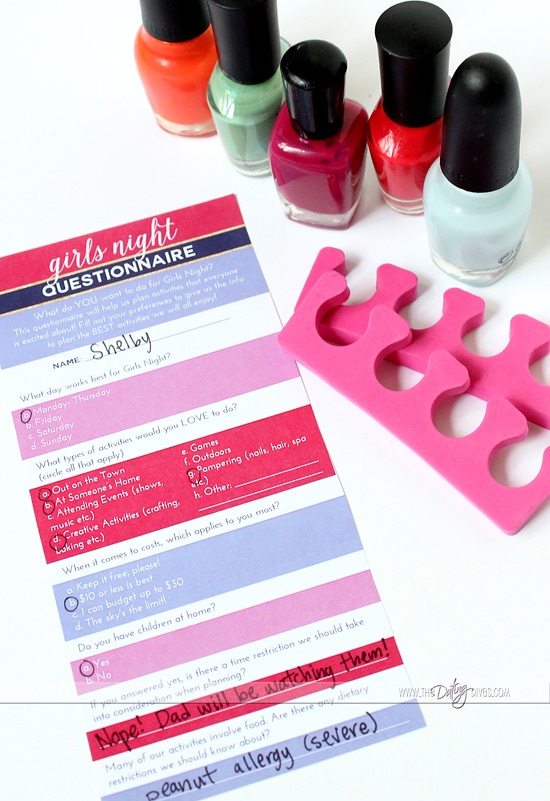 Girls Night Out Invitations
Next, invite all your favorite ladies to come join you for the first GNO! Print and mail our pretty Girls Night Out invitations. If you don't have time to address envelopes, send our quick and easy E-Invites via text or email!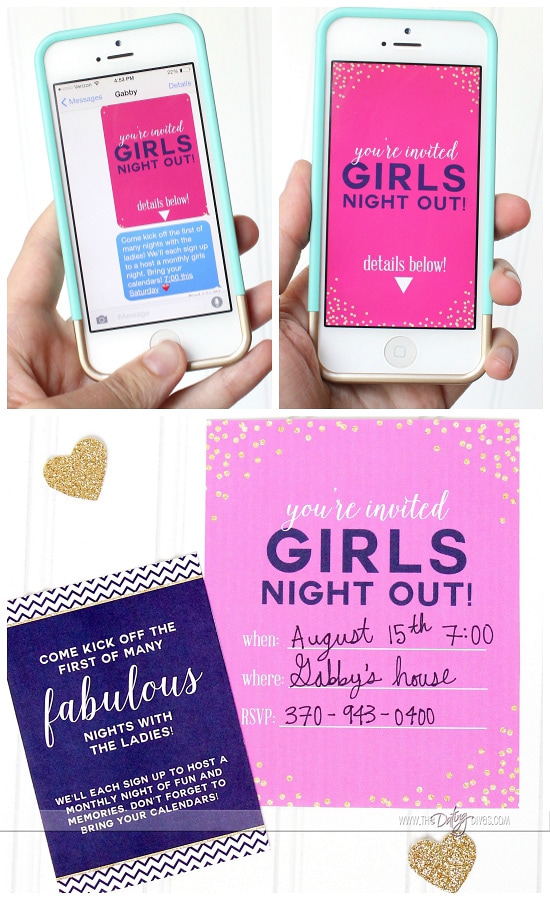 Kick-Off Girls Night Party
Girls Night Party Decor
You'll be hosting the first Girls Night Out and you want your party to be a hit! Just PRINT our easy decorations including a colorful banner, printable art to frame, straw flags and cupcake toppers!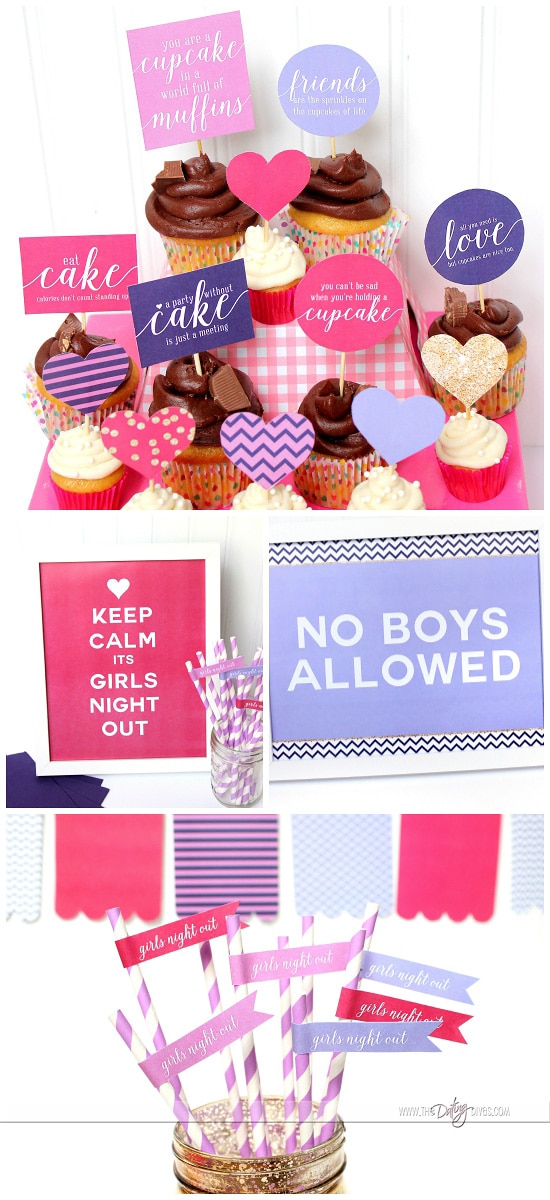 Girls Night Party Favors
Thank all your guests for coming with the "Hello Sweets" party favor topper! To make Girls Night happen, the guys at home are giving up their girl for the night. Make sure they don't mind TOO much and send your guests home with a husbands' treat favor! Just print and attach to your treats and everyone will leave happy!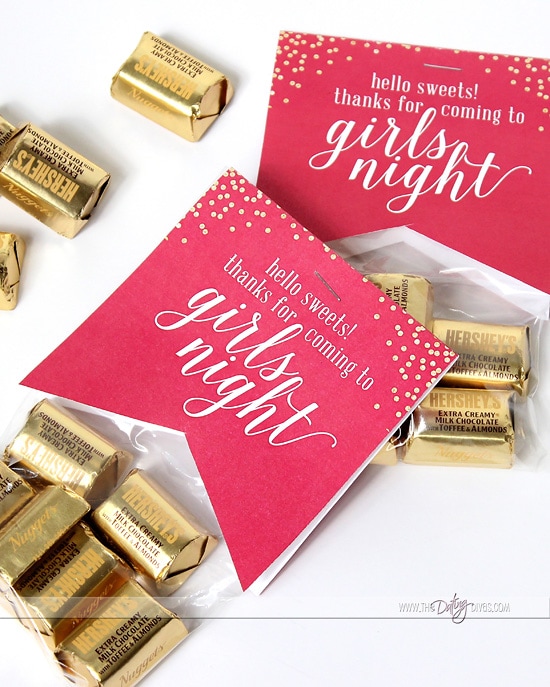 Icebreaker Party Game
Your first Girls Night Out party might include girls from different circles that don't know each other. An icebreaker game is always a good idea to get people having fun and feeling comfortable. Use the printable game cards and score sheet to play our hilarious party game, that will have everyone laughing. It's a little like the game Two Truths and Lie, with a twist!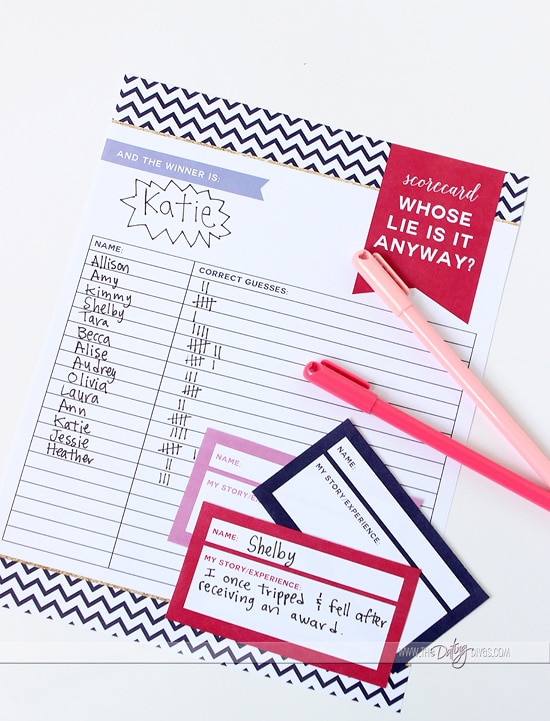 Organize Monthly Girls Night
Sign Up Sheet and Reminder Cards
To ensure that your get-togethers continue all year long, have each of your girlfriends sign up to host their own girls night out! It would be a great idea to have everyone use this Sign-Up Sheet before everyone leaves the party. Send each girl home with an Assignment Reminder Card so they won't forget their assignment! To make sure you have plenty of fantastic activities for your GNOs, we've included 10 Bonus Girls Night Out Ideas complete with details and a link up!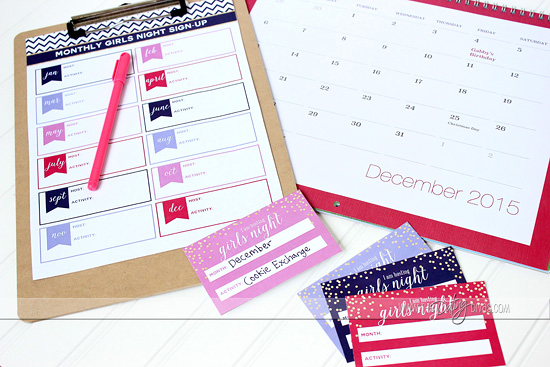 There's even a bonus page full of Girls Night Out ideas
Ok, admit it, you're loving these FUN ideas, aren't you? Don't deny that you're itching to call all your girls and get started! So grab this B-E-A-UTIFUL printable Girls Night Out Kit and start planning. Evenings of pedicures, chick flicks, laughter and memories await you!
Get the GIRLS NIGHT OUT PARTY PACK for just $9.97!

This is a digital product that will be emailed to you, for you to print. Hard copies will not be mailed. Color may vary depending on monitors and printers. All sales of digital products are final.
We know you love getting together with friends, and now you will have plenty of time with the girls. But don't stop there! Include your hubby in a monthly event as well! Plan regular couples' date nights with our Group Couples Date Night Pack! Another great organizational tool to look into is the Babysitting Co-op Kit— coordinate with other parents to trade-off babysitting to make sure you get plenty of date nights!