Fun Museum Date Activities
It's happened to the best of us. You have the perfect date planned to be outside and enjoy the sunshine, then you wake up to pouring rain or a bitterly cold and snowy day. Our solution? Grab your sweetie and head to the museum for a fun museum date scavenger hunt! Even if you've already been to museums around your area together, these unique scavenger hunt ideas will make it seem like your first time exploring the museum. So, fill out that colorful invite, grab your tickets and scavenger hunt checklists, and head to the nearest museum!
Date Night Invite
We created this adorable framed museum scavenger hunt invite to pull out and surprise your spouse on a rainy day. All there is to do is simply print it out, cut around the frame, and fill out the date and time. How fun is that? For a fun way to display your museum scavenger hunt invite (and other date night invites in the future), check out these cute mini easels! As a tip, we recommend using a heavier paper like this cardstock for all your printables, especially since you'll be carrying your scavenger hunt checklists around the museum.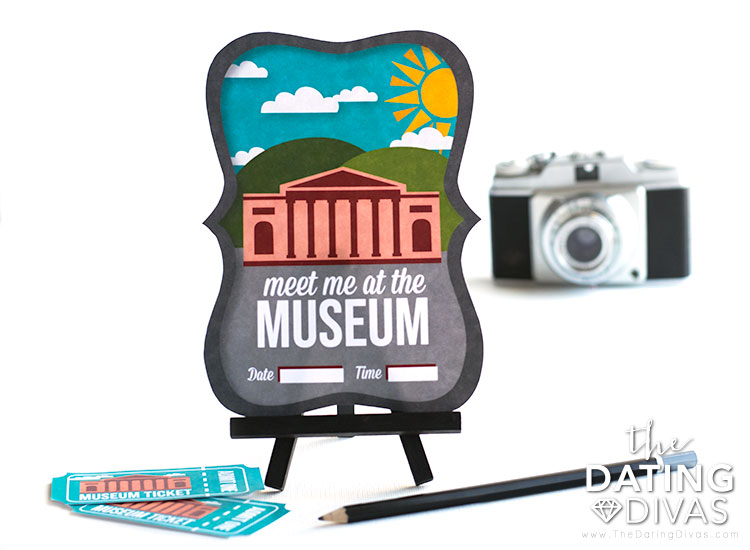 Museum Scavenger Hunt Checklist
Are you ready to get your scavenger hunt on? We created some bonus printables to go along with the scavenger hunt checklist, including two museum tickets. Give those to your spouse to keep as a fun souvenir!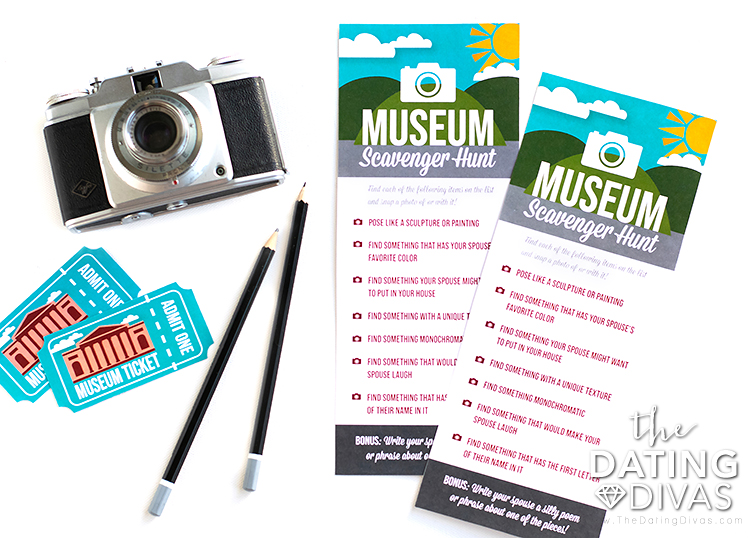 Here's where the fun really begins! When you get to the museum, you'll actually start your date off separate! You'll each grab a checklist and split up to try and mark off the items on your list. Before you head off in different directions, make sure you pick a place to meet back up again. For instance, you could meet back up at the entrance, almost like you just walked in together. Some museums have a coffee stand or a place to grab a bite to eat where you could meet up. You may also want to set a time limit for each other. We recommend something like 20 minutes, but you can adjust based on the size and type of museum you go to.
After you've established a meetup place and a time limit, grab your phones and wander through the museum apart. To check off the things on your list, snap a photo of the object by itself or with you in it! After your time is up or you've checked all the boxes on your list, meet up again. Walk through the museum together, sharing the photos you took along the way.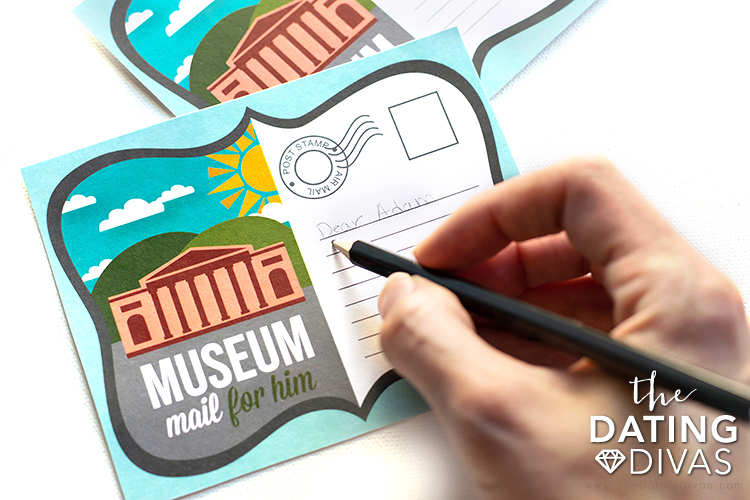 Scavenger Hunt Souvenirs
To wrap up your night, you could get a souvenir from the museum gift shop for each other. But for a more budget-friendly option, we've created some cute printables that will make your museum activities memorable! Our first souvenirs are postcards for him and her. At the bottom of your scavenger hunt checklist, you have the bonus option to write your spouse a silly poem or phrase about one of the pieces. You could use your postcard to write your poem on and keep as a fun memory of your date night. We also love the idea of writing your sweetie a cute love note or message to save and give to them when you get home or the next day.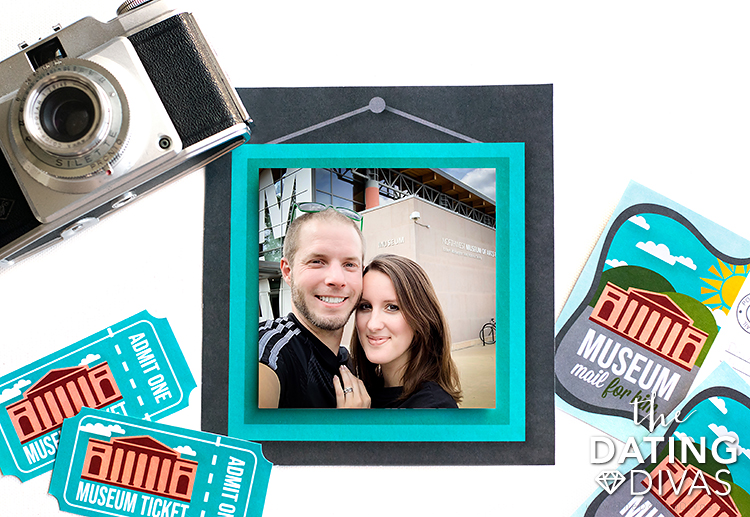 For one more souvenir, we created a cute printable frame with a 4×4 opening that you can hang on your fridge or wall to remember your date night! Just remember to snap a cute photo of you and your spouse together before you leave the museum!
We hope you love this fun rainy day date! If you're looking for another fun date to do inside, check out our Embarrassing Dares at the Mall Date. If you're looking to bring your kiddos into the mix, check out Fun Bowling Ideas for the Whole Family!
Go On a Museum Date Scavenger Hunt
Printables Designed by Karina @ The Dating Divas Exclusively for The Dating Divas