Have you always wanted to throw a murder mystery game party for a group of friends? Or maybe you've thrown one and you know what it's like: HOURS of preparation, printing, reading, coordinating…
Get ready for a totally tubular, completely rad, and super simple 80's prom night with a KILLER twist!
Put down the scissors, don't stress about the ink in your printer, and experience the BEST new way to throw this one-of-a-kind group party!
So pull out your favorite mixtape, grab your best neon outfit, and whip out:
The Killer '80s Prom!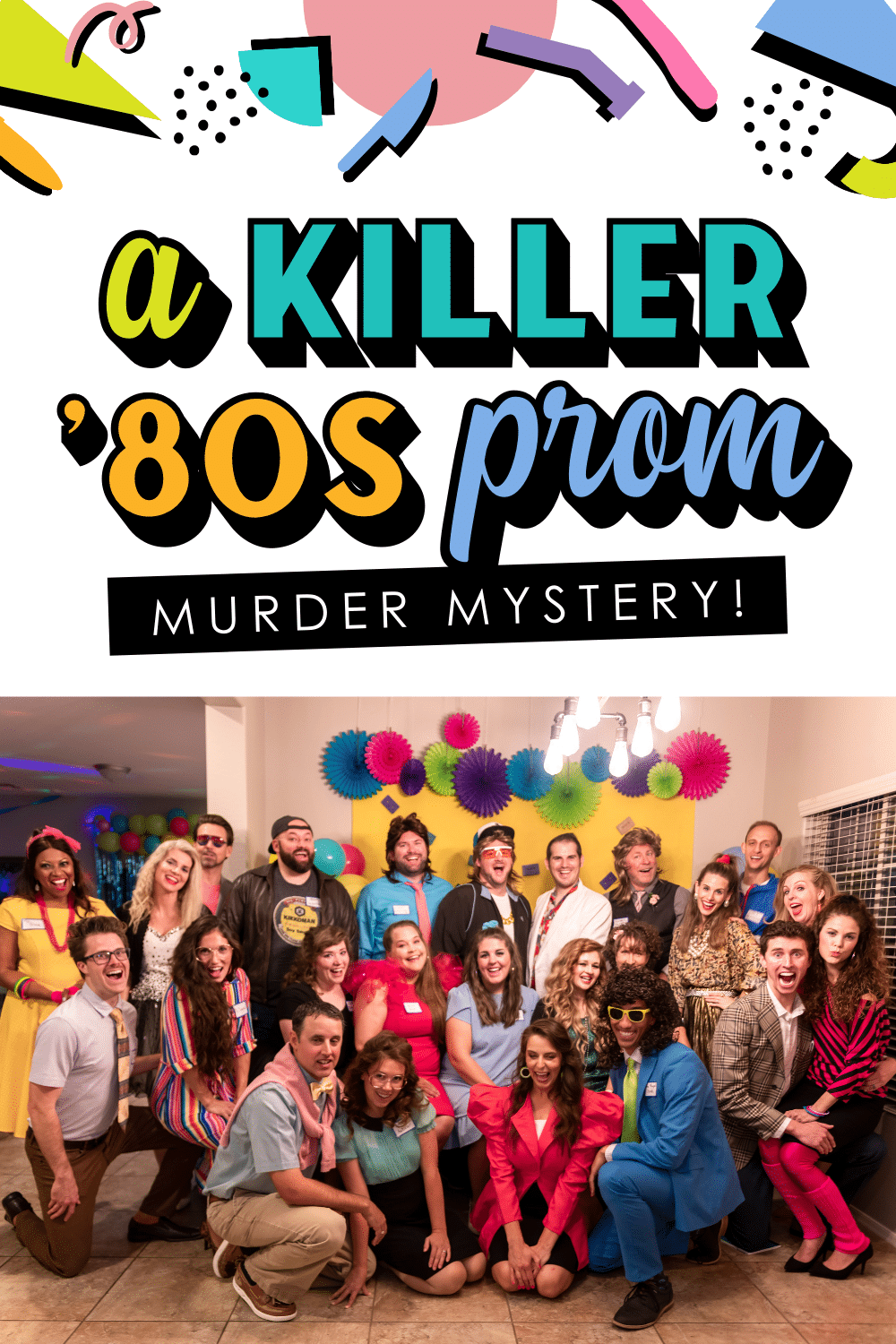 A totally rad '80s prom, with a KILLER twist!
As the host of the bash, you'll get instant access to an app that houses everything (and we mean EVERYTHING!) that you'll need to know before throwing this gnarly murder mystery game, without giving away any of the story!
As your totally tubular guests enter your party for the evening, you'll have a unique QR code for each of them to scan that will take them to their own private app for the evening! All anyone needs to do during the party is just follow along in their app, learning every bit of gossip they need in order to move the story along!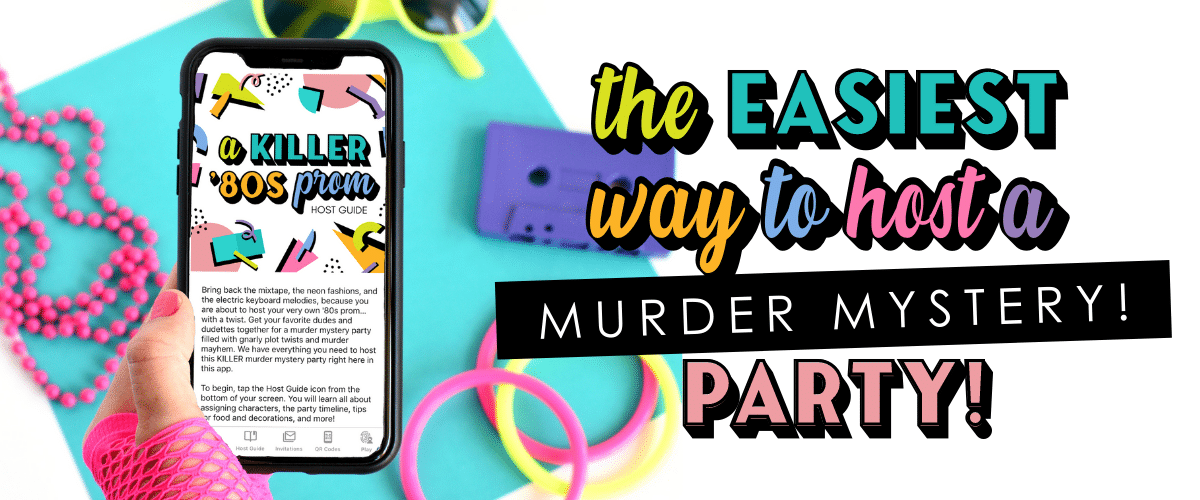 What do I do as a host?
When you get the Killer 80's Prom, you'll get your own Host Guide app that has absolutely EVERYTHING you need to pull off the perfect prom night.
Here's a sneak peek at what's included in your Host Guide app:
Directions for how to assign all the characters to each of your invited guests (This particular mystery is perfect for 20 people/10 couples, but can be done with as few as 14 people/7 couples, or as many additional characters as you'd like)
A generic digital invite that you can send to all of your guests
20 character-specific digital invites that can be sent to each guest, informing them of their character's personality and look, so that they can arrive totally prepared!
Step-by-step directions for what needs to be prepared the night of the party (Hint: it's not that much! Easiest hosting gig ever!)
Party decoration ideas, including direct links to the RADDEST prom decor out there!
Food suggestions to keep things simple yet on-theme (I mean, you've GOTTA have a punch bowl, right?!)
A party timeline so that you can get a feel for how the evening will be organized. But don't worry, you still aren't getting any extra info that will ruin the mystery of the night!
Prom music playlist (DUH!)
You'll have access to all 20 character's QR codes that will take them directly to their individualized app for the evening. You'll want each guest to scan their own QR code as they walk into the prom! (Plus, YOU will be assigned one of the characters, too! Just don't scan your own code until the party starts for the ultimate surprise!)
While you've got a bit of character-assigning and inviting ahead of you, there's not much else needed to pull off this killer party!
Easiest. Hosting. Gig. Ever.
What will my guests experience?
When you plan your 80's Killer Prom party, you'll need to think of your guest list!
This party is designed for 20 players, and each player is in a "couple" with another character, making it the perfect group date!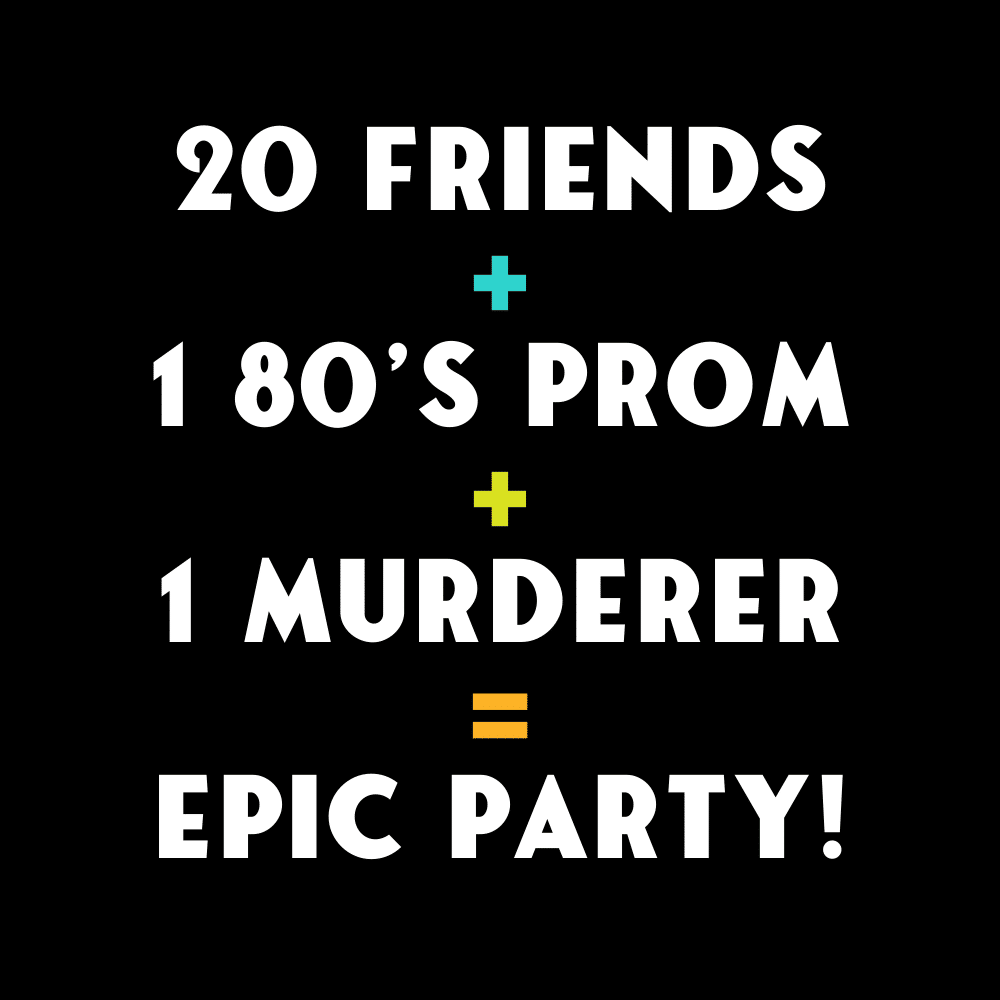 Here's a quick rundown of all the characters that will show up at your prom:
Principal Hyde – the germaphobe Principal who despises teens
Vice-Principal Huish – the VP who tries a little too awkwardly to fit in with the kids
Ronald Reboot – the Senior Class President bound for the White House
Melissa Mooney – the prom committee member who hears wedding bells in her future
Willy Waves – the class clown whose focus is always on the next prank
Kelly Klinger – the fashionista who is anything but camera shy
Coach Armstrong – the school's football coach who constantly relives his glory days
Ursula Upstage – the dramatic theatre teacher who is passionate about the arts
Todd Tooshoe – the goodie goodie student who is as preppy and privileged as they come
Amy Achiever – the school's most scholastic student and likely to be the valedictorian
Scott Scour – the clumsy custodian who can't seem to remember his keys
Ms. Saysso – the rule-enforcing government teacher who is focusing on educating the future generation
Chad Catching – the school jock, and a football star with a promising future
Becca Brite – the bubble gum smacking cheerleader who is full of spirit
Christopher Cannon – the school's lead journalist who is always looking for their next story
Lisa LeFame – the thespian who seeks the spotlight in every situation
Jason JuJealous – the new kid with a dark past
Chanel Frenchè – the French foreign exchange student whose thick accent attracts all the boys
Craig Clash – the breakdancing b-boy who loves to drop a strong DJ beat
Dawn Dissonance – the toe-tapping band geek
Note: If 20 people/10 couples (including yourself!) is not feasible, this party CAN be done with as few as 14 people/7 couples. When you get your Host Guide app, you'll see the directions for how to do this.
Another note: If you have MORE than 20 people/10 couples you'd like to invite as guests, we've come up with a simple solution to add on as many additional people as you'd like. They'll even get their own character app, too!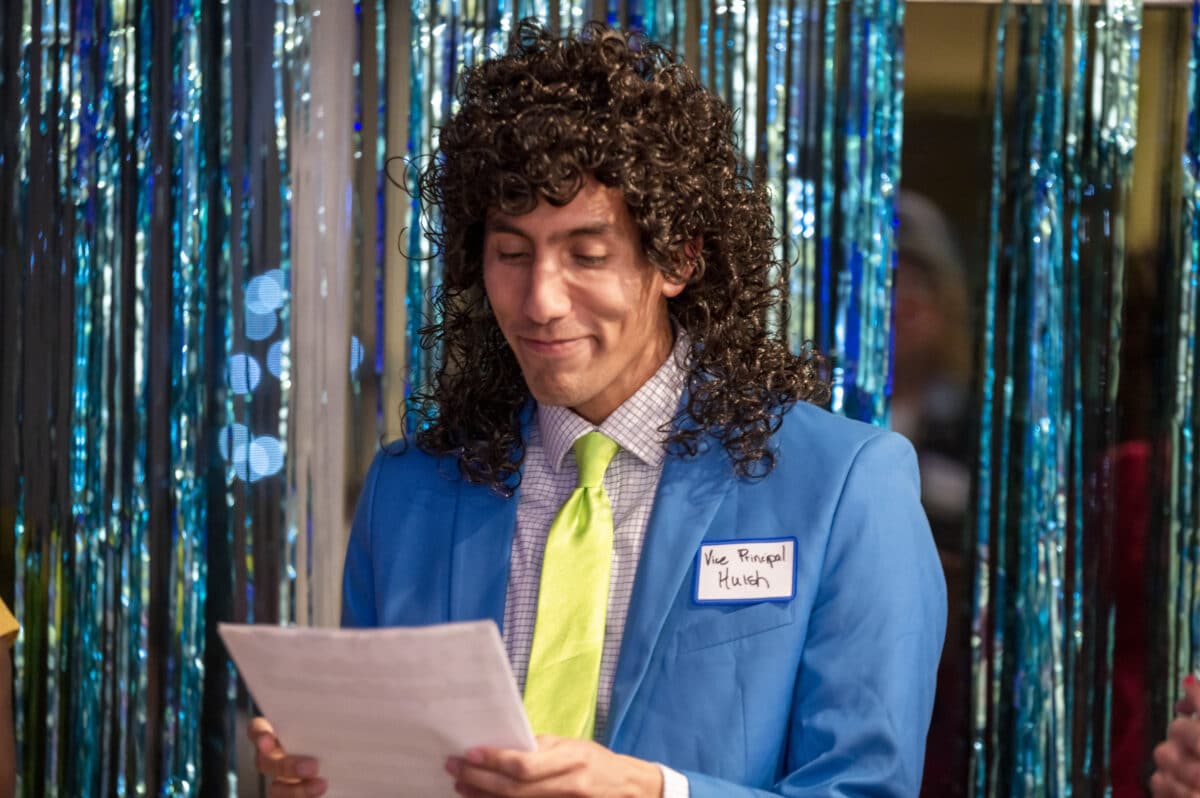 Once you've planned out your killer guest list, you'll send each guest a generic digital invitation, also included in your Host Guide app. These are SO easy to text out, and totally awesome!
Getting RSVP's is a MUST for this kind of party! As soon as you hear back that each guest will be attending, send them their unique character's invitation so that they know who they will be, and how they can dress and act!
Guests (including YOU as the host) won't know anything about the dramatic story that will unfold during the party until they actually arrive, all blinged out and hair sprayed up. But these invites are crucial in letting your guests prepare how they will dress and act for the night!
The night of the big Prom, you'll have each guest scan their own unique QR code (found in your Host Guide app!) as they arrive.
Their QR code will take them to their very own Killer 80's Prom app for the evening! Each guest will save it to their home screen and spend some time reading to get the latest scoop on all the gossip they know.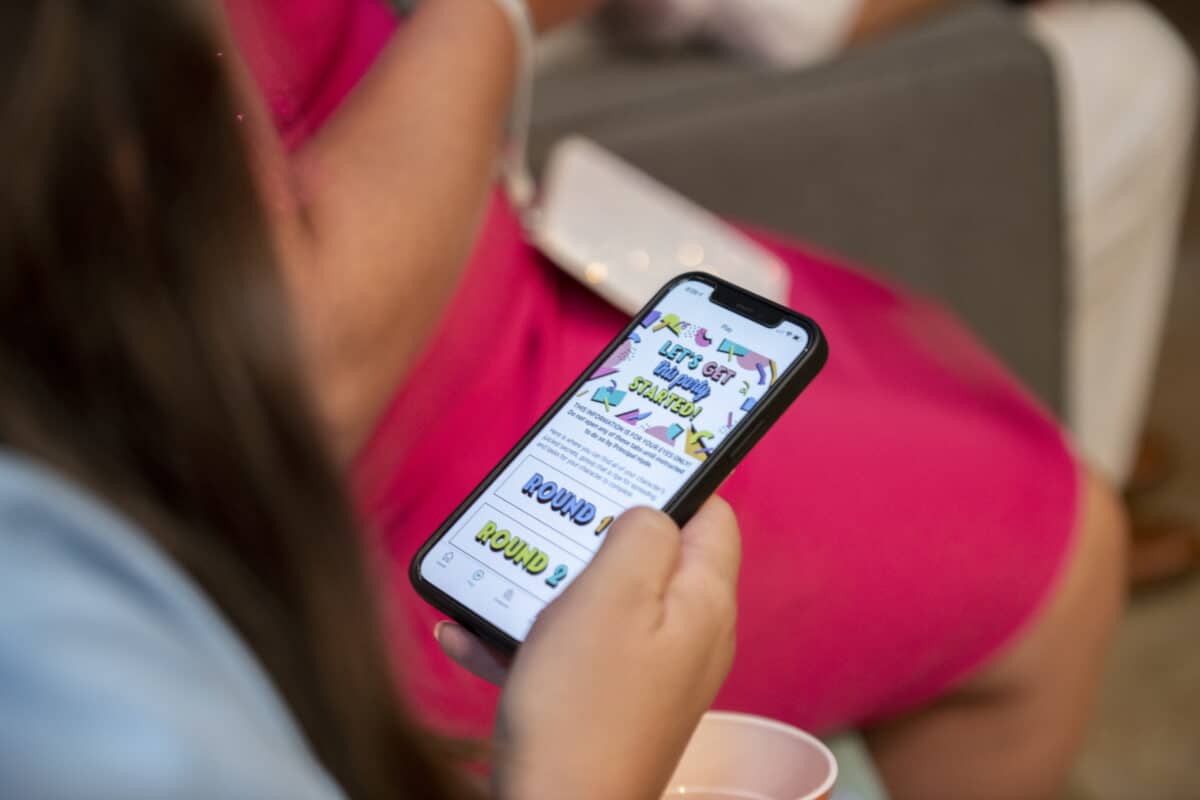 And from then on, the app will walk everyone through what to do for the evening! There will be lots of time for mingling amongst guests as you swap stories and stir up a little trouble… okay, okay, I don't want to give too much away for how the evening will unfold! Just know that everyone is going to have a BLAST doing their own thing.
The party should last around 2 hours in total.
I'm ready to party like it's 1985!
Say goodbye to the scissors and the hours of organization, and say hello to the NEW, simple way to pull off the most complicated kind of party.
All of your guests will have a BLAST with the throwback 80's theme, and you will get to enjoy participating in the party without having any of it spoiled beforehand!
It's as simple as you downloading your Host Guide app, inviting all your totally tubular guests, and making sure they scan their own QR code as the party begins! Download. Invite. Scan. That's it!
How much does this cost?
For a full evening of dramatic and creative face-to-face fun, murder mystery parties can cost up to $60 (or more!) for a kit where you either have to do all the printing and prepping, OR you have to wait for a large package to be shipped to your door.
We wanted to make a simpler and cheaper way.
Our completely all-inclusive 80's Killer Prom party, with your detailed Host Guide app and then 20 additional character-specific apps is only $45! (That's $4.50 per couple for an evening they will never forget!)
Click below and gain instant access to your Killer 80's Prom Host Guide app, and start planning the raddest throwback evening with some of your best friends!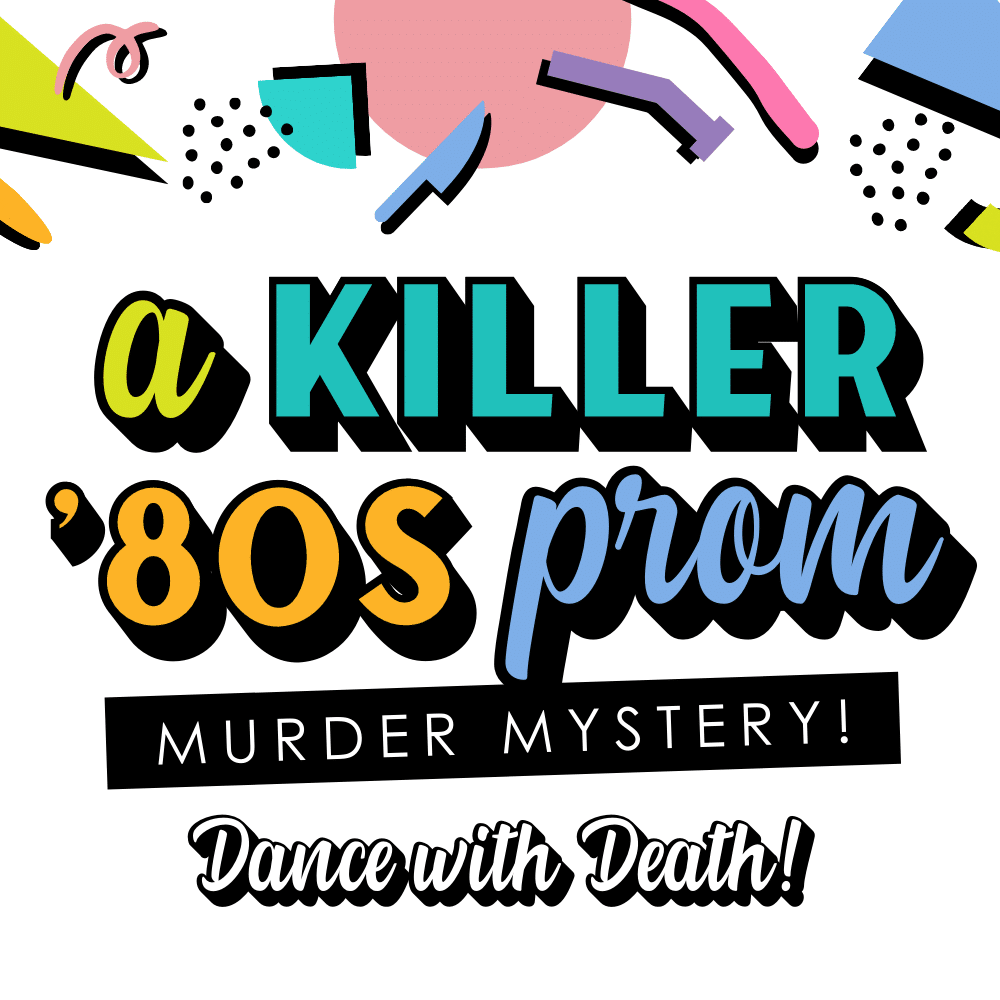 Click to get instant access to your
Killer '80s Prom
Murder Mystery Game
$45.00