4 Fun Bowling Ideas to 

Let the Good Times Roll
The bowling alley is a classic place for a night of fun. Bowling is a game that offers a challenge on its own, but sometimes it is fun to shake things up a bit and do something a little different. Each of these fun bowling games provide a unique, sometimes embarrassing, twist to the classic game. Whether you are wanting to strike up some family fun with the kiddos or are headed out on a unique group date night in your spare time – these incredi-BOWL-y fun bowling ideas are something that everyone will love!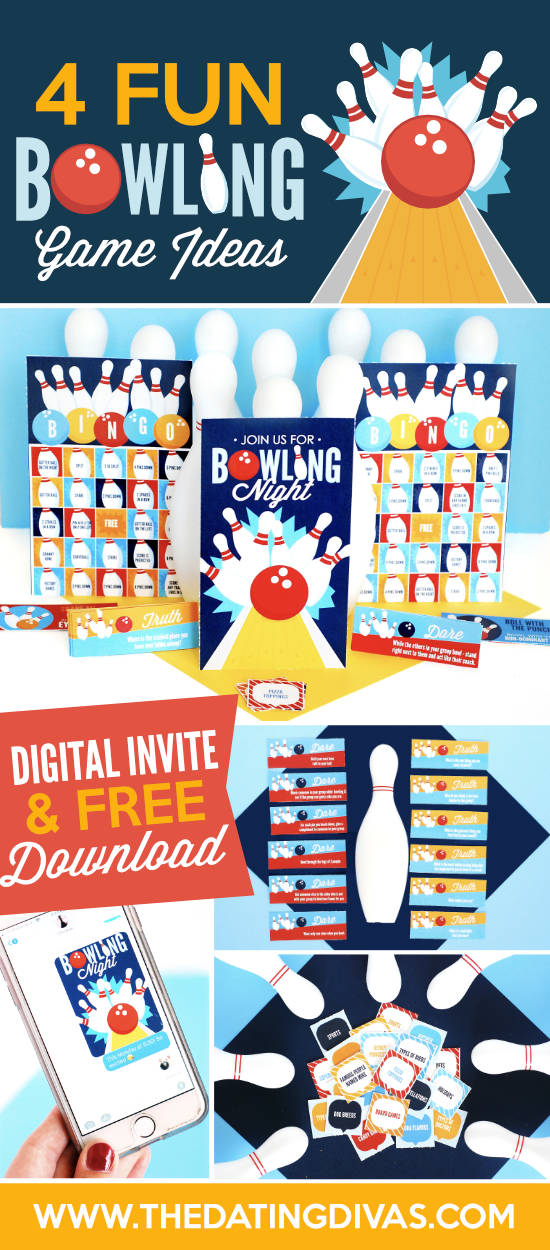 Disclaimer: This post contains affiliate links. To learn more about 'em, click here.
Thanks to our un-BOWL-ievable designer Carisa from Messes to Memories, we have not one, but FOUR totally crazy and totally fun bowling games for you to try the next time you head to the alley. Each of these fun bowling ideas have gorgeous free printables all ready for you to just print and play because, well, that is how we like to roll . . .
Invitation For Some Fun Bowling Games
Get your group excited for an evening at the alley with this bowling night invitation. Whether you are going on a date night with your spouse, a group date night with friends or taking the kiddos, an invitation can help everyone get excited.

Personally, I am all about using texting and emailing to invite my friends for date night. We designed an additional digital invitation for you that you can easily download and send to your group in an email or a text message.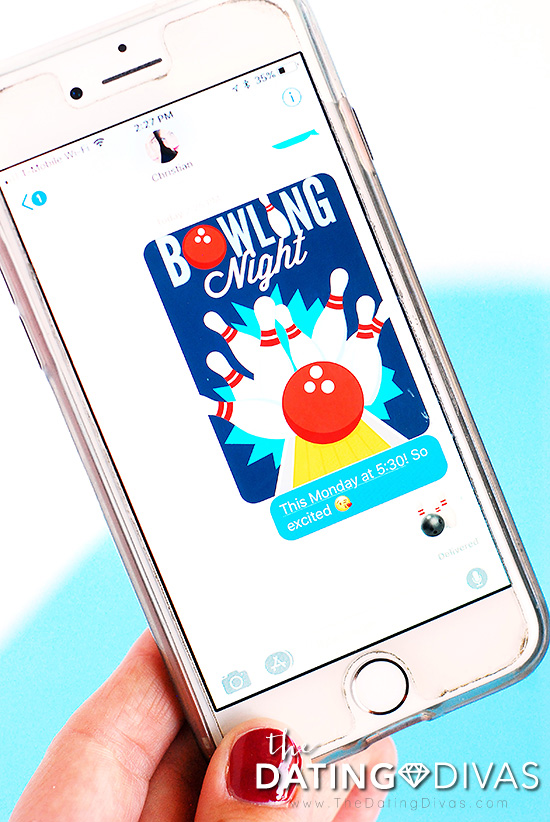 Bowling Bingo
Here is a unique twist on your bowling tactics. In this game, you don't just try to get the most pins down or the highest score, instead you are trying to get five in a row for a Bingo!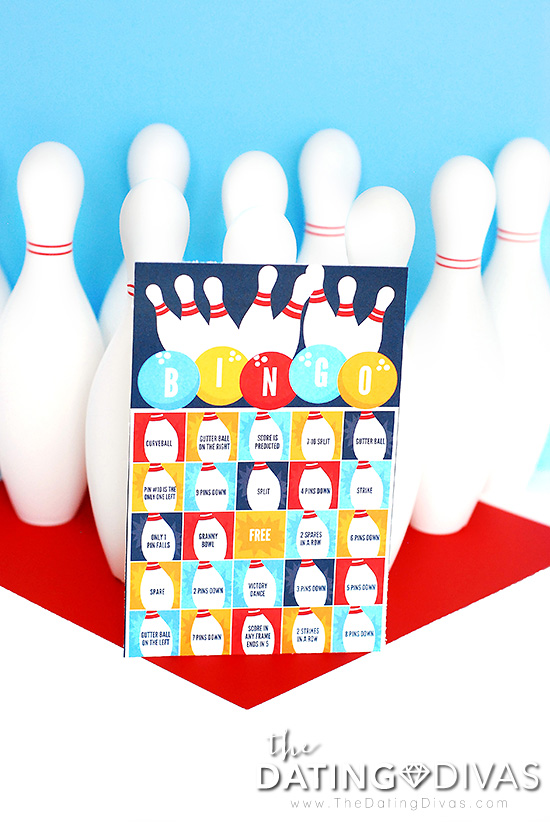 How to Play Bowling Bingo:
Each person bowls their frame like normal but instead of trying to get the highest score, you try to get five items in a row marked off of your bingo card. The items range from unique ways you bowl (such as the granny bowl technique) to which pin you knock down. It even encourages getting a gutter ball! Get any five in a row and you win!
Crazy Bowling
The name of this game says it all – it is CrAzY! This was probably my favorite game that we played when we went recently with some friends.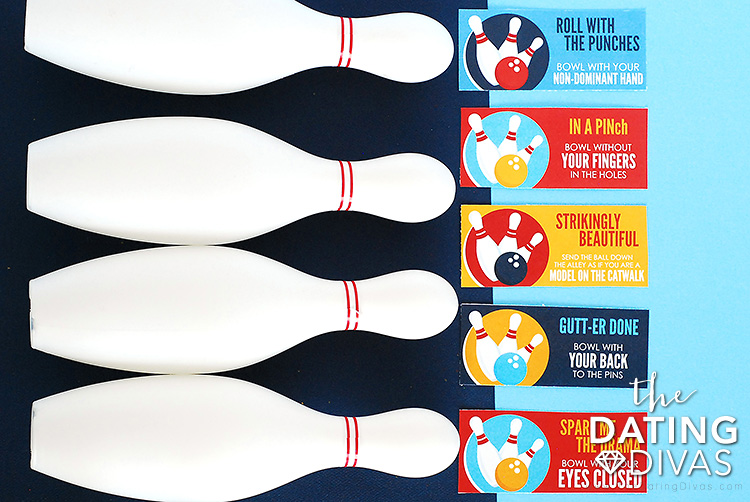 How to Play Crazy Bowling:
 Before the beginning of a new frame, choose a card to determine how each person will be rolling their bowling ball down the lane. You may have to bowl with your eyes closed or you might be asked to bowl while sitting down. After playing this game with friends I would definitely suggest choosing the card at the beginning of the frame and having everyone in your group do the same challenge. It put everyone on the same playing field and it was really fun to see different people's interpretations and personal flair added to each challenge. 
Truth or Dare Bowling Game
This game gives you a chance to really break the ice with your group and to get to know each other a lot. It provides embarrassing opportunities and some crazy bowling techniques!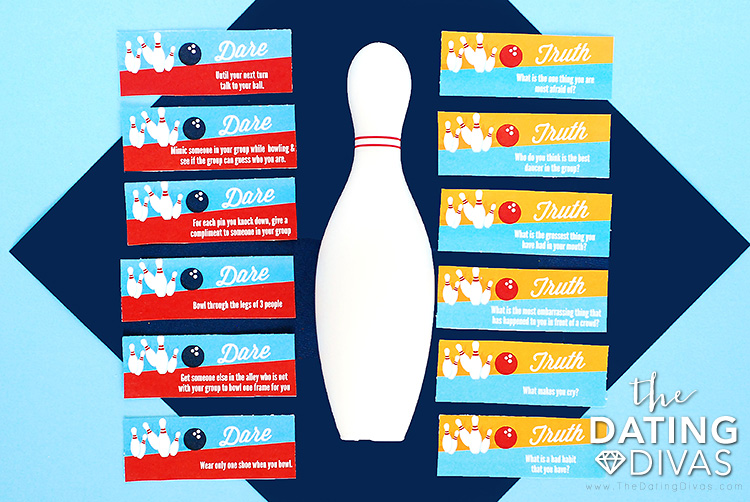 How to Play Truth Or Dare Bowling:
After bowling a frame, take a truth or dare card based on how many pins remained at the end of your turn. If an odd number of pins were left – do a dare card. An even number of pins left means you do a truth card. And if all the pins are knocked down or you get two gutters (ouch!) – no card is taken.
This game was definitely the best for getting to know each other. Performing silly acts in public really helped lighten the mood. Plus, I learned a lot about the others in our group with the deep truth questions.
Shout it Out Bowling
The game challenges your brain as well as your bowling skills!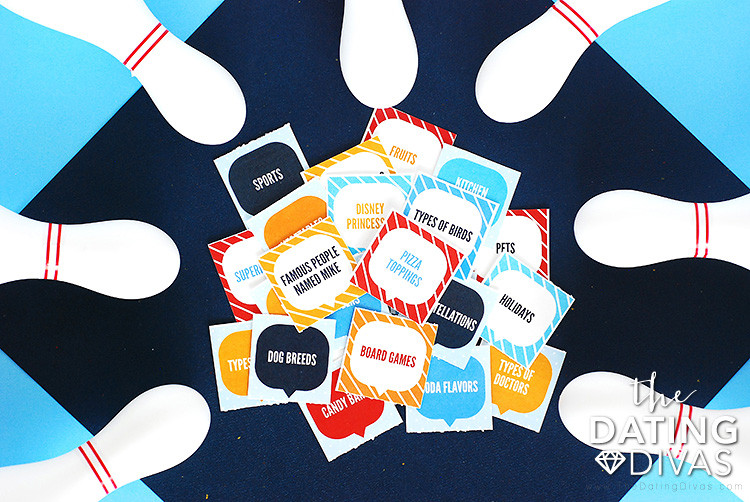 How to Play Shout it Out Bowling:
Begin with the non-bowler selecting a topic card. They will read the word/phrase on the card just before the bowler releases the bowling ball. The bowler then has from the moment they release the ball to the time it reaches the pins to list as many things as they can that fit the category. The player or team with the most wins!
Bowling Games For Kids and Adults
And just in case you are wondering – all of these fun bowling ideas aren't just for the adults. These are perfect bowling games for kids too! Even though our site specializes in date nights for married couples, none of the tasks or questions are lovey-dovey in any way. No matter what the age or relationship status everyone can have some good, clean, silly fun at the alley.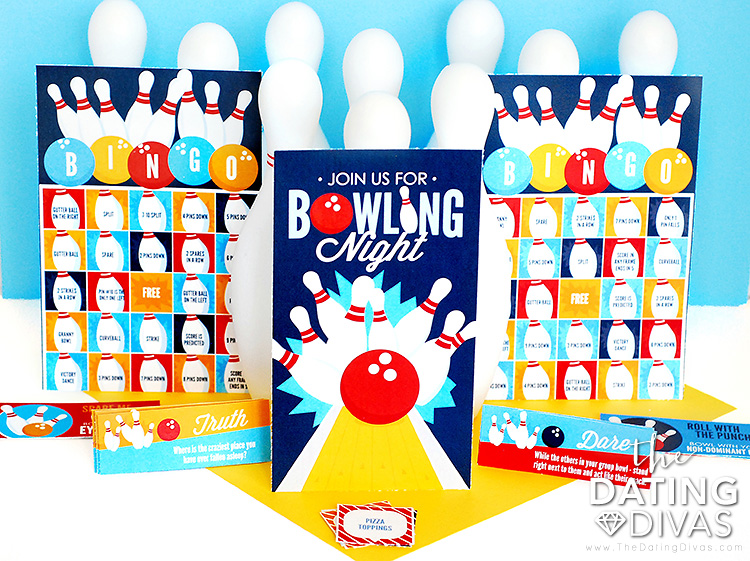 We hope you have a BALL with these fun bowling games and would love to see your pics! To try these fun bowling ideas out –  we did a fun family date night with two other Divas and their families! It was a blast! Here are some highlights from our night at the bowling alley: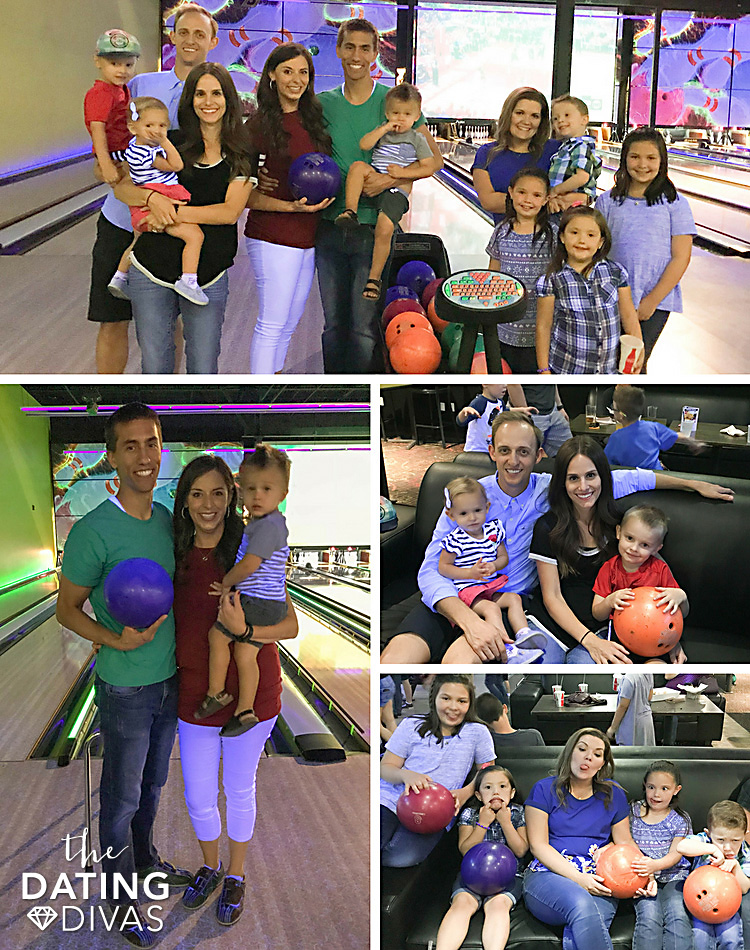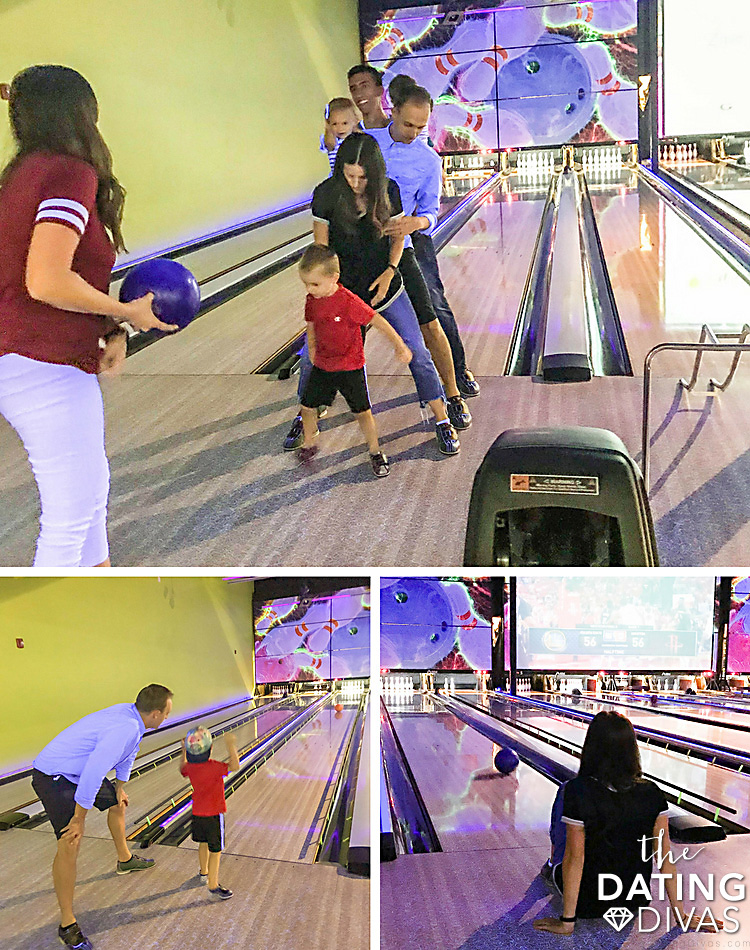 When you do this date night – make sure to tag @datingdivas or #datingdivas so we can see all of YOUR fun!
To make these fantastic bowling games all come together, be sure to grab a great quality paper cutter and nice cardstock.
SaveSave
Fun Bowling Games
Printables Designed by Carisa @ Messes to Memories Exclusively for The Dating Divas
Digital Bowling Night Invitation