How to Train for a 5k
Do you know that urge you get sometimes? The one that says, "get outside and be active." Then, all of a sudden, Netflix and the comfy couch start calling your name. We have the perfect running program for beginners, that's sure to keep you and your spouse motivated! We've come up with these fun ideas and printables (complete with a running schedule for beginners) that will have you and your sweetie training for a 5k in no time. So, what are you waiting for? Lace-up those running shoes, grab your spouse, and let's get training!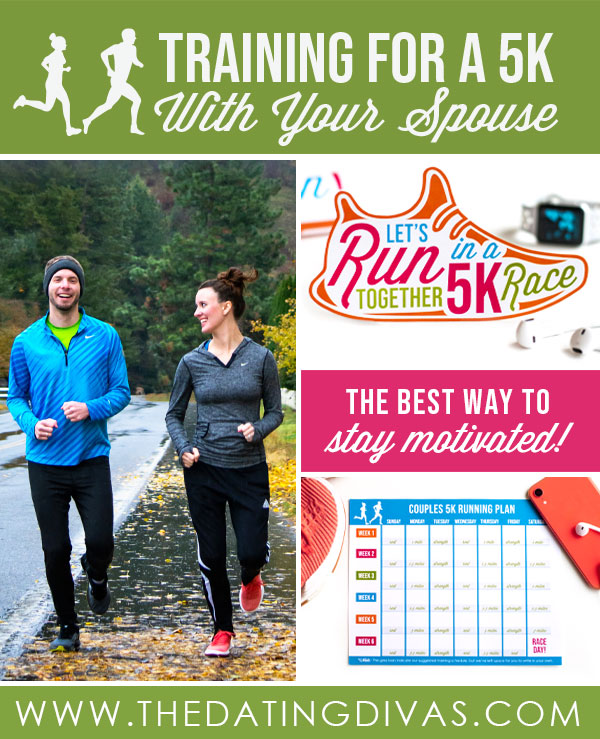 Running Date Invite
We created this colorful invite to inspire your spouse to go running with you! Simply print it out, cut around the adorable shoe, and surprise them with it! We recommend printing on a heavier paper like this cardstock for all your printables, especially since you'll be using some of them outside.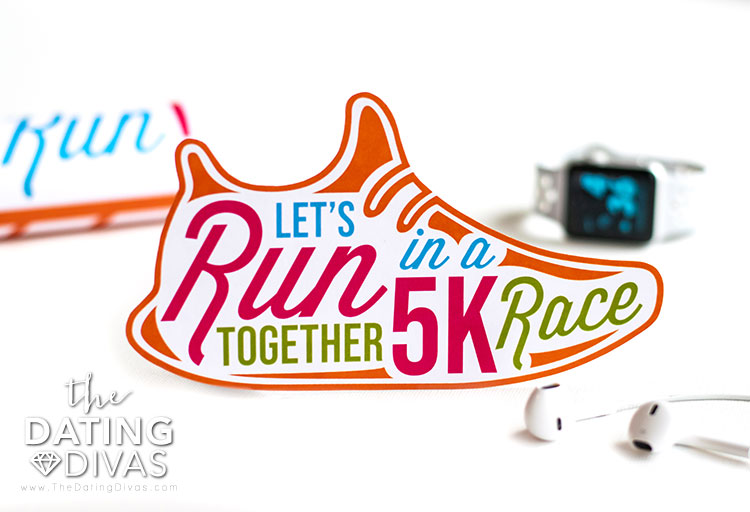 Running Schedule for Beginners
Are you ready to start running? Learning how to train for a 5k can seem intimidating at first, but we created this simple running program for beginners. On our running schedule printable, you can follow our 6-week training guide or fill in your own. If you choose to train for a 5k with our running schedule, you will see we've also included a strength conditioning day. These are perfect days to supplement your running but still stay motivated with your sweetie. We've left strength conditioning open to what works for you, but here are a few ideas you could try: push-ups, lunges, squats, planks, or high knees. Remember, these are just a few tips to help get you started. However, you can always adjust to fit your level.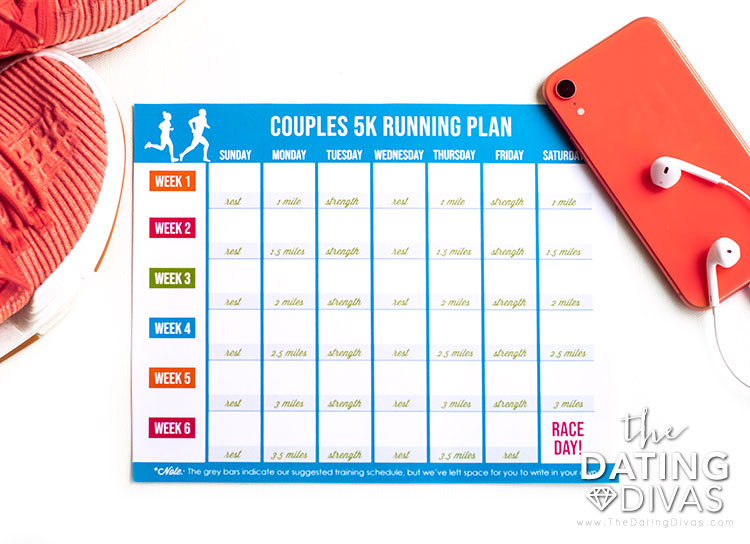 Fun Ways to Stay Motivated
This is where we get to add a little extra fun to your run! We know it can be tough to stay motivated, so we created these fun ideas to incorporate while you and your spouse are training for a 5k.
Sometimes even if you're running with your sweetie, the same route can get so boring. What's our solution? Mix it up! Each time you go out for a run, take turns choosing a new route. Maybe one of you enjoys running on trails, while the other enjoys running around town or on a track. This way, you get the best of both worlds! To add one more element of surprise on your runs, we created these adorable note card printables. Wouldn't it be fun if the person who gets to choose the route for the day left a note of encouragement for their spouse ahead of time?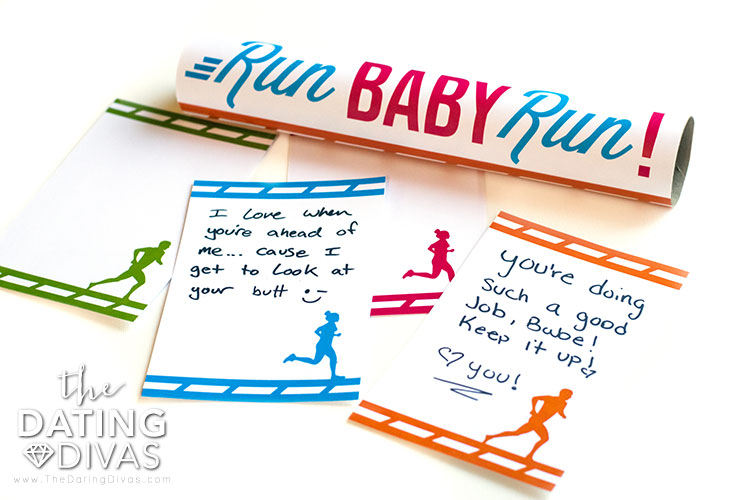 Ready. Set. Relay.
We wanted to give you one more creative way to stay motivated while training for a 5k. Since it's fun to mix it up with a running program for beginners, we decided to take this next idea to the track. Remember those relay races you ran in middle school or high school? Well, we created a baton printable to pass off to your spouse. To create your baton, simply cut out the printable and wrap it around a paper towel holder. We suggest using something like this double-stick tape to secure it.
Here's how it works. Before you start training for the day, write your spouse a sweet note. Make sure they don't see it, roll it up and put it in the baton. Head to the track for your workout. Instead of running the complete distance together, this time, you'll run a relay. One spouse will start by running one lap. When they get to the finish line, they'll hand the baton off to their sweetie. You'll both continue this until you've totaled your distance for that day. After you've finished the relay, and caught your breath, take out the notes you wrote to each other and read them.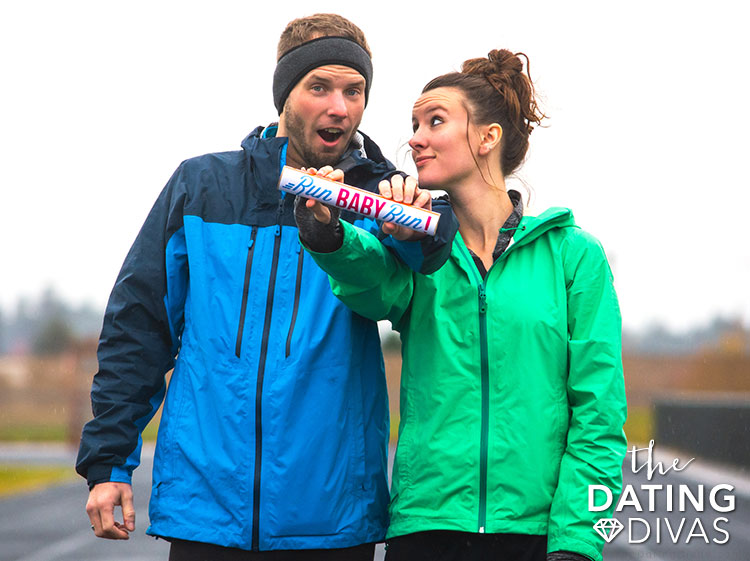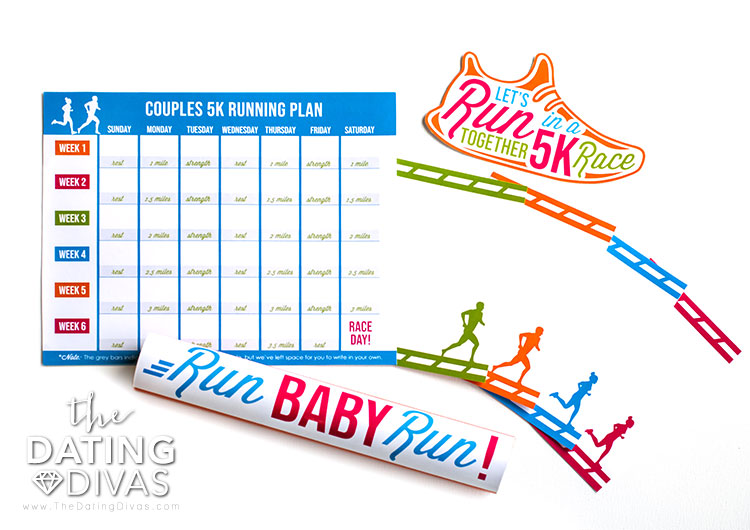 We hope you love our running program for beginners, and it's helped you train and complete a 5k. If you're looking for more ideas on how to get outside and stay active, check out 12 Sporty and Active Date Ideas or Give the Gift of 12 Sporty Dates this Year.
Running Date With Your Spouse
Printables Designed by Karina @ The Dating Divas Exclusively for The Dating Divas