I Spy Date Night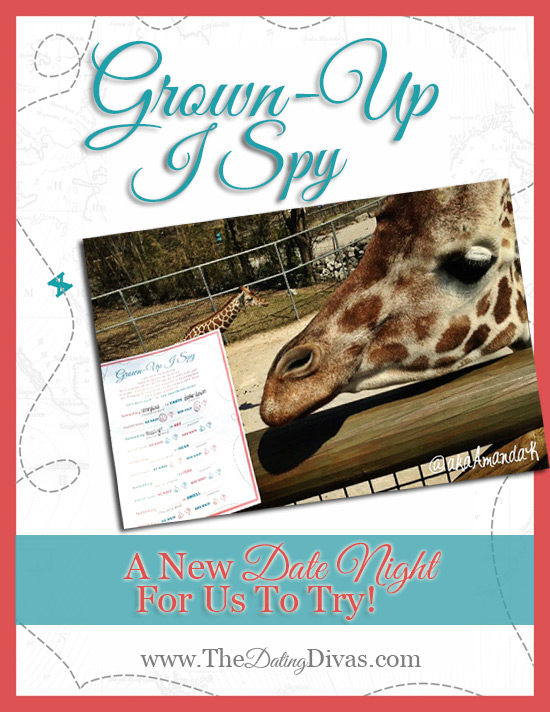 Hi to all you happy hunters and star-crossed lovers, it's Amanda again (you can find me on Twitter: @akaAmandaK), and I have a guided date idea that's all about exploring your surroundings with (of course) the one you love!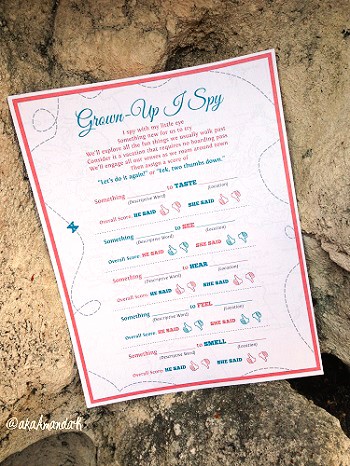 Admit it, for most of us, whether we've lived somewhere for 30 days or 30 years, there are some unfamiliar regions and activities in our town or city we don't seek out until friends and family come to visit. This fun date is going to change all that. It's a grown-up game of I-Spy and your love and you are challenged to seek the un- (or under-) explored among the familiar using ALL of your senses. All you need to start is the adorable printable, perhaps an "attractions list" for your hometown, and of course… an adventurous spirit!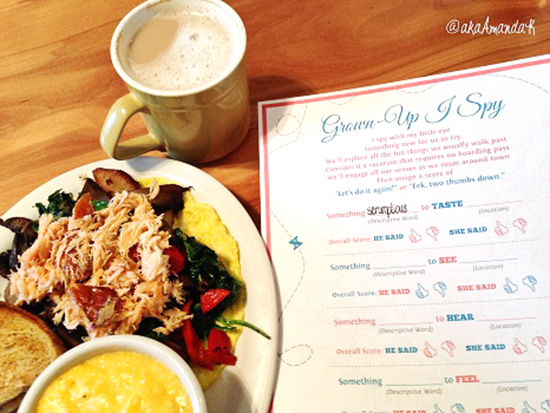 For each section, add a word to describe what your senses will experience. You can either do this before or after –  in other words, write a descriptive word before the activity as your best guess of how it will taste/see/sound/feel/smell or after as a way of expounding on how much you liked or didn't like it! Then write the location and type of activity in the blank provided.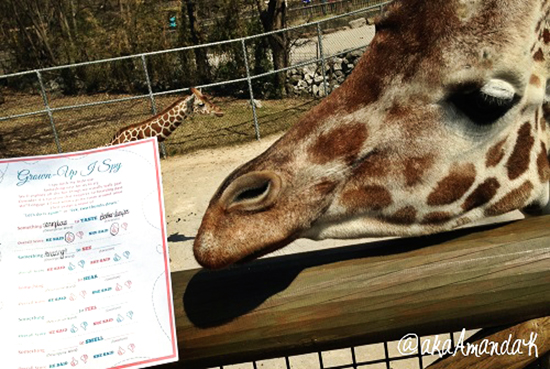 Afterwards, each of you will indicate your own response (your "Overall Score," if you will) to the activity by circling either the thumbs up, down, or both if you are completely undecided or torn! And now, not only have you chronicled a fun outing on paper, you also have a handy reference sheet for future "Oh, I don't know, what do you want to do?" dilemmas – oh the possibilities!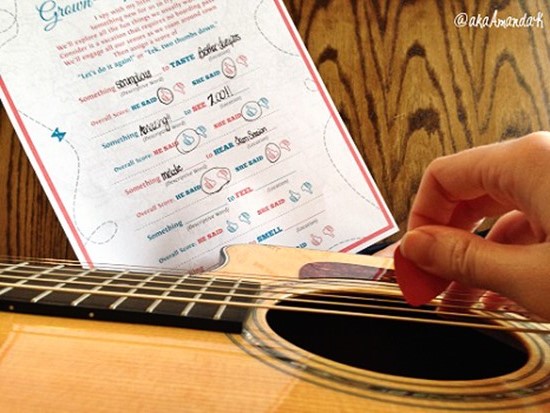 Now as I'm sure you can imagine, this is a super versatile date! You may choose to incorporate all your senses into one activity or break up your day in five separate ventures. Explore the city with your man or bring along the whole family! (For added educational appeal, give each of the kids their own printable and encourage them to come up with sensory activities and write their own descriptive words!) No matter how you choose, I wish you lots of fun, great finds, and as always, love that tantalizes all your senses as you explore your own corner of the globe…
Love,  Amanda
Grown-Up I Spy
Printables Designed by Amanda Exclusively for The Dating Divas