Halloween Movies List & Movie Marathon
Ready for an absolutely spooktacular movie marathon with your sweetie? You've come to the right place! Our Halloween Movie Marathon for couples is packed with everything you need to eat, drink, and be scary. Plus, we've included a huge Halloween movies list that will keep the haunting happening for HOURS! Seriously, this is one Halloween-themed date you DO NOT want to miss. Plus, most of the printable pack can be used with friends, family, and neighbors for even more ghoulishly good times. Ready to be brave and sneak a peek? Let's take a look!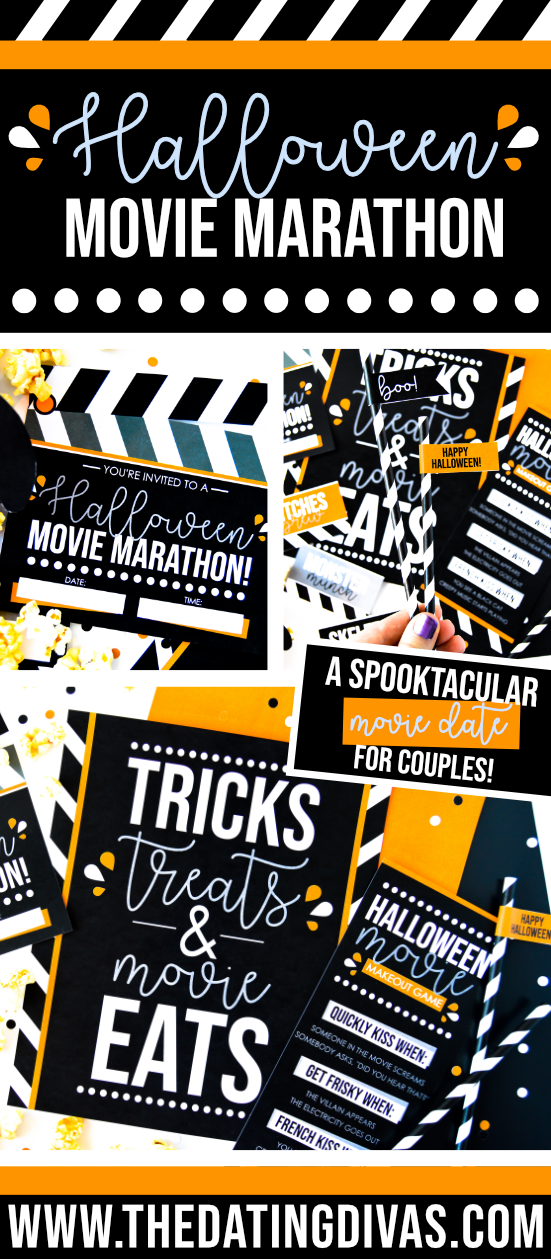 This post contains affiliate links. To learn more about 'em, click here.
But before we jump into the treats (no tricks here!) we have to give a huge, Halloween-sized 'Thank you!' to Diva Elizabeth for whipping up these printables. Her designs are simply too cute to spook and we love them!
Halloween Movie Marathon Invite

Let your sweetheart (or other guests) know of the fun to come with this bewitching movie marathon invite! We're obsessed with the clapperboard design and love how easy it is to put together. Simply print (we always love using high-quality cardstock), cut, and fill in the info for your night of fun. That's all there is to it! How simply magical.
Halloween Movie Marathon Concession Food Stand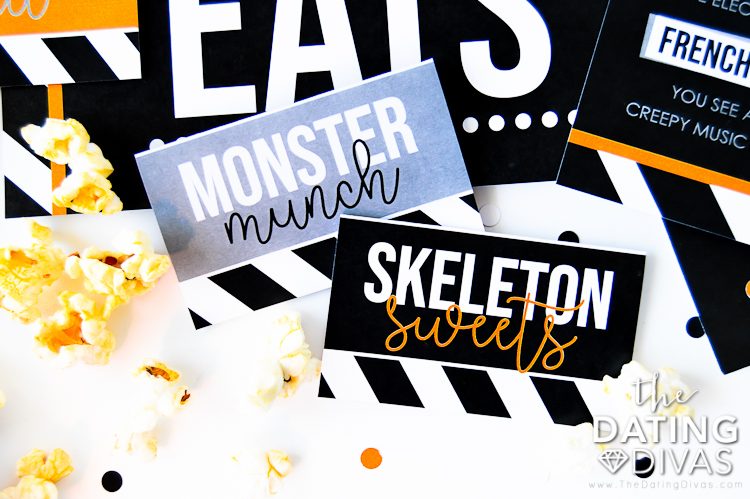 The bulk of this date night is found in the super spooky movies but before we get to the Halloween movies list, we've got a few more tricks to share. After all, what's a movie marathon without the snacks?!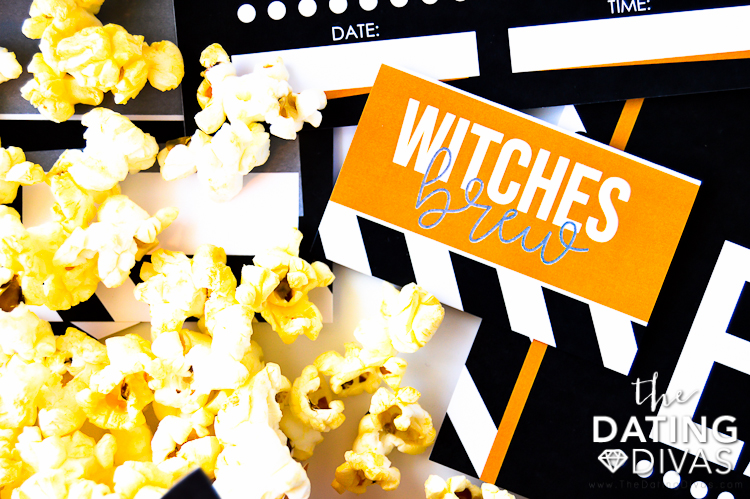 We've included everything you need to create a one-of-a-kind Halloween Concession Food Stand and it's SO easy to set up. Start by gathering a few of your favorite movie munchies and grab the coordinating printables. With labels for 'Witches Brew,' 'Monster Munch,' and 'Skeleton Sweets,' these food labels will turn your nibbles into truly franken-tastic treats. We've even thrown in some blank options so you can make your concession stand your own! But that's not all…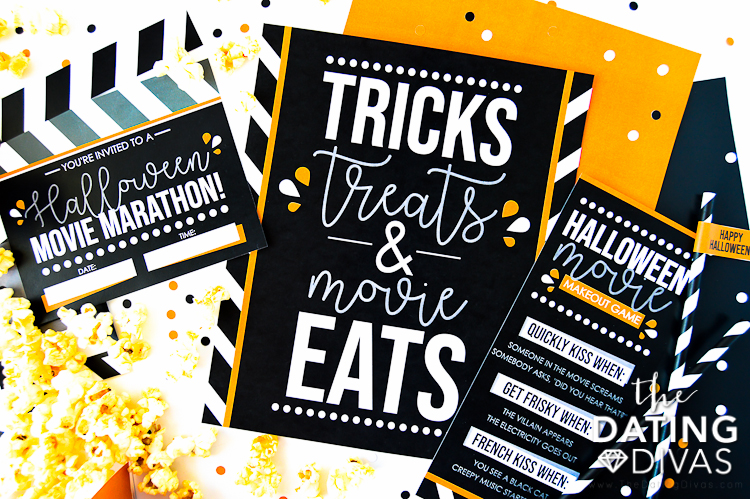 We're also sharing an 8×10 art print that will add the PERFECT touch of festive flair. It's haunting Halloween message will let everyone know they've arrived at the treat table and it's super simple to use. Just print, frame, and place it in the center of your concession food stand. You might also consider using this ADORABLE plastic table cover. Al-kazam! How easy was that?!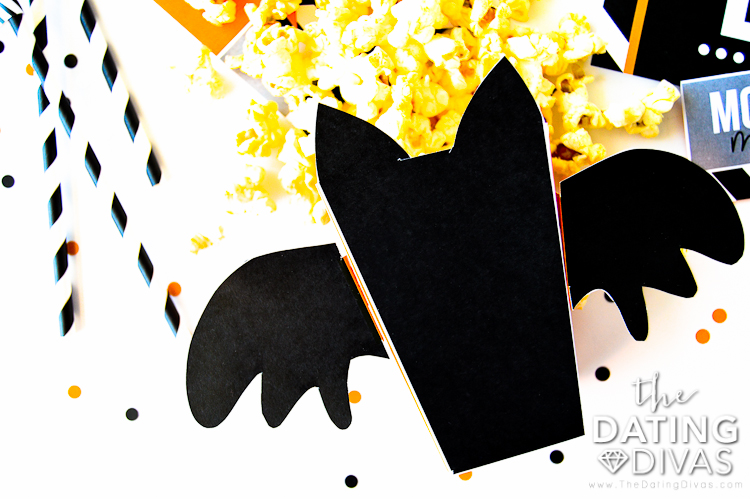 We've also thrown in some printable bat popcorn boxes and we are over-the-top obsessed with how fun they are to assemble. Keep reading to find out how!
Assembling Your Halloween Movie Marathon Bat Boxes
Print your bat boxes and wings (found on pages 4 & 5 of your printable pack) on heavy-duty cardstock.

Cut around the outside of your bat box and fold along the white lines.

Apply adhesive to the tabs to create your bat box.

Cut and attach the bat wings to either side of the popcorn box by applying adhesive to the wing tabs, folding, and securing.

Fill with the treats of your choosing and you've created something to go batty over!
Halloween Movies List of Food
Wanting some ultra-amazing Halloween foods to include with your films? We've got you covered! Keep reading for some super 'gourd' (aren't we punny?!) and totally on-theme ideas for your food table. We seriously LOVE the following 10 ideas and know they will add the perfect touch of magic to your Halloween Movie Marathon.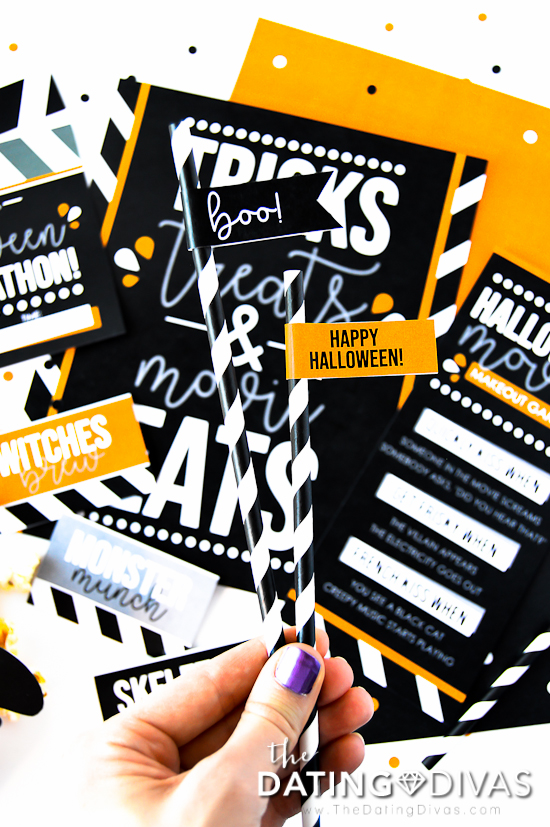 Looking to jazz up your snack table even further?! Well, believe it or not, we're about to make that happen! The printable Halloween party flags work in SO many ways and will add the final touch of perfection! We chose to affix ours to some fabulous Halloween Paper Straws, but you might choose to affix them to toothpicks and pop them in cupcakes or other goodies! Keep reading for instructions on how to assemble them in no time at all.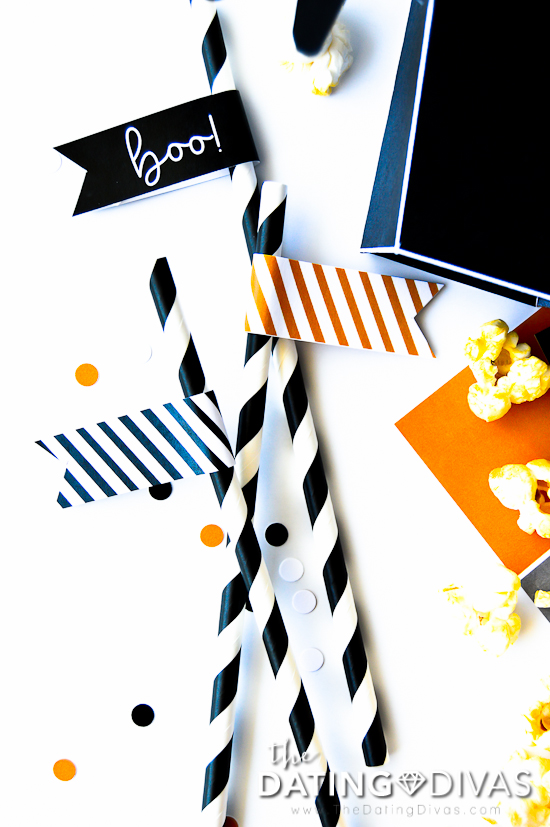 Assembling Your Halloween Movie Marathon Party Flags
Print and cut each strip.

Wrap one strip around your chosen item (we loved using our straws!).

Use adhesive to affix both sides of the flag together, tight enough so it doesn't slide down your item.

Trim the edges into a triangular shape or leave squared off.
Halloween Movies List of Sexy Activities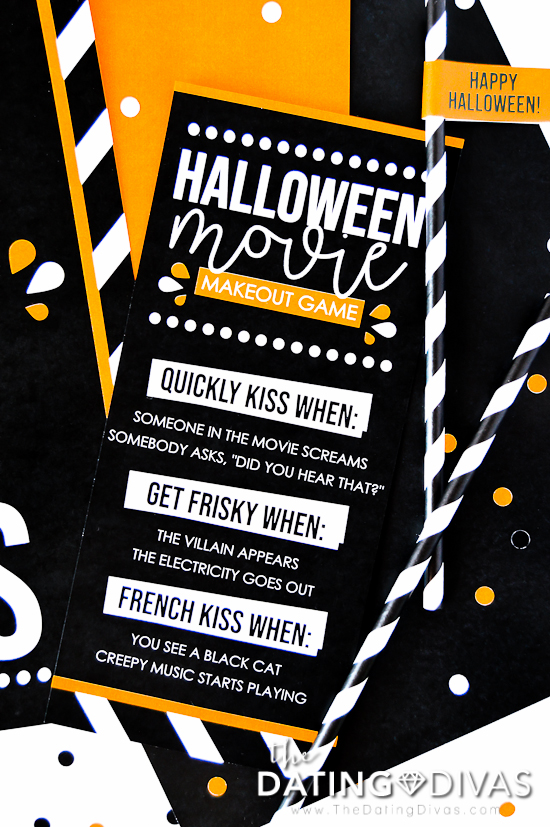 If you're choosing to use this idea as a date (we HIGHLY recommend it!), you're definitely going to want to listen up! We've come up with a Halloween movie marathon game that's so sexy, it's spooky. This game is especially fun with scarier films but will work with almost any Halloween flick! Simply follow the instructions on your printable game card to get-it-on spook-style.
Halloween Movies List for Everyone
Okay, okay we know you've been DYING to see our picks for our Halloween movies list and we're ready to share! Take a look at the films we think are so totally fabulous, not TOO scary, and definitely worth considering for your Halloween movie marathon.
Classic Halloween Movies List
These tried and true favorites contain some of the BEST Halloween films to watch with your sweetheart.
–The Nightmare Before Christmas
Family Halloween Movies List
If you're throwing a Halloween Movie Marathon with the whole gang, these are some great and ghoulish options.
–Mom's Got a Date with a Vampire
Halloween Movies for Kids
And for the tamest of the tame, we can't help but love these kid-friendly flicks.
–It's the Great Pumpkin, Charlie Brown
–Pooh's Heffalump Halloween Movie
–Double, Double, Toil and Trouble
–Scooby-Doo and the Ghoul School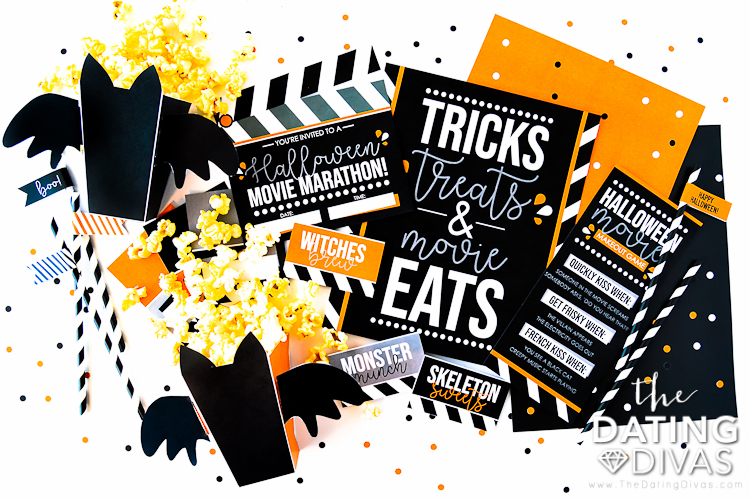 Is this a frightfully fab Halloween idea or what?! Witch-ing you and your sweetheart a very Happy Halloween and an even better movie marathon!
SaveSave
Halloween Movie Marathon Date
Printables Designed by Elizabeth Edwards Exclusively for The Dating Divas