Hopefully by now you have figured out that we are H.U.G.E. fans of Fawn over at Happy Wives Club. This girl has got.it.going.on! She is not only one of the sweetest and most BUBBLY gals you will ever meet, but she is JUST as passionate about strengthening marriages as we are! She is amazing! And guess what? She's JUST wrote her very first book, Happy Wives Club: One Woman's Worldwide Search for the Secrets of a Great Marriage
! Woo-hoo is right! We completely trust her when it comes to marriage and relationship advice, AND you should too!!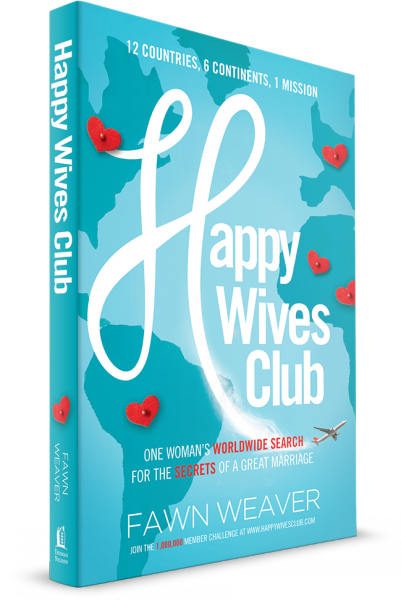 So, our friend Maggie from www.ModernMarried.com got a super-sneak peak at the whole book and although you will have to read the book to learn the official "12 Secrets of a Great Marriage," here are 5 of her favorite stand-out, love-this, oh-so-inspiring Happy Wives Club: One Woman's Worldwide Search for the Secrets of a Great Marriage
:
1. We all know laughter matters. Being playful and fun together not only keeps us connected, it keeps life interesting and gives us something to look forward to every day. What I didn't realize completely until I read the book is that, as Fawn says, "connection starves suspicion." The more connected you are through the joyful times, the easier it is to feel connected during the doubtful ones. Score.
2. Failure can be a tool we use to help us grow – if we let it. Fawn not only shares the story of her marriage and healthy marriages all over the world, she is also candid about the times in life she has come up short and how that's made her who she is today. I love that. I love knowing she could overcome some pretty tough chapters in her life to get to this happy one. Reminds me that I can overcome whatever I am facing right now. And so can you.
3. We do date nights, we do daily check-ins, we kiss, but we have never asked each other "Honey, if you were to grade me as a wife on a scale of 1 to 10, with 10 being the highest, what would I score?" (page 118) I never liked grades, but I am giving this one a try.
4. Faith is the same all over the world. Believing in a power higher than themselves inspired husbands and wives everywhere to be the best spouse possible. I always find it comforting to know that no matter how far and wide we travel, some things remain the same. Thanks Fawn, for that reminder!
5. A happy marriage, like a happy life, is a choice. It's choosing every day to make your relationship a priority, to forgive what needs forgiving and to build what needs building (sometimes its trust, sometimes it's a fort made of blankets – both are equally important for the long term connection of your marriage.) Dating your spouse isn't just about having a good time (although that's important!) It's about continuing to build moments of connection that lead to a lifetime of deeply committed (and happy!) love.
 They say this book is like "Eat, Pray, Love" meeting "The 5 Love Languages." I think it's actually a blueprint for what makes a marriage happy along with the great adventure of travelling the world to find out. You can read the first four chapters of the book for FREE, just go to https://happywivesclubbook.com/ and click on free chapters. To buy a copy of this book or kindle edition, click HERE
! Enjoy!